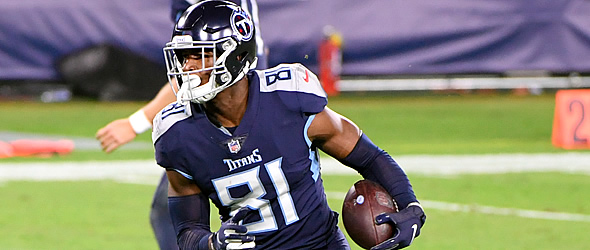 In January of 2020 (seems like a decade ago!) Patriots Head Honcho Bill Belichick had this to say about then Titans tight end Jonnu Smith:
"He's just a really good tight end. Can do a lot of things. Blocks well. Runs well. Is a good receiver. Played him at tailback, he looked pretty good back there. He's a very athletic player. Hard to tackle. Catches the ball well. (He's) great after the catch, probably the best in the league. I mean, I can't imagine anyone better than him after the catch."
So it should hardly be any surprise that the Pats made a splash (one of many on the semi-opening day of free agency) by signing the 5th year pro to a very lucrative deal, featuring 31.5 million guaranteed. So while New England fills a gaping hole in their offense with a flashy, versatile, and uber athletic new toy, what can fantasy owners expect from Smith in the 2021 season?

For years Smith languished behind Delanie Walker as a "dripping with upside" 3rd round pick. 2020 was supposed to be the TRUE breakout as the Tennessee offense seemed poised to explode. But it was teammate Corey Davis and not Smith that took the giant step forward, as the former FIU Panther barely surpassed his 2019 reception and yardage numbers. Yes, Smith asserted himself in the touchdown department with a career high eight, and was a top-10 option in Standard and Half-Point PPR leagues, but I felt like the production didn't quite match the potential or the hype.

In the Pats offense, Smith immediately ascends the offensive hierarchy. While he might have been the 4th best option on the Titans, the money thrown his way (2nd highest tight end salary in the league) means he'll be a much bigger part of his new team. With the all-around game to be on the field on all downs and distances, and the athleticism and versatility to play inside, outside, inline, and even in the backfield, look for New England offensive coordinator Josh McDaniels to game plan plenty of looks for Smith.

Cam Newton, back in the fold for another year, helped Greg Olsen to a handful of the best seasons of his career, so there is an on-paper match with his quarterback. This offense has a history of running through its tight ends, and I wouldn't be shocked to see Smith set career highs across the board. The signing of Nelson Agholor may eat into his reception totals, but hitting 700+ yards and 6+ touchdowns should be his floor, making him an easy TE1 with upside.