Building A Winning Draft Strategy In Trade-Friendly Leagues




8/1/08



Every year, when it's time for my real, face-to-face drafts, I get immeasurably excited. People are giddy, the booze is flowing, the munchies are out, and the fantasy football season ahead is a blank canvas. While my goal remains the same regarding winning, I'm cognizant that there's an untold number of ways to get there. The pressure's really off, because I've never felt like I lost a fantasy football season on draft day. It's actually kind of hard to do.

It's really a combination of drafting well, trading successfully, making the right selections going through the waiver wire and week-to-week analysis of matchups that makes most fantasy owners successful. Sure, some formats aren't conducive to all these pieces of the fantasy puzzle, but in equitable, trade-friendly leagues where most transactions go through unfettered by contempt and league vetoes, this is a winning formula.

Sometimes, simply a well-managed draft (or a spectacular selection or two) can suffice, but rarely. Occasionally, an obvious waiver-wire gem will come around (see Kurt Warner in 1999, Mike Anderson in 2000, Anquan Boldin in 2003, Marques Colston in 2006, Ryan Grant in 2007). But an often-overlooked option that can be essential to winning in fantasy is successful trading, and more specifically, drafting a fantasy roster that could lead to successful trading in preparation for the home stretch.

Letís address one thing up front: Most of my leagues are IDP, and in my leaguesí formats, most defensive starters score about as many points as #2 WRs. Lots of the defensive studs emerge a few weeks into the season, and while IDPs are sometimes involved in mid-season trading Ė mixed in deals among QBs, RBs and WRs Ė I donít draft extra defensive players in the hope they will break out.

Who do I target for future drafting value when Iím cramped in a room littered with printouts, fantasy rags, assorted hi-liters and 9-13 other slobs? I target rookie RBs, backups RBs stuck behind guys with mileage, and occasionally spring for a QB with promise. These are usually guys I can grab somewhere after the first five or six rounds Ė and sometimes even walk away with in the late rounds, when everybodyís twitchy-eyed and ready for sleep.

Iím not advocating taking Tom Brady and Peyton Manning with your first two picks in a 12-team, 1-starting-QB league. Iím talking about drafting five RBs in a 12-team league that starts two and not jumping off a bridge afterwards because you didnít sufficiently back up your TE or your WRs.

My two main home leagues start 13 players (1 QB, 2 RB, 3 WR, 1 TE, 1K, 1 DL, 1 LB, 1 DB and 2 flex IDP spots) and allow a roster of 22 with 1 additional IR slot for legitimately injured (on the report) players.

Sure, many leagues donít offer a bench this deep, so weíve got more room to fool around on draft day Ė but a lot of those leagues donít charge a fee per weekly waiver selection or free agent pickup either. Trades, on the other hand, get a smaller, flat fee and per-player charge on top Ė often encouraging making large, multi-player deals that address a variety of roster concerns in one fell swoop. Something to consider, right?

In leagues like this, thereís a premium placed on drafting value ahead of security, i.e. you may choose to select the rookie of the moment that Shanahanís in love with instead of adding a fifth WR. You might take Matt Forte before the next guy gets him Ė passing up on filling your #2 WR slot. Running backs are going down and shooting up the value boards all season long like mall escalators. Some guys invariably emerge as viable starting options.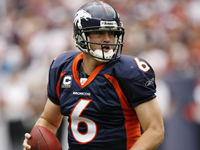 Mile-High on Cutler? Already have Brady? Don't be afraid to grab both for deal-making later.
Hereís an example. Letís say you think that fantasy writers are overemphasizing the probability of a sharp decline in Bradyís numbers and you still like him to throw 40+ TDs and win games for owners like in í07 Ė but youíre pretty high on Jay Cutler and think heís going to really break out in a big way. If your gut tells you to take Brady early, then take him Ė and if itís getting to the middle rounds and all the top QBs are gone, and Cutlerís still sitting there, throbbing with value, undrafted, then you can take him too and move him after a huge Week 1 in Oakland.
It may sound a bit convoluted, but during the course of my season, Iíll stock up on high-risk, high-ceiling RBs and solid QBs and look for teams that have glaring needs at those spots, literally bombarding them with trade offers once one of my stashes has a big game. In plenty of these scenarios, Iíve landed #1 receivers, top LBs in IDPs, and, of course, received solid#2 RBs in multi-player deals that address both teamsí needs.
Addressing the needs of both teams is the absolute key to getting any deal done. I canít stress it enough. In scouting out owners to trade with, itís absolutely essential you look for teams with glaring needs in areas you can help to fill. If the validity of your leagueís trades is determined by owner vote or commissioner decision, youíll have a much better shot at pitching the deal to the voters if there are real team needs at the heart of the swap.
Timing is also of the essence. In a perfect world, youíll have a starting RB sitting on your bench early in the season. Realistically, however, thatís probably not going to happen. Thereís always a fine line between loading up for trade fodder and wasting talent on your bench. And thereís usually a prime window to deal these guys Ė especially if theyíre not starting for your squad regularly. Get a feel for value by watching the rankings boards and temper your expectations on what youíll get in return. Remember, if you propose a trade, the onus is on you to sell it.
But you canít wait too long to offer and eventually pull the trigger on a trade, even if the player youíre looking to deal hasnít reached his maximum value. Youíll be missing out on maximizing those starting slots and possibly losing games early as a result. If you draft Rashard Mendenhall in the middle rounds (after youíve got your #1 and #2 RBs squared away) under the assumption heíll eventually surpass Willie Parker as the top-scoring fantasy RB in Pittsburgh, you may not have the luxury of waiting until he actually does surpass him. You may look to package him and a decent #3 or #4 WR around Week 3 to a nervous Willie Parker owner whoís loaded at WR Ė getting a solid #2 WR in return. The key is finding which owners are nervous at what positions, and what you can do to alleviate their concerns. Thatís the thing about fantasy Ė somebodyís always nervous.
These are the angles youíll have to exploit in the draft-to-trade approach. Loading up at RB with high-ceiling guys is the best way to carry out the technique, but there are myriad permutations to take advantage of the in-season trade by prepping your team for those possibilities on draft day.
Itís not a perfect science, but it allows for more flexibility on draft day and itís a strategy thatís helped me year after year to upgrade my starting positions and win titles. If you give it a shot, I hope it helps you too.
Editor's Note: FFToday is bringing you two takes on the art of negotiating trades in your league. You can fine the first article here.