aka, Do Not Draft These Guys!




8/19/10



While conventional fantasy wisdom says one wrong pick won't destroy your fantasy season, it's an absolute truth that a successful draft can hinge on avoiding one or two bad picks. You know the feeling: You took the obvious choice in round one, snapped up some value when it came back, and snagged a couple nice mid-rounders—but somewhere in there you choked out a half-hearted "LaDainian Tomlinson" and knew, positively, that your draft just went from a solid B-plus to a glaring C-minus. And as my father used to say when I came home with C's on my report card, "C's SUCK. And you know it." Here's a list of players that—if selected near (or sometimes even two or three rounds after) their current ADP—can effectively kill your draft.

Quarterbacks

(9.06) – Here's what I'm thinking: Eli Manning is being drafted around 9.04, and he's got a litany of weapons on a much more consistent offense. Giants Stadium's hideous home-field winds and all, I'd still take Eli two or three rounds ahead of McNabb, who's headed to one of the worst fantasy destinations for QBs imaginable. I reaped enormous rewards in a 14-team league last season by waiting until the big boys were gone and selecting McNabb (even if he did miss a few games near the season's outset), but the offensive line in Philadelphia and the talented group of receivers—especially DeSean Jackson—helped to churn up that perfect storm of deep-ball brilliance. Things in D.C. may be getting better (aside from the Albert Haynesworth affair, of course…Yikes!) but I'm not convinced McNabb's numbers will be much better than Jason Campbell's have been the past few seasons.

(12.10) – I won't bore you with the statistical comparisons to the rookie year of recently indicted ne'er-do-well JaMarcus Russell, but suffice to say they've been made, and they're pretty accurate. Sanchez is the signal caller on a great defensive team with an offense that relies heavily on running the ball. The Jets can bring in all the receivers they want; there's no way Rex Ryan is going to change the formula that took him to the AFC Championship game last year. I'd predict maybe a ten percent uptick in the second-year QB's numbers, but that's not enough to warrant his selection among the top 24 QBs. I'd take one of the Matts (Cassel, Leinart, Hasselbeck—heck, maybe even Moore) before rolling the dice with Sanchez, whose NFL strengths don't extend to accuracy on the seam route or deep out. If you draft Sanchez, you'll likely be missing out on a fantasy backup who could give your team a major trading chip, even if things pan out nicely for your starter.

Running Backs

(3.01) – I can't imagine Charles will be getting the ball exclusively at the start of the season, and for that reason, he might kill your team. You'll be paying top dollar for the guy in most drafts, and by the time the Chiefs start really using him the way they should, you'll be fighting for your fantasy life. I'm not saying he isn't the better fantasy back, or that he shouldn't end up on your team. His numbers last season down the stretch (Weeks 10-17) showed he's an animal. But NFL head coaches don't care about fantasy beasts—they're glorified personnel managers. And because fantasy owners can be a desperate bunch, and there's going to be somebody languishing because Thomas Jones is stealing carries during the first six weeks, I'd plan on skipping Charles in the draft and making a blockbuster move for him after four or five games. The early word is that TJ will get first-team reps for the foreseeable future, and established veterans like Jones always seem to get the benefit of the doubt early in fantasy seasons.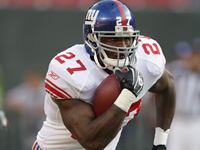 Brandon Jacobs: Draft killer.
(6.02) – Jacobs (coming of knee surgery) is the latest in a long line of upright Giants backs who can't seem to live up to the hype. A few years ago, every Giants fan I knew was raving about this guy's size and toughness, but as they've witnessed his limited repertoire, they've ceded the endless prattle. His running style—similar to Eric Dickerson—is not cut out for today's NFL. Ahmad Bradshaw, an explosive, versatile back who'll eventually see more touches than his counterpart (and is going at 7.05, a full round after the lumbering Jacobs) will put up the better overall numbers in 2010.
(6.05) – While Barber wasn't fantasy dead weight last season, his hard-running style doesn't mesh well with the Cowboys new offense. He's a marginal performer with little upside, considering he's behind a shifty speedster (Felix Jones) and challenged by a younger, hungrier clone in Tashard Choice. Barber doesn't catch passes, and he isn't the kind of back who can break long runs. So why is he worth a look in the fifth or sixth round? I'd much rather have Reggie Bush, who's being taken at 6.08, since he's a pass-catching threat and has the potential to spring some big plays.
(8.10) – While we enjoyed Mad Scientist, Southeast Jerome, Dolla Bill, Reverend Gonna Change, Kid Bro Sweets, Inspector Two-Two, Sheriff Gonna Getcha, Coach Janky Panky, Dolemite Jenkins, Choo-Choo, Budd Fox, Prime Minister Yah Mon, and the metaphysical Angel of Southeast Jerome, it's time for all of them to hang up the cleats. Portis can't stay healthy, doesn't have much of an offensive line to break open holes for him, and no longer possesses the break-neck speed that vaulted him atop so many cheat sheets a few scant years ago. He's currently fighting a groin injury that's bound to linger, will soon be on the wrong side of thirty, and has Larry Johnson and Willie Parker crowding his backfield. I can think of a lot of guys I'd rather snag near the end of the eighth round. But since many fantasy owners will see him available and fall prey to name recognition and nostalgia, they'll reach. You've been warned.
Wide Receivers
(2.02) – Matt Leinart sucks, and there's a chance Fitzgerald posts the worst fantasy numbers of his career because of it. Leinart is getting no respect in drafts for good reason: he's never proven he can play at the NFL level, which is no easy feat. I'm looking for sure-fire scorers at the top of the second round—which this year probably means a running back—not veteran receivers being asked to make a major adjustment to life without Kurt Warner. If you're hell bent on taking a receiver here and Calvin Johnson's already gone, it wouldn't be a terrible idea to consider Roddy White, Miles Austin, or Brandon Marshall. They have issues too, but none as serious as an underachieving quarterback.
(6.12) – I'm a Cowboy fan, and I love what Bryant can do for this already stocked reservoir of skill-position talent in Big D. But rookie receivers shouldn't get drafted this high, especially if they're not the clear first option in the passing game. If you take the bait and land him, your receiving corps will be taking a serious hit. For more value, I'd look at Malcolm Floyd, who's available at 7.01. The Chargers have a similarly deep pool of talent, but Floyd is a guy who can shine, especially with Vincent Jackson off for a few games. I'd draft Floyd, get the most out of him in the first half, and then take a shot at trading for Bryant, who'll start to see more regular action by mid-season.
(11.11) – While it's presumptuous to speculate that any player can ruin your draft from the 11.11 slot, it's even worse to think this isn't a crucial time to be adding value. It's not that I don't like receivers named Bryant, I promise. And I sure as heck don't mind guys named Antonio. It's just that this particular Antonio has done it to us before. Many times before. How many third chances does a player need before we knock him off our radar? With Terrell Owens signing a contract in Cincinnati, the newly arrived Bryant doesn't figure to see too many balls thrown his way. He's already nursing a knee injury and didn't play in the preseason opener. Look elsewhere.
(12.09) – A few years ago, I loved Cotchery, despite his apparent unwillingness to catch anything thrown in the paint. Now, his value is nearly completely shot because the Jets (a running team to begin with) added a slew of more-talented receivers to steal his thunder. I can't picture Cotchery as anything more than a final-round dart at this point—there's just too much standing in his way to bank on fantasy success.