11/9/10





MyFantasyLeague.com Users...
Check out the most popular waiver wire pickups this week across thousands of MFL leagues. Also, quickly see who's available on your waiver wire this week by using the MFL Power feature at FF Today. Just input your league's 5-digit ID number away you go!

Targeting weekly waiver picks is a completely subjective business, but this column hopes to point out some obvious and not-so-obvious selections to help your team from week to week while you strive to collect fantasy wins, reach your league playoffs, and win the elusive title that your friends say is out of your grasp. While I'm a big proponent of making trades to bolster your roster, the waiver wire can be an almost limitless resource when it comes to discovering fantasy value in strange places. Each week, I'll target both offensive and defensive players — sometimes breakout stars that eluded your team's draft — as well as players who can help your squad that may still be lurking in deeper leagues.



Off the Top -

Includes my premier recommendations. These are sometimes players available only in more shallow leagues, and occasionally guys who are more readily but are thrust into the fantasy spotlight because of opportunity or exceptional production.



Digging Deeper -

Covers the next tier of quality waiver wire specimens, usually players available in a majority of online leagues. There are a lot of gems in this range who can be plucked rather easily.



Scouring the Barrel -

Chronicles the deepest of fantasy adds — and sometimes highlights players being tacked onto fantasy squads who I don't have much confidence in. Make sure you read the fine print.

Each week, I'll also provide a brief update on the 30-40 players I covered the previous week. It's the most accurate, comprehensive one-stop waiver-wire column available on the Internet, and it's only available here at fftoday.com.

Feedback is always welcome, appreciated and encouraged. I'll get to as many e-mails as I can.


---
Note:
Each player's next four matchups are listed in parentheses ()
Quarterbacks
Off The Top
Brett Favre, MIN (@CHI, GB, @WAS, BUF) – With one decent game under his belt and some favorable matchups on the way, Favre makes sense as a pickup for Aaron Rodgers, Drew Brees, and Philip Rivers owners looking for a Week 10 spot start.

Digging Deeper
Ryan Fitzpatrick, BUF (DET, @CIN, PIT, @MIN) – Fitzpatrick is still available in plenty of leagues (about half), although he just lost one of his most dynamic offensive options in Roscoe Parrish who's heading to injured reserve after breaking his wrist in Week 9. The Lions give up some big plays, so if the Bills can protect Fitzpatrick, this could be a shootout similar to the Baltimore game.


Scouring The Barrel
Derek Anderson, ARI (SEA, @KC, SF, STL) – Again – a decent option for Week 10, but not a guy you want to hang your fantasy season on. Anderson was passable (no pun intended) in Week 9 in the loss to Minnesota and should have the starting gig in Week 10 against Seattle - a team that's reeling from last week's blowout loss to the Giants.


Updates
Matt Cassel, KC (@DEN, ARI, @SEA, DEN) – I like the upcoming schedule a lot and he seems to be developing a solid connection with Dwayne Bowe - when Bowe decides to hang onto the ball.

Josh Freeman, TB (CAR, @SF, @BAL, ATL) – Freeman has been one of the more consistent fantasy options this season. He doesn't commit many major gaffes and he's got a few red-zone options to keep things interesting. I never expect a 50+ yard TD connection, but in most leagues, the length of the score isn't that important.

David Garrard, JAC (HOU, CLE, @NYG, @TEN) – Garrard has one of the better QB matchups for Week 10. It's all a mater of whether or not you trust him to come through. Coming off a bye week, there's good reason to have faith.

Running Backs
Off The Top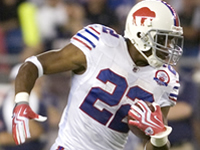 Jackson's value rises with Parrish gone for the season.
Fred Jackson, BUF (DET, @CIN, PIT, @MIN) – I don't understand why Jackson isn't owned in more than 50 percent of fantasy leagues. He's a versatile back – albeit a grinder – and he's on an offense that can move the football. With Parrish gone, Fitzpatrick may be looking to check down a lot more, so jump on Jackson if he's still available.


Digging Deeper
Willis McGahee, BAL (@ATL, @CAR, TB, PIT) – McGahee is always capable of a TD in both running and receiving, and with the free agent pool weak at RB, there's not a lot of backs you can say that about. Week 10 might be rough going, but he should see a lot of work in Week 11 against Carolina and could be a valuable FLEX play.

Clinton Portis, WAS (PHI, @TEN, MIN, @NYG) – Nobody's certain who's starting at RB next week against the Eagles, but Portis (groin) could get the nod if he's healthy enough. Ryan Torain is a question mark and it's tough to trust relatively untested Keiland Williams. Still, whoever starts is worth a shot at RB3 or flex.


Scouring The Barrel
Javarris James, IND (CIN, @NE, SD, DAL) – He only had four carries for 12 yards, but two of those touches resulted in scores. The RB situation in Indy is a bizarre one, so stay tuned to the injury report. If Joseph Addai and Mike Hart are out again, James could be a nice red zone complement to Donald Brown.

Mike Goodson, CAR (@TB, BAL, @CLE, @SEA) – Goodson had nine carries for 29 yards and caught three passes for 18 yards in Sunday's 34-3 loss to New Orleans. I'm not advocating a plug-n-play versus the Bucs but if you're desperate, Goodson could get a lot of work and make something happen.


Updates
Ricky Williams, MIA (TEN, CHI, @OAK, CLE) – Williams wasn't used much at all in Week 9 and unless something happens to Ronnie Brown, it appears he'll continue to play second fiddle.

Mike Tolbert, SD (BYE, DEN, @IND, OAK) – Ryan Mathews got dinged up again and Tolbert could be in line for more touches following the Chargers Week 10 bye.

BenJarvus Green-Ellis, NE (@PIT, IND, @DET, NYJ) – Ouch. Fantasy owners who counted on "The Law Firm" last week got a rude awakening from a sloppy Pats team and the mystifying Bill Belichick.

Kevin Smith, DET (@BUF, @DAL, NE, CHI) – Smith (knee) only had five carries for 10 yards and caught just one pass for 27 yards in Sunday's overtime loss to the Jets. If he gets in a couple more practices this week, he'll be a much better fantasy option in Week 10 against the Bills.

Wide Receivers/Tight Ends
Off The Top
Steve Johnson, BUF (DET, @CIN, PIT, @MIN) – Johnson is disappearing of waiver wires at an alarming rate, but he's out there in some. Don't hesitate to add him and plug him in for Week 10.

Mike Sims-Walker, JAC (HOU, CLE, @NYG, @TEN) – It's always a crap shoot when you play Sims-Walker, but the Texans struggle to cover opposing teams' number one receivers. I'm a believer, but I've been burned by this guy before.


Digging Deeper
Sidney Rice, MIN (@CHI, GB, @WAS, BUF) – Rice got some practice in last week and was working out on the field before Sunday's game, according to Chip Scoggins of the Minneapolis Star Tribune. That could mean he's ready for a return, so scoop up Favre's favorite target if he's available.

Nate Burleson, DET (@BUF, @DAL, NE, CHI) – After a huge week 9 (7-113-1), Burleson is in line for more targets and could have another monster day facing the Bills. But he's now without Matthew Stafford, so his value is tough to determine without knowing who'll be at QB. Shaun Hill seemed to favor his TEs over Burleson, and Drew Stanton is still raw.


Scouring The Barrel
Seyi Ajirotutu, SD (BYE, DEN, @IND, OAK) – A few select folks were touting this guy before Week 9 (four catches, 111 yards and two TDs), but unfortunately, I wasn't one of them. The rookie could be a big contributor if injuries linger for the Chargers top guys, but the bye week will help in that regard. He's worth adding in deeper leagues but don't expect a repeat with Vincent Jackson, Malcom Floyd and Antonio Gates coming back.

Jacoby Ford, OAK (BYE, @PIT, MIA, @SD) – Ford had six catches for 148 yards in Sunday's win over the Chiefs. He also returned a kickoff 94 yards for a touchdown, but the Raiders have a bye in Week 10. It's tough to say if he'll be of much help from here on out, but like Ajirotutu, he's probably worth a look in deeper formats.


Updates
WR Steve Breaston, ARI (SEA, @KC, SF, STL) – Breaston is a risk/reward receiver, but the risk goes down as the schedule gets easier. He's still a good pickup if available.

WR Mike Williams, TB (CAR, @SF, @BAL, ATL) – Another smooth outing for Williams (4-89-1). I love him heading into Week 10.

WR Nate Washington, TEN (@MIA, WAS, @HOU, JAC) – I love Washington heading into Week 10 with Randy Moss and Chris Johnson drawing all the attention.

TE Tony Moeaki, KC (@DEN, ARI, @SEA, DEN) – Moeaki has 6-63-0 against the Raiders and his matchups are choice from here on out. Get him in your lineup.

WR Brandon Tate, NE (@PIT, IND, @DET, NYJ) – He had a tough week against the Browns, but could be a solid WR3 play against the Steelers since he's the big-play threat.

WR Darrius Heyward-Bey, OAK (BYE, @PIT, MIA, @SD) – He caught nothing thrown his way and even dropped the first ball thrown to him. This guy is so much an Oakland Raider it's hilarious.

WR Jordy Nelson, GB (BYE, MIN,@ATL, SF) – Nelson got outplayed by fellow WR James Jones, but still contributed 4-42-0. Not a terrible performance in PPR leagues as a WR3.

IDP
Off The Top
LB Stephen Tulloch, TEN (@MIA, WAS, @HOU, JAC) – Some folks were forced to drop Tulloch with the Titans on bye in Week 9 – that's just how IDP rosters work when you've got to concentrate on offense and filling gaps. But their loss is definitely your gain. If you're lucky enough o be able to add this tackling machine (79 tackles this season), do it now!

DL Calais Campbell, ARI (SEA, @KC, SF, STL) – I'm all over Campbell this week. The talented young DE could easily have six or seven sacks and 15-20 tackles in his next four games. Get him in your lineup.


Digging Deeper
LB Keith Brooking, DAL (@NYG, DET, NO, @IND) – We could be seeing some really long games for the Cowboys in the coming weeks but Brooking will make the most out of it. He's a team leader, he doesn't quit, and he's in line for some huge weeks while the Cowboys offense struggles to stay on the field.

DB Antoine Winfield, MIN (@CHI, GB, @WAS, BUF) – Winfield has just one INT and three PDs so far this season. This week, the Vikings play the Bears. Need I say more?


Scouring The Barrel
LB Tamba Hali, KC (@DEN, ARI, @SEA, DEN) – Hali now has eight sacks on the season and has a few excellent matchups coming for 3-4 OLBs. He's not a tackle maven, but he could have more impact games on the way.


Updates
LB Paris Lenon, ARI (SEA, @KC, SF, STL) – Lenon had seven total tackles against the Vikings. Keep him in your lineup.

DB Quintin Mikell, PHI (@WAS, NYG, @CHI, HOU) – Mikell had a big hit on Austin Collie and recorded eight tackles and a PD.

LB Zach Diles, HOU (@JAC, @NYJ, TEN, @PHI) – Diles is about as consistent as you'll get. He had eight total tackles on Sunday and has four excellent matchups coming.

DB Marcus Trufant, SEA (@ARI, @NO, KC, CAR) – Trufant was probably my best call of the week with nine tackles (8 solos) and a PD.

LB Scott Fujita, CLE (NYJ, @JAC, CAR, @MIA) – Five solos, assist in the win over New England. I'm anticipating a much bigger day against the Jets.

DL Kyle Williams, BUF (DET, @CIN, PIT, @MIN) – The stingy DL had six tackles in the loss to Chicago and remains a top 20 DL option.