12/28/10





MyFantasyLeague.com Users...
Check out the most popular waiver wire pickups this week across thousands of MFL leagues. Also, quickly see who's available on your waiver wire this week by using the MFL Power feature at FF Today. Just input your league's 5-digit ID number away you go!

Targeting weekly waiver picks is a completely subjective business, but this column hopes to point out some obvious and not-so-obvious selections to help your team from week to week while you strive to collect fantasy wins, reach your league playoffs, and win the elusive title that your friends say is out of your grasp. While I'm a big proponent of making trades to bolster your roster, the waiver wire can be an almost limitless resource when it comes to discovering fantasy value in strange places. Each week, I'll target both offensive and defensive players — sometimes breakout stars that eluded your team's draft — as well as players who can help your squad that may still be lurking in deeper leagues.



Off the Top -

Includes my premier recommendations. These are sometimes players available only in more shallow leagues, and occasionally guys who are more readily but are thrust into the fantasy spotlight because of opportunity or exceptional production.



Digging Deeper -

Covers the next tier of quality waiver wire specimens, usually players available in a majority of online leagues. There are a lot of gems in this range who can be plucked rather easily.



Scouring the Barrel -

Chronicles the deepest of fantasy adds — and sometimes highlights players being tacked onto fantasy squads who I don't have much confidence in. Make sure you read the fine print.

Each week, I'll also provide a brief update on the 30-40 players I covered the previous week. It's the most accurate, comprehensive one-stop waiver-wire column available on the Internet, and it's only available here at fftoday.com.

Feedback is always welcome, appreciated and encouraged. I'll get to as many e-mails as I can.


---

Note: Each player's matchup is listed in parentheses ()

For my initial column, I'll focus on guys that your league owners may have missed on draft day.


Quarterbacks

Off The Top

Matt Cassel, KC (OAK) – The Chiefs are supposed to play their starters all game, so Cassel is worth a look if you're looking for decent numbers at QB. He's seen lofty highs and nasty lows this season, but I'm optimistic about Week 17.

David Garrard, JAC (@HOU) – The Jags also need a win to keep their playoff hopes alive, and Garrard at Houston is a favorable matchup. Get him in there.



Digging Deeper

Chad Henne, MIA (@NE) – Ooh. This one's tough, but if you're truly desperate for Week 17 production, Henne (who's auditioning for 2011) could surprise in what amounts to a meaningless game for the Pats.



Scouring The Barrel

Shaun Hill, DET (MIN) – Like Henne, Hill is a capable NFL QB who could use a job. WR Calvin Johnson (ankle) will need to play a full game for Hill to post good numbers. I'd stay away from Hill unless it's a two-QB format.



Updates

Jon Kitna, DAL (@PHI) – Kitna sustained a hip injury after throwing for 115 yards, a TD and two INT. It's safe to say he's not going to be a fantasy factor in 2011.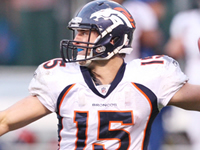 Tim Tebow: Don't be scared to roll with the Denver QB in Week 17.

Jason Campbell, OAK (@KC) – Campbell tossed a TD pass and accumulated 231 passing yards in the loss to Indy, and if the team can continue improving, he could be a Top 20 QB next season and worthy of a late-round selection as your backup.

Tim Tebow, DEN (MIN) – Tebow didn't disappoint in the start against Houston, throwing for 308 yards and a TD and rushing for 27 yards and the game-winning score in the final minutes. Next season, he'll be a Top 15 QB in fantasy drafts if he remains the starter. He's going to make some mistakes (an INT and lost fumble tempered his numbers from Week 16), but the only QBs that are as valuable inside the 10-yard line are Michael Vick and Aaron Rodgers.

Rex Grossman, WAS (NYG) – The Redskins squeaked out with a win over Jacksonville, but it wasn't pretty. Grossman completed just 19 of the 39 passes, totaling 182 passing yards, a TD and INT. While it's possible he posts solid numbers in Week 17 against the hapless Giants, I'd look for other options.


Running Backs

Off The Top

Ryan Mathews, SD (@DEN) – Mathews has been an undisputed disappointment in 2010, but with Tolbert likely out for Week 17 and the Chargers anxious to see what Mathews is capable of, the rookie could go off.



Digging Deeper

Danny Woodhead, NE (MIA) – I'm anticipating a lot of Woodhead in week 17. Call it a hunch, call it whatever you like. But he's just the kind of guy I see Belichick letting loose in a hollow game.


Scouring The Barrel

John Kuhn, GB (CHI) – The Packers need a win, and Kuhn has done a lot of the dirty work in the red zone the past couple weeks. He's available in over 90 percent of leagues, and could provide some value in the season finale.


Updates

LeGarrette Blount, TB (@NO) – Blount didn't score, but he led all rushers in Week 16 with 164 yards on just 18 carries – a 9.1 average. The rookie looks like the real deal and won't come off the board any later than the third or fourth round in drafts next season.

Toby Gerhart, MIN (@DET) – The early word is that Adrian Peterson will start Tuesday night in Philly.

Derrick Ward, HOU (JAC) – Arian Foster was active and got the start, rendering Ward a fantasy afterthought. He should be avoided in 2011 drafts.


Wide Receivers/Tight Ends

Off The Top

WR Michael Crabtree, SF (ARI) – There's not a lot of top options out there at this point, but with the Mike Singletary era over in San Fran, you can expect a lot more of Crabtree as the new regime tries to assess its inventory.

WR Kenny Britt, TEN (@IND) – The Titans love to play spoiler, and they'll be out to beat the Colts with the deep ball – Kenny's Britt's bread and butter. The explosive young receiver is still available in a quarter of fantasy leagues.



Digging Deeper

WR Mike Thomas, JAC (@HOU) – Garrard looked like he was on the same page as Thomas last week. I'm expecting big numbers when they face the Texans, and with Thomas available in about half of fantasy leagues, you could definitely take advantage.

WR Jordy Nelson, GB (CHI) – He had 4-124-1 in the win over the Giants, and in the season finale against the Bears, could produce out of the slot once again.



Scouring The Barrel

WR Andre Roberts, ARI (@SF) – Roberts had a career day against the Cowboys (5-110-1) and should see a lot of targets in Week 17, with nothing at stake against the 49ers.

WR Jerome Simpson, CIN (@BAL) – Simpson has a monster week in the Bengals upset win over San Diego, hauling in six catches for 124 yards and two TDs. He's nearly un-owned in fantasy leagues but could make another impact in Week 17.



Updates

WR Vincent Jackson, SD (DEN) – He might have been the biggest fantasy disappointment of Week 16, as countless fantasy columns (including this one) perceived V-Jax as a lock for another big game. After three TDs in Week 16, the lanky receiver opened the game by fumbling an exchange on a reverse and recovering all the way back at the San Diego 1-yard line. Bengals CB Johnathan Joseph did an excellent job limiting Jackson, who was targeted nine times but caught just four balls for 54 yards.

WR Mario Manningham, NYG (@WAS) – Manningham was the best offensive performer for the Giants, hauling in four catches for 132 yards, including an 85-yard TD from Eli Manning.

WR Jacoby Ford, OAK (@KC) – Ford returned the opening kickoff 99 yards for a TD and added 2-21-0 – giving him great value as a third WR or flex play.

WR James Jones, GB (CHI) – Jones scored for the second consecutive week, going for 4-36-1 in the decisive win over the Giants.

TE Jimmy Graham, NO (TB) – Graham caught four passes for 26 yards and a TD – the winning score – against Atlanta on Monday night. I think he'll be a Top 10 TE next season.

WR Josh Morgan, SF (ARI) – Morgan was relatively quite in Week 16 (2-39-0) as the 49ers were eliminated from playoff contention.


IDP

Off The Top

LB Clay Matthews, GB (CHI) – Great players step it up in big games, and that's just what will happen in the Week 17 matchup with Chicago. Matthews has 12.5 sacks in 2010, and he could easily post two or more with Jay Cutler (and the playoffs) in his sights.



Digging Deeper

DB Eric Weddle, SD (@DEN) – The Chargers safety had 16 tackles last week and could be busy again this week against the Broncos, who have nothing to lose and will give Tim Tebow a chance to air it out facing the division rival.



Scouring The Barrel

DL Jason Pierre-Paul, NYG (@WAS) – Here's my weekly DL recommendation based strictly on the matchup with the Redskins. Actually, that's not entirely true. Pierre-Paul has been a beast over the past four weeks.



Updates

LB Lance Briggs, CHI (@GB) – It's been a lackluster season for Briggs, who totaled just three solos and a PD in Week 16's win over the Jets. The main reason for Briggs' uninspiring tackle numbers (he has just 80 this season) has been the return of Brian Urlacher – who has 121 tackles, 4.0 sacks, an INT, two forced fumbles and 10 PD through 15 games.

DB Craig Dahl, STL (@SEA) – Dahl posted three tackles and two PD – an acceptable if unspectacular fantasy line for a DB2.

DL Jeremy Mincey, JAC (@HOU) – Mincey didn't get to Rex Grossman, but strangely, he finished with the exact same stat line as Dahl – two solos, an assist and two PD – pretty solid for a DL.