11/22/11





MyFantasyLeague.com Users...
Check out the most popular waiver wire pickups this week across thousands of MFL leagues. Also, quickly see who's available on your waiver wire this week by using the MFL Power feature at FF Today. Just input your league's 5-digit ID number away you go!

Targeting weekly waiver picks is a completely subjective business, but this column hopes to point out some obvious and not-so-obvious selections to help your team from week to week while you strive to collect fantasy wins, reach your league playoffs, and win the elusive title that your friends say is out of your grasp. While I'm a big proponent of making trades to bolster your roster, the waiver wire can be a limitless resource when it comes to discovering fantasy value. Each week, I'll target both offensive and defensive players — sometimes breakout stars that eluded your team's draft — as well as players who can help your squad that may be lurking in deeper leagues.



Off the Top -

Includes my premier recommendations. These are sometimes players available only in more shallow leagues, and occasionally guys who are more readily but are thrust into the fantasy spotlight because of opportunity or exceptional production.



Digging Deeper -

Covers the next tier of quality waiver wire specimens, usually players available in a majority of online leagues. There are a lot of gems in this range who can be plucked rather easily.



Scouring the Barrel -

Chronicles the deepest of fantasy adds — and sometimes highlights players being tacked onto fantasy squads who I don't have much confidence in. Make sure you read the fine print.

Each week, I'll also provide a brief update on the 20-30 players I covered the previous week. It's the most accurate, comprehensive one-stop waiver-wire column available on the Internet, and it's only available here at fftoday.com.

Feedback is always welcome, appreciated and encouraged. I'll get to as many e-mails as I can.


---
Note:
Each player's next four matchups are listed in parentheses ()
Quarterbacks
Off The Top
Alex Smith, SF (@BAL, STL, @ARI, PIT) – The matchups over the next few weeks aren't all that favorable, but it stands to reason that the 49ers will be forced to throw the ball a bit more in the coming weeks as teams prepare to shut down what has been a pretty effective running game. With the season winding down, and starting QBs going down at a ridiculous rate these days, it's a good time to add a third QB. Smith has learned to cut down on his mistakes and has led his team to a 9-1 record, so I'm willing to bank on a couple decent fantasy performances in the final few weeks.

Digging Deeper
Matt Moore, MIA (@DAL, OAK, PHI, @BUF) – Moore has two three-TD performances in his last three games and despite having little to no rapport with Brandon Marshall, is putting together respectable numbers. I don't see him easing off the gas pedal during the next few weeks when the Dolphins have little to lose.


Scouring The Barrel
Caleb Hanie, CHI (@OAK, KC, @DEN, SEA) – Starter Jay Cutler already had surgery to repair a broken thumb and Hanie, barring anything unforeseen, will see out the rest of the regular season in Chicago. He's a capable guy but it's tough to know how the Bears' play callers will handle him the next couple games. If you're not willing to take a wait-and-see approach, he could provide some unexpected value.


Updates
Carson Palmer, OAK (CHI, @MIA, @GB) – Palmer was limited to just 164 passing yards but notched the win, had a TD pass and a rushing TD, and didn't turn the ball over. He could be a decent QB1 down the stretch.

Rex Grossman, WAS (@SEA, NYJ, NE) – In a week where he definitely was starting for some fantasy teams because of injuries and bye weeks, Grossman was a Top 5 guy and came through with 289-2-1 and a rushing TD (10 rushing yards on the day), good for about 20-30 fantasy points and a 95.2 passer rating.

Matt Leinart, HOU (@JAC, ATL, @CIN) – Texans were on a bye. The adventure begins next week.
Vince Young, PHI (NE, @SEA, @MIA) – Young tossed three INTs but led the Eagles to victory on a final drive that saw him convert on third down time and again. He finished with 258 passing yards and two TDs.

Tyler Palko, KC (PIT, @CHI, @NYJ) – Palko showed some signs of life, but made a few terrible throws that kept the Chiefs out of the end zone by killing promising drives. I'd stay away.

Running Backs
Off The Top
DeAngelo Williams, CAR (@IND, @TB, ATL, @HOU) – Williams (71 percent owned) had 10 carries for 73 yards and one catch for 32 yards Sunday against the Lions, and he's facing the lowly Colts on Sunday. He hasn't been spectacular this season with Jonathan Stewart and Cam Newton taking away some of his scoring opportunities, but he's a must-play in Week 12.


Digging Deeper
Toby Gerhart, MIN (@ATL, DEN, @DET, NO) – He's owned in just 6 percent of fantasy leagues, but that number will definitely go up with an ankle injury threatening Adrian Peterson's availability the next few weeks. ADP is out at least one game, and could miss a couple more with his Grade 1 high ankle sprain.

Scouring The Barrel
Joe McKnight, NYJ (BUF, @WAS, KC, @PHI) – With LT inactive and Shonn Greene out due to injury, McKnight stepped in and gathered 59 rushing yards on 16 carries as well as 6-62-0 receiving. Keep an eye on the injury report, because McKnight could be more productive than both Greene and LT have been if he's the only guy available next week.

Shane Vereen, NE (@PHI, IND, @WAS, @DEN) – Keeper leaguers should be alert to the running of Vereen, who was on display in the final couple drives of the MNF matchup between the Chiefs and Pats. The sprightly back showed off some nice moves and finished with a TD. There's a possibility he gets more work down the stretch, although with so many options in New England, it's hard to see him making an enormous impact.


Updates
Chris Ogbonnaya, CLE (JAC, @CIN, BAL, @PIT) – The third-stringer who was vaulted into eth starting role rushed for 115 yards and a TD on 21 carries and contributed a couple catches for 19 yards. What a steal!

Kendall Hunter, SF (ARI, @BAL, STL, @ARI) – Frank Gore ended up starting the game, but Hunter did finish with 11 carries for 27 yards and 1-15-0 receiving. Not great, but not a complete whiff.

Marion Barber, CHI (SD, @OAK, KC, @DEN) – Barber continued his streak of game with a rushing TD, barreling in the end zone on a first half drive that saw him gain the bulk of his 23 rushing yards (six carries). For a guy with only a few touches a game, Barber provides some value.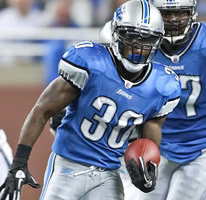 Kevin Smith: Waiver wire darling.

Lance Ball, DEN (NYJ, @SD, @MIN, CHI) – McGahee got the start (though he stunk) and Ball had five carries for 18 yards and 2-26-0 receiving.



Kevin Smith, DET (CAR, GB, @NO, MIN) – For those of you who gambled on Smith, it paid off big. The prodigal Lion rushed for 140 yards and two TDs on just 16 carries and added four catches for 61 receiving yards and a TD as well. It was far and away the best performance of any back in Week 11.

Jacquizz Rodgers, ATL (TEN, MIN, @HOU, @CAR) – The Falcons had a hard time putting away the Titans, and Rodgers was effectively left out of the offensive mix (two carries 2 yards).


Wide Receivers/Tight Ends

Off The Top

WR Torrey Smith, BAL (SF, @CLE, IND, @SD) – Smith (60 percent owned) continues his Jekyll-and-Hyde act, slamming the Bengals for 6-165-1 on Sunday. He's among the top 35 WRs in the league, but he still doesn't get a lot of respect because of his inconsistencies.

WR Michael Crabtree, SF (@BAL, STL, @ARI, PIT) – Still available in about half of fantasy leagues, Crabtree is the best WR option in SF and he's done a decent amount of work in the last five games (27-320-1) even though the TDs haven't been there. Expect that to change.



Digging Deeper

WR Nate Burleson, DET (GB, @NO, MIN, @OAK) – Burleson (33 percent owned) had his best game of 2011 in Week 11 when he put up 7-63-1 in the win over Carolina. It's hard to predict a bigger offensive explosion than Stafford's five TD game, but Burleson has been heavily targeted following the Week 9 bye and has 36 targets (24 rec.) in his last five games.

WR Jerome Simpson, CIN (CLE, @PIT, HOU, @STL) – It makes sense that Simpson (29 percent owned) isn't getting a whole lot of respect from fantasy owners; the 2008 second-round pick out of Coastal Carolina didn't do much of anything until the last few weeks of 2010, and has three weeks this season where he caught one ball or fewer. But he does have three 100-yard games this season and with A.J. Green nursing an injury, he could keep drawing targets from Andy Dalton.



Scouring The Barrel

WR Donte Stallworth, WAS (@SEA, NYJ, NE, @NYG) – Resigned by the Redskins, Stallworth (0 percent owned) had 4-51-1 in the OT loss to Dallas and was a huge part of the last couple drives. Jabar Gaffney (42 percent owned) was the clear No. 1 on Sunday and is still available in many leagues as well.



Updates

WR Denarius Moore, OAK (CHI, @MIA, @GB) – Moore busted in Week 11 with just one catch for 14 yards.

WR Laurent Robinson, DAL (MIA, @ARI, NYG) – Robinson wasn't as active as in previous weeks, but he did catch four balls for 34 yards and a TD.

TE Scott Chandler, BUF (@NYJ, TEN, @SD) – Chandler led the Bills offense with 5-71-0, the most yards of any Buffalo player in Week 11. Fred Jackson was limited to 67 total yards and left the game early with a bruised calf.

WR Earl Bennett, CHI (@OAK, KC, @DEN) – Bennett had just three catches but totaled 75 receiving yards. He would be a solid WR3 going forward, but Cutler's broken thumb throws a monkey wrench into that situation.

WR Vincent Brown, SD (DEN, @JAC, BUF) – The other Vincent (Jackson) hogged most of the offensive production against Chicago and Brown finished with just one catch for 8 yards. He probably would have caught a TD pass were it not for a Bears defensive hold in the second half.

WR Harry Douglas, ATL (MIN, @HOU, @CAR) – It wasn't his stat line from last week but Douglas filled in again for Julio Jones and gathered up 4-51-0.


IDP

Off The Top

LB Takeo Spikes, SD (DEN, @JAC, BUF, BAL) – Spikes got off to a great start but hasn't been making too many plays lately. He suffered a concussion in Week 10 and wasn't his usual self on Sunday against Chicago, though he played and recorded three solos. If the Chargers are going to start winning, they'll need Spikes to resume his early season pace.



Digging Deeper

DB Troy Polamalu, PIT (KC, CIN, CLE, @SF) – The veteran safety has been relatively quiet lately, but he's still playing at a very high level and is capable of turning in a couple game-changing plays per contest. Because of bye week issues, some owners may have dropped him. He's racked up 62 total tackles, a sack and seven PDs, though he's yet to pick off a pass in 2011. This week against Palko's Chiefs might be a good one.



Scouring The Barrel

DL Geno Atkins, CIN (CLE, @PIT, HOU, @STL) – Atkins flies under the radar for the most part in IDP formats but is putting together a fantastic season: 28 tackles, 5.5 sacks, PD, FR, TD. His numbers are relatively consistent for a DL and he's on a defense that spends a decent amount of time on the field but makes big plays. Give him a shot if he's still available in your league.



Updates

DL Ndamukong Suh, DET (GB, @NO, MIN) – Suh still hasn't broken through for a big stat line (three total tackles in Sunday's win over Carolina), and it's obvious the defense could be playing a lot better.

LB Rob Ninkovich, NE (@PHI, IND, @WAS) – It was another solid game for Ninkowski, who finished with six solos and a sack. He's a must-add in deeper IDP leagues at this point.

DB Cedric Griffin, MIN (@ATL, DEN, @DET) – Griffin didn't come through with a pick or any PDs, but he did manage five total tackles against Oakland.

DL Trent Cole, PHI (NE, @SEA, @MIA) – With the bye weeks over, many of my defensive selections at this point in the season are guys you might be holding onto, so I'll keep updating the previous two weeks to help you keep track. Cole and the Eagles defensive line applied plenty of pressure to Eli Manning, but Cole managed just four tackles and didn't register a sack.

LB Daryl Washington, ARI (@STL, DAL, SF) – If San Fran's Patrick Willis was the LB1 of this game, Washington was the LB2, posting five solo tackles, a PD and INT.

DB Joe Haden, CLE (@CIN, BAL, @PIT) – The Browns pulled off a big win and Haden, who had four solos and three PD, had one of his best games of the season in coverage.