11/29/11





MyFantasyLeague.com Users...
Check out the most popular waiver wire pickups this week across thousands of MFL leagues. Also, quickly see who's available on your waiver wire this week by using the MFL Power feature at FF Today. Just input your league's 5-digit ID number away you go!

Targeting weekly waiver picks is a completely subjective business, but this column hopes to point out some obvious and not-so-obvious selections to help your team from week to week while you strive to collect fantasy wins, reach your league playoffs, and win the elusive title that your friends say is out of your grasp. While I'm a big proponent of making trades to bolster your roster, the waiver wire can be a limitless resource when it comes to discovering fantasy value. Each week, I'll target both offensive and defensive players — sometimes breakout stars that eluded your team's draft — as well as players who can help your squad that may be lurking in deeper leagues.



Off the Top -

Includes my premier recommendations. These are sometimes players available only in more shallow leagues, and occasionally guys who are more readily but are thrust into the fantasy spotlight because of opportunity or exceptional production.



Digging Deeper -

Covers the next tier of quality waiver wire specimens, usually players available in a majority of online leagues. There are a lot of gems in this range who can be plucked rather easily.



Scouring the Barrel -

Chronicles the deepest of fantasy adds — and sometimes highlights players being tacked onto fantasy squads who I don't have much confidence in. Make sure you read the fine print.

Each week, I'll also provide a brief update on the 20-30 players I covered the previous week. It's the most accurate, comprehensive one-stop waiver-wire column available on the Internet, and it's only available here at fftoday.com.

Feedback is always welcome, appreciated and encouraged. I'll get to as many e-mails as I can.


---
Note:
Each player's next four matchups are listed in parentheses ()
Quarterbacks
Off The Top
Mark Sanchez, NYJ (@WAS, KC, @PHI, NYG) – I've said this multiple times in several different columns this season, but it's painfully obvious that the Jets need to throw the ball to Dustin Keller and Plaxico Burress to be successful. With such a talented array of weapons, it should be getting easier for Sanchez (65 percent owned), who has a few favorable matchups in his final few games.

Digging Deeper
Kyle Orton, KC (@CHI, @NYJ, GB, OAK) – Orton was inactive on Sunday night, but he'll get the chance to win eth starting job this week in practice, when he'll get first team reps along with Tyler Palko (and possibly even Ricky Stanzi). Both Orton and Stanzi have more upside than Palko, who's thrown six INTs and no TDs in two starts since Matt Cassel's season-ending injury.


Scouring The Barrel
Taylor Yates, HOU (ATL, @CIN, CAR, @IND) – Although the Texans are working out Jeff Garcia and Jake Delhomme (and expressed interest in former backup Sage Rosenfels before the Dolphins announced they wouldn't be releasing him), it appears Yates will get the nod in Week 13 against the Falcons. Yates has received positive marks from Gary Kubiak for his mobility and athleticism, which will come in handy as teams will likely apply blitz pressure and force him to move around.


Updates
Alex Smith, SF (STL, @ARI, PIT, @SEA) – Smith stained the proverbial sheets on Thanksgiving, turning in his worst fantasy outing of his season (140-0-1). Look for a rebound this week at home versus the Rams.
Matt Moore, MIA (OAK, PHI, @BUF, @NE) – Moore's game was middle-of-the-road among NFL QBs (288-1-0), although he did almost get the Dolphins a victory. The next few weeks could mean decent come-from-behind passing numbers.
Caleb Hanie, CHI (KC, @DEN, SEA, @GB) – He had one of the better fantasy performances among QBs this week, posting 254-2-3 and 50 rushing yards. Not a bad plug-in if you needed him, but the Chiefs defense is to be avoided in Week 13.

Running Backs
Off The Top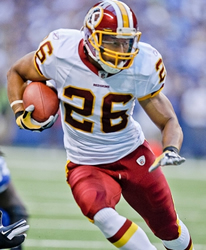 Helu: The starting RB "for sure."
Roy Helu, WAS (NYJ, NE, @NYG, MIN) – Helu's effectiveness as an interior runner and pass-catching back were on display yet again this past Sunday in Seattle, where the rookie exploded for 108 rushing yards and a score on 23 carries, and added 7-54-0 as a receiver. If Mike Shanahan was uncertain if Helu was an every-down back before, he's positive he can handle the load now. You've got to love his last few matchups in PPR leagues, and he's on a team that's still capable of grinding out a couple more wins.

C.J. Spiller, BUF (TEN, @SD, MIA, DEN) – Spiller's no Fred Jackson, but he's got a lot of game breaking ability and is atop the short list of available RBs in Buffalo. He's a solid pass catcher and could provide some value in all formats against the next few opponents.


Digging Deeper
Maurice Morris, DET (@NO, MIN, @OAK, SD) – We're not sure if the Lions are bluffing when they say Kevin Smith is really okay after injuring his ankle in the Thanksgiving loss to Green Bay, but Morris looked damn good (39 rushing yards 9-81-0 receiving) in relief of the Week 11 breakout star.

Donald Brown, IND (@NE, @BAL, TEN, HOU) – Joseph Addai returned to the lineup and got the "start," but Brown was the Colts' go-to RB, posting 97 total yards and a TD. He's still available in the majority of fantasy leagues, and he could have some RB3/flex value down the stretch, even if Addai is healthy.


Scouring The Barrel
Danny Ware, NYG (GB, @DAL, WAS, @NYJ) – If Ahmad Bradshaw returns next week, he won't be worth much – but with some of the best teams in the NFC on the upcoming docket, the Giants will be utilizing the screen pass a lot. Ware had eight catches for 45 yards on Monday night in the loss to New Orleans, as well as 23 rushing yards. It's clear he's just as valuable in PPR leagues as Brandon Jacobs.

Updates
DeAngelo Williams, CAR (@TB, ATL, @HOU, TB) – Bingo! Williams broke out with 69 rushing yards and two TDs in the Panthers win over Indy. Williams was started in only about 30 percent of leagues last week, so he wasn't a no-brainer play.

Toby Gerhart, MIN (DEN, @DET, NO, @WAS) – Owners couldn't have expected much more than what Gerhart got them in Week 12: 44 rushing yards, TD; 2-19-0 receiving. There's a chance Adrian Peterson could be back in Week 13, though I think it's unlikely, so for now, sit tight on Gerhart and consider a plug-n-play against one of the worst run defenses in football.

Joe McKnight, NYJ (@WAS, KC, @PHI, NYG) – McKnight played well in the limited opportunities he was given, but managed just 40 total yards. Rex Ryan and the Shonn Greene supporters are just too stubborn for their own good.

Shane Vereen, NE (IND, @WAS, @DEN, MIA) – Vereen saw some late-game action again, tallying up 18 yards on seven carries. Keep him in mind for keeper leagues.

Wide Receivers/Tight Ends
Off The Top
WR Reggie Wayne, IND (@NE, @BAL, TEN, HOU) – Wayne (still available in about 10-15 percent of fantasy leagues because of his team's futility) had his best game of the season and only great performance other than Week 1. If he's out there in your league, he might be worth a grab after his most recent resurgence.

WR Eric Decker, DEN (@MIN, CHI, NE, @BUF) – Even though he caught just three passes, Decker (72 percent owned) had a Top 25 fantasy performance among WRs in Week 12 (3-65-1) and gets a slew of favorable matchups in the coming weeks. He's a solid WR2 in all formats because of his big-play ability – and regardless of his passing-challenged QB.


Digging Deeper
TE Dustin Keller, NYJ (@WAS, KC, @PHI, NYG) – Keller (66 percent owned) had a nice little two-TD game in Week 12, and he's poised for a few more big games before the season's out.

WR Doug Baldwin, SEA (PHI, STL, @CHI, SF) – With Sidney Rice (head) and Ben Obamanu (ankle, knee) hurting, Baldwin could see a bunch of targets down the stretch for the Seahawks, who have every reason to throw the ball like gangbusters in the next few games. The rookie has quietly amassed 604 receiving yards on just 37 catches this season – a 16.3 YPC average.


Scouring The Barrel
WR Jason Avant, PHI (@SEA, @MIA, NYJ, @DAL) – DeSean Jackson is in the doghouse, Jeremy Maclin is still hurt and both Riley Cooper (5 percent owned) and Jason Avant (10 percent owned) have been very active as Vince Young's go-to receivers.

WR Riley Cooper, PHI (@SEA, @MIA, NYJ, @DAL) – In deeper leagues, he's worth a shot.

TE Kellen Davis, CHI (KC, @DEN, SEA, @GB) – He's got four TDs this season and could be a deep play in two-TE leagues based on the next few matchups and the fact that he's got the inexperienced Hanie at the helm.


Updates
WR Torrey Smith, BAL (@CLE, IND, @SD, CLE) – Smith followed up his huge Week 11 with a quiet 2-23-0 line. He's the biggest hit-or-miss receiver in the game.

WR Michael Crabtree, SF (STL, @ARI, PIT, @SEA) – In PPR leagues, he was serviceable – posting 6-54-0, but the lack of TDs is a problem.

WR Nate Burleson, DET (@NO, MIN, @OAK, SD) – Burleson had a solid game (5-39-0, 11 rushing yards), but the Lions fell short.

WR Jerome Simpson, CIN (@PIT, HOU, @STL, ARI) – Simpson had just 2-15-0 on Sunday, as the Browns did a good job on the Bengals receivers.

WR Donte Stallworth, WAS (NYJ, NE, @NYG, MIN) – With Santana Moss back, the Redskins saw no need to rush Stallworth back from his foot injury.

IDP
Off The Top
LB Kevin Burnett, MIA (OAK, PHI, @BUF, @NE) – For some reason, teams continue to pound the ball straight up the middle versus the Dolphins, and Burnett keeps racking up the tackles. He's coming off a 12-tackle game against Dallas and has 67 total stops on the season (including 28 solos in his last four games). I like the next two matchups quite a bit.


Digging Deeper
LB/DL Connor Barwin, HOU (ATL, @CIN, CAR, @IND) – Barwin is on an absolute tear, posting 4.0 sacks last week and 6.5 in his last three games. He's up to 9.0 on the season and is available in plenty of IDP formats. If he's available as a DL, all the more reason to snag him.


Scouring The Barrel
DB Tracy Porter, NO (DET, @TEN, @MIN, ATL) – Porter and the high-scoring Saints are in a perfect position for their DBs to rack up monster IDP totals. They shift to a prevent defense by the middle of the second half, and the corners are very active. If you need a deep-league sleeper DB for the stretch run, Porter is a nearly universally available option.


Updates
LB Takeo Spikes, SD (@JAC, BUF, BAL, @DET) – As expected, Spikes was a busy man on Sunday, racking up 14 total tackles in the loss to Denver. He finishes the season with several favorable matchups, and should be started at LB2/LB3 in most formats.

DB Troy Polamalu, PIT (CIN, CLE, @SF, STL) – Polamalu stayed on the ground after delivering a hit to the legs of a Chiefs player early in the game and didn't return. He reported concussion-like symptoms following the contest but is now supposedly "fine" for Week 13.

DL Geno Atkins, CIN (@PIT, HOU, @STL, ARI) – Atkins registered a sack, three total tackles and two PD in the win over Cleveland. It was one of his best IDP performances of the season.

DL Ndamukong Suh, DET (@NO, MIN, @OAK, SD) – Suh had one tackle before his ejection on Thanksgiving for his actions, and he's likely to face suspension. Forget him.

LB Rob Ninkovich, NE (IND, @WAS, @DEN, MIA) – Ninkovich had three solos and a sack, his third straight game with a sack or turnover.

DB Cedric Griffin, MIN (DEN, @DET, NO, @WAS) – Just two assists in the loss to Atlanta.