12/6/11





MyFantasyLeague.com Users...
Check out the most popular waiver wire pickups this week across thousands of MFL leagues. Also, quickly see who's available on your waiver wire this week by using the MFL Power feature at FF Today. Just input your league's 5-digit ID number away you go!

Targeting weekly waiver picks is a completely subjective business, but this column hopes to point out some obvious and not-so-obvious selections to help your team from week to week while you strive to collect fantasy wins, reach your league playoffs, and win the elusive title that your friends say is out of your grasp. While I'm a big proponent of making trades to bolster your roster, the waiver wire can be a limitless resource when it comes to discovering fantasy value. Each week, I'll target both offensive and defensive players — sometimes breakout stars that eluded your team's draft — as well as players who can help your squad that may be lurking in deeper leagues.



Off the Top -

Includes my premier recommendations. These are sometimes players available only in more shallow leagues, and occasionally guys who are more readily but are thrust into the fantasy spotlight because of opportunity or exceptional production.



Digging Deeper -

Covers the next tier of quality waiver wire specimens, usually players available in a majority of online leagues. There are a lot of gems in this range who can be plucked rather easily.



Scouring the Barrel -

Chronicles the deepest of fantasy adds — and sometimes highlights players being tacked onto fantasy squads who I don't have much confidence in. Make sure you read the fine print.

Each week, I'll also provide a brief update on the 20-30 players I covered the previous week. It's the most accurate, comprehensive one-stop waiver-wire column available on the Internet, and it's only available here at fftoday.com.

Feedback is always welcome, appreciated and encouraged. I'll get to as many e-mails as I can.


---
Note:
Each player's next four matchups are listed in parentheses ()
Quarterbacks
Off The Top
Kevin Kolb, ARI (SF, CLE, @CIN, SEA) – Kolb's matchups suck, but if you're looking for a guy who could still put up decent fantasy numbers as a QB2, he could be your guy. I'll leave it at that.

Digging Deeper
Matt Moore, MIA (PHI, @BUF, @NE, NYJ) – Moore (20 percent owned) is probably the top waiver wire option who's still available in the majority of fantasy leagues, mostly because he has favorable matchups and has shown he can get the ball to guys in the red zone with some consistency. He's highly underrated and could be a big sleeper down the stretch.


Scouring The Barrel
Rex Grossman, WAS (NE, @NYG, MIN, @PHI) – Despite being owned in just 12 percent of leagues and losing his starting job after Week 6 for three games, Grossman remains an intriguing fantasy starter for the final few games, based purely on fantasy strength of schedule. He'll be without both TE Fred Davis (his safety valve and popular red zone target) and top lineman Trent Williams, who'll be serving four-game suspensions to close out the season as a result of multiple failed drug tests.


Updates
Mark Sanchez, NYJ (KC, @PHI, NYG, @MIA) – Gross. Sanchez had a rough fantasy day as Shonn Greene bull-rushed his way into the end zone three times. The Jets face some tougher run defenses in the final few weeks, so I imagine they'll be throwing a lot more than in Week 13.
Kyle Orton, KC (@NYJ, GB, OAK, @DEN) – Orton threw one pass and dislocated his index finger. Nice.
T.J. Yates, HOU (@CIN, CAR, @IND, TEN) – Yates got a win and had a mistake-free day (188-1-0) but lost Andre Johnson again with another hamstring injury. This one's not too severe and is on the other leg – but the star receiver could still miss up to a couple more weeks, hurting the prospective value of Yates, who seemed to be developing a nice rapport with Johnson. Stay tuned.

Running Backs
Off The Top
Marion Barber, CHI (@DEN, SEA, @GB, @MIN) – With Matt Forte lost for 2-4 weeks with MCL damage, Barber (39 percent owned) takes over the primary running duties for the Bears, who will undoubtedly be pounding the ball a lot over the next few weeks. Barber isn't the all-purpose back that Forte is, so he won't put up great numbers in the passing game. His backup will be undrafted UCLA alum Kahlil Bell, who'll mostly fill in on passing downs.

Toby Gerhart, MIN (@DET, NO, @WAS, CHI) – Gerhart (42 percent owned) is getting it done for the Vikings, who are using him a lot in the passing game as Ponder's check-down and on straight-ahead runs during the first couple downs. He racked up 91 rushing yards on 21 carries against the Broncos and tallied 8-42-0 receiving in the tough loss. Coaches are optimistic about getting Adrian Peterson (high ankle sprain) back practicing and playing, but I think Gerhart will get at least one more start at RB, especially since there's really no point in rushing ADP back on the field for a 2-10 team.


Digging Deeper
Dexter McCluster, KC (@NYJ, GB, OAK, @DEN) – I love this guy's matchups in the final four games, and his recent resurgence indicates he's being turned to as the Chiefs primary offensive option. He's still available in 60-65 percent of leagues.

Chris Ogbonnaya, CLE (@PIT, @ARI, @BAL, PIT) – It's going to be a brutally tough finish for the Browns, who square off against some of the best defenses in football the final four weeks. But if Sunday's loss was any indicator and Peyton Hillis is indeed injured again, Ogbonnaya (27 percent owned) will get a lot of work on passing downs and rack up points in PPR leagues.


Scouring The Barrel
LaRod Stephens-Howling, ARI (SF, CLE, @CIN, SEA) – In overtime, Stephens-Howling (5 percent owned) beat the Cowboys with one swift, deft blow – a 52-yard TD reception off a screen pass that iced the game in walk-off fashion. With speed like LSH possesses, it's a wonder they don't use him more. In super-deep leagues, he's worth a pickup… plus, Beanie Wells is a brittle dude.

Brandon Saine, GB OAK, @KC, CHI, DET) – Like LSH, Saine (1 percent owned) isn't a top option, but he could continue to get some work with James Starks hurting and Ryan Grant being so brittle himself.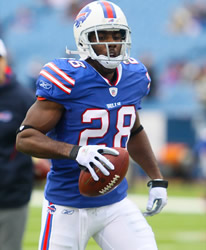 Spiller is a RB2 moving forward.
Updates
Roy Helu, WAS (NE, @NYG, MIN, @PHI) – I hit on four Top 25 RBs this week with my recommendations, and Helu was the top scorer among them, rushing for 100 yards and a TD on 23 carries and hauling in 4-42-0 on six targets.


C.J. Spiller, BUF (@SD, MIA, DEN, @NE) – Spiller had his best game as a pro, rushing for 83 yards and big TD on just 14 carries. He added 3-19-0 receiving.

Maurice Morris, DET (MIN, @OAK, SD, @GB) – Morris (28 rushing yards, 5-47-1) took over for Kevin Smith, who aggravated his ankle injury on Sunday night.

Donald Brown, IND (@BAL, TEN, HOU, @JAC) – Brown wasn't spectacular, but he did find paydirt and tally 56 total yards in the loss to New England.

Danny Ware, NYG – He scored the two-point conversion that tied up the game at 35-35 before Aaron Rodgers killed any hope of me getting a first round bye (I lost by two points in one league because of the yardage he gained on the final drive). But Ware will mainly be a non-factor from here on out with Ahmad Bradshaw back in action.

Wide Receivers/Tight Ends
Off The Top
WR Lance Moore, NO (@TEN, @MIN, ATL, CAR) – The speedy little slot receiver has been very active in key spots for the Saints, who are scoring at will these days. Moore is still available in about a third of fantasy leagues and has a few really nice matchups in the coming weeks.


Digging Deeper
WR Darrius Heyward-Bey, OAK (@GB, DET, @KC, SD) – Heyward-Bey is the only healthy receiver in Oakland, and had 3-23-1 on eight targets Sunday in the loss to Miami. He's only owned in about one quarter of fantasy leagues and should be busy the next couple weeks in garbage time.

WR Demaryius Thomas, DEN (CHI, NE, @BUF, KC) – Thomas only had four catches, but two were gamebreaking TD receptions (21, 41) that helped the Broncos steal another last-minute victory.


Scouring The Barrel
WR Golden Tate, SEA (STL, @CHI, SF, @ARI) – Tate won't be a remarkably consistent option, but he did have a fine game on Thursday, going for 4-47-1 in the win over the struggling Eagles. He could be in line for more targets when the Seahawks take on St. Louis in Week 14.

WR/QB Brad Smith, BUF (@SD, MIA, DEN, @NE) – The Bills emergency QB could be used a lot in the final few weeks as the Bills are seeking out offensive options. He's got 149 receiving yards and a TD on 11 catches in his last two weeks and will be actively involved against San Diego, Miami and Denver.


Updates
WR Reggie Wayne, IND (@BAL, TEN, HOU, @JAC) – Wayne was just okay (5-55-0) while Pierre Garcon (9-150-2) stole the show in garbage time.

WR Eric Decker, DEN (CHI, NE, @BUF, KC) – Like Wayne, Decker (2-25-0) was upstaged by his teammate as Thomas (4-144-2) broke out with two second-half TDs.

TE Dustin Keller, NYJ (KC, @PHI, NYG, @MIA) – Keller (3-12-0) was mostly quiet with the ground game running so effectively in the red zone against the Redskins.

WR Doug Baldwin, SEA (STL, @CHI, SF, @ARI) – We seem to have a recurring theme this week, as Baldwin's teammates (Golden Tate and Ben Obamanu) were much bigger fantasy factors in the surprising win over Philly.

WR Jason Avant, PHI (@MIA, NYJ, @DAL, WAS) – The Eagles passing game never really got going, and while DeSean Jackson is still languishing in doghouse hell, Avant had just one catch for 10 yards on Thursday.

WR Riley Cooper, PHI (@MIA, NYJ, @DAL, WAS) – Cooper was the lone bright spot in the passing game, tallying 5-94-0 in the loss to the upstart Seahawks.

TE Kellen Davis, CHI (@DEN, SEA, @GB, @MIN) – Davis (2-40-0) didn't get into the end zone, but nobody from the Bears did in their 10-3 loss to Kansas City. Only Johnny Knox (5-53-0) had more receiving yards for Chicago, and the early word is that there's new interest in Donovan McNabb.

IDP
Off The Top
LB Lance Briggs, CHI (@DEN, SEA, @GB, @MIN) – If anybody's going to give Tim Tebow a jarring dose of reality, it's Briggs and the Bears defense. The vaunted linebacker has been relatively quiet this season, without many monster games, but I think this is the week he goes off.


Digging Deeper
DL Chris Clemons, SEA (STL, @CHI, SF, @ARI) – Clemons banged up the Rams in Week 11 to the tune of 3.0 sacks, five tackles and a PD. I'm banking on another big performance for the athletic DL, who has 33 total tackles, 8.0 sacks and three PD on the season.


Scouring The Barrel
DB Vontae Davis, MIA (PHI, @BUF, @NE, NYJ) – Since returning in Week 10 from injury, Davis (Vernon's little brother) has been on a tear, posting 16 tackles, five PD, a sack and two INTs in four games. His upcoming schedule portends even more success in IDP formats, and he's universally available in most formats.


Updates
LB Kevin Burnett, MIA (PHI, @BUF, @NE, NYJ) – With the exception of Denver LB Mario Haggan (and in some formats, Chiefs LB Justin Houston and Steelers OLB James Harrison), Burnett had the best performance of Week 13 among linebackers, posting four solos, a sack, PD, and interception that he returned for a TD.

LB/DL Connor Barwin, HOU (@CIN, CAR, @IND, TEN) – Barwin had just one solo tackle but knocked down a couple of passes, somewhat salvaging his sack-free day.

DB Tracy Porter, NO (@TEN, @MIN, ATL, CAR) – Porter finished among the Top 15 DBs for Week 13, recording seven total tackles, a PD and INT in the Saints surgical Sunday night win over the Lions. Again – you are welcome, folks.

LB Takeo Spikes, SD (BUF, BAL, @DET, @OAK) – Spikes didn't make any big plays, but he did rack up nine tackles (six solos) in the decisive victory over the Jags on Monday night.

DB Troy Polamalu, PIT (CLE, @SF, STL, @CLE) – Four tackles and a PD despite last week's concussion scare. Not bad.

DL Geno Atkins, CIN (HOU, @STL, ARI, BAL) – Atkins had one of his most quiet games of the season, posting just two total tackles in the lopsided loss to Pittsburgh.