12/13/11





MyFantasyLeague.com Users...
Check out the most popular waiver wire pickups this week across thousands of MFL leagues. Also, quickly see who's available on your waiver wire this week by using the MFL Power feature at FF Today. Just input your league's 5-digit ID number away you go!

Targeting weekly waiver picks is a completely subjective business, but this column hopes to point out some obvious and not-so-obvious selections to help your team from week to week while you strive to collect fantasy wins, reach your league playoffs, and win the elusive title that your friends say is out of your grasp. While I'm a big proponent of making trades to bolster your roster, the waiver wire can be a limitless resource when it comes to discovering fantasy value. Each week, I'll target both offensive and defensive players — sometimes breakout stars that eluded your team's draft — as well as players who can help your squad that may be lurking in deeper leagues.



Off the Top -

Includes my premier recommendations. These are sometimes players available only in more shallow leagues, and occasionally guys who are more readily but are thrust into the fantasy spotlight because of opportunity or exceptional production.



Digging Deeper -

Covers the next tier of quality waiver wire specimens, usually players available in a majority of online leagues. There are a lot of gems in this range who can be plucked rather easily.



Scouring the Barrel -

Chronicles the deepest of fantasy adds — and sometimes highlights players being tacked onto fantasy squads who I don't have much confidence in. Make sure you read the fine print.

Each week, I'll also provide a brief update on the 20-30 players I covered the previous week. It's the most accurate, comprehensive one-stop waiver-wire column available on the Internet, and it's only available here at fftoday.com.

Feedback is always welcome, appreciated and encouraged. I'll get to as many e-mails as I can.


---
Note:
Players' remaining games listed in parentheses, e.g. (@NYG, MIN, @PHI)
Quarterbacks
Off The Top
Carson Palmer, OAK (DET, @KC, SD) – He put up a stinker in Green Bay (245-1-4), but should be able to post okay numbers against the Lions – if eh can get a couple of his receivers back. Denarius Moore and Jacoby Ford missed another week of action, and Chaz Schilens – who was active along with Darrius Heyward-Bey on Sunday – is now nursing an injury.

Digging Deeper
T.J. Yates, HOU (CAR, @IND, TEN) – Yates showed poise and professionalism on Sunday, leading the Texans down the field in the final moments on a game-winning TD drive and sending Houston to the playoffs for the first time in their 10-year history. He threw for 300-2-1 and lost a fumble but looks like a solid play for Week 15 against the Panthers.


Scouring The Barrel
Jake Locker, TEN (@IND, JAC, @HOU) – Locker relieved the injured Matt Hasselbeck and was 13-for-29 for 282 yards and one TD in Week 14 against the Saints. He also rushed for 36 yards and one touchdown on six carries and should get the start against hapless Indy if Hasselbeck (calf) can't go next week.


Updates
Kevin Kolb, ARI (CLE, @CIN, SEA) – Hurt after one throw and replaced by John Skelton. I'd stay away at this point.
Matt Moore, MIA (@BUF, @NE, NYJ) – Moore had one of his worst games of the season, throwing for just 95 yards, and is now dealing with a possible concussion. He threw for just two first downs all game and was replaced by journeyman J.P. Losman late in the third quarter. It's tough to say who'll get the start in Week 15 against the Bills with Tony Sparano out, but since Moore's head is rattled, I'd lean toward Losman.
Rex Grossman, WAS (@NYG, MIN, @PHI) – "Good" Rex showed up and threw for 252-2-1 in the loss to New England. He should keep the job and makes a good QB2/low-end QB1 play in Week 15.

Running Backs
Off The Top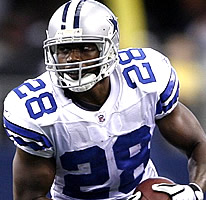 The top waiver wire add for Wk 15.
Felix Jones, DAL (@TB, PHI, @NYG) – With the apparent season-ending injury to DeMarco Murray (broken ankle), Jones will be forced to step up as the Cowboys' only real rushing option. The Cowboys picked up Sammy Morris on Tuesday morning, but he won't get many touches. Jones finished Sunday night with 106 yards on 16 carries and 6-31-0 receiving (seven targets). Because of Murray's success, owners will expect RB1 numbers from Jones, so he won't be available in too many leagues after waivers this week.


Digging Deeper
Ryan Grant, GB (@KC, CHI, DET) – Grant had a monster Week 14, tallying 85 rushing yards and two TDs on just 10 carries. With James Starks (ankle) injured and Brandon Saine (concussion) nursing his own injury, Grant is a hot ticket for the final few weeks. No word yet on Starks' availability, but the early word is that Saine will probably play against the Chiefs.

Scouring The Barrel
Kahlil Bell, CHI (SEA, @GB, @MIN) – Bell did exactly what we thought he would do in Week 14 – run a few times (nine carries, 40 yards) catch a few balls (5-24-0) and spell Barber, who could see fewer touches in Week 15 after he ran out of bounds (the time saved was crucial in Denver's comeback) and then later fumbled on third down at the Denver 33 in OT.

Updates
Marion Barber, CHI (SEA, @GB, @MIN) – Barber put up solid fantasy numbers (140 total yards, TD), but as I explained above, screwed up when it mattered most.

Toby Gerhart, MIN (NO, @WAS, CHI) – Once again, I targeted a couple backs who finished in the Top 10 among RBs with my first couple selections this week. Gerhart had 109 total yards and a TD in the loss to Detroit.

Dexter McCluster, KC (GB, OAK, @DEN) – McCluster carried the ball four times for one yard in Kansas City's Week 15 loss to the Jets, and was held without a catch for the first time this season. Weird.

Chris Ogbonnaya, CLE (@ARI, @BAL, PIT) – Ogbonnaya led the Browns backfield with 27 snaps in Thursday's loss to Pittsburgh, but finished with just 31 yards (two carries). He'll continue to split carries and snaps with Montario Hardesty and starter Peyton Hillis.

LaRod Stephens-Howling, ARI (CLE, @CIN, SEA) – LSH totaled just 25 yards on four touches Sunday. With John Skelton connecting with receivers so well in the second half, the shifty back wasn't needed much.

Brandon Saine, GB (@KC, CHI, DET) – Saine was concussed in Sunday's win over Green Bay, but he was able to walk to the locker room under his own power. Stay tuned.

Wide Receivers/Tight Ends
Off The Top
WR Malcom Floyd, SD (BAL, @DET, @OAK) – The Chargers offense looks to be back in business, and that means a healthy Malcom Floyd is once again a relevant fantasy option. He only had two catches for 29 yards last week, but they really didn't need his services to beat the Bills. The Ravens, on the other hand, will bracket Antonio Gates and force Rivers to target his No. 2 WR a little more.

TE Kellen Winslow, TB (DAL, @CAR, @ATL) – I love Winslow's matchup against the Cowboys in Week 15, largely because the Bucs will be forced to throw the ball and Winslow is their best option other than Mike Williams. It's been a down year for KW2, but he always makes at least a couple catches and is long overdue for a score.


Digging Deeper
WR Jabar Gaffney, WAS (@NYG, MIN, @PHI) – The return of Santana Moss has been good for Gaffney, who caught six passes for 92 yards and a TD against the Pats last week. The foot injury seems to be behind him, and the next few games promise to be high-scoring.

TE Jake Ballard, NYG (WAS, @NYJ, DAL) – Ballard played well against the Cowboys (4-52-1) and didn't drop any passes – a major plus for Eli Manning and the Giants. He's an average TE1 heading into the final three games, and should do well against the Skins this Sunday.


Scouring The Barrel
TE Marcedes Lewis. JAC (@ATL, @TEN, IND) – My third TE of the week, Lewis has been a disappointment this year. But he got behind the defense against the Bucs in Week 14 and could be in line for more targets as the season winds down. He's not a TE1, but in two-TE or deep W/T flex leagues I'd give him a shot.

WR Titus Young, DET (@OAK, SD, @GB) – Young has been a up-and-down performer this season, largely because he's a rookie and he does stupid things – as well as some impressive stuff – on the field. Last week, he finished with 4-87-1, and the matchup with Oakland means he'll get plenty of looks.


Updates
WR Lance Moore, NO (@MIN, ATL, CAR) – Moore fizzled in Week 14, recording just 4-20-0 in a forgettable win over Tennessee.

WR Darrius Heyward-Bey, OAK (DET, @KC, SD) – The Raiders got blown out, but Heyward-Bey was solid, posting 5-78-0. He's a decent WR3 play in Week 15 against the Lions.

WR Demaryius Thomas, DEN (NE, @BUF, KC) – Thomas was targeted 13 times in Week 14, second among all WRs (Harvin led with 15). The talented young wideout dropped a couple balls but still managed 7-78-1, hauling in a late TD to keep the Broncos in the game.

WR Golden Tate, SEA (@CHI, SF, @ARI) – Tate was relatively quiet, hauling in 3-39-0 and rushing for 14 yards.

WR/QB Brad Smith, BUF (MIA, DEN, @NE) – Five targets, no catches. Gross.

IDP
Off The Top
LB Stephen Tulloch, DET (@OAK, SD, @GB) – Tulloch should see plenty of work against the Raiders, who yield big points to opposing MLBs. He's been putting up better numbers lately (19 total tackles, fumble return for TD over his last two games).


Digging Deeper
DB Tyvon Branch, OAK (DET, @KC, SD) – Branch has had a quiet but consistent season, recording at least four tackles in every game. Aside from a big Week 3 against the Jets (10 total tackles, INT), he's yet to have a monster IDP impact – but I really like his matchup against the Lions.


Scouring The Barrel
DL Michael Johnson, CIN (@STL, ARI, BAL) – Johnson gets to go after Sam Bradford and the hideous Rams offensive line. He's an amazing athlete who's starting to figure out the league, and he makes an excellent spot start as a DL2 in Week 15.


Updates
LB Lance Briggs, CHI (SEA, @GB, @MIN) – Briggs finished Sunday's OT loss with nine solo tackles – his second-highest solo total of the season – but couldn't make the big play necessary to turn the tide in the waning moments. Still – he was a serviceable LB2.

DL Chris Clemons, SEA (@CHI, SF, @ARI) – Clemons took advantage of a lackluster Rams O-line and recorded four tackles and a sack – acceptable numbers for any DL.

DB Vontae Davis, MIA (@BUF, @NE, NYJ) – Davis made just two solo tackles versus the Eagles.

LB Kevin Burnett, MIA (@BUF, @NE, NYJ) – Burnett also disappointed in Week 14, recording four total tackles.

LB/DL Connor Barwin, HOU (@CAR, @IND, TEN) – The promising young pass rusher finished with five tackles and a huge sack against the Bengals. On the play, Barwin forced a fumble that was recovered deep in Bengal territory by the Texans, who scored on a TD pass from Yates to TE Joel Dreessen a couple minutes into the second half.

DB Tracy Porter, NO (@MIN, ATL, CAR) – Porter only had three solo tackles but added a pair of PDs that made him an okay DB play.