10/4/11





MyFantasyLeague.com Users...
Check out the most popular waiver wire pickups this week across thousands of MFL leagues. Also, quickly see who's available on your waiver wire this week by using the MFL Power feature at FF Today. Just input your league's 5-digit ID number away you go!

Targeting weekly waiver picks is a completely subjective business, but this column hopes to point out some obvious and not-so-obvious selections to help your team from week to week while you strive to collect fantasy wins, reach your league playoffs, and win the elusive title that your friends say is out of your grasp. While I'm a big proponent of making trades to bolster your roster, the waiver wire can be a limitless resource when it comes to discovering fantasy value. Each week, I'll target both offensive and defensive players — sometimes breakout stars that eluded your team's draft — as well as players who can help your squad that may be lurking in deeper leagues.



Off the Top -

Includes my premier recommendations. These are sometimes players available only in more shallow leagues, and occasionally guys who are more readily but are thrust into the fantasy spotlight because of opportunity or exceptional production.



Digging Deeper -

Covers the next tier of quality waiver wire specimens, usually players available in a majority of online leagues. There are a lot of gems in this range who can be plucked rather easily.



Scouring the Barrel -

Chronicles the deepest of fantasy adds — and sometimes highlights players being tacked onto fantasy squads who I don't have much confidence in. Make sure you read the fine print.

Each week, I'll also provide a brief update on the 20-30 players I covered the previous week. It's the most accurate, comprehensive one-stop waiver-wire column available on the Internet, and it's only available here at fftoday.com.

Feedback is always welcome, appreciated and encouraged. I'll get to as many e-mails as I can.


---
Note:
Each player's next four matchups are listed in parentheses ()
Quarterbacks
Off The Top
Matt Hasselbeck, TEN (@PIT, BYE, HOU, IND) – Hasselbeck turned in yet another solid performance (220-3-1) and might end up being a Top 15 QB this season. Who knew? He's probably not worth a start for a while (the matchups don't get favorable again for some time), but he's worth keeping as a backup for bye week or injury pinches.

Digging Deeper
Jason Campbell, OAK (@HOU, CLE, KC, BYE) – It was against the Pats' weak secondary, but Campbell had his second 300-yard passing day this season, tossing for 344-1-2 and scrambling for 29 yards on four carries. With some better blocking, and facing weaker defensive lines, he could be a dangerous fantasy QB. Weeks 9-14 look good from a matchup perspective.
Alex Smith, SF (TB, @DET, BYE, CLE) – Smith had his best game since Week 14 against Seattle last season, throwing for 291-2-0 and scraping out a big victory over the Eagles. He's still Alex Smith and the schedule isn't favorable the rest of the way, but he's got a new head coach that might be working out some of his issues. Keep an eye on him.

Scouring The Barrel
Blaine Gabbert, JAC (CIN, @PIT, BAL, @HOU) – Gabbert is still largely an unknown commodity, and the upcoming schedule sucks. For now, it's best to leave him on the wire in everything but two-QB leagues.

Updates
Mark Sanchez, NYJ (@NE, MIA, SD, BYE) – Sanchez couldn't solve the Ravens defense and Rex Ryan says the team is going back to the ground-and-pound approach. Color me disappointed, especially with the Pats on the docket for next week.
Colt McCoy, CLE (BYE, @OAK, SEA, @SF) – McCoy showed once again on Sunday that he's short the weapons he needs to make a big fantasy impact.
Tarvaris Jackson, SEA (@NYG, BYE, @CLE, CIN) – I didn't see Jackson's crazy performance (319-3-2) coming, but if you were truly desperate, maybe it worked out for you. Kudos to those who gave him a start.

Running Backs
Off The Top
Willis McGahee, DEN (SD, BYE, @MIA, DET) – McGahee and the Broncos didn't get a win on Sunday, but it's pretty clear who the primary back in Denver is right now. The veteran rushed for 103 yards on just 15 carries. The next four weeks are rough, but you're going to want him for weeks 9-10.

Michael Bush, OAK (@HOU, CLE, KC, BYE) – There seems to be plenty of offense in Raiderland, and Bush contributed 81 total yards and a rushing TD in Sunday's loss to New England. He'll be a decent flex play some weeks and is necessary insurance for Darren McFadden owners.

Digging Deeper
Stevan Ridley, NE (NYJ, DAL, BYE, @PIT) – The rookie is running better than any back on the Pats right now, totaling 97 rushing yards and a score on just 10 carries Sunday. He's a quick, shifty runner who handles between-the-tackles grinding quite well, possessing a nice blend of solid next-level vision and speed. He's on the rise and in Bill Belichick's good graces.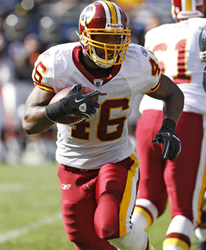 Think Torain is the featured-back in Washington? Wait until next week.

Ryan Torain, WAS (BYE, PHI, @CAR, @BUF) – Mike Shanahan saw some good running from Torain in practice last week, so he gave him the bulk of carries and it paid off. Of course, this could all change tomorrow, as Shanahan is a fantasy-hating jerkface. Torain has a Week 5 bye, but returns against two weak run defenses in weeks 6 and 7.


Scouring The Barrel

Isaac Redman, PIT (TEN, JAC, @ARI, NE) – Even if the injury to Rashard Mendenhall isn't considered serious, I'm adding Redman in deeper formats. The Steelers appear sluggish and willing to do something to switch it up on offense – Redman could help answer their needs.

Lex Hilliard, MIA (BYE, @NYJ, DEN, @NYG) – It might just be a timing thing, but Hilliard was decent on Sunday and could provide some value if the injury to Daniel Thomas lingers.

Jacquizz Rodgers, ATL (GB, CAR, @DET, BYE) – Rodgers is the backup to own in Atlanta, but his diminutive size (5-6, 196) will prevent him from getting consistent looks even if Turner goes down.


Updates

Darren Sproles, NO (@JAC, @CAR, @TB, IND) – Sproles didn't find pay dirt but racked up 131 total yards from scrimmage. He's a strong RB2 in PPR leagues and decent RB3/flex in all others.

Daniel Thomas, MIA (BYE, @NYJ, DEN, @NYG) – Thomas sat out Sunday with a hamstring injury. Stay tuned.

LaDainian Tomlinson, NYJ (@NE, MIA, SD, BYE) – Tomlinson was effectively silenced on Sunday and should only be considered in PPR leagues going forward.

Montario Hardesty, CLE (BYE, @OAK, SEA, @SF) – He only gained 3.1 yards per carry on Sunday, but saw nine targets from McCoy and amassed 5-49-0 receiving, increasing his latent value in PPR formats.

Kendall Hunter, SF (TB, @DET, BYE, CLE) – Frank Gore played (quite well) but Hunter was a decent second fiddle, gaining 100 total yards on 14 touches (nine carries, five catches).

Alfonso Smith, ARI (@MIN, BYE, PIT, @BAL) – Chris Wells stole the show and his job back – although he still can't catch a ball to save his life. Smith goes to the back burner, at least in my mind.


Wide Receivers/Tight Ends

Off The Top

WR Eric Decker, DEN (SD, BYE, @MIA, DET) – If you didn't jump on him before, shame on you. Decker had a couple more TD catches and should be owned in all formats after this week.

WR Denarius Moore, OAK (@HOU, CLE, KC, BYE) – Moore isn't a 15-20 touch per game guy, but he's going to get at least five-six targets from Campbell a game and two-three chances to spring big plays ruining the ball on end arounds and reverses, so he's a good play in deeper leagues and could be in for a bigger role going forward.



Digging Deeper

WR Antonio Brown, PIT (TEN, JAC, @ARI, NE) – I'm still waiting for Brown to break out, but 5-67-0 on 10 targets isn't bad. The status of Big Ben will determine if he's worth a look the next few weeks (two bad matchups – and then two good ones).

WR Jacoby Jones, HOU (OAK, @BAL, @TEN, JAC) – If Andre Johnson is indeed out for a significant amount of time, Jones is a must-add and worth starting in all formats next week.


Scouring The Barrel

WR Jabar Gaffney, WAS (BYE, PHI, @CAR, @BUF) – I love his ability to move the chains, and so do Rex Grossman and Mike Shanahan. He's on a bye, so you might be able to snag and stash him if nobody's grabbed him yet. Just sayin, folks.

TE Updates

WR Nate Washington, TEN (@PIT, BYE, HOU, IND) – He had two catches and 62 receiving yards, but the TDs went to the other guys. Not great.

WR Torrey Smith, BAL (BYE, HOU, @JAC, ARI) – I should stop talking about the offense in the Jets-Ravens game altogether. Let's just move on.

TE Brandon Pettigrew, DET (CHI, SF, ATL, @DEN) – He had 6-64-0 against Dallas and has a great matchup heading home to play Chicago.

TE Heath Miller, PIT (TEN, JAC, @ARI, NE) – The Steelers are at their best when they get Miller the ball. He had just 3-15-0 (three targets) on Sunday and they lost. Go figure.

WR Donald Jones, BUF (PHI, @NYG, BYE, WAS) – Ryan Fitzpatrick didn't find the end zone, so neither did Jones (3-21-0, eight targets). I still like this guy, so don't give up just yet if you took him last week.

WR Brian Hartline, MIA (BYE, @NYJ, DEN, @NYG) – He's better than 3-31-0, but with Henne injured, his numbers from here on out are in doubt.

WR Victor Cruz, NYG (SEA, BUF, BYE, MIA) – Nine targets, 6-98-0. It looks like Cruz has found a role in the Giants offense as a deep threat and is worth considering as a WR4/flex in all formats.

WR Michael Jenkins, MIN (ARI, @CHI, GB, @CAR) – I'll take one catch for one yard if it's a TD. You? He outscored Brandon Marshall, Santonio Holmes, Anquan Boldin and Percy Harvin, to name a few.


IDP

Off The Top

LB D.J. Williams, DEN (SD, BYE, @MIA, DET) – He posted eight tackles in his 2011 debut and might still be available on your IDP waiver wire because of the dislocated elbow he suffered in the preseason. Plus, his team's defense is on the field a lot, bro.


Digging Deeper

DL Chris Clemons, SEA (@NYG, BYE, @CLE, CIN) – He wasn't a factor on Sunday, but you can bet he'll get to Eli Manning at least once this week. He's available in a ton of formats, although he won't be for long.


Scouring The Barrel

DB Eric Smith, NYJ (@NE, MIA, SD, BYE) – The next three matchups mean plenty of opportunities for Smith, who's been the most consistent tackler in the Jets secondary this season.


Updates

DB Morgan Burnett, GB (@ATL, STL, @MIN, BYE) – Another six tackles (five solos) and a PD. This guy's going to put up huge IDP numbers this season.

LB Sean Weatherspoon, ATL (GB, CAR, @DET, BYE) – Nothing special about Weatherspoon's Week 4: Seven total tackles and no junk points.

DL Greg Hardy, CAR (NO, @ATL, WAS, MIN) – The Bears line did a nice job keeping Hardy out of the backfield Sunday, holding the second-year defensive end to three solo tackles (no sacks).

LB Bart Scott, NYJ (@NE, MIA, SD, BYE) – Both offenses sucked, as you know, but Scott finished with eight total tackles in the win over the Jets. Scott seems to be making a lot of plays in 2011.

LB Navorro Bowman, SF (TB, @DET, BYE, CLE) – Bowman turned in another solid outing, racking up six solos, a PD and a fumble recovery. He should be busy again next week.

DB Sean Jones, TB (@SF, NO, CHI, BYE) – Just two total tackles, as the Indy offense was mostly Curtis Painter throwing tons of incompletions and the occasional TD pass. I like him next week (and the week after that) a lot more.