MyFantasyLeague.com Users...
Check out the most popular waiver wire pickups this week across thousands of MFL leagues. Also, quickly see who's available on your waiver wire this week by using the MFL Power feature at FF Today. Just input your league's 5-digit ID number away you go!

Targeting weekly waiver picks is a completely subjective business, but this column hopes to point out some obvious and not-so-obvious selections to help your team from week to week while you strive to collect fantasy wins, reach your league playoffs and win the elusive title that your friends say is out of your grasp. While I'm a big proponent of making trades to bolster your roster, the waiver wire can be an almost limitless resource when it comes to discovering fantasy value in strange places. Each week, I'll target both offensive and defensive players — sometimes breakout stars that eluded your team's draft — as well as players who can help your squad that may still be lurking in deeper leagues. I'll also provide an occasional daily fantasy recommendation, as I'm hopelessly addicted to DFS sites.



Off the Top -

Includes my premier recommendations. These are sometimes players available only in more shallow leagues, and occasionally guys who are more ready but are thrust into the fantasy spotlight because of opportunity or exceptional production. Usually, they are available in at least 25 percent of public leagues.



Digging Deeper -

Covers the next tier of quality waiver wire specimens, usually players available in a majority of online leagues. There are a lot of gems in this range who can be plucked rather easily. Usually, these players are available in at least 50 percent of public leagues.



Scouring the Barrel -

Chronicles the deepest of fantasy adds — and sometimes highlights players being tacked onto fantasy squads who I don't have much confidence in. Make sure you read the fine print because I don't always love them. For the most part, you'll find these players available in about 75-100 percent of fantasy leagues

Each week, I'll also provide a brief update on the players I covered the previous week. It's the most accurate, comprehensive one-stop waiver-wire column available on the Internet, and it's only available here at fftoday.com. Let's get to some of the players who could be still out there on the waiver wire and in the free agent pool as you prepare for Week 1!


Feedback is always welcome, appreciated and encouraged. I'll get to as many e-mails as I can.


---
Note:
Each player's next four matchups are listed in parentheses ( ). Since IDP league composition is so varied, I'll just list defensive players per position and use their Yahoo ownership rates – which due to site ranking anomalies and the high rate of variance in availability, are often much lower than actual ownerships rates.
Quarterbacks
Off The Top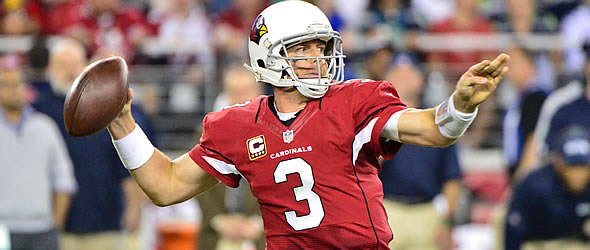 Looking for a backup QB? Carson Palmer is a fantasy QB2 with plenty of weapons at his disposal.
Carson Palmer, ARI (SD, @NYG, SF, BYE) – He's absolutely loaded with offensive weapons in Arizona, aside from the glaring absence of a top-quality tight end. Palmer is available in about 50 percent of Yahoo leagues, and while he may not be the same quarterback he was in the mid-2000s, he threw for 4,274/24/22 last season and makes an excellent backup in yearlong fantasy and a value spot start in weekly fantasy contests. If your league doesn't penalize for INTs – his main bugaboo – you'll be better off.
Ryan Tannehill, MIA (NE, @BUF, KC, @OAK) – Tannehill is available in 40-60 percent of all fantasy leagues and remains a work in progress as an NFL signal caller. With an improved running game in Miami, there should be less pressure on him to carry the offense, and I'm anticipating a step up from 2013, when he threw for 3,913/24/17.

Digging Deeper
Alex Smith, KC (TEN, @DEN, @MIA, NE) – The Chiefs offense isn't structured to make Smith a star, and that hurts his value. But he remains a safe backup option and has plenty of relevance in two-QB leagues.
Joe Flacco, BAL (CIN, PIT, @CLE, CAR) – A couple years ago, Flacco was entering the "elite" quarterback discussion, and he's since inked an enormous contract and failed to impress. While he threw more picks than TDs last season, it's not a bad time to stash him away and wait for the resurgence that is eminently possible under new offensive coordinator Gary Kubiak in Baltimore.
Josh McCown, TB (CAR, STL, @ATL, @PIT) – McCown got the starting nod over Mike Glennon, and while he's not flashy, he's capable of throwing for over 4,000 yards and 25 TDs with the talented wideouts in Tampa.

Scouring The Barrel
Jake Locker, TEN (@KC, DAL, @CIN, @IND) – Still waiting for the Jake Locker breakout? Join the club. I'm still pimping for the dynamic Titans quarterback, and as his WRs mature and the team adds offensive weapons, things have to get better, don't they? Locker's value is higher in leagues where passing TDs only count for 4 points, since he usually adds a few TDs on the ground.
EJ Manuel, BUF (CIN, PIT, @CLE, CAR) – Manuel has upside, so he makes my list. But he hasn't looked sharp in preseason and could end up being a total bust if he doesn't show marked improvement in 2014.

Running Backs
Off The Top
Knowshon Moreno, MIA (NE, @BUF, KC, @OAK) – Moreno probably won't be the bell cow he was in Denver in 2013, but he's a good interior runner, solid blocker and excellent receiver – and he seems to have the edge over the speedy Lamar Miller (who will likely get early-down work) as the primary fantasy option in Miami. He's still available in about 25-30 percent of fantasy leagues and may have escaped your draft since he's technically still behind Miller on the depth chart.

Carlos Hyde, SF (@DAL, CHI, @ARI, PHI) – Hyde has a great combination of speed and power and could poach a few of Frank Gore's TDs this season as the 49ers work him into the mix. He'd likely take over primary rushing duties should Gore go down, since LaMichael James doesn't have the requisite size.

Digging Deeper
Darren McFadden, OAK (@NYJ, HOU, @NE, MIA) – There's no reason Darren McFadden of the Oakland Raiders shouldn't be owned in a 12-team PPR league. He's a dynamic receiver and runner who's never been able to stay healthy, but when he's on, he's ON.

Shonn Greene, TEN (@KC, DAL, @CIN, @IND) – Greene had some success as Chris Johnson's second fiddle and looked, at times, much better than CJ2K. He's among the lowest upside of the starting RBs in the league, but he should be owned in more leagues since rookie Bishop Sankey isn't ready, despite recently being tagged the No. 2 back in Tennessee.

Scouring The Barrel
Knile Davis, KC (TEN, @DEN, @MIA, NE) – Davis is the necessary handcuff to Jamaal Charles and should get more carries this season even if Charles stays healthy. He's owned in just 14 percent of Yahoo leagues and could be a RB2-3/FLEX if Charles goes down.

Lance Dunbar, DAL (SF, @TEN, @STL, NO) – Dunbar's stock has improved dramatically since 2013, when he received little fanfare, but he's now the primary backup to DeMarco Murray and will be a change- of- pace back who gets a few carries per game. The Cowboys run blocking is much better, so if anything happens to Murray (and something usually does), Dunbar (10 percent owned) would step in and see 75-80 percent of his production.

Wide Receivers/Tight Ends
Off The Top
Markus Wheaton, PIT (CLE, @BAL, @CAR, TB) – He was drafted to replace Mike Wallace, and while he saw little action as a rookie, he's primed for a big season. There's not another receiver in the AFC North owned in fewer than 75 percent of leagues with as much upside as Wheaton (60-65 percent owned in Yahoo leagues) in the Pittsburgh no-huddle.

Brian Hartline, MIA (NE, @BUF, KC, @OAK) – Hartline is a consistent, back-of-the-rotation fantasy WR who is best deployed in PPR leagues. He slipped in many drafts, but you shouldn't let him escape ownership in yours.

Danny Amendola, NE (@MIA, @MIN, OAK, @KC) – Amendola's draft stock dropped precipitously since last season, when owners assumed he'd jump right in as Tom Brady's Wes Welker 2.0. Injuries and inconsistency have plagued him, but there's a chance he shows up for a few games and puts up numbers.

TE Delanie Walker, TEN (@KC, DAL, @CIN, @IND) – I'm high on Walker in 2014. Ken Whisenhunt's system is very TE-friendly, and Walker is a playmaker with solid red zone skills who could have a career year. He's owned in a little more than 50 percent of fantasy leagues, but I'm sure he won't be after a couple weeks.

Digging Deeper
TE Tyler Eifert, CIN (@BAL, ATL, TEN, BYE) – Eifert's upside is limited by the presence of Jermaine Gresham, but the young tight end is a better pass catcher and red zone guy. He's a capable fantasy backup and low-cost spot starting option in DFS.

Aaron Dobson, NE (@MIA, @MIN, OAK, @KC) – Dobson is the deep threat in Brady's arsenal, but he's wildly inconsistent as a receiver and won't be a steady weekly option. Still,his 26 percent ownership rate on Yahoo seems quite low given his ability.

Miles Austin, CLE (@PIT, NO, BAL, BYE) – While Miles Austin's hamstrings are like those old, brittle rubber bands that dry up and snap, he's a talented player who could be a solid slot receiver if he can stay healthy. At 17 percent owned, he's among the most underrated receivers in the league heading into Week 1.

Scouring The Barrel
Stevie Johnson, SF (@DAL, CHI, @ARI, PHI) – He's just 10 percent owned and could be a fixture in this offense if he eventually gels with Colin Kaepernick, which he's struggled to do thus far. He's far from a sure thing but could see his statistics build as the season progresses.

John Brown, ARI (SD, @NYG, SF, BYE) – Bruce Arians said last week that John Brown could play up to 60 percent of the Cards' offensive snaps, which means he has plenty of upside as Palmer's third receiver since Larry Fitzgerald will continue to get a lot of attention and the word is out on Michael Floyd.

Robert Woods, BUF (CIN, PIT, @CLE, CAR) – Woods (10 percent owned) was a disappointment as a rookie, but he didn't have a real QB for half the year and he's only in his second season. He's a decent route runner who just needs consistent targets.

TE Richard Rodgers, GB (@SEA, NYJ, @DET, @CHI) – Rogers could have the biggest upside of any relatively unknown tight end this season, mainly because he has Aaron Rodgers throwing him the ball. The Packers drafted him in the third round despite less-than-ideal athleticism and experience, but he's the son of a football coach – a smart player with good hands who's only going to get better in the Green Bay system.

IDP
Linebackers
LB Nick Roach, OAK (@NYJ, HOU, @NE, MIA) – Roach (11 percent owned) could emerge as an IDP force this season. He's slated for an every-down role and will provide consistent tackle numbers.

LB Perry Riley, WAS (@HOU, JAC, @PHI, NYG) – Riley (8 percent owned) no longer must deal with the ubiquitous London Fletcher, who finally retired following the 2013 season. He's developing a leadership role and could end up being a top 10-15 LB.

LB Mason Foster, TB (CAR, STL, @ATL, @PIT) – Foster (5 percent owned) is the other every-down linebacker next to IDP stud Lavonte David but still manages excellent numbers. He also provides an interior blitzing presence and is a ball-hawking defender in coverage.

LB Larry Foote, ARI (SD, @NYG, SF, BYE) – Foote is just 2 percent owned and could be the most underrated IDP linebacker in the game. He's an every-down guy, and he always shows up to play. In the absence of Karlos Dansby (CLE) and Daryl Washington (suspended), he'll be counted on for production.

Defensive Backs
DB Eric Reid, SF (@DAL, CHI, @ARI, PHI) – Reid (7 percent owned) is a playmaker who has a great Week 1 matchup. He's also going to see more ball carriers slip through to the next level this season as the depleted San Fran LB corps struggles to deal with injuries and suspensions.

DB William Moore, ATL (NO, @CIN, TB, @MIN) – Moore is another underrated guy who's owned in just 6 percent of Yahoo leagues but has huge games on occasion. He's not as consistent as some other safeties, but he's got more upside in the Atlanta secondary than anyone.

DB Matt Elam, BAL (CIN, PIT, @CLE, CAR) – Elam (3 percent owned) is criminally underowned and should be in line for breakout IDP season following an up-and-down rookie campaign. He's an excellent tackler and could finish as a top 10 DB this season.

Defensive Lineman
DL Marcell Dareus, BUF (CIN, PIT, @CLE, CAR) – Dareus (9 percent owned) has had some off-field issues but remains an IDP stalwart for such a young player. He's a beast of a run defender and gets to the quarterback pretty consistently, as well.

DL Michael Johnson, TB (CAR, STL, @ATL, @PIT) – The former Bengal (3 percent owned) is now in Tampa alongside Adrian Clayborn and Gerald McCoy, the other Bucs defensive linemen of note. He's got the most upside of the three and should be a force from jump street.

DL Cameron Heyward, PIT (CLE, @BAL, @CAR, TB) – Heyward may not match the numbers he put up in 2013. But at 1 percent owned, he's being underrated by IDP owners. Give him a look in the early going, and you'll have an idea if he can follow up his breakout with another good season.