MyFantasyLeague.com Users...
Check out the most popular waiver wire pickups this week across thousands of MFL leagues. Also, quickly see who's available on your waiver wire this week by using the MFL Power feature at FF Today. Just input your league's 5-digit ID number away you go!

Targeting weekly waiver picks is a completely subjective business, but this column hopes to point out some obvious and not-so-obvious selections to help your team from week to week while you strive to collect fantasy wins, reach your league playoffs and win the elusive title that your friends say is out of your grasp. While I'm a big proponent of making trades to bolster your roster, the waiver wire can be an almost limitless resource when it comes to discovering fantasy value in strange places. Each week, I'll target both offensive and defensive players — sometimes breakout stars that eluded your team's draft — as well as players who can help your squad that may still be lurking in deeper leagues. I'll also provide an occasional daily fantasy recommendation, as I'm hopelessly addicted to DFS sites.



Off the Top -

Includes my premier recommendations. These are sometimes players available only in more shallow leagues, and occasionally guys who are more ready but are thrust into the fantasy spotlight because of opportunity or exceptional production. Usually, they are available in at least 25 percent of public leagues.



Digging Deeper -

Covers the next tier of quality waiver wire specimens, usually players available in a majority of online leagues. There are a lot of gems in this range who can be plucked rather easily. Usually, these players are available in at least 50 percent of public leagues.



Scouring the Barrel -

Chronicles the deepest of fantasy adds — and sometimes highlights players being tacked onto fantasy squads who I don't have much confidence in. Make sure you read the fine print because I don't always love them. For the most part, you'll find these players available in about 75-100 percent of fantasy leagues

Each week, I'll also provide a brief update on the players I covered the previous week. It's the most accurate, comprehensive one-stop waiver-wire column available on the Internet, and it's only available here at fftoday.com. Let's get to some of the players who could be still out there on the waiver wire and in the free agent pool as you prepare for Week 1!


Feedback is always welcome, appreciated and encouraged. I'll get to as many e-mails as I can.


---
Note:
Each player's next four matchups are listed in parentheses ( ). Since IDP league composition is so varied, I'll just list defensive players per position and use their Yahoo ownership rates – which due to site ranking anomalies and the high rate of variance in availability, are often much lower than actual ownerships rates.
Quarterbacks
Off The Top
Alex Smith, KC (@OAK, DEN, @ARI, OAK) – Even though Jamaal Charles is the bell cow of this offense, Smith (37 percent owned on Yahoo) has played pretty well recently and the Raiders will likely stack the box and force Smith to throw downfield – which could boost his fantasy numbers next week.

Digging Deeper
Kyle Orton, BUF (NYJ, CLE, @DEN, GB) – Orton's been having trouble getting the offense going with the backfield injuries and tough secondaries, but the Jets can be thrown on. I'll be rolling out Orton (13 percent owned in Yahoo leagues) next week in at least one deep league and consider him a decent salary relief option in DFS.

Scouring The Barrel
Shaun Hill, STL (@SD, OAK, @WAS, ARI) – Hill (just 2 percent owned) wrested the starting job back from Austin Davis and led the Rams to a stirring upset win over the Broncos. While the team has been moving more toward a heavy running attack, the matchup against the Chargers next week is a favorable one for quarterbacks. He's worth consideration in two-QB and 14-16 team leagues.

Updates
Robert Griffin III, WAS (@SF, @IND, STL, @NYG) – RGIII salvaged a forgettable fantasy day with 41 rushing yards and a second half TD pass to Roy Helu, but the 207-1-2 passing line isn't what owners expect out of the dynamic quarterback. He's not a recommended fantasy play at San Francisco next week.

Brian Hoyer, CLE (@ATL, @BUF, IND, CIN) – Throwing for 330-1-1, Hoyer wasn't horrible for fantasy purposes, but he completed just 20 of his 50 pass attempts on Sunday. Stay tuned to see how he'll fare once he has Josh Gordon back from his suspension.

Josh McCown, TB (@CHI, CIN, @DET, @CAR) – McCown had a top-10 fantasy day among quarterbacks, throwing for 288-2-0, with both scores going to rookie WR Mike Evans. Next week against the Bears could be another shootout.

Teddy Bridgewater, MIN (GB, CAR, NYJ, @DET) – Bridgewater couldn't get much going against the Bears, who stepped up on both sides of the ball. He finished with 158-1-1 and just 2 rushing yards.

Zach Mettenberger, TEN (@PHI, @HOU, NYG, NYJ) – Update coming Tuesday.

UPDATE: Mettenberger put up solid numbers (263-2-1) in the 27-24 loss to Pittsburgh on Monday night, showing some toughness in the pocket and flashing his big arm on a couple TD throws, but he still looks very raw as an NFL QB. He threw an INT that was returned by William Gay for a TD on his first pass, but settled in and caught the Steelers secondary sleeping on an 80-yard TD bomb to Nate Washington just before halftime. Mettenberger makes a decent option in two-QB leagues and could end up getting involved in a high-scoring affair next week versus the Eagles, but he's a high-risk start.

Drew Stanton, ARI (@SEA, @ATL, KC, @STL) – Stanton had a solid stat line (306-2-1), hooking up for a couple TDs with Michael Floyd, who was on most fantasy owners' benches for Sunday's victory over Detroit.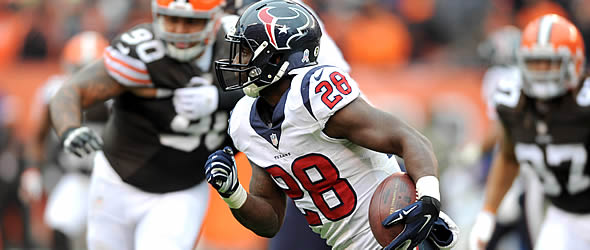 36 carries will get your attention. If by chance Blue is available in your league, you know what to do.
Running Backs
Off The Top
Alfred Blue, HOU (CIN, TEN, @JAC, @IND) – With Arian Foster out with a groin injury, Blue rushed 36 times for 156 yards on Sunday. While he didn't receive a target in the passing game and would likely only be a change-of-pace option once Foster is healthy, he's shown he can shoulder a heavy load and needs to be rostered in all formats.

UPDATE: Foster is expected to return in Week 12 against the Bengals, but Blue success on Sunday shows the Texans don't have to push Foster as an every-down back. Stay tuned – groin injuries are easy to reinjure; just ask Montee Ball.

Charles Sims, TB (@CHI, CIN, @DET, @CAR) – Sims, who had 13 carries for 36 yards and 3-8-0 receiving Sunday, should continue to get more touches and will likely surpass bobby Rainey and Doug Martin as the primary ball carrier in the coming weeks. He's still available in over two–thirds of Yahoo leagues.


Digging Deeper
Roy Helu, , WAS (@SF, @IND, STL, @NYG) – Helu had his best game of the season Sunday, hauling in 6-57-1 in the loss to Tampa Bay. He's far from a sure thing but has put up relatively consistent receiving numbers and now has 32-366-1 on 36 targets this season – not bad for deep-league PPR purposes.

Scouring The Barrel
James Starks, GB (@MIN, NE, ATL, @BUF) – Starks is primarily a handcuff for Eddie Lacy owners, but had 10 touches Sunday in the win over Philly. If the Packers blow out the Vikings next week, he could get some activity in garbage time.


Updates
Fred Jackson, BUF (NYJ, CLE, @DEN, GB) – Jackson re-aggravated his groin injury during practice on Tuesday and missed Thursday's game. The veteran back hopes the extra time off will have him ready to play in Week 12.

UPDATE: Doug Marrone said Monday that Jackson is expected to be back at full capacity this week, barring a setback.

Tre Mason, STL (@SD, OAK, @WAS, ARI) – Mason was a workhorse for the Rams on Sunday, helping to beat the Broncos with 113 rushing yards on 29 carries. He didn't find the end zone, but he's clearly the back to own in St. Louis at the moment.

C.J. Anderson, DEN (MIA, @KC, BUF, @SD) – Montee Ball re-injured his groin early in Sunday's action and Anderson saw the bulk of the workload, rushing for 29 yards on nine carries but hauling in 8-86-0 on 10 targets from an unusually errant Peyton Manning. With so many question marks heading into Week 12, Anderson is poised for another big performance.

UPDATE: Ball is expected to miss 2-3 weeks, leaving Anderson and Juwan Thompson as the only healthy running backs in Denver. Anderson is a must-start in all formats, and should be a PPR beast in the coming weeks.

Isaiah Crowell, CLE (@ATL, @BUF, IND, CIN) – Crowell drew the start against Houston and gained 61 rushing yards on 14 carries, adding 2-30-0 but losing a costly fumble. He's an RB3 with some upside against the Falcons.

UPDATE: The RB situation in Cleveland is getting clearer with the release of Ben Tate. Each running back has played quite well at times this season, but it'll likely continue to be a hot-hand approach between Crowell and West.

Jonas Gray, NE (DET, @GB, @SD, MIA) – Well, HELLO, Mr. Gray. The undrafted Notre Dame product had a fantasy day for the ages Sunday night, rushing for 199 yards and four TDs on 38 carries. Not too many folks started him, but he'll certainly see more touches going forward and is a must-own in all formats after his monster prime time performance.

Theo Riddick, DET (@NE, CHI, TB, MIN) – Riddick handled just two carries for 2 rushing yards, but added 3-24-0 receiving in the loss to Arizona. He's simply a TD-dependent PPR lottery ticket at this point.

UPDATE: Reggie Bush (ankle) expects to be ready for Week 12 against the Patriots, after getting extra rest in the Week 11 loss to Arizona. Riddick essentially returns to fantasy obscurity unless another injury to Bush or starter Joique Bell changes things.
Wide Receivers/Tight Ends
Off The Top
Cecil Shorts III, JAC (@IND, NYG, HOU, @BAL) – If Shorts is available in your league, you need to grab him right away. The veteran is the only healthy, experienced receiver on Jacksonville right now and has 26-315-0 on 47 targets over his last five games. I could see him getting 10-20 targets Sunday in Indy.

UPDATE: The latest depth charts list Shorts as the starter alongside rookie Allen Hurns (concussion), as the two receivers are expected to play just about every snap, with Marquise Lee as the No. 3. Hurns is a viable deep threat and expected to be cleared from the concussion protocol in time for Week 12, but Shorts will be the chain mover and see a boatload of targets.

Wes Welker, DEN (MIA, @KC, BUF, @SD) – UPDATE: The veteran receiver is likely to receive more targets this week without Emmanuel Sanders (concussion) and possibly Julius Thomas (ankle). Welker is owned in just 55-65 percent of leagues and hasn't been much of a factor this season, but he was targeted six times on Sunday and is a good bet to see 8-10 targets and receive more red zone looks.

Kenny Stills, NO (BAL, @PIT, CAR, @CHI) – UPDATE: With Brandin Cooks (thumb surgery) expected to miss 4-6 weeks, Stills and Marques Colston will likely see an expanded role in the Saints offense. Stills (15 percent owned in Yahoo leagues) caught 4-32-1 in the loss to Cincy in Week 11. Colston caught 4-56-0 and is still owned in 73 percent of Yahoo leagues.

Digging Deeper
Kenny Britt, STL (@SD, OAK, @WAS, ARI) – Britt exploded for 4-128-1 on seven targets Sunday and appears to be the big-play threat the Rams have been looking for. While he's TD-dependent for value, it's likely he'll see more targets in the red zone in the coming weeks.

Jarvis Landry, MIA (@DEN, @NYJ, BAL, @NE) – Landry is a dynamic rookie who could be a true No. 1 WR if he continues to improve. He's a favorite of Ryan Tannehill's in the red zone and can make big plays, and he already has 42-400-3 on 55 targets this season. He should be owned in all formats.


Scouring The Barrel
Chris Hogan, BUF (NYJ, CLE, @DEN, GB) – Hogan is a possible deep-league gem who's receiving more targets as the Bills search for viable offensive performers. Since Week 6, he's seen 29 targets in five games and has 25-307-2 on the season in just six total games. In looking for cheap DFS options next week, I'll be mixing in Hogan for his PPR upside.


Updates
Brandon LaFell, NE (DET, @GB, @SD, MIA) – LaFell had a quiet Week 11, catching three passes for 62 yards on four targets from Tom Brady. He remains a WR2.

Justin Hunter, TEN (@PHI, @HOU, NYG, NYJ) – Update coming Tuesday.

UPDATE: Hunter caught just 2-48-0 on Monday night and remains a limited upside option in most formats as well as DFS.

Malcom Floyd, SD (STL, @BAL, NE, DEN) – Floyd caught 4-44-1 in the win over Oakland and is a moderate-upside WR3 play in the right matchup.

Jordan Matthews, PHI (TEN, @DAL, SEA, DAL) – Matthews caught a TD pass for the third straight week and after posting 5-107-1 in Week 11, has 44-558-6 on the season (69 targets).

John Brown, ARI (@SEA, @ATL, KC, @STL) – Brown had 5-69-0 but it was Michael Floyd who did most of the damage with two TD catches. Next week might be Brown's turn to shine.

UPDATE: Larry Fitzgerald has a Grade 2 MCL sprain and plans on playing through the injury. Even so, both Brown and Floyd get a bump in value heading into Week 12.

Preston Parker, NYG (DAL, @JAC, @TEN, WAS) – Parker had just one catch for 9 yards in the loss to San Fran where he was never really a big part of the offense, which centered around Rueben Randle (7-112-0) and his 15 targets. Can't say I didn't warn you!


IDP
Linebackers
LB DeMario Davis, NYJ (@BUF, MIA, @MIN, @TEN) – Davis is coming off a bye and may have been dropped in a few leagues. Get him in your starting lineup against the Bills.

LB Julius Peppers, GB (@MIN, NE, ATL, @BUF) – Peppers is playing like a man possessed and gets to face the Vikings in Week 12. He's a good bet for solid LB2 numbers in that matchup.

LB Christian Kirksey, CLE (@ATL, @BUF, IND, CIN) – UPDATE: With Karlos Dansby (knee) out about a month or more, Kirksey will likely see more action on passing downs and tackle opportunities. He's got some sneaky upside as one of the more talented young LBs in the game.
Defensive Backs
DB Mike Adams, IND (JAC, WAS, @CLE, HOU) – Adams had a monster IDP performance Sunday night, racking up 11 total tackles, two INT and two PD in the loss to New England. He's a versatile defender with a lot of ability and should make some big plays against the Jaguars next week.

DB Kemal Ishmael, ATL (CLE, ARI, @GB, PIT) – Ishmael has improved his play dramatically in the past few weeks and now has 56 tackles (37 solos), three INT and four PD on the season. He'll be busy the next few weeks and should be considered a DB2 going forward.


Defensive Lineman
DL Sheldon Richardson, NYJ (@BUF, MIA, @MIN, @TEN) – Richardson has a prime matchup facing Buffalo and is an oft-ignored IDP option alongside DE Muhammad Wilkerson, the bigger of the two names. He's also DT-eligible, unlike his colleague.

DL Jurrell Casey, TEN (@PHI, @HOU, NYG, NYJ) – Since he plays tonight, I'll provide a Tuesday update, but Casey is a solid run defender and occasional pass rusher (37 total tackles and two 2.0-sack games this season in nine games) who flies under the radar in a lot of IDP leagues.

UPDATE: Casey had another solid IDP performance (seven total tackles) but the Titans front seven was savaged by LeVeon Bell on Monday night. He's a premier one-gap penetration DL on a team where he's relied on quite a bit.
Updates
LB Mason Foster, TB (@CHI, CIN, @DET, @CAR) – Foster had five total tackles and a PD in the win over Washington, and is an LB3 going forward.

LB Ramon Humber, NO (BAL, @PIT, CAR, @CHI) – David Hawthorne was healthy enough o start this week, relegating Humber to the bench and giving him a fat goose egg in IDP leagues.

DB James Ihedigbo, DET (@NE, CHI, TB, MIN) – Ihedigbo was nursing a back injury but managed five solos and two PD in the loss to Arizona. He's still a marginal upside DB2.

DB Buster Skrine, CLE (@ATL, @BUF, IND, CIN) – Skrine may not be the best CB in the league, but he's active from a fantasy perspective and had four solos and a PD in his most quiet performance since Week 5.

DL Marcell Dareus, BUF (NYJ, CLE, @DEN, GB) – Dareus didn't do much on Thursday night and this week faces the Jets, who he doesn't play that well against. I'm fading him for now.

DL Ziggy Ansah, DET (@NE, CHI, TB, MIN) – Ansah had just three total tackles against the Cards but remains a viable DL2 option in deeper IDP leagues.