MyFantasyLeague.com Users...
Check out the most popular waiver wire pickups this week across thousands of MFL leagues. Also, quickly see who's available on your waiver wire this week by using the MFL Power feature at FF Today. Just input your league's 5-digit ID number away you go!

Targeting weekly waiver picks is a completely subjective business, but this column hopes to point out some obvious and not-so-obvious selections to help your team from week to week while you strive to collect fantasy wins, reach your league playoffs and win the elusive title that your friends say is out of your grasp. While I'm a big proponent of making trades to bolster your roster, the waiver wire can be an almost limitless resource when it comes to discovering fantasy value in strange places. Each week, I'll target both offensive and defensive players — sometimes breakout stars that eluded your team's draft — as well as players who can help your squad that may still be lurking in deeper leagues. I'll also provide an occasional daily fantasy recommendation, as I'm hopelessly addicted to DFS sites.



Off the Top -

Includes my premier recommendations. These are sometimes players available only in more shallow leagues, and occasionally guys who are more ready but are thrust into the fantasy spotlight because of opportunity or exceptional production. Usually, they are available in at least 25 percent of public leagues.



Digging Deeper -

Covers the next tier of quality waiver wire specimens, usually players available in a majority of online leagues. There are a lot of gems in this range who can be plucked rather easily. Usually, these players are available in at least 50 percent of public leagues.



Scouring the Barrel -

Chronicles the deepest of fantasy adds — and sometimes highlights players being tacked onto fantasy squads who I don't have much confidence in. Make sure you read the fine print because I don't always love them. For the most part, you'll find these players available in about 75-100 percent of fantasy leagues

Each week, I'll also provide a brief update on the players I covered the previous week. It's the most accurate, comprehensive one-stop waiver-wire column available on the Internet, and it's only available here at fftoday.com. Let's get to some of the players who could be still out there on the waiver wire and in the free agent pool as you prepare for Week 1!


Feedback is always welcome, appreciated and encouraged. I'll get to as many e-mails as I can.


---
Note:
Each player's next four matchups are listed in parentheses ( ). Since IDP league composition is so varied, I'll just list defensive players per position and use their Yahoo ownership rates – which due to site ranking anomalies and the high rate of variance in availability, are often much lower than actual ownerships rates.
Quarterbacks
Off The Top
Joe Flacco, BAL (@IND, @TB, ATL, @CIN) – He's still available in 35-65 percent of fantasy leagues and it's obvious from last week that the offense is starting to click. Flacco threw for 327-2-0 against Carolina and should have ample opportunity to post big numbers in the matchup against Indy next week.

Digging Deeper
Blake Bortles, JAC (PIT, @TEN, CLE, MIA) – Although the Jags lost 33-14, there's still plenty to like about Bortles, who takes over as the starting quarterback in Jacksonville. He threw for 253-1-2 in his debut as the starter. I think he could be a popular cheap QB option in tournament play on daily fantasy sites.

Scouring The Barrel
Mike Glennon, TB (@NO, BAL, BYE, MIN) – He led Tampa Bay to victory (302-2-1) and Lovie Smith didn't endorse Josh McCown (thumb) as an automatic start when healthy. The Saints are struggling right now, so you can expect a shootout next week when the Bucs travel to New Orleans. While the Saints defense plays better at home, they're still going to yield a few big plays and redzone scores. You could do worse than Glennon as a second QB in a spot start.
Kyle Orton, BUF (@DET, NE, MIN, @NYJ) – Orton has been named the Bills new starting QB, and while he's not any kind of superstar, there's a chance he improves the Bills offense, which has sputtered with Manuel under center. He's worth rostering as a backup in deeper leagues.

Updates
Ryan Tannehill, MIA (BYE, GB, @CHI, @JAC) – Tannehill held onto his starting job, threw for 278-2-1 and ran for 35 yards in the 38-14 win over Oakland in London. He's on a Week 5 bye.
Eli Manning, NYG (ATL, @PHI, @DAL, BYE) – Manning was the top QB of Week 4, throwing for 300-4-1 and rushing for a score. He's benefited greatly from the developing rapport with TE Larry Donnell.
Ryan Fitzpatrick, HOU (@DAL, IND, @PIT, @TEN) – Fitzpatrick threw for 268-1-2 against his old team and will likely struggle to find a consistent possession receiver if Andre Johnson (ankle) misses any time. One thing the Texans have going for them next week is that J.J. Watt and the defense could force Tony Romo and the Cowboys into some mistakes and a short field for the Houston offense.
Brian Hoyer, CLE (@TEN, PIT, @JAC, OAK) – Hoyer was on a Week 4 bye but returns to face the lowly Titans in Week 5. He's still the starter and the Browns have some beatable opponents coming up.
Teddy Bridgewater, MIN (@GB, DET, @BUF, @TB) – Bridgewater was excellent in his debut, even if the running game was the story. The rookie passed for 317 yards (no TDs or INTs) but added a two-point conversion and scored a rushing TD (five carries, 27 yards). He tweaked an ankle (a Monday MRI came back okay) but should be ready to play again by Thursday. He's a risky option on a short week, but there could be lots of scoring going on in Green Bay.
Austin Davis, STL (@PHI, SF, SEA, @KC) – Davis is still slated to start in Week 5 against the Eagles in what could be a high-scoring game. He's worth a look in two-QB leagues and as a contrarian play in DFS.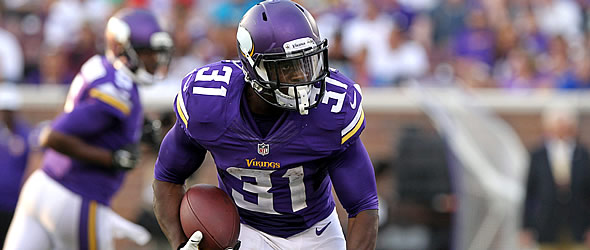 Jerick McKinnon is more talented than Matt Asiata but remains his backup for the time being.
Running Backs
Off The Top
Bishop Sankey, TEN (CLE, JAC, @WAS, HOU) – Sankey made hay with just eight touches, rushing for 34 yards and a TD on six carries and hauling in both his targets for 2-23-0. Ken Whisenhunt even conceded Monday that the youngster's "footwork" – which has been an excuse to limit his touches – is improving. His value is definitely on the rise, and he's available in 25-45 percent of redraft leagues.

Jerick McKinnon, MIN (@GB, DET, @BUF, @TB) – Adrian who? While the Vikings haven't forgotten about their stud running back, it'll be easier to craft game plans now that they know McKinnon (18 carries for 135 yards and 1-17-0 receiving) can do some heavy lifting and take on 10-15 carries per game while Matt Asiata (20 carries 78 rushing yards, three TDs; 3-22-0 receiving) can grind out yards and handle the goaline carries. McKinnon's ownership rates are all over the charts (he's just 15-16 percent owned in Yahoo leagues but is as high as 35 percent owned on other sites) and Mike Zimmer is still referring to him as a "change-of-pace back," but he should be owned in all 12-team formats and even a few 10-teamers.


Digging Deeper
Justin Forsett, BAL (@IND, @TB, ATL, @CIN) – Forsett finished with 14 carries for 66 yarsd and a TD and 3-31-0 receiving in Sunday's win over Carolina, and remains a low-end RB2 or excellent RB3 in 12-team leagues. Bernard Pierce (quad) was listed as probable and active for Sunday's game, but didn't play a snap – a sign that the Forsett-Taliaferro timeshare is for real.

Andre Williams, NYG (ATL, @PHI, @DAL, BYE) – Williams finally got involved in the offense on Thursday (15 carries, 66 rushing yards, TD), though he's not projected to be part of the passing game. He's available in 70-85 percent of fantasy leagues and could be a helpful contributor the next three weeks.


Scouring The Barrel
Antone Smith, ATL (@NYG, CHI, @BAL, DET) – Steven Jackson just doesn't have the home-run hitting ability that Smith does right now, and while Smith's upside is limited (like his touches), he's a highlight waiting to happen. Last season, he had 145 rushing yards and two TDs on just five carries, and so far this year, he's totaled 192 yards and three TDs on just 13 touches (10 carries for 119 yards & 3-73-1 receiving). He's actually tallied 347 yards from scrimmage on his last 20 touches – five of which have gone for scores. I don't care how bad he is picking up blitzes, if that's not a jarring enough statistic to get him the rock a bit more, I don't know what is.


Updates
DeAngelo Williams, CAR (CHI, @CIN, @GB, SEA) – Williams has a right ankle injury that forced him from Sunday's game (11 carries, 34 yards). He could miss a significant amount of time (he's been listed as week-to-week) but there's nothing exciting about the Panthers running game right now.

Shonn Greene, TEN (CLE, JAC, @WAS, HOU) – With just three carries for 10 yards in the loss to Indy, it's obvious that coaches are starting to phase out Greene in favor of Sankey.

LeGarrette Blount, PIT (@JAC, @CLE, HOU, IND) – Blount had 25 rushing yards on four carries during the Week 4 loss to Tampa Bay. He's a TD-dependent handcuff with moderate upside as a flex play.

James Starks, GB (MIN, @MIA, CAR, @NO) – The Packers stuck with Eddie Lacy (who scored a TD but still appeared sluggish) and Starks finished Week 4 without a touch.

Lorenzo Taliaferro, BAL (@IND, @TB, ATL, @CIN) – Taliaferro split touches with Forsett and finished with 58 rushing yards on 15 carries. He's in a timeshare that could bend either way based on future performance.

Darrin Reaves, CAR (CHI, @CIN, @GB, SEA) – Reaves got some action (12 carries for 26 yards, 3-11-0 receiving) after DeAngelo Williams went down and could be used more next week against the Bears. He's an "x" factor with a relatively low ceiling, but he'll be getting carries against Chicago.

Roy Helu, WAS (SEA, @ARI, TEN, @DAL) – He had 5-78-0 receiving and two rushes for 8 yards on Thursday night and has clear value in deep PPR leagues.

Joe McKnight, KC (@SF, BYE, @SD, STL) – McKnight tore his Achilles in practice on Thursday and is done for the season.


Wide Receivers/Tight Ends
Off The Top
TE Larry Donnell, NYG (ATL, @PHI, @DAL, BYE) – By now, you've likely heard about Donnell's monster three-touchdown day on primetime Thursday. He should be owned in all formats.

Digging Deeper
Devin Hester, ATL (@NYG, CHI, @BAL, DET) – The dynamic Hester is getting involved on offense and still has what it takes to bring it to the house. He's a must-add in 14-team leagues and deep roster formats, especially since the Falcons' wide receivers have trouble staying healthy.


Scouring The Barrel
Mike Williams, BUF (@DET, NE, MIN, @NYJ) – Williams caught a big TD pass from EJ Manuel in Week 4 and while he's a capable receiver, there's not going to be much consistency the week-to-week. The switch to Orton, however, could shake things up and boost the value of Williams, Sammy Watkins and Robert Woods.

Jarius Wright, MIN (@GB, DET, @BUF, @TB) – Heading into Week 4, fantasy owners had left Wright for dead as he was owned in 0.5 percent of fantasy leagues. That'll change after his 8-132-0 (10 target) day. His value hinges on the status of Bridgewater, who he clearly has a connection with.


Updates
Travis Kelce, KC (@SF, BYE, @SD, STL) – Kelce hung 8-93-1 on the Patriots Monday night and is clearly one of Alex Smith's favorite targets. Barring any major setbacks, he'll be a TE1 with top-5 upside for the remainder of the season and should be owned in all formats.

Brian Quick, STL (@PHI, SF, SEA, @KC) – Quick was on a Week 4 bye and remains the most consistent fantasy option among the Rams receivers right now.

Jordan Matthews, PHI (STL, NYG, BYE, @ARI) – Matthews had four catches for 28 yards on seven targets Sunday in a bizarre game that featured three TDs by the Philadelphia D/ST.

John Brown, ARI (@DEN, WAS, @OAK, PHI) – Brown was on a Week 4 bye and has some upside facing the Broncos in Week 5.

Steve Johnson, SF (KC, @STL, @DEN, BYE) – Johnson caught a 12-yard TD pass for his only reception on two targets from Colin Kaepernick. If Vernon Davis (back spasm, knee & ankle) misses week 5 for any of his current ailments, he might make a sneaky play as a WR3/flex.

Jeremy Kerley, NYJ (@SD, DEN, @NE, BUF) – Kerley was targeted just three times by Geno Smith and hauled in one catch for 3 yards – debilitating a few of my daily fantasy lineups in the process.

Eddie Royal, SD (NYJ, @OAK, KC, @DEN) – Royal exploded again for 5-105-2 in the win over Jacksonville. He's the single most infuriating boom-or-bust WR in fantasy over the past few seasons.

Allen Robinson, JAC (PIT, @TEN, CLE, MIA) – Even with Cecil Shorts back (briefly – he pulled his hamstring again and is expected to miss some more time), Robinson hauled in 5-38-0 on seven targets, and remains a WR5 with some upside.

MarQueis Gray, MIN (@GB, DET, @BUF, @TB) – Gray was not targeted in Sunday's win over Atlanta.


IDP
Linebackers
LB Alec Ogletree, STL (ARI, @NYJ, SF, SD) – The punishing six-team bye schedule may have caused plenty of desperate (or inpatient owners) to drop Ogletree in Week 4. This may be your only chance to get him on your roster.

LB Brandon Marshall, DEN (@PHI, SF, SEA, @KC) – While Marshall (30 total tackles, sack, two PD through three games) has played well this season and is among the top scoring IDP linebackers in the game, he could be replaced as a starter when Danny Trevathan returns this week or in the near future. It's worth keeping tabs on.


Defensive Backs
DB Malcolm Jenkins, PHI (STL, NYG, BYE, @ARI) – Jenkins has both a high floor and high ceiling as an IDP playmaker and has already racked up 21 total tackles and three INT this season. The latest he returned 53 yards for a TD. He could finish as a Top 10 DB this season.

DB Reggie Nelson, CIN (@NE, CAR, @IND, BAL) – Like the LBs listed above, Nelson was on a bye in Week 4, and could be available in your league's waiver wire. He's a consistent veteran performer with 21 total tackles, 1.5 sacks, an INT and two PD through three games.

DB Reshad Jones, MIA (BYE, GB, @CHI, @JAC) – Jones is coming off a four-game suspension and is on a bye in Week 5, but makes for a sneaky selection in IDP formats where you have the roster rom. He's got Top 5-10 DB upside and is a great tackler the Dolphins will rely on. Last season he finished fourth among DBs with 84 solo tackles and had 107 total stops, 1.5 sacks, four PD, an INT and a TD.


Defensive Lineman
DL Carlos Dunlap, CIN (@NE, CAR, @IND, BAL) – He's owned in about half of IDP leagues, and he's become a relatively consistent performer the past couple seasons. And yep – you guessed it – he's coming off a bye.

DL Michael Bennett, SEA (@WAS, DAL, @STL, @CAR) – A goose egg in Week 3 and a Week 4 bye may have cast him off a few rosters, but he's apparently healthy and the next few matchups look favorable.


Updates
Jelani Jenkins, MIA (BYE, GB, @CHI, @JAC) – Jenkins wasn't quite 100 percent heading into Week 4 and managed just here solo tackles in Sunday's win over Oakland. He's played well this season, so hopefully he'll remain a starter even when Koa Misi gets back on the field after the Week 5 bye.

Bruce Carter/Anthony Hitchens, DAL (HOU, @SEA, NYG, WAS) – Rolando McClain got the start (so Hitchens didn't play) but Carter had a good game (six total tackles, two PD) and is on the rise in fantasy value. Carter (quad) is not expected to play in Sunday's game versus Houston He's week-to-week, and will be replaced by Kyle Wilber in base sets.

Byron Maxwell, SEA (@WAS, DAL, @STL, @CAR) – The Seahawks had a Week 4 bye but he stands a decent shot at picking up an INT in Week 5 playing the Redskins.

Aaron Williams, BUF (@DET, NE, MIN, @NYJ) – Williams had a quiet Week 4 with just three solos and a PD.

Corey Liuget, SD (NYJ, @OAK, KC, @DEN) – Liuget had just two solo tackles against the Jaguars – a disappointing result after his Week 3 breakout.