MyFantasyLeague.com Users...
Check out the most popular waiver wire pickups this week across thousands of MFL leagues. Also, quickly see who's available on your waiver wire this week by using the MFL Power feature at FF Today. Just input your league's 5-digit ID number away you go!

Targeting weekly waiver picks is a completely subjective business, but this column hopes to point out some obvious and not-so-obvious selections to help your team from week to week while you strive to collect fantasy wins, reach your league playoffs and win the elusive title that your friends say is out of your grasp. While I'm a big proponent of making trades to bolster your roster, the waiver wire can be an almost limitless resource when it comes to discovering fantasy value in strange places. Each week, I'll target both offensive and defensive players — sometimes breakout stars that eluded your team's draft — as well as players who can help your squad that may still be lurking in deeper leagues. I'll also provide an occasional daily fantasy recommendation, as I'm hopelessly addicted to DFS sites.



Off the Top -

Includes my premier recommendations. These are sometimes players available only in more shallow leagues, and occasionally guys who are more ready but are thrust into the fantasy spotlight because of opportunity or exceptional production. Usually, they are available in at least 25 percent of public leagues.



Digging Deeper -

Covers the next tier of quality waiver wire specimens, usually players available in a majority of online leagues. There are a lot of gems in this range who can be plucked rather easily. Usually, these players are available in at least 50 percent of public leagues.



Scouring the Barrel -

Chronicles the deepest of fantasy adds — and sometimes highlights players being tacked onto fantasy squads who I don't have much confidence in. Make sure you read the fine print because I don't always love them. For the most part, you'll find these players available in about 75-100 percent of fantasy leagues

Each week, I'll also provide a brief update on the players I covered the previous week. It's the most accurate, comprehensive one-stop waiver-wire column available on the Internet, and it's only available here at fftoday.com. Let's get to some of the players who could be still out there on the waiver wire and in the free agent pool as you prepare for Week 1!


Feedback is always welcome, appreciated and encouraged. I'll get to as many e-mails as I can.


---
Note:
Each player's next four matchups are listed in parentheses ( ). Since IDP league composition is so varied, I'll just list defensive players per position and use their Yahoo ownership rates – which due to site ranking anomalies and the high rate of variance in availability, are often much lower than actual ownerships rates.
Quarterbacks
Off The Top
Ryan Tannehill, MIA (GB, @CHI, @JAC, SD) – Tannehill and the Dolphins are fresh off the team's Week 5 bye and face the Packers on Sunday during the early slate. He should make a decent bye week fill-in, as the Packers will likely jump out to an early lead and force Tannehill to throw most of the second half.

Digging Deeper
Austin Davis, STL (SF, SEA, @KC, @SF) – Davis tallied 375-3-0 with two lost fumbles and 30 rushing yards in Sunday's loss to the Eagles. He doesn't have a very favorable matchup against San Francisco, but we know he's capable of big games and makes an interesting DFS play.

Scouring The Barrel
Brian Hoyer, CLE (PIT, @JAC, OAK, TB) – Hoyer's 292-3-1 helped cap off a monumental comeback against the Titans, evening the Browns record at 2-2. Hoyer has tremendous upside once Josh Gordon returns and should mix in a few decent starts with some fantasy stinkers. He's a tough week-to-week call, but the pickings are slim at QB right now.

Updates
Joe Flacco, BAL (@TB, ATL, @CIN, @PIT) – Just when you think Flacco is going to give you some QB2 value, he regresses into the land of mediocrity. His 235-0-1 probably didn't hurt many owners in one-QB leagues, but he makes himself hard to roster with performances like this.

Blake Bortles, JAC (@TEN, CLE, MIA, @CIN) – Other than Geno Smith and (possibly) Ryan Fitzpatrick, Bortles (191-0-2, 14 rushing yards) had the worst day of any fantasy QB, as the Steelers defense decided to step up in Week 5.

Mike Glennon, TB (BAL, BYE, MIN, @CLE) – Glennon totaled 249-2-1 thanks to a big day from Vincent Jackson and a weakened New Orleans secondary. I expected a bit more in this matchup, but his numbers were serviceable and he may have helped some owners in two-QB leagues.

Kyle Orton, BUF (NE, MIN, @NYJ, BYE) – Orton managed to compile 308-1-1 and squeak out a victory over the Lions. The matchup with New England next week could go either way, but at home versus Minnesota and on the road against the Jets in Week 9 could bulk up his stats.


Running Backs
Off The Top
Bobby Rainey, TB (BAL, BYE, MIN, @CLE) – Despite a tough Week 6 matchup with the Ravens, Rainey is worth stashing to plug in after the Week 7 bye, when he faces the Vikings and Browns in weeks 8 and 9. By then, maybe the Bucs coaches will have realized he's a more complete back than Doug Martin and deserves more than just a handful of carries and goaline work.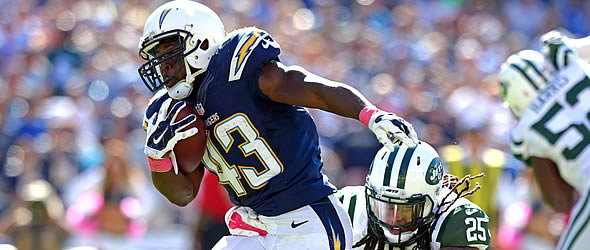 Branden Oliver: The Darren Sproles clone prduced in a big way on Sunday and will be a top add in Wk 6.
Digging Deeper
Ronnie Hillman, DEN (@NYJ, SF, SD, @NE) – Hillman will get the bulk of work with Montee Ball (groin) on the shelf next week against the Jets. He should be the top add this week, as he's owned in just 7 percent of Yahoo leagues.

UPDATE: Ball's injury is expected to keep him out 2-3 weeks, but Hillman could hold onto the job for longer if he produces and holds off C.J. Anderson.

Branden Oliver, SD (@OAK, KC, @DEN, @MIA) – Injuries to the rest of the San Diego running backs forced Oliver into action on Sunday, and the rookie was electric, rushing for 114 yards and a TD on 19 carries and adding 4-68-1 – in most scoring formats the best fantasy performance of the week. He's still available in about 80-90 percent of fantasy leagues and could be the revelation that the Chargers run game needs – even when Ryan Mathews and Donald Brown return from their respective injuries.

UPDATE: Mathews is not yet ready for action, so it appears Oliver will be the guy on Sunday.
Scouring The Barrel
Benny Cunningham, STL (SF, SEA, @KC, @SF) – The next few matchups are tough, but it's obvious that Cunningham is going to get more carries if Zac Stacy (calf) misses any additional time. Stacy has been a fantasy disappointment in 2014 and Cunningham (71 yards from scrimmage, TD in Week 5) seems more capable in the passing game.

UPDATE: The Rams expect Stacy to play in Week 6, but Cunningham has shown some burst and will likely get at least 10 touches.
Updates
Bishop Sankey, TEN (JAC, @WAS, HOU, BYE) – Ken Whisenhunt failed to get Sankey enough carries again on Sunday, instead favoring Shonn Greene (11 carries, 36 yards), who with his overall ineffectiveness helped allow the Browns back in the game. Whisenhunt probably needs to go for Sankey to reach his full potential.

Jerick McKinnon, MIN (DET, @BUF, @TB, WAS) – McKinnon had 46 yards (24 rushing, 3-22-0 receiving) in limited work Thursday. He remains a flex play in deeper formats with plenty of upside, and while he didn't score this week, my other Week 5 recommendations (below) all reached the end zone.

Justin Forsett, BAL (@TB, ATL, @CIN, @PIT) – Forsett had a nice day Sunday, rushing for 42 yards and a TD on just six carries and adding 7-55-0 receiving. He's the PPR back to own in Baltimore.

Andre Williams, NYG (@PHI, @DAL, BYE, IND) – After Rashad Jennings went down with a knee sprain, Williams finished with 20 carries for 65 yards and a TD in the victory over Atlanta. He, Oliver and Ronnie Hillman will be the top adds off the waiver wire.

UPDATE: There's a lot of buzz surrounding Williams, who will be the bell cow for the Giants in the upcoming matchup against Philly and Dallas. It's hard to say who among Williams, Hillman, Oliver has the most upside, but you really can't go wrong with any of them.

Antone Smith, ATL (CHI, @BAL, DET, BYE) – Smith did it again, scampering 74 yards for a TD on a swing pass from Matt Ryan. He finished with just one carry for 2 yards, but his 3-81-1 receiving line made him a worthy flex play if you happened to plug him in.


Wide Receivers/Tight Ends
Off The Top
Brian Quick, STL (SF, SEA, @KC, @SF) – Quick isn't necessarily matchup proof, but he's such a highly prized target of Davis, the next few matchups shouldn't scare you from using him in PPR leagues. He's had nine targets in three out of his four games this season and after Sunday (5-87-2), has 21 catches for 322 yards and three scores on the season.

Justin Hunter, TEN (JAC, @WAS, HOU, BYE) – Hunter broke out for 3-99-1 in Week 5, the big play being a 75-yard TD pass from Charlie Whitehurst. He's a week-to-week WR4/flex option with upside.


Digging Deeper
Mohamed Sanu, CIN (CAR, @IND, BAL, JAC) – Sanu (5-70-1 on Sunday night) is one of the most dynamic athletes in the AFC and promises to be a big part of the Bengals success in 2014. He should be owned in all formats.

TE Tim Wright, NE (@BUF, NYJ, CHI, DEN) – Largely ignored by Tom Brady through the first four games (five targets, 4-35-0), Wright totaled 5-85-1, catching all five balls thrown his way in Week 5. He's a deep-league add and has decent upside if he continues to get attention.


Scouring The Barrel
Travis Benjamin, CLE (PIT, @JAC, OAK, TB) – The Browns' Travis Benjamin produced about the same line folks were expecting from Panthers rookie Kelvin Benjamin this week (4-48-2), hauling in all four targets in the comeback victory. He's a deep-league add who'll yield targets to Andrew Hawkins and Miles Austin (and obviously Josh Gordon when he returns), but he has some value and should be owned in leagues with more than 12 teams.


Updates
TE Larry Donnell, NYG (@PHI, @DAL, BYE, IND) – Donnell was a non-factor in the Giants win over Atlanta, posting a fantasy goose egg (one target, no catches). He should get back on track next week against the Eagles and could have another monster day in Dallas Week 8.

Devin Hester, ATL (CHI, @BAL, DET, BYE) – Hester had just 2-16-0 on Sunday and a 3-yard rush. He's still a boom-or-bust flex option in deeper formats and a worthwhile play in leagues that award points for return yardage.

Mike Williams, BUF (NE, MIN, @NYJ, BYE) – Williams was targeted just twice by Orton on Sunday and finished with one catch for 8 yards.

Jarius Wright, MIN (DET, @BUF, @TB, WAS) – Wright followed up his breakout Week 4 with 3-27-0 on Thursday night.


IDP
Linebackers
LB Christian Kirksey, CLE (PIT, @JAC, OAK, TB) – Kirksey is starting to play much better and should get plenty of work in the upcoming matchup with Pittsburgh.

LB Avery Williamson, TEN (JAC, @WAS, HOU, BYE) – Williamson is not a great athlete and is far from a prototypical IDP playmaker, but the rookie has favorable matchups in the coming weeks and has seen plenty of field time recently over Zaviar Gooden at ILB next to Wesley Woodyard.


Defensive Backs
DB Kyle Fuller, CHI (@ATL, MIA, @NE, BYE) – Fuller is a solid rookie IDP standout who should be busy the next few weeks. I'm bullish on his prospects to finish as a Top 10 DB this season.

DB Rashad Johnson, ARI (WAS, @OAK, PHI, @DAL) – The Cards defense has taken some injury hits and Johnson has been the safety valve. He's going to rack up a bunch of tackles the next few weeks.


Defensive Lineman
DL Brian Robison, MIN (DET, @BUF, @TB, WAS) – Robison hasn't done much yet this season, but he's primed for some big weeks against the Lions, Bills, Bucs and Redskins. He's a nice DL option in deeper leagues.

DL Frostee Rucker, ARI (WAS, @OAK, PHI, @DAL) – Rucker will likely be the main pass rushing presence for the Cards, who have lost Calais Campbell for the next 3-4 weeks. Expect a handful of tackles and 2-3 sacks over the next couple weeks.

UPDATE: Rucker's Week 5 sack was his first of the season. He's a low-end DE2 in deeper formats, but he's got an opportunity.
Updates
LB Alec Ogletree, STL (SF, SEA, @KC, @SF) – Ogletree is starting to produce, tallying eight total tackles (seven solo) and a forced fumble in Week 5.

LB Brandon Marshall, DEN (@NYJ, SF, SD, @NE) – As expected, Danny Trevathan returned to action and Marshall had a quiet Week 5 (two solos, PD). He can be safely dropped in IDP redrafts.

DB Malcolm Jenkins, PHI (NYG, BYE, @ARI, @HOU) – Jenkins had five solo tackles but no big plays or PD in Sunday's win over St. Louis. He remains a DB2 with upside.

DB Reggie Nelson, CIN (CAR, @IND, BAL, JAC) – The Bengals defense was out of sorts early in New England, and Nelson finished with just four total tackles (two solos).

DB Reshad Jones, MIA (GB, @CHI, @JAC, SD) – The Dolphins were on a bye on Week 5 but Jones should be starting (and busy) versus the Packers this week.

DL Carlos Dunlap, CIN (CAR, @IND, BAL, JAC) – Dunlap had two solos and three assists on Sunday night, but failed to get to Tom Brady.

DL Michael Bennett, SEA (DAL, @STL, @CAR, OAK) – Update coming Tuesday.

UPDATE: Bennett did very little on Monday night, registering one assist in the win. He'll have a much better matchup against Dallas in Week 6.