MyFantasyLeague.com Users...
Check out the most popular waiver wire pickups this week across thousands of MFL leagues. Also, quickly see who's available on your waiver wire this week by using the MFL Power feature at FF Today. Just input your league's 5-digit ID number away you go!

Targeting weekly waiver picks is a completely subjective business, but this column hopes to point out some obvious and not-so-obvious selections to help your team from week to week while you strive to collect fantasy wins, reach your league playoffs and win the elusive title that your friends say is out of your grasp. While I'm a big proponent of making trades to bolster your roster, the waiver wire can be an almost limitless resource when it comes to discovering fantasy value in strange places. Each week, I'll target both offensive and defensive players — sometimes breakout stars that eluded your team's draft — as well as players who can help your squad that may still be lurking in deeper leagues. I'll also provide an occasional daily fantasy recommendation, as I'm hopelessly addicted to DFS sites.



Off the Top -

Includes my premier recommendations. These are sometimes players available only in more shallow leagues, and occasionally guys who are more ready but are thrust into the fantasy spotlight because of opportunity or exceptional production. Usually, they are available in at least 25 percent of public leagues.



Digging Deeper -

Covers the next tier of quality waiver wire specimens, usually players available in a majority of online leagues. There are a lot of gems in this range who can be plucked rather easily. Usually, these players are available in at least 50 percent of public leagues.



Scouring the Barrel -

Chronicles the deepest of fantasy adds — and sometimes highlights players being tacked onto fantasy squads who I don't have much confidence in. Make sure you read the fine print because I don't always love them. For the most part, you'll find these players available in about 75-100 percent of fantasy leagues

Each week, I'll also provide a brief update on the players I covered the previous week. It's the most accurate, comprehensive one-stop waiver-wire column available on the Internet, and it's only available here at fftoday.com. Let's get to some of the players who could be still out there on the waiver wire and in the free agent pool as you prepare for Week 1!


Feedback is always welcome, appreciated and encouraged. I'll get to as many e-mails as I can.


---
Note:
Each player's next four matchups are listed in parentheses ( ). Since IDP league composition is so varied, I'll just list defensive players per position and use their Yahoo ownership rates – which due to site ranking anomalies and the high rate of variance in availability, are often much lower than actual ownerships rates.
Quarterbacks
Off The Top
Ryan Tannehill, MIA (@JAC, SD, @DET, BUF) – Since rumors of a possible benching surfaced around Week 3, Tannehill has at least 240 passing yards, 35 rushing yards and two TDs in three straight games. He's a solid QB2 with upside.

Robert Griffin III, WAS (@DAL, @MIN, BYE, TB) – With the Kirk Cousins wing of the NFL Hall of Fame set for demolition this week, RGIII returns to the fore of the discussion in Washington. While he may not be back for the tilts in Dallas and/or Minnesota, he's returned to the practice field and would likely be back in Week 11 following the team's bye week. I wouldn't make him a top priority, but if your quarterback situation is dire, RGII has the kind of upside that could turn things around down the stretch.

UPDATE: Jay Gruden has announced that Colt McCoy will start against the Cowboys, though Griffin has been "medically cleared to add to his workload," which means he could still be named the starter before game time or sometime next week before the tilt with Minnesota.
Digging Deeper
Austin Davis, STL (@KC, @SF, @ARI, DEN) – After defeating the Super Bowl champs with the help of some nifty special teams plays, Davis has a stronghold on the starting job and remains a high-risk, high-reward play. With so many viable running backs in St. Louis, there's not a huge focus on throwing the ball, but we've seen it happen before this season (Weeks 3 and 5).

UPDATE: Davis is likely going to continue dinking and dunking this week against the Chiefs, but this is actually one of his better matchups of the next several games. I'll only have a few shares of him in DFS contests.

Teddy Bridgewater, MIN (@TB, WAS, BYE, @CHI) – Bridgewater has struggled since a productive Week 4 game against the Falcons, but has excellent matchups the next two weeks. He could serve as a decent QB2 or salary relief option in daily contests.


Scouring The Barrel
Mike Glennon, TB (MIN, @CLE, ATL, @WAS) – Speaking of decent matchups, Glennon should have a full complement of healthy receivers at home versus the Vikings and has a favorable stretch coming. Fresh off three good starts and a Week 7 bye, he'll be ready to take advantage of the opportunity.

UPDATE: Glennon is expected to start Sunday and he's got a favorable matchup. He's a two-QB league option and salary relief in daily fantasy contests.
Updates
Joe Flacco, BAL (@CIN, @PIT, TEN, BYE) – Flacco threw for 258-2-2 in the win over Atlanta, and faces a somewhat tougher challenge in Week 8 in Cincinnati.

Carson Palmer, ARI (PHI, @DAL, STL, DET) – Despite a nagging injury that's affected his throwing shoulder, Palmer continues to play well and put up solid numbers (253-2-1) in Week 7. He should be owned in all formats.

Blake Bortles, JAC (MIA, @CIN, DAL, BYE) – Bortles had a bad fantasy day (159-1-3, 37 yards rushing) but notched a victory for the Jaguars. He's worth a look on a week-to-week basis for daily contests, but isn't worth rostering in anything but the deepest of redraft leagues.

Kyle Orton, BUF (@NYJ, BYE, KC, @MIA) – Orton mixed in a couple turnovers but mustered up a solid line with an exclamation point – his second TD pass to Sammy Watkins as time expired and the Bills took their record to 4-3. Orton is a QB2 with upside as he continues to develop rapport with the Buffalo receivers.

Derek Carr, OAK (@CLE, @SEA, DEN, @SD) – After a solid Week 6, Carr was an unmitigated fantasy disaster in Week 7, throwing for just 173 yards and no TDs. While he didn't turn the ball over, the Cards defense held the passing game in check.


Running Backs
Off The Top
Ronnie Hillman, DEN (SD, @NE, @OAK, @STL) – Hillman rushed for 74 yards and two TDs and hauled in 4-29-0 receiving, and is still owned in just 58 percent of Yahoo leagues because there are plenty of doubters who refuse to see him as the Broncos new lead back. Hogwash. Hillman is clearly the running back with the most upside right now, and he'll remain involved when Montee Ball returns.

Darren McFadden, OAK (@CLE, @SEA, DEN, @SD) – His best days may be behind him, but McFadden can still be a useful fantasy asset, and he's owned in fewer than 50 percent of Yahoo leagues. The Raiders will be using him quite a bit next week in Cleveland, so scoop him up if he's available.

Khiry Robinson / Travaris Cadet, NO (GB, @CAR, SF, CIN) – UPDATE: Robinson's ownership rates are all over the place – he's 38 percent owned on Yahoo, 64 percent owned on CBS, and 75 percent owned on RTSports – so he might very well be available in your league. Since Pierre Thomas will miss 2-3 weeks with a shoulder injury, and Mark Ingram didn't exactly light up the world in his Week 7 return, it puts both Robinson (in shallower formats) and Cadet (0-5 percent owned, relevant in deeper PPR leagues) on the radar.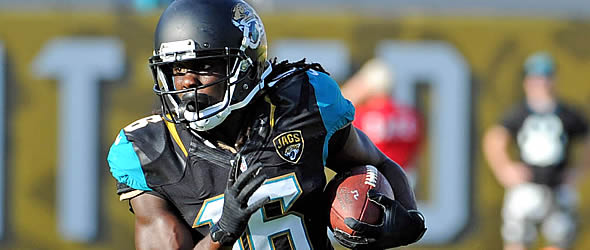 Denard Robinson put his name on the fantasy map with 127 yds and 1 TD against Cleveland on Sunday.
Digging Deeper
Benny Cunningham, STL (@KC, @SF, @ARI, DEN) – Zac Stacy was a fantasy no-show on Sunday, and while Cunningham only got two carries, he saw five targets and capitalized with a 5-46-1 receiving line and tallied 104 return yards. He's owned in just 13 percent of Yahoo leagues and appears to be the main passing down back.

Denard Robinson, JAC (MIA, @CIN, DAL, BYE) – Robinson is eligible at both RB and WR on Yahoo, so you'll have o check your format to see how he's classified – but he started at tailback Sunday and racked up 127 yards and a TD on 22 carries despite a 9 percent ownership rate. He'll be one of the top adds of the waiver wire this week, though we likely just witnessed his best fantasy game of the season.

UPDATE: Gus Bradley was somewhat vague when addressing Robinson's hold on the starting job Monday, but I can't imagine he would yank the versatile offensive cog out of a featured role (46-of-74 snaps in Sunday's win) the minute he finds some success. He makes an excellent flex play against the Bears on Sunday.
Scouring The Barrel
Bryce Brown / Anthony Dixon, BUF (@NYJ, BYE, KC, @MIA) – With C.J. Spiller (broken collarbone) done for the season and Fred Jackson out next week and likely through the team's Week 10 bye, Dixon is the lone Bills running back from Week 7 left standing. Buffalo will also activate Brown, who was acquired in an off-season trade, and will likely shoulder the majority of the load and get the early-down carries -- with Dixon handling the "big back" role. While the Bills must run the ball efficiently and use their backs in the passing game to win, I expect Brown to struggle a bit off the shelf versus the Jets, although Jackson believes the former Eagles running back could be a workhorse and flourish as an every-down back.

UPDATE: More information about the off-season acquisition of Brown is emerging, and his latent value continues to spike by the day. Whomever the Bills featured runner is on Sunday will likely need a grasp of the offense and the ability to pass protect – an overlooked factor in determining RB playing time. Brown is probably the better bet, and more so for PPR leagues.

Stepfan Taylor, ARI (PHI, @DAL, STL, DET) – Taylor frustrated Andre Ellington owners with 12 carries for 40 yards and a second-half TD against Oakland. He's nearly universally available and could have some RB4, TD-dependent value – unless Ellington misses time, which could elevate him into RB3/flex territory.

Antonio Andrews, TEN (HOU, BYE, @BAL, PIT) – UPDATE: Andrews was signed off the practice squad Tuesday morning to fill in behind the underwhelming Bishop Sankey and Shonne Greene (hamstring). While there's no guarantee the rookie from Western Kentucky sees action, it's entirely possible that Andrews – who can also catch – emerges as a short-yardage/north-south banger given Ken Whisenhunt's fickle temperament. He's a sneaky add in deeper formats, but he lacks the jump-cut ability to make a huge impact as a runner.
Updates
Jerick McKinnon, MIN (@TB, WAS, BYE, @CHI) – As expected, McKinnon shouldered the load and ran for 103 yards on 19 carries, adding two catches for -2 yards in the heartbreaking loss to Buffalo. He's a dynamic runner with plenty of value but is owned in fewer than 60 percent of Yahoo leagues.

UPDATE: McKinnon is a special athlete who should retain RB2 value the rest of the way. He should be owned in just about every fantasy football format imaginable.

Isaiah Crowell, CLE (OAK, TB, @CIN, HOU) – Crowell put up a stinker in Week 7, as he carried seven times for 18 yards and failed to reach the end zone. He's got a better chance of finding pay dirt in Week 8 against Oakland.

UPDATE: Terrance West missed an opportunity to take some carries away from Crowell on Sunday, but failed to pick up a first down on a crucial second-quarter possession. Crowell remains the No. 2 back.

Antone Smith, ATL (DET, BYE, @TB, @CAR) – Smith also failed to score in Week 7, but saw just five touches (three carries for 10 yards, two catches for -1 yards). With the Falcons searching for an offensive identity, it makes sense to get Smith the ball more.

Tre Mason, STL (@KC, @SF, @ARI, DEN) – Mason was the lead back in the win over Seattle, rushing for 85 yards and a TD on 18 carries. He's owned in just 16 percent of Yahoo leagues and makes an excellent RB3/flex play going forward.

Brandon Bolden/James White, NE (CHI, DEN, BYE, @IND) – White was a healthy scratch and Bolden was largely restricted to special teams, with the talented Shane Vereen getting most of the work and three carries for 12 yards by Jonas Gray. Bill Belichick is the Devil.

Joseph Randle, DAL (WAS, ARI, @JAC, BYE) – Randle capped off an eventful week with a dull stat line (two carries for 7 yards and 1-14-0 receiving on one target). At least he has free underwear from MeUndies now.

Lance Dunbar, DAL (WAS, ARI, @JAC, BYE) – Dunbar rushed for 16 yards on three carries and received nary a target as it continues to be the DeMarco Murray show in Dallas.


Wide Receivers/Tight Ends
Off The Top
Odell Beckham Jr., NYG (BYE, IND, @SEA, SF) – Beckham established himself as a dangerous red zone threat, hauling in 4-34-2 on six targets, adding a 13-yard rush in the loss to Dallas. He's a solid WR3 with upside in 12-team leagues.

Doug Baldwin, SEA (@CAR, OAK, NYG, @KC) – With Percy Harvin out of Seattle, Baldwin stepped up as Russel Wilson's main target and will be the top wide receiver add this week after posting a 7-123-1 line on a team-high 11 targets. Heading into Sunday, he was owned in fewer than a third of fantasy leagues.


Digging Deeper
Allen Robinson, JAC (MIA, @CIN, DAL, BYE) – Robinson (25-35 percent owned) is an exciting young wide receiver with at least four catches in every game since Week 1. He's now at 34-371-1 on 53 targets this season after getting his first career TD on Sunday in the win over Cleveland.

Kenny Stills, NO (GB, @CAR, SF, CIN) – Stills posted 5-103-1 and is reliant on the big play for fantasy value. He's a boom-or-bust WR and makes a cheap-but-risky, high-upside tournament option in daily contests – and a WR5 in 12-team, season-long leagues.


Scouring The Barrel
TE Gavin Escobar, DAL (WAS, ARI, @JAC, BYE) – Nearly universally available, Escobar hauled in all three targets on Sunday and converted them into 3-65-2 to make him the top scoring tight end of Week 7. After the best game of his young career, he'll be a popular waiver wire selection this week as owners look for high-upside red zone options.

Corey Fuller, DET (@ATL, BYE, MIA, @ARI) – Fuller caught the game winner from Matthew Stafford and had 3-44-1 on five targets. He's worth a look in deeper formats but would be a desperation play next week, even if Calvin Johnson remains out. I'd be seeking out other options.

UPDATE: Megatron has resumed running and will make the trip to London but the smart money is on another week of rest before the Week 9 bye and a Week 10 return. Fuller could see action again and makes an interesting deep league add and DFS play – especially with defenses likely to be wary of Golden Tate.
Updates
Cecil Shorts, JAC (MIA, @CIN, DAL, BYE) – Shorts drew a tough matchup against Joe Haden and disappointed with just 3-12-0 on nine targets Sunday. He's still a WR3/4 with upside.

Malcom Floyd, SD (@DEN, @MIA, BYE, OAK) – Floyd made a couple nice catches but compiled just 3-50-0 on seven targets. He could have a much bigger workload facing the Broncos in Week 8.

TE Jordan Reed, WAS (@DAL, @MIN, BYE, TB) – Reed (5-54-0 on six targets from two different QBs Sunday) clearly misses having RGIII healthy, as his best stretch came when the two were both healthy last season. If he had a better quarterback and could stay on the field, Reed would be a top-5 tight end, but he's a borderline TE1 for now.

Brandon LaFell, NE (CHI, DEN, BYE, @IND) – LaFell had 4-55-0 on Thursday night but didn't have a TD. He makes a decent WR3/4 next week against the struggling Bears.

Andre Holmes, OAK (@CLE, @SEA, DEN, @SD) – Holmes followed up his Week 6 breakout with a boring 3-34-0 day against Arizona. He's a much better play next week against the Browns.

Louis Murphy, TB (MIN, @CLE, ATL, @WAS) – Murphy was on a Week 7 bye but could be a decent salary relief play in guarantee prize pool (GPP) tournaments in DFS sites this season.

Robert Woods, BUF (@NYJ, BYE, KC, @MIA) – Woods had a bad day (4-10-0, lost fumble) and was upstaged by Watkins. He's got limited upside but remains on the redraft radar.

Jarvis Landry, MIA (@JAC, SD, @DET, BUF) – Landry remained involved in the Dolphins game plan with 4-45-0 on five targets from Tannehill, who really seems to like the rookie receiver from LSU. Stay tuned.

TE Jace Amaro, NYJ (BUF, @KC, PIT, BYE) – Amaro is emerging as Geno Smith's No. 2 target behind WR Eric Decker, but caught 3-22-0 on five targets as the team focused on the running game Thursday night. He's a TE2 with upside.


IDP
Linebackers
LB Chad Greenway, MIN (@TB, WAS, BYE, @CHI) – Greenway returned to action Sunday and had 15 total tackles in the loss to Buffalo. He's a LB1/2 when healthy and should be busy next week at Tampa Bay.

LB Don't'a Hightower, NE (CHI, DEN, BYE, @IND) – Hightower had a big game alongside Jamie Collins (with Jerod Mayo out for the season) and projects as an upside-laden LB2/3 the rest of the way.


Defensive Backs
DB Reshad Jones, MIA (@JAC, SD, @DET, BUF) – If you didn't heed my advice yet and grab Jones (seven solos, INT, PD on Sunday), you should do it now unless he's no longer available. The dude is an IDP beast and a DB1.

DB James Ihedigbo, DET (@ATL, BYE, MIA, @ARI) – Idehigbo has a relatively high floor for a DB and had a big game last week (eight total tackles, 1.0 sacks, FR). He's a DB2 with upside.


Defensive Lineman
DL Muhammad Wilkerson, NYJ (BUF, @KC, PIT, BYE) – He's a beast defending the run (34 total tackles this season) and also has 4.0 sacks in 2014. He's still available in a handful of IDP leagues and makes a good play against the Bills in Week 8.

DL/LB Derrick Morgan, TEN (HOU, BYE, @BAL, PIT) – Morgan is DE-eligible in some formats and has much more value there than as a LB – which he plays in Tennessee's 3-4. He's coming off his best game of the season (seven total tackles, 1,0 sack, FF) and is making more of an impact as the defense searches for a viable leader.


Updates
LB Nigel Bradham, BUF (@NYJ, BYE, KC, @MIA) – Bradham had six solos and an assist in Sunday versus the Vikings.

LB Tahir Whitehead, DET (@ATL, BYE, MIA, @ARI) – Whitehead followed up his Week 6 breakout with four solos, an assist and a PD. Not bad, but not great. He's still a solid LB3 in most IDP formats.

UPDATE: Whitehead was replaced during Week 7 on some passing downs by LB Josh Bynes, which dings his value slightly.

DB John Cyprien, JAC (MIA, @CIN, DAL, BYE) – Cyprien took a step back with just four solos and no big plays Sunday. He's a DB2 without major upside.

UPDATE: The loss of Paul Posluszny (torn pectoral) probable means more next-level penetration, giving Cyprien more opportunities. Don't give up on him yet.

DB Jason McCourty, TEN (HOU, BYE, @BAL, PIT) – I expected much more out of McCourty this week than two tackles against Washington, but he's got more upside next week with Ryan Fitzpatrick chucking it around.

DL Marcell Dareus, BUF (@NYJ, BYE, KC, @MIA) – As predicted, Dareus had a solid Week 7 with three solos, one assist and 2.0 sacks.

DL Ziggy Ansah, DET (@ATL, BYE, MIA, @ARI) – Ansah didn't get to Drew Brees but had four tackes (three solos) in the win over New Orleans.