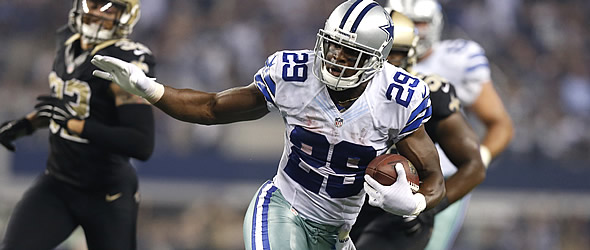 Moving On: DeMarco Murray's monsterous 2014 season won't be duplicated in Philadelphia.


The past year has been an eventful one for DeMarco Murray. He's been the brunt of the "Spray Tan" Twitter scandal, the top-producing fantasy running back (the top player, in most formats) in football and a much-sought-after free agent. Murray has also been the centerpiece of a worthwhile pundit debate on whether the offensive line was the mitigating factor that propelled him to elite status in Dallas, or whether his talents and skill set was perfect for that system. While we may never know what glorious melodrama truly went down with Heidi Mueller or if her relationship with Murray's ex-teammate Brennan Clay will ever be the same, we may soon get the answers to some of the other questions that puzzled us regarding the enigmatic running back – now a member of the Philadelphia Eagles.

Murray was lured away from Dallas with a five-year, $42 million deal – a monster contract that seems incongruous with Chip Kelly's moves thus far during the off-season. For those who believed Kelly was pulling a Bill Belichick and frugally putting together a roster composed of brilliantly choreographed but mostly inexpensive moving parts, that theory has been thoroughly debunked. Murray is far from a sure thing, and 2014 was the first in his four-year career that he played all 16 games. But last year's accomplishments shine like the star in the center of AT&T Stadium:

392 carries for a league-leading 1,845 rushing yards and 13 TDs

League-best 449 touches and 2,261 all-purpose yards

2014 First-Team All-NFL (AP & Pro Football Writers)

2014 NFL AP Offensive Player of the Year

And that's the short list. Murray also broke Jim Brown's 1958 NFL rushing record for the most consecutive 100-yard games to start the season, broke his hand in Week 15, and promptly rushed for another 100 yards in Week 16 to pass Emmitt Smith's Cowboys franchise single-season rushing record.

But contract negotiations were tense and sometimes bitter as the club decided whether his injury history and talents were worth throwing big money at during an off-season that posed a similar conundrum with embattled receiver Dez Bryant. In the end, Murray was clearly annoyed, and the Eagles won out.


Fantasy Impact

I don't have much insight into Murray's convoluted claims that "It was never about the money in any situation" and "It's about winning a Super Bowl and being fair," but the fantasy outlook for Murray is a complicated one. He'll remain the primary ball carrier in Philadelphia, but the offensive line is being retooled and remains a question mark. The distribution of touches in last season's Eagles backfield also raises important questions about whether Murray's value as a fantasy running back can match the high-water mark of 2014. While it's not impossible, it'd be wise to predict a slight regression, if not a significant one.

One of the reasons Tony Romo had a career year was the elite running game, and as crazy as it may sound, Murray enjoyed limited scrutiny considering how high-profile he was last season. In Philly, he'll be the barometer of the team for a sometimes less-than reasonable fan base, though he did experience that in Dallas during his first few seasons.

Kelly believes that Murray's patient yet explosive, downhill style will translate well to his offense, and I don't disagree. But there are myriad factors working against Murray this season, the least of which may be a tenuous quarterback situation that pits his former OU teammate Sam Bradford – a guy coming off two torn ACLs – and much-beleaguered mall mannequin Mark Sanchez (owner of the ButtFumble® patent). Sanchez made strides in 2014, and Bradford is a total X-factor who's shown ability but can't stay on the field. There are other talented backs in Philly, including scamper-happy veteran Darren Sproles, young Chris Polk and Ryan Mathews – who was working on a contract with the Eagles before they made a splash with the Murray deal.

All things considered, we still have to treat Murray as a top-tier running back, possibly still the best option available – outside of do-it-all Le'Veon Bell and perennial standout Jamaal Charles. He's a definite first-round and top-five commodity, but so was LeSean McCoy heading into last season.