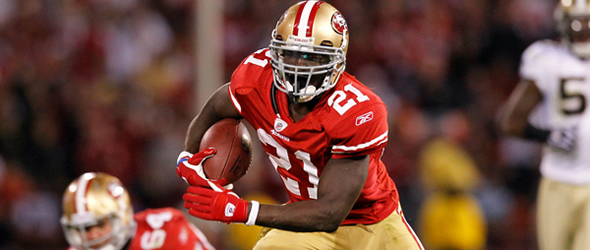 Durable: Frank Gore hasn't missed a game in the last four years and has four-straight 1100-yd seasons.


Unrestricted free agent Frank Gore has signed a deal with the Indianapolis Colts that reportedly contains $8.5 million in guaranteed money. Soon after news of a Gore deal with the Philadelphia Eagles surfaced, multiple media outlets reported that the veteran running back had gotten cold feet – with one source claiming Gore had doubts about Chip Kelly's overbearing coaching approach.

Regardless of the scuttlebutt, Gore remains a compact all-purpose back with an impressive 10-year résumé with the 49ers, with whom he grabbed five Pro Bowl nods (2006, 2009, 2011-13) and holds several team records for a running back:
Career rushing attempts (2,442)

Rushing yards (11,073)

Touchdowns (64)

1000-yard seasons (8)

100-yard games (38)
Last season, Gore started all 16 games for the third consecutive year, running the ball just 255 times for 1,106 yards and four TDs, adding 11-111-1 receiving. He's a patient, smart runner who's capable of carrying a heavy workload, though he's been spelled frequently over the past few seasons by a cadre of backs.
Gore's pass protection abilities will be a welcome asset to the Colts, as he's experienced and dependable in that role.
Fantasy Impact:
The Colts have been largely successful over the past few seasons with Andrew Luck under center, but they've struggled to find a consistent running back who can handle all the requisite duties. A trade with the Browns for Trent Richardson that cost a first-round draft pick turned out to be a huge bust, and a yeoman's run from Ahmad Bradshaw last season ended, once again, with an injury to the fragile veteran. At 32 years of age, Gore is no spring chicken. While much of his explosiveness is gone and he owes some of his recent success to fullback Bruce Miller, he's still a good bet for 1,000 yards and 250 carries on a team that desperately needs detail-oriented leaders (other than Luck) in the wake of wide receiver Reggie Wayne's departure. If the Colts are committed to running the ball and taking pressure off Luck, Gore should find success the same way he did in San Francisco – waiting for gaps to open, getting low and picking up chunks of yardage.
He won't be a workhorse back, but his receptions should increase in Pep Hamilton's offense. Gore is also a sure-headed, which should help the Colts' turnover margin and allow the defense more time to recover. While Gore's choice of Indy over Philly may have cost fantasy owners some upside, he's got a higher floor with the Colts, who don't have a talent resembling Darren Sproles or an offense that demands so much shuffling.
Expect Dan Herron to serve in a complimentary role that will keep Gore's legs fresh – which bodes well for his usefulness in the fantasy playoffs. If you're looking to draft a productive back capable of returning elite RB2 value after the first couple tiers are exhausted, Gore could be your man.