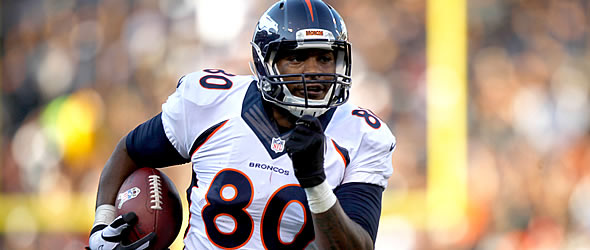 Fantasy value on the decline: Julius Thomas has been reduced to a second tier question mark.


Many will call the decision by Julius Thomas a money grab – and there's certainly good reason to suspect that a five-year deal with $24 million guaranteed was one of the factors that helped Thomas sign on the dotted line in Jacksonville. Thomas spent a couple of years as a bit player in Denver before exploding onto the scene in 2013 with a monster season (65-788-12) and following it up with 43-489-12 despite ankle issues in the season's second half.

As those touchdown numbers show, Thomas is an excellent red-zone target and physical receiver that drew interest from several teams before signing with the Jags. But the Week 11 ankle injury cost him three games and rendered him invisible during the Broncos' final games and playoff run – leading some to believe he either came back too quickly or had given up on the team.

Thomas himself has said that he's going to Jacksonville to be a part of a successful program being built from the ground up, alongside quarterback Blake Bortles and head coach Gus Bradley. In an interview with CBS, Thomas could "identify with" the situation in Jacksonville and help shed the inferiority complex that's plagued the franchise the past several seasons.


Fantasy Impact

Thomas was a top-tier tight end in Denver and one of the first three off the board in most fantasy league formats. Now, he's been reduced to a second-tier question mark, as he'll likely see his touchdown totals cut in half, though more receptions between the 20s are a distinct possibility. The fact that he's being asked to be a veteran leader despite being just 26 years old says a lot about the level of experience in the current Jags offense.

Still, you can't sleep on Thomas once the other big-name tight ends are off the board, because he's got a knack for finding paydirt and boasts excellent hands at the position. Just because he's no longer in elite company with Peyton Manning doesn't mean he can't bring elite skills to a team desperately in need of a consistent scoring threat. Thomas finished 2014 as the No.7 tight end in fantasy football and while his fantasy ceiling takes a hit, it's reasonable to assume he could increase his reception total, max out at eight touchdowns and end up in the 7-10 range among tight ends assuming he remains healthy.

Along with the hit on his value, current Jags tight ends Marcedes Lewis and Clay Harbor become afterthoughts, at least on fantasy draft day. Outside of another injury to Thomas, they'll be relegated to limited roles and remain off the fantasy radar in 2015.