Last Week's Question - Do leagues still expect commissioners to provide weekly commentary?
In week 14, I lamented that fewer and fewer fantasy commissioners seem to be producing weekly summaries of developments in the league (a feature of fantasy football that was ubiquitous back when I started playing in the '90s).

I was delighted to hear from numerous commissioners who continue to honor this tradition in their leagues, and I've selected the 4 samples that are likely to be of greatest interest to readers.

The most useful model may come from Eric … because it's short … because he doesn't even attempt weekly summaries:
No weekly summary of the games but I do send out notifications about free agent pickups, approaching deadlines, etc. Like this one, sent after MNF about the playoffs:

Playoff Teams Set: 11-2 Redhawks and 10-3 Ragin Beavers finish as the #1 & #2 seeds while 9-4 My Favorite Marshawn takes #3. Then there's a 5-team fuster cluck at 7-6 that I'll seed tomorrow once scores are finalized. Lots of mediocritudinous suckage at the bottom of the playoff teams.
I'm willing to bet that it didn't take Eric long to write that message. He doesn't bother with a lot of details (or diplomacy!), but I can say from experience that even short updates from a commish like this one increase my own level of interest in a league. If you don't want to do weekly summaries of every single matchup in your league, brief updates like this one from Eric are a simple & effective way to increase engagement.

Since fantasy leagues tend to develop their own distinctive personalities, the archetypal commissioner commentary follows the approach described by Mark:

I was inspired by a site where the commentary was both funny and deprecating. Since our league has guys who can take a joke, even after a bad beat, I let the good times roll. I've heard from league mates that they look forward to it each week. This year, I only updated the league page each week and failed to save the copy so I'm giving you [examples from last year]. Some jokes run all season long.

[Excerpt from Week 1]


And finally, the bad beat of the week goes to Aunt Esther. After swingin' her purse to an early total of 152 (Kamara is on another level), the Maulers unleashed Hurricane Tyreek who blew her wig off and sent the old bag packin'. Unfortunately, the third-highest score this week gets Coach Jack exactly Squa-douche. As a result, Bricktown takes the weekly high score but falls just short of the record currently held by Vince Young's Crack House at 179.

On to Week 2. Auction runs in the morning at 3am Eastern.

[Excerpt from Week 2]

Wild and Wacky is what week 2 was. Two weeks and two ties! Kickers suck and Mahomes is a thing (although he's yet to be started in our league).

First, congrats to Tom for living long enough to finally see the Browns win a game last night. Although it must be bittersweet to cheer for MagicMayfield after he planted the OU flag in the heart of your logo at OSU last year. It's ok, the UT fans feel the same way after the thrilling comeback in Knoxville a few years ago. But if you can get past that, enjoy the ride…

The bad beat of the week goes to the Col Mustard, with the pipe wrench, in the Conservatory. Coach Steck jumped out early but when Davante Adams and Tyreek Hill both scored late, it put the nail in the coffin on the Hammers.

[Excerpt from Week 3]

Coach Alan continued his hot streak as 7 of 9 starters produced double-figures for the MoneyBall team while the dumpster fire that is the Rossilino's continues to founder (like a sinking ship – some of you will need to look it up). Injuries to McCoy and Burkhead have neutered the Italian Stallion.

Bad beat of the week goes to the SpiceGirls. Is Pussywillow a spice? Coach Bill was undone when the Vikings inexplicably got steamrolled by the Bills and Matt Bryant (a kicker for those that missed the theme) only netted three extra points despite the Falcons scoring ?37?. Adding insult to injury, it gave Bill's old nemesis Coach Steck his first win of the year but it came with a price as the Hammers lost Garrap-a-go-low for the year.

Best of luck to nobody. I wanna win this thing.
Although Mark's thorough write-ups covered every single game each week, I didn't have the space to reprint them all in full, so I've tried to leave readers with a taste of what his commentary looks like. I love the touch of ending each update with the "bad beat of the week," and commissioners who are less ambitious than Mark could get away with focusing on the one game each week that stands out as the most brutal loss. I also love Mark's jokes ("Best of luck to
nobody. I wanna win this thing.") and his inclusion of notable details, such as the fact that 2 weeks into 2018, which was the year of Patrick Mahomes, no one had started Mahomes yet. Thanks to Mark's irreverent & quirky style, these reports seem like they would be fun to read years after the fact to remember how a particular fantasy season felt.

Work leagues may want to steal a page from Ken's playbook, as his power rankings have been a hit in his office league:

Here is a sample of my weekly commissioner report. This year I added a weekly power ranking which receives a lot of comments, criticisms, and garbage talk. This is an office league and the VP of our work group said it was the most chatter and fun he had seen in a while.

Congrats to Team Crimson for high score of the week at 176.6 points, who also gets a Commish extra bonus award for savvy waiver wire picks of Gallman($19) 29.6 points, Dissly($18) 18.7 points, and Shepperd($22) 17.0 points, money well spent. The chase to not be the low scorer loser of the week was tight, but Team McCusker at 94.0 points barely squeaked by Team VoCo at 93.6 points who is the first team to be low scorer twice this year.

Other weekly winners were Team Gym Purple at a robust 165.9 points, Team Roonetti at 128.4 points, then three teams very lucky in the matching department Team Fat walshy at 110.5 points, Team DKPK at 106.9 points, and Team Uno Loco at 105.4 points. Now for the power ranking:

1. Crimson (3-1, 609,4 points), jumps from 5?th ?to 1?st? with the top score for the week and the top score for the season. The big question is what role will Ekeler have (28.1 points avg first four weeks) now that Gordon is back. Gallman was a good pick up, but he has a shelf life only until Barclay returns. Even though the Commish is impressed with Team Crimson, ESPN is not impressed and projects Team Crimson missing the playoffs (see graph below)!

2. UnoLoco (4-0, 547.1 points), slides down a notch after last week's dismal performance. The Commish is lobbying the owner to change the name to Team UnoLucko because points scored against after 4 weeks is significantly less than any other team. However, the Commish wants all participants to know this event is random luck not monkey business by the Commish. It would help if Team UnoLoco could stream a decent QB score once this year.

3. Fat Walshy (3-1, 530.7 points) is next, another lucky winner, but a big win with a star RB on a bye. Watch out for this team the rest of the year, as ESPN projects Fat Walshy to be in first at the end of the season (graph below).


4. Roonetti (3-1, 509.7 points), had a big game considering they left a 41 point WR on the bench. A good team likely playoff material but do they have enough fire power for the playoffs?

5. McCusker (2-2, 533.3 points), dropped out of the top four, but anyone losing a first round pick would also suffer. Can they steal a few wins in the coming week? If so, watch out once Barclay returns.

6. Gym Purple (2-2, 520.7 points) with a solid team, Evans looking like the buy low was just in time.

7. Found Gruden (2-2, 503.7 points), moves up a spot with this week's win.

8. Vinny Lasagna (1-3, 496.4 points), their three RB's are coming around, mark my words.

Teams fighting to get into the playoffs.

9. DKPK (2-2, 453.6 points), the last of the trifecta lucky winners this week and is fighting for that last playoff spot. Ranked 9?th? since only one decent scoring week after four weeks.

10. Foster (1-3, 447.6 points), the Commish thought for sure Foster was taking Fat Walshy down, but not to be. The Commish was subject to harsh words for giving constructive criticism, but will we see any changes??

11.IHOP (1-3, 433.6 points), at least no fumbling and a decent game by Carson creates hope for better days ahead. Can they punch into the eighth spot?

12.VoCo (0-4, 417.4 points), the only thing that comes to mind is you are what your record and scores says that you are.

Bonus question: Team VoCo has 2 low scores out of 4 weeks. The commish sets the line for VoCo low scores for all 13 weeks at 4.5.

$1 pool, let me know your bid, over or under?
I trimmed very little from Ken's response because I want readers to appreciate how it works. Instead of writing a blurb for each contest each week, Ken gets to focus on what stands out to him most (in terms of team strengths & personnel changes) before plunging into his power rankings, which seems like a really fun exercise each week. I suspect that generating the power rankings might be too time-consuming for most commissioners to consider, but there's no reason you couldn't adapt this to your league by ranking the top 3 and bottom 3 teams each week (and steering clear of the middle, which is usually the hardest part to make sense of anyway).

I'll close with this sample from Donovan (who has made many valuable contributions to this column over the years) because he makes an excellent suggestion about how to distribute the workload of generating weekly commentary:

Your question about write-ups really struck a chord with me. When done right, I think they add so much to a league.

I am currently in two leagues.

One of them is in its 30?th? season. We used to have weekly writeups and, over the years, the tradition sadly waned. But, I have high hopes for next year, based on a new experience in my other league that I'd strongly [recommend] to all league owners.

In my other league at work, I prepared a write-up each week for the first seven years. Each one was full of insults and inside jokes. Twice per year, the write-ups would have a theme, where I compared each of the owners to a character on the same TV show, or to rock stars – things like that. The end of the regular season always got the biggest focus. Of course, without knowing our owners, it's tough to understand why each comparison was so damn funny, but these were highly popular.

This year, because of a recent promotion, I didn't think I should continue sending out inappropriate writeups about my coworkers. So, on draft night, I assigned one weekly write-up to each owner, following the same order as the draft. (I took the extra Week 13 to make it all work.) Each owner saved up their best ideas for their lone week – it turned out to be hilarious. Nearly everybody contributed. Somebody even did a write-up where each of the owners were compared to a character on It's Always Sunny in Philadelphia – absolutely hilarious. If a co-worker that is in our league leaves, they always say that they will miss our fantasy football league the most.

Suggestion:

Have each owner assigned to do one weekly writeup throughout the season, then remind them a week or two in advance when their week is coming. It's perfect for a 12-team league. It's such a small amount that most will be willing to do it, just to take advantage of a solid opportunity to insult everybody?.? If you have to, do the first one yourself, just to set the tone.

I plan to bring this idea back to my 30-year league, hoping it will pump some life into a stagnating situation.

[2 excerpts from Donovan's sample concerning Game of Thrones}

WINTER IS COMING (and so are the playoffs)!

The conniving and weaselly Mav "Joffrey Baratheon" and the Sunshine and Unicorns team, propped up by the secret leadership and brains of the bald eunuch Dennis "Lord
Varys", made his way to the top of the heap and became king of the other division, earning a first round bye. You should probably think twice before eating any dates in the break room, Mav. Mav had a convincing 127.3 to 68.3 victory this week over Bill "Jamie Lannister" Lazarz, a good-looking dude who seems like a good warrior, but lost an arm to a bad case of gout and is really a total perv who desperately wants to screw his sister. Bill's season is mercifully over.

A huge win for Victorious Secret! Jonna "Sansa Stark", the spoiled princess born into royalty who spends several years whining but finally figures things out, was saved yet again by Alex "Brienne of Tarth", the incredible battle queen who for some inexplicable reason has made a solemn vow to Sansa and remains devoted towards her protection. Alex and Jonna defeated Jay "Theon GreyJoy" 101.3 to 99.3. Jay had his neighbor chop his unit off, watched members of his foster family get killed due to his quest for revenge, but still keeps bouncing back to FIGHT AGAIN! Jay will be in the playoffs against Jeff, trying for revenge from the aforementioned penis-chopping incident, while the Ladies of Westeros can begin plotting for next season.

For those who made the playoffs, good luck! For those who didn't, hopefully you will still be in the league next year!
I wish I had the space to include everything Donovan sent me, but I've left enough of his commentary to give readers an idea of how to use pop culture references as a way of structuring their observations. I especially like his idea of farming out one week of commentary to each participant in the league. I'm sure the write-up based on It's Always Sunny in Philadelphia was hilarious (even though I can't think of 12 characters from that show).

I hope these ideas are helpful to those of you who would like to make commissioner commentary a staple in your league. My thanks to everyone who wrote in.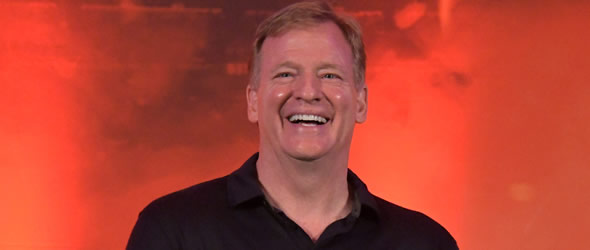 This Week's Question: Should commissioners have their league fees waived/discounted because of the work they do?
For Week 15, I'm asking readers to touch the third rail of fantasy football by answering a simple question: Do you think commissioners deserve to have their league fees reduced (or waived entirely) because of the work they do?

To be clear, I think that whatever policy your league has adopted is probably the right policy for your league. I'm not suggesting there is a right answer to this question. But the first league I joined stipulated that the commish played for free (because of all the work he did). I still belong to that league and have no problem with that rule. But some people HATE the idea of commishes
playing for free. Please share your thoughts on the subject by posting in the comment section below or emailing me.
Survivor Pool Picks
#3 Saints over Colts (11-3; PHI, BAL, SF, lar, NE, WAS, GB, NO, SEA, ind, MIN, BUF, KC, hou)

The Ravens and Patriots are unavailable to me in all 3 slots, but they're both attractive picks this week if you can use either. Fortunately, with the Saints hosting the Colts and the 49ers hosting the Falcons, there are some other "gimmes" this week. I want in on both of those games, and the high-flying Saints (who should take care of business at home en route to a playoff bye) are astonishingly still available to me in slot 3.

#2 Rams over the Cowboys (8-6; HOU, BAL, NE, ind, kc, lac, SF, MIN, BUF, no, car, CHI, phi, GB)

I'm stunned to see the Cowboys as 3.5-point home favorites in this one. Yes, the Rams have been weak. But the Cowboys have been far weaker. Whereas the Rams just defeated mighty Seattle, the Cowboys just lost to the uneven Bears. And so the Rams rolls into Dallas as underdogs? Why? The last time the Cowboys won at home was in Week 7 vs. Philadelphia. The impatience of the fanbase with Jason Garrett is at an all-time high, so I don't see how homefield confers any sort of advantage on the Cowboys. Gimme the Rams.

#1 49ers over Falcons (12-2: NE, SEA, DAL, LAC, PHI, dal, BUF, SF, BAL, OAK, CLE, car, MIN)

If you don't believe in the 49ers, what's wrong with you? They've pulled ahead of the Seahawks and are in first place in the NFC (ahead of Green Bay, New Orleans, and any theoretical all-star team you can construct from the 4 teams in the NFC East). The Falcons surged after their bye with wins over New Orleans (a good team) and Carolina (a bad team). But they faltered against Tampa Bay (another bad team) and in the rematch against New Orleans. Sure, they beat the Panthers again last week. But the Panthers were still bad. Look back over the Falcons' record. They have won exactly 1 game against a good team all season, and it was that game against the Saints immediately following their bye. They might have a chance against the 49ers if they had an extra week to prepare, but they don't. 49ers all the way.


---
Mike Davis has been writing about fantasy football since 1999--and playing video games even longer than that. His latest novel (concerning a gamer who gets trapped inside Nethack after eating too many shrooms) can be found here.