Last week's question: Quick Quarterly Quiz (QQQ) + Bench Depth
My column for Week 5 started with quiz results for those gauging their ability to predict the top 5 performers at 5 key fantasy positions (QB, RB, WR, TE, and defense). After scoring myself and providing some commentary in that piece, I heard from other readers who are playing along--including Bruce, whose comment I'll feature because he participated in every QQQ last year and has decided to continue in 2020: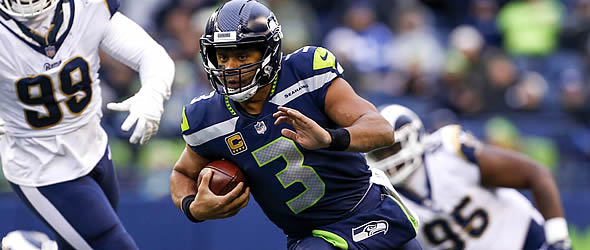 Question #1: Top 5 QB who will remain in the top 5:

Preseason answer: Mahomes because I trust KC's offense the most, and he is its engine.

1st quarter answer: Wilson because he is Seattle's offensive engine.

Question #2: Top 5 QB who will not remain in the top 5:

Preseason answer: Prescott because I'm a Bills fan and this would be pettily satisfying. [Note that Bruce sent me this answer back in August, long before Dak's injury.]

1st quarter answer: Murray because Arizona's offense is uneven.

Question #3: Top 5 RB who will remain in the top 5:

Preseason answer: McCaffrey is the Mahomes of Carolina (i.e. the offense flows through him).

1st quarter answer: Kamara because he was my top pick in both of my leagues, so I need him to keep things rolling even after Michael Thomas returns.

Question #4: Top 5 RB who will not remain in the top 5:

Preseason answer: Henry because as much as I hate the Cowboys, I gotta respect Zeke enough not to put him here first. He's up next.

1st quarter answer: Elliott because the Cowboys' passing attack is on fire. [Note that Bruce sent me this info a few days before Dak's injury. I doubt that he feels as strongly about this position with Dalton under center. However, he declared his intention to make Zeke his second RB to fall out of the top 5 in the preseason, so I'm sure he would have justified it one way or another.]

Question #5: Top 5 WR who will remain in the top 5:

Preseason answer: Thomas because he's consistent and durable. [Note: For his 1st quarter update, Bruce added: "Jeez, it looks like I jinxed Thomas," so now we know who to blame.]

1st quarter answer: Hopkins because as uneven as the Cardinals are, Nuk's reliable.

Question #6: Top 5 WR who will not remain in the top 5:

Preseason answer: Hill because I worry about injuries and games where KC doesn't need his production to win because the threat of his production creates opportunities for everyone else.

1st quarter answer: Ridley because I don't trust the Falcons to keep doing what they're doing, but I do trust Julio Jones to do what he's always done.

Question #7: Top 5 TE who will remain in the top 5:

Preseason answer: Kittle because of his will and wiliness.

1st quarter answer: Kelce because KC gets him the ball no matter what.

Question #8: Top 5 TE who will not remain in the top 5:

Preseason answer: Waller because I'm not convinced last year wasn't a fluke.

1st quarter answer: Tonyan because I'm not convinced last week wasn't a fluke. [Note: This answer made me LOL.]

Question #9: Top 5 defense that will remain in the top 5:

Preseason answer: The Bills aren't an eligible response, so I'll take the Steelers (based on geographic proximity to Buffalo, not talent).

1st quarter answer: Thank God the Bills weren't available for me to take in August. Now I'll take the Colts because holy cow.

Question #10: Top 5 defense that will not remain in the top 5:

Preseason answer: Chiefs because they can't help but let down at times when the offense is putting up so many points so consistently.

1st quarter answer: Rams because they've been about as disappointing as the Bills on defense so far this season.
Bruce's Buffalo homerism isn't typical of the responses I receive on QQQs, but it does make for fun reading. I hope the rest of you enjoyed it as much as I did. My thanks to Bruce & everyone else who took the time to respond.
For the sake of keeping the column brief, I'm featuring just one response to each of the questions posed last week. My question about bench depth drew a thoughtful response from Guffie (a commissioner) that stands in stark contrast to the answers I received from rank-and-file fantasy participants:
As a commissioner, I try to engineer a league that stays competitive far into the season, so that a bad draft or many injuries can still be overcome with a deep free agent pool to select from. Keeps owners interested longer. That said, IMO a 14-team league with 16 players per roster is already static, with the top 224 players already accounted for and not much else available; so I think [Brian's league has] too many bench spots with 6, and should reduce it to 5 or 4.
I loved this answer from Guffie because it spells out the advantages of shallow benches beautifully. Although it's true that in leagues with deep benches, owners can almost always find someone on their roster to plug in for bye weeks and injuries, the quality of those substitutes is all too often determined on draft day, when every "wish and a prayer" player flies off the board in the late rounds.
Unsurprisingly, the typical fantasy owner's response to Brian's question about bench depth was that his 14-team league with 10 starters requires more than 6 bench spots, especially in light of the unpredictability that COVID brings to the 2020 season. Increasing the bench depth to 7 or 8 players would certainly make it easier for owners who played their cards right on draft day to fill in any unexpected holes in their starting lineups. But as Guffie's response suggests, this "solution" only exacerbates the problem faced by owners who are trying to dig themselves out of a personnel hole caused by draft day miscalculations or an unlucky rash of injuries.
As Guffie says, deep benches create "static" leagues in which waiver acquisitions rarely make much of a difference--because every player who is just 1 injury away from stardom is claimed before the season gets underway. Shallow benches force owners to let go of players who could very well be productive, but aren't productive enough to break into their starting lineups, which is one of the best possible ways to motivate owners to remain engaged and active on the waiver wire even if they get off to a poor start. I'm sure Brian will do whatever is best for his league, but I hope he takes Guffie's insight to heart.
This Week's Question: Did your fantasy league go on hiatus for 2020?
My favorite league did. For the first time in a quarter century, the multi-conference fantasy league in which I've participated since the mid-90s decided not to have a fantasy season. That may have had something to do with some participants trying to wriggle out of some ugly side bets in 2019 (involving tattoos, nudity, wet clothing, and other punitive measures for the losers--all to be enforced on draft day of 2020). However, the primary reason that the league decided to postpone activity until 2021 (when the side bet consequences will still be enforced, if all goes according to plan) was the uncertainty concerning COVID for the season back in August.
The draft for that league is a big deal that requires in-person participation (along with travel for several owners), and with the cloud of a shortened/canceled season hanging over the horizon, there was a sense that a 2020 draft might not even be worth the trouble. We've already seen more football than some of my competitors in that league expected to see during 2020, but we've also seen our fair share of down-to-the-wire uncertainty about contests and unpredictable postponements (e.g. the sudden shift of the Titans-Steelers match-up to Week 7).
I can't speak for my fellow owners, but my own sense at this point is that having the draft would have been worthwhile.
What about you? If any of your leagues were canceled over COVID concerns, do you regret that decision? Or do you think the headaches we've experienced so far are just a taste of what's in store and that it was wise to put fantasy on hold for a year?
Please share your thoughts in the comment section below or by emailing me. I expect to get an especially wide range of responses on this question and look forward to hearing from you.
Survivor Pool Pick (Courtesy of Matthew Schiff)
Soooo, who's still with us in their Survival Pool? We're five weeks into one of the craziest seasons in NFL history, and our #1 pick is still undefeated. Let's keep it going.
P.S. Watch out for the trap game this week.
Trap Game: Cincinnati at Indianapolis

Bells and whistles are going off here. Joe Burrow must have had an epiphany about the way divisional rivalries can play out in the Bengals' meltdown loss to Baltimore in Week 5. However, just one week after Indy was torched by the Browns, there is no way the Colts deserve to be more than a touchdown favorite at home. Philip Rivers looks like a shell of his former QB self and his rapport with T.Y. Hilton is nothing like the chemistry he once enjoyed with Keenan Allen. For a team that had huge hopes, the Colts are a disappointment (on offense at least). Stay away.
#3: Minnesota over Atlanta: 3-2 (BAL, KC, az, sf, LAR)

The Falcons are two years removed from the NFC championship and remain winless--despite having a top ten offense. Their defense can't stop anyone.
So on the road the dirty birds go to Minnesota where Dalvin Cook will most likely sit this week with a groin injury. Alexander Mattison rushed for over 100 yards in Cook's absence last week and will presumably shred Atlanta if he is the primary back. The Vikings defense, while vulnerable to the pass, should have just enough to eke out a win at home.
P.S. This third choice is a distant third because you have two much better choices below.

#2: Miami over NY Jets: 3-2 (ind, AZ, TB, BAL, sf)

It's been years since the Dolphins have been double-digit favorites at home against the Jets. Not since the days of Marino, Duper and Clayton have the Fins been this pass-happy.
The hirsute Harvard graduate, Ryan Fitzpatrick, brings the grizzled attitude of a veteran who wants to lead a group of young players in a division that is finally wide open with Tom Terrific on Florida's west coast playing for an NFC team. There aren't many weeks that you can bet on Miami with confidence. This week, however, they are arguably a better choice than the once mighty Patriots.
#1: New England over Denver 5-0 (KC, GB, IND, LAR, BAL)

In the post-Brady era, the Patriots are trying to find an identity and maintain AFC dominance, which will be difficult for them to achieve even if Cam Newton can stay healthy all season. (Fortunately for the New England faithful, Newton appears likely to start vs. Denver.) Meanwhile, Drew Lock, the rookie QB who had an incredible December, has been sidelined along with Courtland Sutton and a number of other Broncos over the first four weeks. Combine Denver's roster shortcomings with Bill "the wizard of Foxboro" Belichick's ability to work his magic and you have an easy choice to stay alive in your survival pool (as we've managed to do with this top pick so far).

---
Mike Davis has been writing about fantasy football since 1999--and playing video games even longer than that. His latest novel (concerning a gamer who gets trapped inside Nethack after eating too many shrooms) can be found here.