8/15/10



It has been said that while you can't win your league in the first couple of rounds, you sure can lose it! In this article we take a look at a handful of players with a high risk/reward at their current ADP. We will focus on those players that are going in the first few rounds that will most likely have the biggest impact on your fantasy franchise for the 2010 season.


(ADP 2.02)

Austin emerged last season in week five and never looked back. He went from the fantasy undrafted to the hot waiver wire pick to a second round selection all in about 3/4 of a season.

Risk
This is an offense loaded with talented playmakers and Austin won't sneak up on anybody this year. Eight of his eleven touchdowns came from at least 22 yards out and six of those eight were from an average of 53 yards away. Defenses are not going to let him get behind coverage with that much regularity this year. With the acquisition of first round draft pick Dez Bryant, a drop in targets is sure. Jason Witten only caught 2 TD's on the same number of targets as Austin. That number is sure to go up and the Dallas coaches have been saying they are going to call more plays in the red zone to their Pro Bowl tight end. A healthy Marion Barber and Felix Jones may also cut into production in the overall passing game.

Reward
If the Cowboys can keep a balanced attack and the receivers opposite Austin can keep defenses from rolling coverage onto him, he has a chance to finish near the top of the WR heap. Dallas is one of the league's best passing offenses and Austin is the unquestioned WR1. Romo and Austin quickly developed that Manning/Harrison report that only seemed to get stronger as the season went on. In fact, he averaged more catches and more yards in the second half of the 12 games he started last year. Reaching at least the numbers he achieved last season should not be difficult especially when he has 4 additional games to do it in this season.


(ADP RB 2.07)

Green made it an easy decision for the Jets to release a 1400-yard/14-TD back in Thomas Jones with his performance in the playoffs last season. He will take over the role as the workhorse back on a team that ran the ball more than any other last season and boasts one of the league's best offensive lines.

Risk
While there are certainly a lot of things in Greene's favor this season, 108 carries as a back-up and 2 1/2 playoff games is a small sample size to work with. Can he carry the load for a full season? Will he stay healthy with his bruising running style? Let's not forget that he was thrust into the RB2 role last season only after Leon Washington was lost for the year with a broken leg, otherwise we might not have seen him much at all. He missed a chunk of training camp with an ankle injury that also caused him to miss the first couple of games. He also had a rib injury during the season and it showed up again in the playoffs, causing him to sit out the second half in a loss to the Colts that ended the Jets' run. Management also saw fit to bring in LaDainian Tomlinson to spell Greene, especially in passing situations. Greene did not catch a single pass last season and had a whopping total of 8 receptions in his one full season as a starter at Iowa. Tomlinson may also be used around the goal line where he made so many of us happy for so many years.

Reward
As stated above, the Jets ran more than any other team last season and with a young QB and a mediocre receiving core, don't look for much to change in that category. Greene is the unquestioned RB1 on this team and 300+ carries looks almost like a sure thing. He showed us flashes of uberstudness with a 144 yd 2 TD performance in week 7 and he carried the load in the playoffs tallying 263 yard and a couple of scores vs. Cincinnati and San Diego. Running behind one of the league's best offensive lines, Shonn could put up top 5 numbers and it would not be crazy to think he could finish at or near the top if he gets somewhat involved in the passing game and the coaches keep him in around the goal line.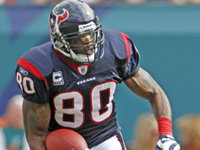 Does a healthy Owen Daniels make Johnson a risky first-round pick?

(ADP 1.05)

Johnson enters the 2010 season as the undisputed #1 wide receiver on the board. He has averaged 108 catches and 1572 yards and scored 17 touchdowns over the past two seasons.

Risk
In his seven seasons as a Pro, Johnson has averaged only 6 TD's per season. His 9 scores last year were a career best. Part of the reason is that Johnson is severely underutilized around the goal line. Even at 6'3", 225 he was thrown to just 7 times inside the ten yard line last season. Compare that number to his peers; Randy Moss, Reggie Wayne and Calvin Johnson were well into the double digits in that category. Johnson scored just 2 of the team's 13 TD passes inside that area. Houston seems to prefer to call plays for their running backs and TE's in that area of the field. And speaking of tight ends, Owen Daniels was on pace for career numbers before tearing up his knee in week 8 and is said to be ready to go full speed week 1. In the first eight games of the season when Daniels was healthy, Johnson averaged 5.5 catches, 87 receiving yards and caught four TD's. In the final eight games that Daniels missed with injury, Johnson averaged over 7 catches, 109 yards per game and scored 5 touchdowns including the two inside the ten yard line. Bottom line, Daniels is a factor in Johnson's targets. Johnsons' success is also tied to his QB, Matt Shaub. Shaub had a career year in 2009 but it was the first year since joining the Texans that he did not miss time due to injury. He has missed 10 games, 5 in each of the 2 previous seasons. Johnson is being drafted in the first round when there are plenty of other safe choices on the board at other positions.

Reward
Johnson is big and fast. He racks ups oodles of yards and Houston passes the ball with frequency. He scored long touchdowns of 64 and 72 yards last season and the Texans don't seem to have much else in the way of competition besides Owen Daniels. Despite what I wrote about Johnsons "Risks", Matt Shaub does throw his way in the red zone. He scored 7 of his 9 touchdowns from inside the 20 yard line. They just don't like to "huck it up there dog" as Randy Moss would say, inside the ten to their best receiver and let him wrestle is down, which he can do with the best of them. Johnson has the skills and ability to finish the season as the top wide receiver and if Shaub can stay healthy and the Texans figure out a way to get him the ball around the goal line…look out.


(ADP 2.09)

Few rookie running backs land in the situation that Mathews has. He joins one of the most explosive offenses in the league with little competition around him. The Chargers moved up in the draft to make sure they could secure his services and Coach Turner has already gone on record stating that he would like to see close to 300 touches from the heralded rookie out of Fresno State.

Risk
No secrets here, he is a rookie. Not many rookies come in and perform at a high level for the entire season. I don't expect the Chargers to expand Darren Sproles' role beyond the 3rd down back, but he will definitely be utilized in certain packages and if Mathews falters in pass protection, we will definitely see more of the speedy Sproles. Bruising fullback Mike Tolbert who has almost a 30-pound weight advantage on Mathews and could steal some goal line carries. We are all familiar with the term "rookie wall" as they are just not used to the grind of an NFL season. And let's not forget that SD ranked 31st in the league last year in rushing and was dead last in YPC at 3.3 yards per carry. Will this line improve enough to open holes for a running back that will be learning on the fly? Veteran LT Marcus McNeil and WR Vincent Jackson are prepared to sit out the season in a contract disputes. Defenses will be allowed to focus on stopping the run more with little threat at the wide receiver position other than TE Antonio Gates and an inexperienced replacement for McNeil. That is a lot of questions for a player being selected as a RB1 that has yet to see a carry in the NFL.

Reward
Mathews is an elite talent and the fact that San Diego doesn't have much else in the way of competition, he has a solid opportunity. He signed his contract with no holdout so a full training camp and pre-season should help him prepare for the 16 game schedule. And what a schedule it is! The Super Chargers get to play the Chiefs, Raiders and Broncos a total of 6 times, and on paper are ranked to have one of the easiest overall schedules in the league. If McNeil and Jackson get their acts together and join the team, this is an elite offense that can produce plenty of scoring opportunities. Mathews has a chance to be one of those rare players that can put up big numbers in his first season.

(ADP 1.09)

Jackson enters his 7th season with the Rams. Even playing with a team that could only produce one win last year, Jackson was able to manage over 1700 total yards, his highest total since his spectacular 2006 season.

Risk
Jackson has missed time due to injury in all but one of his seasons in the NFL. This includes missing no fewer than nine games over the past 3 years and seems to be constantly listed as questionable on the weekly injury report. Jackson underwent back surgery in the offseason and while reports are positive at this point, this may affect him one way or another this season. The Rams drafted QB Sam Bradford and he should start right away. With a mediocre receiving core and an underachieving offensive line with injury problems of their own, defenses key on Jackson. He continuously faces eight and nine man fronts and if not for his size, speed and ability he probably would be out of the league by now with a career ending injury. Bad team=few scoring opportunities. Jackson scored just 4 times last season and has just 18 touchdowns in the teams last 39 games. Workload could also be catching up to Jackson. He carried the ball 324 times last year and averages over 335 touches a season since 2005.

Reward
Elite talent, ability, size, speed, power…check. Versatile, experienced, workhorse…check. Jackson has all the tools and ability to be the best at his position in the league. He has no competition in the backfield and plays on all 3 downs. He has averaged 52 catches per year since becoming the starter in 2005. The Rams have a pair of young quality tackles and an interior line that is returning to health. If QB Sam Bradford is as good as advertised, this could open up some holes for Jackson. He stated in an interview recently that his back feels great and he is expecting to have his best season yet as a pro. Even better than 2006 when he went for over 2300 total yards and scored 16 touchdowns.

(ADP 1.04)

Owners that didn't get caught up in the RBBC talk last preseason were rewarded with a breakout season by Rice. He carried the ball 254 times for 1339 yards and scored 7 rushing TD's. The bonus was that Rice was phenomenal catching the ball out of the backfield, amassing an amazing 78 receptions for an additional 702 yards and a score.
Risk
The Ravens have put together a deep receiving core to go with a young, potential Pro Bowl caliber quarterback in Joe Flacco. They added Pro Bowl wide receiver Anquan Boldin to line up along with the experienced Derek Mason, TE Todd Heap and speedsters Dante Stallworth and Mark Clayton. With an aging defense and a depleted secondary, (Ed Reed may miss the first six weeks following off season hip surgery and staring corner Domonique Foxworth lost for the year with a knee injury), Baltimore may end up throwing more and running less. Another concern is that Rice is not used in goal line packages. Rice touched the ball 332 times last season but on only one occasion did he score a touchdown from the goal line on just 7 attempts. Veteran Willis McGahee handled most of those short yardage carries resulting in 12 touchdowns and fullback LeRon McClain added a couple scores as well. It is hard to envision this changing much when it worked so well last season which limits his upside.

Reward
The Ravens have a solid offensive line which should allow Rice to put up tons of yards rushing and receiving. A slight downtick in receptions may occur but if they can balance out the offense a bit (Baltimore was 7th in rushing attempts and 25th in passing attempts), this shouldn't be much of an issue as they will move the ball with regularity and defenses will be forced to stack the box less often. The glaring weakness with Rice is getting into the end zone. They pull him in favor of McGahee near the goal line. But with the talent, speed and toughness Rice brings to the table, it is going to be difficult for coaches not to keep feeding him the ball. Should something happen to McGahee, Rice's ceiling could skyrocket. He finished as a top 5 RB in 2009 and with a few more trips to pay dirt; he has a legitimate chance at finishing the season #1.


(ADP 1.10)

Just two seasons removed from watching Brett Favre lead this team; Rodgers has finished the past two seasons with over 4000 yards and 30+ touchdowns. His 9 rushing TD's over that span are tops in the league.

Risk
50 sacks. That's right, Rodgers was sacked a league high 50 times last season and we all know it only takes one to end a season. Can he keep putting up with the punishment? So far he has not missed a game, but another season of that type of pounding will start affecting him and his time on the field. As mentioned above, Rodgers has an advantage over some of the other top quarterbacks because of his versatility. Over the past two seasons he has totaled over 500 rushing yards and scored 9 touchdowns. Can we count on this production to continue? Rodgers ranks in the top 5 or 6 in the major passing categories and he should continue to do so, but if these additional rushing stats decrease, he has little chance to finish at the top of the QB pool, which is where he is being drafted. A very risky move considering if that added production declines, it can quickly put you behind the 8-ball as you are passing on superior talent at other positions this early in the draft. Green Bay will also be playing a much tougher schedule rather than the 2nd easiest that they were fortunate enough to play in 2009.

Reward
Green Bay has one of the league's best offenses. They have ranked in the top 5 in scoring three years in a row and have a talented group of players at the skill positions including a rising star in tight end Jermichael Finley which could lead to even more offensive production for Rodgers. The offensive line was decimated with injuries last year that caused Rodgers to run for his life on many occasions. Although aging, the line should now be healthy and the Packers used a 1st round pick on OT Brian Bulaga that will provide depth and consistency should another injury occur. With all the negatives, Rodgers has put up some fantastic numbers over 2 seasons averaging 281 total yards in 32 starts and 67 combined touchdowns. If he can cut down on the sacks and avoid injury he should easily finish in the top 5, and if the rushing totals stay close to his average, he can once again finish atop the QB heap.


(ADP 4.01)

I realize that Clark isn't somebody that you are drafting in the first couple of rounds, but with his current ADP sitting as the first pick in round 4, he is the first Tight End off the board and you can be sure that in some leagues he'll go in the third round depending on what type of scoring is used. Clark had a career campaign in 2009. His 100 receptions marked just the second time in league history that a tight end reached that total. Clark finished the year with 1106 yards and 10 TD's.

Risk
As mentioned above, Clark had a career year. Considering that he had never broken the 80-reception mark, his 100 catches last year seem a bit fluky. Seasons like the one he had just don't happen that often for his position. A perfect storm for Clark so to speak. In the first 8 games of the season, Clark caught a remarkable 60 passes and racked up 703 yards. But in the second half of the season, defenses began keying on Clark and with the emergence of Pierre Garcon and rookie Austin Collie, the targets dropped. Both of these receivers should see an increase in production this season and one of them could potentially break out making Clark the 3rd option once again like he was when Harrison and Wayne were lining up next to him. Clarks' averages as the 3rd option: 37 receptions, 404 yards and 3.5 touchdowns per season between 2003 and 2006. Also, Clark has been somewhat of an injury concern though out his career as well. He has missed at least 1 game in each season prior to 2009. With so many weapons at Manning's disposal it is difficult to project Clark to repeat his remarkable 2009 season.

Reward
There is a future Hall of Fame QB under center by the name of Peyton Manning. I could stop here and be satisfied, but for arguments sake, let's continue. With so many weapons it is difficult for defenses to scheme against everyone and Clark has a knack for finding that soft spot in the zone; especially in the red zone. Of Clarks 10 touchdowns last year, 7 of them came from inside the 10-yard line and 2 of the remaining 3 came from just 27 yards out. The Colts have a prolific offense and as long as they stay healthy, they should move the ball consistently and Clark will see plenty of targets. He has 27 touchdowns over the past 3 seasons and the trust of Peyton Manning as option 1B next to Reggie Wayne. Unless Garcon, Collie or Anthony Gonzalez who is returning from an injury, make big strides this season, expect another top 3 finish for Dallas Clark.