One of the most difficult tasks during your fantasy football draft is trying to decide between two players you essentially see as having identical value. The purpose of this article is to not only identify pairs of players that are considered of equal value in 2018, but also take a look at the process of solving those dilemmas. With that in mind, here are two running backs whose values look to be nearly, if not totally identical.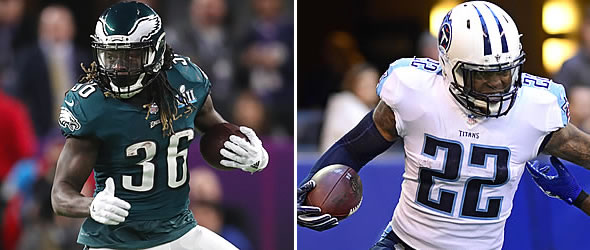 Two early-down pounders that have viable backups pushing for playing time. Which RB do you choose?
Jay Ajayi vs. Derrick Henry

Another dilemma present for drafters will come in the form of needing a RB2 in Round 4 where Ajayi and Henry are typically being drafted in PPR leagues. Henry would have been the easy choice after the release of DeMarco Murray, but the addition of Dion Lewis put him in the same tier as Ajayi, who also has suitors on his team vying for playing time.

In seven games with the Eagles during the regular season, Ajayi averaged nearly six yards a carry. Thatís really good. In that same time frame, he only scored 1 rushing TD. Not so good. Philadelphia likes to throw the ball in the red zone as evidenced by not only Ajayiís numbers, but also the fact that LeGarrette Blount dropped from 18 rushing TDs with New England in 2016 to just 2 last season.

Henry, meanwhile, is a near certainty to score more touchdowns with Murray retired, but also must compete with his quarterback for carries around the goal line. With Corey Clement and Dion Lewis being above average receivers, both Ajayi and Henry are likely to be watching from the sideline on third downs. Henryís stat line in the playoffs last season of 35-184-1 got the attention of many, but was that an anomaly?

First 4 games for Ajayi: ATL, @TB, IND, TEN
First 4 games for Henry: @MIA, HOU, @JAC, PHI

The Verdict: This is a tough one. Ajayiís YPC in Philly last year is eye-opening. Clearly, he has the offense around him to keep safeties honest and will no doubt enjoy some running lanes behind that offensive line that Henry will rarely see. But, Henry will almost certainly get more goal line work and it would be a surprise if his TD totals donít double from 5 to 10. You might reasonably expect both players to see roughly a 50% carry share for their respective teams but in the end, it comes to what you believe about the signing of Dion Lewis in Tennessee. Iím of the opinion his role is to keep Henry fresh whereas Clement and Darren Sproles will have weeks where the game plan dictates as heavy a dose of their skills. This should allow Henry to push above that 50% carry share mark while Ajayi may top out in the 45% range. Give me Henry here with the understanding that if Lewis is truly in Tennessee to be 1B, all bets are off.