One of the most difficult tasks in drafting a fantasy football team is trying to decide between two players you see as having nearly identical value. Knowing how to break this "tie" can be important to your draft success.

The purpose of this article is to not only identify pairs of players that are considered of nearly equal value in 2020, but also take a look at the process of solving those dilemmas. Our final installment in this three-part series focuses on running backs. In this case, players who had their moments last season, but are now expected to carry a more comprehensive workload.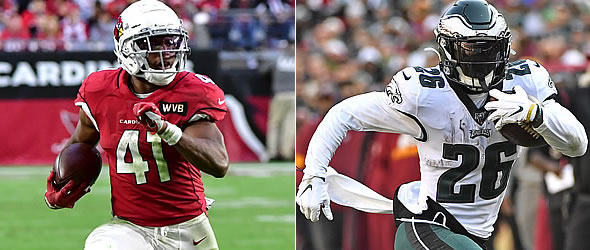 Kenyan Drake and Miles Sanders are likely going to come into play as early second round options for those who drafted late in the first. For example, if you drafted Davante Adams or Tyreek Hill in the first and would like to pair one of them with a high-upside RB, Sanders and Drake are going to be prime options. But neither player is a slam dunk. So, how do we break this value tie?

The Strengths:
When the 2019 season began, David Johnson and Jordan Howard were the presumed starting running backs in Arizona and Philadelphia respectively. While Sanders was given a chance by many to surpass Howard due to his all-around skill set, Drake was wasting away behind a horrible offensive line in Miami.

And then it all changed.

Drake was sent packing to Arizona where he excelled to the tune of over 160 yards from scrimmage and a TD in his first game. Later in the season, in the only two games in which he was allowed 20 or more carries, Drake recorded a whopping 330 yards and 6 TDs… again, in just two games.
Drake is not only an explosive runner as evidenced by an 80-yard TD last season, but he also has outstanding skill position players surrounding him which should continue to keep running lanes open. The addition of DeAndre Hopkins to Arizona's offense definitely benefits Drake as does the presumed maturation of Kyler Murray in Year 2 of his NFL career.

It's true that Drake has never logged more than 170 carries in a full season, but given his production in a larger role late last season and a 5.2 YPC average in Arizona following the trade, the upside for 2020 is undeniable.

Sanders caught the exact same number of balls as Drake last season (50)… but he did a lot more with those catches. While Drake only amassed 345 yards receiving, Sanders went off for 500+ yards, meaning that he averaged over 10 yards per reception. That speaks to how dangerous Sanders is when allowed to be out in space - something Philadelphia will try to exploit this season considering the data provided by his rookie campaign.

There is no Jordan Howard to take away early-down touches making Sanders a true threat to gobble up that role even as he cedes some third down snaps to Boston Scott. Scott is no threat to Sanders outside of that nuanced role, so a 300-touch season for Sanders looks not only possible, but also probable.

Philadelphia has proven to be an innovative team offensively in recent years and with few other stars to lean on at the RB or WR positions, Sanders is set up to be a focal point of their offense - if not THE focal point.
The Weaknesses:
Yes, Drake had two monster games when given 20+ touches out of the backfield, but he has never truly embraced the bell-cow role for the bulk of any season, whether it be pro or college. Some of that may have been out of his control, but the fact remains that there is no evidence to completely support the jump to a truly elite fantasy running back.

In addition, Kyler Murray's propensity for trying to make plays with his legs also means less check-downs to Drake. It would appear that Drake's ceiling is limited a bit by usage history and the fact that he's only one of many weapons in the Arizona offense. In reality, a timeshare with Chase Edmonds to keep him fresh is not out of the question.

Being one of many weapons, however, can be a very good thing. It keeps defensive coordinators from designing a game plan that is centered on stopping any one player. Saquon Barkley suffered in his second NFL season from being the offensive centerpiece given that defenses geared up to minimize his impact. Could Sanders be in for a similar fate with Philadelphia's uncertainty at WR in terms of health and inexperience?

With Barkley having also come from Penn State, the parallels are uncanny, although the Giants were breaking in a rookie QB and that is not the case with the Eagles. And, while one season is a small sample size, Sanders (like Drake) did carry the ball fewer than 200 times. So, the workload exacted upon him this season will be completely unprecedented. All in all, it's the uncertainty about who else defenses have to account for that is most bothersome.

The Verdict:
Many fantasy owners will reach this point in their draft and just take Aaron Jones. After all, Jones has proven over the course of a full season that he can be "the guy" and handle a near 300-touch workload. I think, however, that would be a mistake as Jones is almost certain to experience significant TD-regression and isn't particularly effective in the passing game. The upside lies with Drake and Sanders… but in order for this article to achieve its objective, we must choose one over the other.

What Kenyan Drake did after coming over to Arizona last season was truly eye-opening. He appears to be in an offense that fits his skill set and while Chase Edmonds will challenge him for carries, there's little doubt that he'll approach or surpass 5 yards per carry this season, which puts him over 1,000 yards rushing with only a minor bump in number of carries. All of that represents a high floor - something you want in an early round redraft investment.

All that said, Miles Sanders will be looking to not only raise his floor, but shatter his ceiling with a season that sets up for 275 touches (or more) and a likely replication of receiving numbers, but over the course of more games. Boston Scott is an effective runner in spot duty, but his role isn't likely to expand beyond that barring as injury. So, Sanders should have Drake's floor, but with a higher ceiling. Look for Drake to have a few monster games this year vs. teams with poor run defenses, but consider Sanders the better choice overall, albeit by a nose.
Projected 2020 stats for both players:

Miles Sanders - 1,076 rushing yards; 650 receiving yards, 10 total TDs
Kenyan Drake - 1,050 rushing yards, 460 receiving yards, 11 total TDs