One of the most difficult tasks in drafting a fantasy football team is trying to decide between two players you essentially see as having identical value. Knowing how to break such a tie can be important as often a pick comes down to a dilemma between Player A and Player B. The purpose of this article is to not only identify pairs of players that are considered of nearly equal value in 2021, but also take a look at the process of solving those dilemmas.

Our final installment in this three-part series focuses on running backs. In this case, weíll examine runners who are being drafted as borderline RB1s or high-end RB2s and have the upside to meet or exceed those expectations.

Austin Ekeler and Antonio Gibson are both being drafted in the second round of most redraft leagues with both drawing late-first-round consideration in PPR formats. Their 2020 seasons couldnít have been more different as Gibson ascended to fantasy stardom while Ekeler was forced to cope with injuries such that he missed six full games. Both are focal points for their respective offensive schemes and both are healthy. So, who is the better pick as your RB2 if you chose a RB in the first round or your RB1 if you didnít?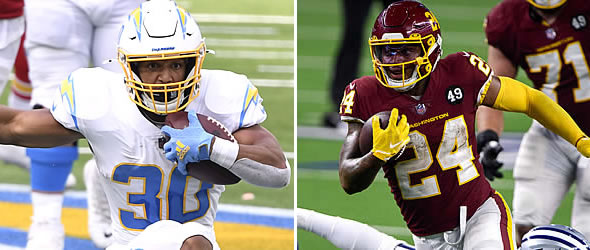 The Strengths
Here are the numbers you have to remember with Austin Ekeler: 92 and 993. Those are the receptions and receiving yards totals for Ekeler in 2019 despite only starting eight games with Melvin Gordon still with the Chargers. That equated to 5.8 receptions per game and even though he was hurt for much of last season, Ekeler still averaged 5.4 receptions in those ten contests. In short, Ekeler is a PPR stalwart. Even if he simply duplicates last seasonís reception totals, thatís another 92 reception season with the extra game thrown in.

The Chargers donít really have another running back to challenge Ekeler for primary RB duties between the twenties even on first and second downs. Itís not that heís dynamic in that roleÖ heís just all theyíve got. And in fantasy football, thatís all that matters.
Additionally, having a second year to adapt to Justin Herbert at QB should help all of Los Angelesís skill position players, Ekeler included. Teams cannot cheat up a safety to stuff the run knowing that Herbert will likely burn them if they do.

The injury last season makes projecting Ekelerís 2021 a little cloudy to be sure, but that doesnít mean heís any less exciting as a fantasy prospect.

Gibson was a wide receiver for the University of Memphis, so he too understands what it means to factor into the passing game. The Washington Football Team decided to play him at running back and obviously the transition was a huge success. Not only did Gibson average a highly respectable 4.7 yards per carry, he also distinguished himself as the go-to option at the goal line amassing 11 rushing TDs. With the release of Peyton Barber earlier this week, there will be no threat to that role even as the Football Team is likely to be in the red zone more often with upgrades at QB and WR.

All signs point to Gibsonís touches (206 in 2020) increasing this season to at least 300 (combined) and that number could still be low. Assuming he maintains his 4.7 average per rush and 6.9 per reception, the increase in points will be substantial.

Consider this: Last season, Gibson finished as the No.14 RB in terms of fantasy points scored despite missing two games and only carrying the ball out of the backfield 170 times. Barring an injury, thereís almost no way those numbers donít improve making him one of the safest ďfloorĒ picks with upside in all of fantasy football.
The Weaknesses
I brought up some exciting numbers with respect to Ekeler earlier. Now, let me bring up a few that are more concerning. Namely, 132 and 557. They represent the most carries Ekeler has ever had in one season and the most yards gained rushing as well. Those arenít even RB2 numbers, much less the numbers for a RB you might consider for the lead role at the position. Given that this is Ekelerís fifth year in the league, there is simply no evidence to suggest he can handle the traditional workload that comes with being a teamís top back.

Let me throw out one more number as well: 9. That is the number of rushing touchdowns Ekeler has accumulated in his career to date. Thatís four seasons and 401 carries worth of game action. Ekelerís total TDs in ten games last season was 3. Again, those are numbers that do not reflect his current status as a top 10-15 option at this vital position.

We noted earlier that Gibson is a capable receiver given his history, but what we didnít note was that RB J.D. McKissic was a reception vulture last season out of the backfield. McKissic caught 80 passes and was targeted 110 times, which was the most of any RB in the league. Granted, Alex Smith was the quarterback and as such, the check-down pass to a RB was standard operating procedure but less check downs this season for McKissic doesnít mean more for Gibson.

In fact, Ryan Fitzpatrick is the wild card in all of this. Fitzpatrick is known for making daring throws downfield and attacking defenses within the seams, not dumping off screen passes for 5 yards and a cloud of dust. As such, Gibsonís receiving totals of 36 receptions for 247 yards from last season may be a foreshadowing of what is to come. There simply isnít much upside for him in the passing game.

The Verdict
Letís just get this out of the way up front. If you are still using standard, non-PPR scoring in your league, Antonio Gibson is going to be the safer pick and most likely the better pick from a production standpoint. The evidence we have to go on just doesnít bring Ekeler up to Gibsonís level if receptions are meaningless.

But, since more and more leagues are going PPR each and every year, itís important to note that this match-up is a virtual photo finish in that format. Gibson is going to run for more yards and score more TDs than Ekeler. Ekeler will almost certainly produce quite a few more receptions, receiving yards and will be a ďsteadierĒ producer of points, rarely having a game in which his PPR points fall below 15 or so.

Meanwhile, Gibson is near certain to have at least a couple of multi-TD games in addition to hitting yardage bonuses for rushing, if those exist in your league.

All that said, it is my recommendation that Austin Ekeler would be a slightly better choice in PPR formats. The 500+ more receiving yards projected and the 35 additional receptions would grant him almost a point per game more than the talented, but less two-dimensional Gibson.

An injury to J.D. McKissic would likely flip that script, but since we donít factor that in until itís a reality, Ekeler by a nose is where I stand.

Projected 2021 stats:

Austin Ekeler - 720 rushing yards; 75 receptions, 800 receiving yards, 8 total TDs

Antonio Gibson - 1,100 rushing yards, 40 receptions, 290 receiving yards, 14 total TDs

Best of luck in your upcoming drafts and beyond!