QB Sam Darnold
(2020 QB Rank – No.29, 15.0 FPts/G)
Carolina GM Scott Fitterer exercised the 5th year option on Darnold's contract this Spring, guaranteeing his $18.9M salary for 2022 and pretty much signaling to the entire NFL that, for better or for worse, the Panthers have hitched their wagon to the 4th-year pro out of USC for the immediate future.
We think it will be for the better, certainly for Darnold. Now playing for a front office and coaching staff that support him, Darnold has been surrounded this offseason by an endless compliment of linemen and offensive skill players he couldn't have dreamed of in New York. RB Christian McCaffrey is expected back at full health, Darnold will be reunited with WR Robby Anderson (95 catches for 1,096 yards and 3 TD in 2020), who he played with his first two years with the Jets, and he will be the beneficiary of the playmaking ability of WR DJ Moore, who is coming off back-to-back 1,100-yard seasons. The draft yielded productive slot WR Terrace Marshall from LSU (10 TD in 2020) and RB Chuba Hubbard from Oklahoma State, and the o-line got much needed help in free agency and the draft.
So does all this make Darnold a viable fantasy option? Well, let's pump the brakes for a minute. With more weapons and better protection than he's had at any time in his career, and a dynamic play caller in OC Joe Brady, Darnold will be better. But understand that Carolina's first objective is to support Darnold and him in position to have success. That means limiting turnovers that have plagued his career and putting points on the board for the offense. If that requires running the ball early in the season, they'll do it. If it means playing max protections to settle him down, then that will be part of the game plan. If Darnold has to spend the first weeks of the season as a game manager handing the ball to McCaffrey, so be it.
The long and the short of it is Darnold will have to grow into the offense and build confidence, and that won't happen right away. But by the time the bye weeks roll around, it might be worth taking a peek at how he's progressing. He has the ability, and now the weapons and the coaching to develop into a borderline QB2 by the second half of the season.
RB Christian McCaffrey
(2020 RB Rank – No.51, 24.4 FPts/G)
Go ahead and mark it down. McCaffrey will be the No.1 pick this year in every fantasy league in every format. And why not? He had over 500 total rushes for just under 2,500 yards and 22 TD in 2018 and 2019 combined and added 223 catches for 1,872 yards and another 10 receiving TD in the same span before injuries ravaged his 2020 campaign.
"Workhorse" doesn't even begin to tell the story when it comes to McCaffrey. He averaged over 330 total touches per season in three healthy seasons before last Fall, and new OC Joe Brady has plans to put an even bigger load on him moving forward. Just look at what he did with his star back in the one game he had him healthy last season – he was on the field for an incredible 97% of the offensive snaps with a 23% target share against the Raiders in Week 1. Those are big numbers, and it's reasonable to expect that Brady and HC Matt Ruhle will lean heavily on McCaffrey early as new QB Sam Darnold re-develops his game.
It all sounds great, as long as McCaffrey is healthy, and that's the big question. Was last year a fluke, or the first signs of decline at one of the most physically demanding jobs in sports? The concern is that it wasn't one bad season-ending injury, it was a succession of ailments. It was an ankle, and a shoulder, and a quad. It was three very different, very significant injuries that kept him out of 13 games.
Whether you're talking fantasy football or the real McCoy (or the Real McCaffrey as it were), the best ability is availability. When he's on the field, he's a tough runner, a versatile receiver, and a constant threat in the red zone. If he's healthy, he will get his. But fantasy owners who take on McCaffrey need to have a serious plan in place for if and when he isn't.
Hubbard's production begins where McCaffrey's ends, literally. RB Mike Davis is gone to division rival Atlanta, leaving Hubbard as the likely handcuff for McCaffrey owners everywhere. A full-on stud in 2019 as a sophomore at OK State, Hubbard posted 2,084 rushing yards and 21 TD, showing he can handle a big workload, sort of. That season was followed by two offseason surgeries, and an ankle injury brought his days as a Cowboy to an end in 2020. To be blunt, there are durability concerns. But his role with the Panthers as McCaffrey's backup could keep him fresh and serve as a positive for him early in his career.
The truth is right now Hubbard doesn't have the size or bulk to break many tackles at the NFL level, and he lacks the top end speed to outrun defenders. He has the vision and one-cut ability to get up field in a zone scheme, but his limited receiving skills will keep him from getting to the open spaces on the field where he's at his best. If he can learn quickly to play in pass protection and improve as a receiver, there could be a scenario where OC Joe Brady could have Hubbard and McCaffrey on the field together, but he's likely an RB2 or RB3 with big play upside only if McCaffrey runs into health issues again.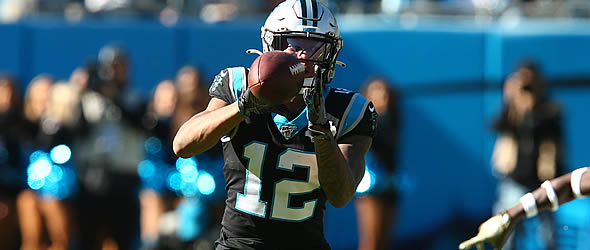 WR D.J. Moore
(2020 WR Rank – No.18, 9.7 FPts/G)
Over the last two seasons in Carolina, Moore has caught passes from Teddy Bridgewater, PJ Walker, Kyle Allen, Cam Newton, and Will Grier. Yet, despite the constant turnover, he has continued to produce, putting up 87 catches on 135 targets for 1,175 yards and 4 TD in 2019, followed by 66 catches on 118 targets for 1,195 yards and another four scores last season. He posted four 100-yard games and eight 90+ yard games in 2020, averaging an incredible 18.1 yards per catch. He ranked Top 20 among WR's in Fantasy Points per game and Top 10 in receiving yards despite only finishing 30th in the WR group in receptions.
So now here comes Sam Darnold, and while some wonder if he is, in fact, an upgrade at QB, he likely has as strong an arm as anyone listed above. He can push the ball downfield, and he can fit it into tight windows. With Moore's dangerous top end speed, short area quickness, and off the charts athleticism, the two could become quite a combination. The good news, bad news for Moore is the amount of talent around him. Robby Anderson will line up opposite Moore, forcing more balanced coverage looks from opposing defenses, and the healthy return of Christian McCaffrey could force a safety down into the box, opening up space for Moore. Rookies Terrace Marshall and Shi Smith were both highly productive players out of the slot in college and could thrive under OC Joe Brady who favors a lot of 3-wide sets in his offense.
That's a lot of weapons to account for, and while opposing defenses may be spread thin, it remains to be seen whether there will be enough balls to go around. Other than McCaffrey, though, Moore has established himself as a go-to guy in the passing game, and his knack for the acrobatic catch makes him a QB's best friend. Look for him to be a major factor on short to intermediate routes early in the season and draft him as a WR2 with tremendous upside once Darnold becomes comfortable with his protection and can start taking some deep shots downfield.
WR Robby Anderson
(2020 WR Rank – No.28, 8.1 FPts/G)
Anderson is a guy I like coming into the season. Start with his career year in 2020 in this Joe Brady offense. With limited quarterbacking he posted 95 catches, by far a career high, and turned in the first 1,000-yard season of his career. Now add Sam Darnold to the mix, a guy he already has chemistry with (100+ receptions for over 1,500 yards and 11 scores over two seasons with Darnold at the Jets), and it's not unreasonable to think he could get off to a quick start in 2021.

Back in New York, Anderson averaged 15.0 yards per reception. Despite increased volume last season, that average took a hit, and he wasn't the same scoring threat. This mix of Brady and Darnold could provide him with a chance to improve in both areas. The safe play is to draft him as a WR3, but I don't think you'll necessarily be hurting yourself if you take him as a WR2 if the board plays that way.


Marshall is a fast (4.4 in the 40), incredibly athletic playmaker who recorded nearly 100 catches and 29 touchdowns in his final two seasons at LSU. With current Panthers OC Joe Brady running the show in Baton Rouge in 2019, Marshall played out on the boundary opposite current Vikings WR Justin Jefferson and matched the superstar's stat line, showing his playmaking ability with 19 scores. The following year, without Brady, or Jefferson, or Ja'Marr Chase (Bengals' 1st round pick this year), Marshall moved to the slot and led the team in receiving while establishing himself as the main red zone threat with 10 TD.

Given his familiarity with Brady's system, his ability to play from any alignment, his straight line speed, and his knack for finding the end zone, expect that he will immediately contribute in Carolina's 3-WR sets. I don't like to draft rookies in general, but if he's still on the board anywhere from the 7th round on, I wouldn't be afraid to add him to my roster. He's got huge upside.
WR David Moore
(2020 WR Rank – No.58, 5.2 FPts/G)
When he was signed in March, Moore wasn't necessarily seen as a replacement for Curtis Samuel, who left in free agency, but he was a viable option as a WR3 in Carolina's 11 personnel (1 RB, 1 TE, 3 WR) groupings. He's a situational deep threat who's more comfortable out on the boundary than in the slot, and at one point in his career was averaging over 17 yards per catch in Seattle. But with the addition of Terrace Marshall and Shi Smith, it's going to be hard to find snaps for Moore. He's not a viable fantasy option at this point.
WR Shi Smith
(2020 WR Rank – N/A)
Smith was a productive but unspectacular player at South Carolina. He's a smooth route runner who will work primarily out of the slot and is at his best on short to intermediate routes, which explains his 11-yard average per catch for his college career. He had a great Senior Bowl and was one of the game's leading receivers, but he still needs to add some polish to his game and will have a limited role in this offense initially. He does carry some potential big play ability as a returner.

TE Dan Arnold
(2020 TE Rank – No.21, 4.8 FPts/G)
Signed as a free agent from Arizona this offseason, Arnold isn't exactly a target monster, but he may get some opportunity based on the fact that he's the Panthers best receiving option at the position. Last year's starter Ian Thomas didn't even amass 150 receiving yards for the season. Arnold quietly posted 31 catches for 435 yards a season ago, but his shortcomings as a blocker may take him off the field at times in Carolina. Plus, the Panthers used a 3rd round pick on Tommy Tremble out of Notre Dame, an athletic TE known more for his blocking ability, but could end up in a type of H-back role. All things considered, Arnold is nothing more than a sleeper in deeper leagues.