QB Sam Darnold
(2021 QB Rank – No. 23, 17.9 FPts/G)
Anyone not living under a rock knows by now about the Panthers' trade for disgruntled Browns QB Baker Mayfield, setting up an "open competition" in the words of Carolina GM Scott Fitterer. Most people don't believe that, but the truth is neither Darnold nor Mayfield has done much recently to generate much confidence in their ability to carry a team. More likely, this competition will come down to who does more to lose it than win it.
For Darnold, the issue is turnovers. Interceptions, fumbles and bad decisions have dogged him throughout his career. It's the result of poor mechanics and a rampant gunslinger mentality, leading to untimely and usually game-breaking mistakes. He has thrown 52 career interceptions; at least 11 in each of his four NFL seasons, and 24 total over the last two seasons. You can't win that way – in fantasy or IRL.
It's important to note that the measurables, natural ability and athleticism are there. Darnold surprised the entire league with his running ability early in 2021 (5 TD runs in his first four games), he has a strong arm and has shown flashes of accuracy, especially when throwing on the run. He also has to be in the right system with the right guys around him. With RB Christian McCaffrey sharing the backfield with him for the first four games of 2021, Darnold turned in three 300-yard passing games and accounted for 10 total TD's (5 pass, 5 rush) with just three interceptions. It's in there, he just needs to show more consistency.
But as we know, with the arrival of Mayfield, he may be out of time. He's got to win the job to even have a chance to be a low end QB2 streaming option, and that's probably a reach.
QB Baker Mayfield
(2021 QB Rank – No. 31, 17.0 FPts/G)
Most people assume that Mayfield is the presumptive starter heading into the season. That's a fair assumption. If you're happy with Sam Darnold as your quarterback, why spend resources on a veteran, former No.1 overall pick at the same position? But the truth is, the capital expended on Mayfield wasn't all that much, and the team has publicly stated that they are in no rush to extend Baker beyond his current deal. Doesn't sound like a slam dunk to me.
Like Darnold, Mayfield is a gunslinging playmaker who never believes the play is dead. The result is often a forced play and a turnover. While Mayfield has thrown 92 TD's to Darnold's 54, he has had a better supporting cast. He also has thrown 56 INT's and fumbled 27 times, both more than Darnold.
He's a talented, but erratic passer, coming to a new team, playing for his fourth head coach in five seasons. He's also coming off an injury-riddled season. He should be given credit for that. But he should not be given the job. Until he wins it, he's nothing more than a longshot streaming option.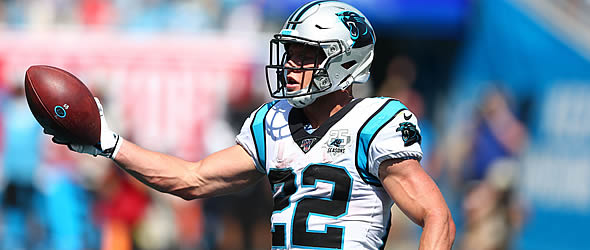 RB Christian McCaffrey
(2021 RB Rank – No.13, 12.9 FPts/G)
Whoever ends up playing quarterback for the Panthers is going to want a healthy Christian McCaffrey with him in the backfield. The do-it-all back has the talent to be considered the overall RB1 in fantasy drafts when at full strength, especially when you consider his skills as a receiver. However, he's played just 10 games over the last two seasons due to a litany of injuries – ankle, shoulder, thigh, hamstring, and ankle again. Carolina is expecting McCaffrey to be ready for the start of training camp, but their plan doesn't include much action. He'll have an altered (reduced) practice schedule, he won't play in any preseason games, and there has even been talk of moving him to slot receiver. He had 37 catches in just seven games in 2021, so that doesn't seem like such a bad plan, and would immediately make Sam Darnold or Baker Mayfield a better quarterback. Last year, Darnold was one of the top scoring QB's in the NFL with McCaffrey on the field. Not so much when he wasn't.
In the end, you have to decide if 2022 is McCaffrey's bounce back year, or if the stereotypical wear and tear has begun for the RB. If he's healthy, he's an RB1 in all formats.
RB Chuba Hubbard
(2021 RB Rank – No. 48, 7.2 FPts/G)
Hubbard had a chance to solidify the Panthers' RB room with a strong performance in place of the injured Christian McCaffrey as a rookie in 2021. It didn't play out the way he probably dreamed it would. He averaged just 3.6 yards per carry and had just 25 catches in 17 games, averaging less than 7.0 yards per catch. There's a chance he could make a big leap from year one to year two. Many rookies do. But there's also a chance he could be reduced to a committee role, even if McCaffrey goes down again. The signing of veteran D'Onta Foreman doesn't seem like a vote of confidence in Hubbard. He's not a fantasy option out of the gate.
RB D'Onta Foreman
(2021 WR Rank – No. 30, 9.7 FPts/G)
Foreman, who spent much of the early part of his career fighting through injuries, is coming off his best season as a pro with the Tennessee Titans in 2021. He replaced Derrick Henry when the franchise back went down due to injury and made the most of the opportunity. He led the team with 566 yards in nine games, averaging 4.3 yards per carry and posting three 100-yard games.
Should McCaffrey miss time, it's more likely that Foreman would be the next man up before Chuba Hubbard, but the two could be asked to share the load. Foreman is a strong handcuff for McCaffrey, but not a fantasy play until he gets on the field in a big way.
WR D.J. Moore
(2021 WR Rank – No 33, 8.5 FPts/G)
Over the course of the last three seasons, Moore's QB's have included Kyle Allen, Cam Newton (not the MVP version), Will Grier, Teddy Bridgewater, P.J. Walker, and Sam Darnold. It hasn't exactly been easy sledding for receivers in Carolina, yet Moore has continued to produce with three straight 1100-yard seasons. There are those who think Baker Mayfield at QB will raise Moore's level. I'm not sure that's the case, but I'm not sure it matters. Moore has proven he can play with anybody.
This is a dynamic playmaker who can create separation with his speed and short area quickness, is an elite hands catcher who makes one-handed grabs look easy, and is a QB's dream with his run after catch ability. With improved QB play, upgrades along the O-line, and Christian McCaffrey back on the field, Moore is a lock WR2 and could even rise to WR1 status in deeper formats.
WR Robby Anderson
(2021 WR Rank – No. 80, 5.0 FPts/G)
Anderson is coming off a horrendous 2021 season. I suppose, as with all the Panthers' skill players, we could blame that on suspect QB play. But guys like D.J. Moore have risen above this and made things work. Anderson has not. He's a former deep threat without a deep threat QB in Carolina, and if I'm being honest, even at his best, I found him to be inconsistent. A lot of people are painting Baker Mayfield as the new savior, but he doesn't necessarily bring the skill set that's going to fix what ails Anderson.
He's talented, and he'll flash occasionally, but he was also talking about retirement at one point this offseason, and if you're talking about retirement, you're thinking about retirement, which is no way to play football in the NFL, real or fantasy. I don't see big things on the horizon. I'm staying away.
Big, strong, and fast, Marshall can align anywhere on the field and can be a dangerous red zone threat because of his size and competitiveness. He led LSU's 2019 national championship team with 13 touchdowns, and that team featured Justin Jefferson.
Unfortunately, none of those skills showed up during Marshall's inconsistent rookie campaign. He didn't record five catches in any game and didn't catch a single touchdown. But this guy is talented and a tough competitor and I think if there's a potential breakout star this season. Marshall is that guy. I'd take him over Anderson, but that doesn't mean he's reached fantasy relevancy as yet.
WR Rashard Higgins
(2021 TE Rank – No. 138, 2.8 FPts/G)
Higgins' best season came in 2020 with 599 receiving yards and four TD's for the Browns, but his stat line fell to half that in 2021. He'll compete with Marshall for WR3 snaps, and I suppose if Baker Mayfield is the guy under center, whatever chemistry was built in Cleveland could be enough to tip the scales his way. He's not as talented as Marshall, but he has been reliable. That doesn't make him worth fantasy consideration, however.
TE Ian Thomas
(2021 TE Rank – No. 90, 1.3 FPts/G)
Thomas signed a pretty respectable long-term deal with the Panthers this offseason, which is surprising for a player who is primarily a blocker and underwhelmed as a receiver the last four years. Maybe there's a plan afoot for him, but my guess is that he won't have a big receiving role on this team.
TE Tommy Tremble
(2021 TE Rank – No. 65, 2.2 FPts/G)
As a rookie in 2021, Tremble caught 20 of 35 targets for 180 yards and a score. It's not much to write home about, especially given that Christian McCaffrey was out most of the season. With the former Pro Bowler back on the field and possibly taking on more of a receiving role, Tremble's fantasy value will become nearly nil.