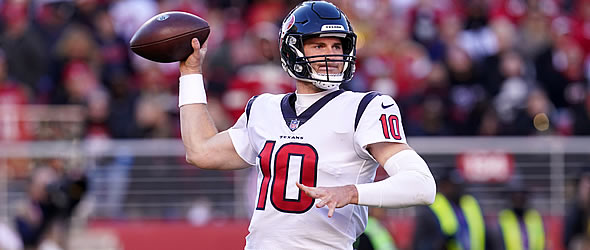 QB Davis Mills
(2021 QB Rank – No. 36, 15.5 FPts/G)
I'm not sure I'm ready to sell you on the fantasy value of Davis Mills. But I am going to tell you that there's something there. And that is sort of the story of his career to date. Once a highly touted recruit, he never really popped, and while he found his way to the starting spot at Stanford and made himself a 3rd round draft pick, there's usually something that holds people back.
In terms of physical tools, it all looks good. He's got good size on a solid frame, a strong, but not overpowering arm, and rarely throws a bad ball. As you might expect from a Stanford student, he's smart and processes info quickly, he's technically sound with great mechanics, and incredibly accurate, even on the run on short and intermediate throws. The best part is he showed some serious mental and physical toughness stepping into the starting role as a rookie on a team that didn't offer much of a supporting cast, and held his own. In fact, he showed real progress over the course of the season.
Consider this. He completed 68.7% of his passes over his last five starts, and averaged over 9.0 yards per attempt in two games during that span. He posted at least 300 passing yards in three of his last seven games and had five multiple-touchdown games in 11 appearances. The better news is that most NFL players see their biggest improvements from year one to year two
While Houston is far from an NFL juggernaut, veteran Brandin Cooks returns, second-year receiver Nico Collins is a developing talent, and rookie John Metchie has a chance to be a playmaker. With a couple new starters on the o-line and some help in the run game, Davis could find himself in consideration for a low-end QB2 role and certainly bears watching.
RB Marlon Mack
(2021 RB Rank – No. 118, 2.2 FPts/G)
The last time Mack was an NFL starter was in 2019 when he posted over 1,000 rushing yards and eight TDs for the Colts. Since then, he's battled injury and Jonathan Taylor for playing time. He figures to be the RB1 to start this season now that he's in Houston.
He's an aggressive, physical, between the tackles runner with the size and strength to challenge second and third level defenders, and can break the long run once he finds open space. The problem is, he has not developed much as a receiver and could be limited to two-down work.
As the bell cow on early downs, he may rise to a valuable RB3 position, but he's susceptible to committee work with players like Rex Burkhead and explosive rookie Dameon Pierce in the fold. He should pop early in the season in this run-first attack, but keep an eye on how the carries start to shake out around mid-season.
RB Rex Burkhead
(2021 RB Rank – No.62, 5.7 FPts/G)
Burkhead took over as the Texans starting running back late in the 2021 season, flashing with a 149-yard, two-touchdown game against the Chargers in Week 16. But he averaged less 3.0 yards per carry in five other contests where he had double digit carries. His 2021 season average of 3.5 yards per tote was a half yard less than his career average. Though he's a tough and versatile competitor, at 32 he's probably not much of a fantasy factor unless Marlon Mack and Dameon Pierce both go down with injuries.
Taken with the 107th pick in the draft, Pierce was never a starter in college, though he flashed when given the chance in his final season in 2021, averaging 5.7 yards per carry and cashing in for 13 touchdowns. He's a strong, physical runner who can run through tackles, and he holds up well in pass protection, which could ultimately be the thing that gets him on the field and keeps him there on 3rd down.
It won't happen early in the season, but he has a chance to develop into the RB1 in Houston by the end of the season. Stash him on your bench or on your watch list.
WR Brandin Cooks
(2021 WR Rank – No. 28, 8.9 FPts/G)
All Cooks has ever done during his professional career is get the job done. Even with rookie Davis Mills at QB a season ago, all Cooks did was post his second consecutive 1,000-yard campaign (the 6th of his career) with six touchdowns and four 100-yard games. He is the clear and unchallenged WR1 in Houston.
A former winner of the Fred Biletnikoff Award winner as the best college receiver in the country, Cooks has reliable hands, quick feet, and is an excellent route runner with the vision to find space in zone coverage, the speed and strength to beat man coverage, and the elusiveness to make the first defender miss on a regular basis. He can align all over the field, and that versatile skill set is probably the thing that has allowed him to step in and excel immediately in stops at New Orleans, New England, Los Angeles and Houston.
Mills will be a better QB in year two, but this will be a run-heavy attack that now features an emerging Nico Collins and talented rookie John Metchie in the receiver room, which could cut into Cooks'28% target share from a season ago (6th amongst all NFL receivers), but he is still a solid WR2 in 10 and 12-team leagues.
WR Nico Collins
(2021 WR Rank – No 117, 3.6 FPts/G)
Collins is a big, imposing receiver at 6-4, 215 and has deep speed that can take the top off a defense. He also has a unique ability to position himself and box out defenders to make the contested catch, and once he has the ball, he's a load to bring down for defensive backs. He accumulated 62 targets (2nd on the team to Brandin Cooks) while playing just 60% of the Texans offensive snaps in 2021, but that number should grow as he becomes more comfortable in the offense and competes for a starting spot opposite Cooks. Right now, he's a big play dependent flyer for fantasy purposes until he can show that he can do more than just get deep.
Metchie is a talented receiver with a versatile skill set who struggled to find a bigger role in the Alabama passing attack. That's understandable considering at various times he played with or behind the likes of Henry Ruggs, Jaylen Waddle, DeVonta Smith, Jerry Jeudy, and fellow rookie Jamison Williams.
He's an elusive catch and run receiver who averaged almost 17.0 yards per catch his last two seasons at Bama, but suffered a torn ACL in the 2021 SEC Championship Game. There's a good chance he starts the season on the PUP list, and once fully back to action, is no better than the third receiving option in a run-first offense. He will not be a factor out of the gate.
TE Brevin Jordan
(2021 TE Rank – No. 27, 4.5 FPts/G)
Jordan flashed with 20 catches in nine games in 2021 and had at least four targets in four of those nine contests. Word out of Houston is that he is the likely starter at TE out of camp this year, and the short and intermediate passing game off play action could be a significant part of this run-first attack. That could mean some volume targets for the second-year project, and if Nico Collins doesn't develop as hoped, Jordan could become a No.2 option in the passing game. Still, he's outside of fantasy consideration to start the season.
TE Pharaoh Brown
(2021 TE Rank – No. 88, 1.4 FPts/G)
Given a bigger role in 2021 coming off his moderate success during the 2020 season, Brown disappointed, not only as a receiver, but as a blocker, which figures to be the biggest part of his role in this offense. Still, Houston figures to run a lot of two-TE sets, so Brown will be on the field, but he's not a fantasy option.