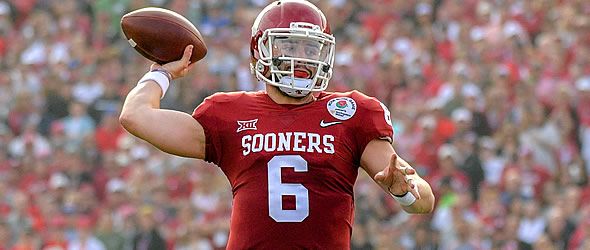 After taking Kizer last year in Round 2, will the Browns take a chance on Baker Mayfield in Round 1?
1. Cleveland Browns – Baker Mayfield, QB, Oklahoma
The Cleveland Browns recently hired Scot McCloughan to help make their draft decisions. There have been reports that he is enamored with Baker Mayfield, and has been pushing for Cleveland to draft him. Mayfield is an athletic quarterback that thrives with accuracy on intermediate throws. He recorded an outstanding 14,607 yards and 131 touchdowns in 48 collegiate games. He also added 1,083 yards and 21 touchdowns on the ground. While many people may disagree with Mayfield being the best quarterback in this class, Cleveland is in a position to take whoever they feel can be their quarterback of the future. At this point, Mayfield seems like the most likely candidate.
2. New York Giants – Josh Rosen, QB, UCLA
The New York Giants seem comfortable starting Eli Manning this season, but that does not mean they are going to skip taking their franchise quarterback in this draft. This class is loaded with quarterback prospects and New York does not often have a top draft pick. Rosen is a more traditional passer, as he focuses heavily on footwork with a strong and accurate arm. The consensus seems to be that Rosen is the most talented quarterback in this class, but he could fall to the Giants because of a recent interview in which he essentially stated that he does not want to play for the Browns. It would be crazy for the Giants to pass up on a potential franchise quarterback in favor of Manning for the next few seasons.
3. Indianapolis Colts – Bradley Chubb, DE, NC State
The Indianapolis Colts have a plethora of needs, but it is nearly impossible to ignore Chubb at this pick. The Colts need major help on both their offensive and defensive line, and Chubb is the best prospect at this pick. He played well as a sophomore, but truly broke out his junior season. Between 25 games as a junior and senior, Chubb recorded 20 sacks and 44 tackles for a loss. During that span, 34.4% of Chubb's tackles were for a loss. Chubb is an athletic end that possesses a tremendous burst off the line. He will immediately add to the Colts pass rush, which has been lacking the last few seasons.
4. Cleveland Browns – Minkah Fitzpatrick, DB, Alabama
Fitzpatrick is seen as one of the best prospects in the NFL Draft, regardless of position. He projects as a versatile safety that can play multiple positions. There are some scouts that believe he will be a safety that spends time as a linebacker and slot corner when necessary. Other scouts believe Fitzpatrick has the ability to become a shutdown corner on the outside. He is a high intensity player that was seen as a leader on one of the best defenses in the NCAA last season. The Browns need quite a bit of help in their secondary, and Fitzpatrick is a part that they can move all over the formation depending on the situation.
5. Denver Broncos – Josh Allen, QB, Wyoming
Allen is seen as the most boom or bust quarterback prospect in the draft. He has the strongest arm and can easily make throws other quarterbacks cannot dream of. With that being said, he has struggled with accuracy and has played less than elite competition in the Mountain West conference. Allen also has displayed the ability to remain upright with defenders hanging on him, a la Ben Roethlisberger. The Broncos have question marks surrounding the quarterback position, as they have yet to find an answer since Peyton Manning retired. This pick could change if Kirk Cousins signs in Denver, but until then, expect another quarterback to be selected here.
6. New York Jets – Sam Darnold, QB, USC
Darnold was a two-year starter at USC, displaying tremendous upside in 27 games. Overall, he totaled 7,229 yards and 57 touchdowns, while adding seven touchdowns on the ground. He has the size and arm strength and accuracy of an NFL quarterback, but he has struggled with his delivery. He has an awkward, elongated release that allows defenders more time to react to the ball. Darnold has also struggled with his reads at time throughout his colligate career. Still, he is the final top tier quarterback prospect in this class, and the Jets are in dire need of a franchise quarterback to build around.
7. Tampa Bay Buccaneers – Saquon Barkley, RB, Penn State
Early in the process, Barkley has been labeled the best prospect in this draft by multiple scouts. Many scouts have also suggested that Barkley is the best running back prospect since Adrian Peterson. Barkley needed only 38 games to total 5,038 yards and 51 touchdowns on 773 touches. He averaged 6.5 yards per touch at Penn State, while also averaging an impressive 5.7 yards per carry. Barkley also averaged 28.4 yards per kick return with two return touchdowns as a junior. Tampa Bay has struggled to find a consistent running back in recent years, and Barkley could be the answer. They already have a young corps of skill position players, and adding Barkley could take the Bucs offense to the next level.
8. Chicago Bears – Calvin Ridley, WR, Alabama
Ridley posted elite numbers as a rookie at Alabama, recording an 89/1,045/7 line in 15 games. His numbers then fell his sophomore and junior seasons, but that can be credited to the erratic play of his quarterback. Ridley was asked to run a full route tree in college, and his route running is seen as well above average coming into the draft. He also comes with tremendous speed, as he displayed elite separation ability throughout his colligate career. Ridley will be asked to add some weight in the NFL, but once his body fills out, he will have the look of a number one receiver. That is something the Bears are in dire need of, as they are currently have multiple receivers that are going to hit free agency to go along with Cameron Meredith, who is coming back from a major injury. There is the possibility that Courtland Sutton could be the pick here, but I do not currently believe the hype that Christian Kirk will be a top-10 pick.
9. San Francisco 49ers – Josh Jackson, CB, Iowa
The San Francisco 49ers are a team that looks like they could make an elite jump next season. They finished the season strong, playing themselves out of a top pick. If they want to make a playoff push as soon as next season, they are going to need help in their secondary, which was one of the worst in the NFL last season. Jackson flashed immense potential as a junior, but he is still an unproven prospect. He rarely played as a freshman or sophomore, but enjoyed an elite season as a junior once he got the starting nod. He recorded 18 pass deflections with eight interceptions and two defensive touchdowns in 13 games. He is a long defender that uses his length and decisive mindset to jump routes and contest catches. Jackson would be locked in as the top true cornerback in this class if he had two seasons of similar production, but the 49ers are a team that will likely be willing to risk their pick on someone with game changing upside.
10. Oakland Raiders – Roquan Smith, ILB, Georgia
Every year there seems to be a consensus pick for a team in the top-ten. This season, the Oakland Raiders are that team and Roquan Smith is that pick. They have revamped their coaching staff, and they now need help at linebacker. Smith is an elite prospect, who would potentially be a top-five selection if he were a bit bigger. The only true knock on Smith is his size, but he has the athleticism to make up for his lone deficiency. He has sideline-to-sideline speed and the quickness and agility to avoid linemen. He has also tremendous football IQ, which also helps keep him out of compromising situations. Smith broke out as a junior, recording 137 total tackles, 14 tackles for a loss, and 6.5 sacks in 15 games. The Raiders need defensive help this offseason, and Smith is arguably the best prospect on the board.
11. Miami Dolphins – Quenton Nelson, OG, Notre Dame
Nelson has the skillset to be a top-five pick, but unfortunately, he plays a position that is generally not taken high in the NFL draft. He is an athletic guard, who possesses the size to start on day one for the team that selects him. There have also been reports that he is a leader in the locker room, which is something that often times goes overlooked. Nelson's powerful blocking was on full display at Notre Dame, as he often times pancaked his opponent or blocked multiple players on the same play. The Dolphins desperately need help along their offensive line if they want a chance to improve their offense. Nelson is a player that will help immediately.
12. Cincinnati Bengals – Orlando Brown, OT, Oklahoma
There have been rumors that Connor Williams has been moving up the rankings, but I'm opting to go with the safer pick at this point. Brown is a massive human being, who has unmatched power at this point in his career. He comes with less than average athleticism and footwork because of his size, but his arm length and power allows him to block players that generally would be able to get around other slower linemen. Brown also has the potential to play on either the right or left side of the line, and the Bengals are a team that could use the versatility.
13. Washington Redskins – Denzel Ward, CB, Ohio State
The Redskins have a few holes on their team, but cornerback is one that they need to address sooner than later. Bashaud Breeland enjoyed a breakout campaign last season, but he is set to hit free agency and the Redskins may not want to match the salary he is going to get. Josh Norman, on the other hand, is currently a star, but aging quickly. They also traded Kendall Fuller, who was shaping up to be an elite slot corner. Ward would restore order to the Redskins secondary as a player that could come in and immediately push for snaps. He has tremendous footwork to go along with plenty of quickness. He also comes with a high football IQ, and some scouts believe he is best suited as a slot corner because of his size. If the Redskins can resign Breeland, they can add Ward to make one of the best cornerback trios in the NFL.
14. Green Bay Packers – Tremaine Edmunds, LB, Virginia Tech
Edmunds is a matchup nightmare for his opponents and has the potential to play any linebacker position with success. His speed and athleticism are off the charts, but he has struggled with football IQ a bit. Still, his physical attributes help him make up for those mistakes. Edmunds also comes with ideal size, and there are some scouts that believe he could add more weight to his frame without losing his speed. Green Bay has needed help at linebacker for quite some time, and with a new GM, now could be the time they spend a top draft pick on the position.
15. Arizona Cardinals – Lamar Jackson, QB, Louisville
Arizona does not have a single quarterback under contract at the moment. They will likely sign one in free agency, but they would be wise to look for their signal caller of the future in this draft. Jackson is not the prototypical quarterback, but he is a special player. In only two full seasons as the starter at Louisville, he threw for 7,203 yards and 57 touchdowns. He also added 3,172 yards and 39 touchdowns on the ground. He is an electric player, but scouts question whether his size can hold up in a similar way to Robert Griffin III. Still, the league has been shifting more towards an RPO playbook, which adds more value to Jackson, who is a true rushing threat.
16. Baltimore Ravens – Courtland Sutton, WR, SMU
The Ravens are in dire need of help at wide receiver for next season and the future. Their current group is made of aging players or receivers that have accomplished little to nothing in the NFL. Sutton is a big, possession receiver, who has the ability to make contested catches. That is a major part of his game, as he struggles with speed and separation, and those struggles will continue in the NFL. Sutton also wasn't asked to run a full route tree at SMU, and there will be a learning curve as he prepares for the NFL. Still, Sutton was able to post a 193/3,193/31 line through 37 games. It's hard to ignore his production, and his pure size makes him an intriguing prospect for a wide receiver needy team.
17. Los Angeles Chargers – Mike McGlinchey, OT, Notre Dame
McClinchey has inconsistent tape throughout his college career, but he has flashed All-Pro potential. He is an athletic tackle that struggles a bit with power. With that being said, McGlinchey's athleticism has more than made up for his lack of power at this point in his career. He has the potential to start as a right tackle from day one with the potential to move to left tackle later in his career. Luckily for the Chargers, they need help along the right side of the line. McGlinchey has the potential to be the first tackle selected in the draft, but his inconsistencies have knocked him down early in the draft process.
18. Seattle Seahawks – Derwin James, S, Florida State
James made a major impact at Florida State during his freshman season, totaling 91 tackles, including 9.5 for a loss. He also recorded 4.5 sacks and four pass deflections in 12 games. He suffered an injury his sophomore season, forcing him to miss nearly the entire season. He returned in 2017, displaying better coverage skills, as he recorded 11 pass deflections, two interceptions, and one touchdown. While James had more of a focus on coverage last season, he still displayed plenty of upside in a role closer to the line of scrimmage. Kam Chancellor recently stated that he intends to play football this season, but there is fear that he will not be cleared by doctors because of his recent neck injury. Chancellor plays a major role in the Seahawks defense, and Seattle would be wise to have a skilled replacement in the event that Chancellor's career is shortened.
19. Dallas Cowboys – Vita Vea, DT, Washington
Dallas could use help along the interior defensive line, and Vea would be a steal at this pick. He comes with tremendous size, but it is his athleticism that stands out on tape. Vea was a running back in high school before moving to defensive tackle full time at Washington. He has been an inconsistent player throughout college, though, as he has limited experience at the position. Vea is an athletic specimen that teams will be willing to take a shot on, hoping they can coach him into an All Pro player. Through his last two seasons at Washington, he flashed potential with 82 total tackles, 12 tackles for a loss, and 8.5 sacks. Vea is a high upside player that could fall a bit on draft day because of his inconsistent film.
20. Detroit Lions – Marcus Davenport, DE, UTSA
The Lions hired Matt Patricia as their new head coach, suggesting that they are going to put a bigger focus on defense this season. Patricia then brought in Bo Davis to coach his defensive line. Davis coached the same position at the University of Texas-San Antonio, where Davenport was a standout player. The connection is obvious, specifically because of the Lions need at the position. Davenport is an athletic player, who generally played as an edge rusher in college. He recorded 122 total tackles, 27.5 tackles for a loss, and 15 sacks in his last 24 games. There are rumors that scouts believe Davenport can add weight to his frame and shift to a 4-3 end in the NFL, giving the Lions a bit more flexibility depending on need. The obvious picks are not always correct, but this one fills and need with a player that checks all the boxes for this situation.
21. Buffalo Bills – Mason Rudolph, QB, Oklahoma State
Buffalo is expected to part ways with Tyrod Taylor this offseason and the Nathan Peterman experiment has not worked out, leaving a huge hole at quarterback. There is a high percentage chance they could trade up for a quarterback in the right situation, but I do not predict trades in this mock draft. Rudolph is the next best QB, although many teams believe he is only a borderline first round pick. He has plenty of collegiate production, recording 12,765 yards and 86 touchdowns in his last three seasons. He also has 17 rushing touchdowns over that span. He is a pocket passer, who plays with above average football IQ. He does not have an elite arm which is a cause for concern. Still, quarterbacks always seem to get selected higher than their talent, and this draft will likely be no different.
22. Buffalo Bills – Mike Hughes, CB, UCF
The Bills have a multiple holes to fill this offseason, which makes this pick a bit tricky. Defensive tackle, center, and cornerback all come to mind, but ultimately, Hughes is the pick. Hughes is a one-year starter, who flashed All Pro potential when on the field. Overall, he recorded 11 pass deflections and four interceptions in 13 games as a junior. He has displayed the ability to read routes and make plays on the ball, but he will still be a project early in his career because of his lack of experience in college. He also has potential as a return man, though, as he averaged 31.8 yards per kick return and 16.6 yards per punt return in college. The Bills lost two dominant cornerbacks last offseason, and it's time they finally replace them.
23. Los Angeles Rams – Jaire Alexander, CB, Louisville
It's no secret that the Rams are in desperate need of help in their secondary. Their cornerbacks struggled last season, including Trumaine Johnson, who is seen as their star. Furthermore, Johnson is a free agent and may command too much money for LA to retain him. Alexander is a cornerback that comes as a value pick because of his injury riddled junior season. There are scouts that believe he has the potential to be a top-15 pick based on his 2016 film, but his lingering injuries have caused teams to bump him down a bit. He is a cornerback that is more quick than fast, allowing him to break on the ball faster than some of the other corners in the draft. He has also displayed great anticipation and football IQ at Louisville. Alexander is a player that has proven he can play on the outside, while also displaying the skillset to man the slot if necessary. He could immediately help the LA secondary, which struggled last season.
24. Carolina Panthers – Sam Hubbard, DE, Ohio State
The Panthers have aging defensive ends, who will need to be replaced within the next couple of seasons. Hubbard ended his collegiate career on a high note, recording 42 total tackles, 13.5 tackles for a loss, and 7.0 sacks as a junior. He is a hard working player that comes with good size. The biggest knock on Hubbard is that he is not an elite athlete, but we have seen multiple average athletes dominate along the defensive line with aggression and work ethic. Hubbard is a fairly low risk prospect that has the potential to start for years to come, although he likely will never become an All Pro player.
25. Tennessee Titans – Will Hernandez, OG, UTEP
Hernandez is one of the most interesting prospects in the draft. He played lesser competition throughout college, posting tremendous tape at the University of Texas-El Paso. He then looked outstanding during the Senior Bowl, suggesting he can perform well against better competition. He comes with average size, but has plus athleticism that has helped him in both run blocking and pass protection. He does not come with a high floor, but his ceiling is elite. He has the potential to immediately start for Tennessee, who have their two starting guards hitting free agency this offseason.
26. Atlanta Falcons – Maurice Hurst, DT, Michigan
The Falcons struggled to stop the run last season, and they have multiple defensive tackles hitting free agency. They will need to solidify the interior of their defense if they want to make a major impact in the playoffs this season. Hurst is an agile defensive tackle, who can disrupt plays in the backfield. In three seasons as a full time player, he totaled 127 tackles, including 31 tackles for a loss, and 13.5 sacks. He is not a massive run stopping defensive tackle that some believe the Falcons will select, but he is a value pick at this point in the draft. It would be difficult to overlook him in favor of someone like Taven Bryan or Da'Ron Payne.
27. New Orleans Saints – Dallas Goedert, TE, South Dakota State
The Saints only have a couple impact players leaving for free agency, and there is not a true need that sticks out on the team. They have not had a dominant tight end since Jimmy Graham, though, and Goedert is the type of player that will immediately make a mismatch for opponents. Goedert played at South Dakota State, facing off against lesser competition on a weekly basis. He suffered from inconsistent quarterback play, but was still able to record 164 receptions for 2,404 yards and 18 touchdowns in his final two seasons. Goedert is a mismatch on the field because of his elite combination of size, speed, and ball skills. Unfortunately, he has struggled to block near the line of scrimmage, which may cause him to fall in the draft. We have seen other receiving tight ends find plenty of success in the NFL recently and Goedert has the potential to be the next Evan Engram.
28. Pittsburgh Steelers – Rashaan Evans, ILB, Alabama
Pittsburgh's run defense was exposed late in the season after Ryan Shazier suffered a potentially career ending injury. Evans is the best inside linebacker left on the board, and he fills arguably the biggest void on the Steelers team. He has experience on a dominant defense, as he played 25 games over his final two seasons at Alabama. Evans is an athletic player that has sideline-to-sideline speed, which is becoming a more attractive trait in the NFL. There are questions about Evans' instincts and ability in coverage, but he has the athleticism to make up for it. Evans certainly comes with some risk, but he is one of the higher upside prospects in this draft.
29. Jacksonville Jaguars – Connor Williams, OT, Texas
Williams produced elite film in 2016 before taking a step back this past season. This difference in film makes him a difficult player to project, as some scouts believe he is the best tackle in the draft, while he is a border first round pick if you take into account his 2017 film. He is a great run blocking tackle, who has the potential to become an above average pass blocker. If Williams cannot handle himself at tackle, he has the body to easily move to guard. His versatility makes sense for the Jaguars, who need help at both positions. Williams could be an upgrade at left tackle over Cam Robinson, who would be able to move to guard. If that does not work out, Robinson will likely stay at tackle, while Williams tests the waters at guard for his career.
30. Minnesota Vikings – Billy Price, OG/C, Ohio State
Price is a versatile lineman, who can play any of the three interior positions. He is a powerful player, who will immediately benefit any team in the run blocking department. With that being said, Price struggles with patience, as he tends to move through his progressions too quickly. The Vikings have a few of their linemen locked up, but both of their guards are going to be free agents this offseason. Price is a high floor prospect, who will help any of the Vikings running backs next season. Keep in mind, he is strictly an interior linemen, who tend to fall in the draft unless they are elite prospects.
31. New England Patriots – Taven Bryan, DT, Florida
The Patriots are one of the most difficult teams in the NFL to predict. They do not have many holes on their team, and they tend to draft the best player available. Bryan is an athletic defensive linemen, who some scout project as a tackle or end and the Patriots are a team that covets upside and versatility. Bryan does not have a ton of experience, which is a cause for concern, but his physical tools are more than good enough for a team to take a chance on him. He is another boom or bust player that the Patriots have quickly become known for selecting.
32. Philadelphia Eagles – Harold Landry, OLB, Boston College
The Philadelphia Eagles won the Super Bowl, and will not have too many players hit free agency. Nigel Bradham is a free agent, though, and the Eagles would be wise to replace him if they cannot resign him. Landry dealt with injuries his senior season, but totaled 120 tackles with 38 tackles for a loss and 20 sacks as a sophomore and junior. He is best suited as an edge rusher, which is a bit of a concern, but players have made transformations in the past. If Landry cannot make the move to a 4-3 outside linebacker, he will likely slide to end, giving Philadelphia more depth and pass rushing throughout his career.