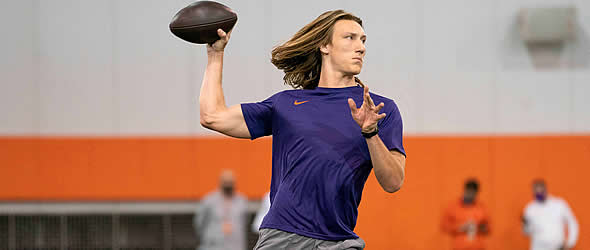 1. Jacksonville Jaguars - Trevor Lawrence, QB, Clemson
There's no secret with Jacksonville's first pick. Lawrence is the best quarterback prospect in quite some time. He's a prototypical NFL QB that possesses the ability to turn around any franchise within a couple of years.
Jacksonville fired Doug Marrone after a 1-15 season, and they will be looking to set Urban Meyer up for a quick turnaround. After allowing Gardner Minshew, Mike Glennon, and Jake Luton to complete the tank in 2020, Lawrence is the clear top prospect that can help Jacksonville find their way back to the playoffs sooner rather than later.
2. New York Jets - Zach Wilson, QB, BYU
After allowing Adam Gase to ruin the early years of Sam Darnold, New York signed a defensive-minded head coach in Robert Saleh this offseason. It looks as if Darnold will fetch quite a bit on the trade market, while New York is in a position to draft his successor.
There are a number of quarterbacks that are ranked second in this class, although Wilson seems to be the odds-on favorite to be drafted here. His college tape is a bag of mixed results. He dominated as a true freshman, struggled as a sophomore, and looked elite against poor competition as a junior. There isn't a single evaluator questioning if he has the potential to make all the throws, though. Assuming he interviews well, Wilson will likely be the next early quarterback selected by New York.
3. Miami Dolphins - Ja'Marr Chase, WR, LSU
There's a lot of talk about whether Miami will trade Tua Tagovailoa and draft picks for Deshaun Watson, but I'm not projecting trades in this draft. Instead, I believe Tagovailoa flashed enough to cement himself as the future of this franchise. He'll need help in the offense, though.
Chase was consistently the best offensive weapon for LSU in 2019, ahead of Justin Jefferson. He's an elite wide receiver prospect, who has the potential to dominate in the NFL. He opted to sit out of the 2020 season and fellow WR DeVonta Smith won Heisman. I believe there are more question marks surrounding Smith than Chase, making the latter an easier option to help Tagovailoa take Miami's offense to that of a playoff contender.
4. Atlanta Falcons - Justin Fields, QB, OSU
Fields could be the second player taken in this draft or he could fall because of field vision concerns. He looked elite in two seasons at Ohio State and it feels as if evaluators are overthinking this selection at the moment. Fields has game-changing abilities that are somewhat lost in the shuffle of an elite quarterback class.
Matt Ryan still has something left in the tank, although he's an aging quarterback. Atlanta could go a number of ways as they head to the future with this pick. Fields could be given a year behind Ryan to learn or Atlanta could work on trading Ryan to give Fields the job immediately. Regardless of what they opt to do for this upcoming season, Fields could be the key to their future, as they need to address the quarterback position with their top-five pick this season.
5. Cincinnati Bengals - Penei Sewell, OT, Oregon
There are a number of people that believe Cincinnati will select a wide receiver here, but that isn't the way this mock draft has shaped up thus far. Chase was the top option, and the Bengals already have Tyler Boyd, Tee Higgins, and Auden Tate as an emerging group. Instead, they need to protect their franchise QB, who is coming off of a major injury.
Prior to the season, Sewell was seen as a potential top-two pick with Lawrence. As always is the case, quarterbacks jumped ahead of him, although some other players may have, as well. With that being said, Sewell boasts all the physical tools to turn into an All-Pro left tackle at the next level. With how good Burrow looked early in his rookie season, protecting him should be a bigger priority than getting him another receiver early in this draft.
6. Philadelphia Eagles - Kyle Pitts, TE, Florida
The Eagles hired former Indianapolis Colts offensive coordinator Nick Sirianni as their new head coach. Indy was a team that loved using multiple tight end sets, and Sirianni is expected to bring that to Philly this season. I don't expect Zach Ertz to be with the Eagles in 2021 and they'll need a new option to pair with Dallas Goedert.
Pitts is one of the best offensive weapons in this draft with his position labeled as a tight end. With that being said, he can split out wide as well, making him a threat from anywhere on the field. Jalen Hurts needs more offensive weapons if he wants to reach his ceiling, and Pitts will be a matchup nightmare in the NFL for years to come.
7. Detroit Lions - Gregory Rousseau, Edge, Miami (FL)
The Lions fully embraced their rebuild after trading Matthew Stafford. There are a number of ways they could go here although it seems likely they give Jared Goff the quarterback slot for the time being. Romeo Okwara is a free agent and could command more than Detroit is willing to pay on the market. If that's the case, they'll be in need of an edge rusher, which just so happens to be a coveted position in every draft.
Rousseau only played one year at Miami, but he posted 15.5 sacks and 19.5 tackles for a loss in 13 games. He's a big athlete with plenty of explosiveness. Rousseau has the potential to become a premier edge rusher in the NFL, and it could be difficult for Detroit to pass up on him, even if DeVonta Smith is available.
8. Carolina Panthers - Trey Lance, QB, North Dakota State
There are rumors that the Panthers are looking to acquire Deshaun Watson, solidifying that they don't believe Teddy Bridgewater is their quarterback of the future, but rather a bridge quarterback.
Carolina gives Lance the opportunity to sit behind Bridgewater for a season to get adjusted to NFL play. Coming from a small school without a 2020 season, this may be a key to Lance's success in the NFL. Keep in mind, I don't expect him to fall this far in the draft, as someone will likely trade up for him, but this mock isn't projecting trades, leaving him for Carolina.
9. Denver Broncos - Patrick Surtain II, CB, Alabama
With A.J. Bouye being released, Denver has to address the cornerback position. They've put all of their chips in their offense in recent drafts but must build their secondary back up. Luckily for them, they have a pick between the clear two top cornerbacks in this draft.
Surtain and Caleb Farley are seen as the best two options. It's simply about preference at this point, but Surtain has the Alabama pedigree. I wouldn't be shocked if either go at this pick, but I would be shocked if Denver doesn't select the best cornerback available here.
10. Dallas Cowboys - Caleb Farley, CB, Virginia Tech
It won't take long before the other cornerback option hears their name called. Dallas could certainly rebuild their offensive line, but they will need help in their secondary this offseason.
Farley here gives them a dynamic one-two punch after selecting Trevon Diggs in the first round in the last draft. This would give Dallas a pair of cornerbacks that could potentially turn into shutdown options, although it comes at the price of their offense.
11. New York Giants - Micah Parsons, LB, Penn State
David Gettleman made it clear that he wants to add an explosive offensive playmaker in this draft, and he'd have his pick of any wide receiver besides Ja'Marr Chase here. With that being said, I expect him to grab that explosive playmaker on defense with this pick.
Parsons is the epitome of speed, athleticism, and playmaking abilities at linebacker. He has the potential to turn into a true game-changing option on the defensive side of the ball. Although DeVonta Smith or Jaylen Waddle could immediately help New York's offense, Parsons could take a strong Giants defense to the next level.
12. San Francisco 49ers - Rashawn Slater, OT, Northwestern
It's tough to know exactly what San Francisco's draft strategy will be this year. They could go a number of ways, but Slater is too good of a prospect to overlook at this point. Trent Williams is a free agent, and Slater could take over at left tackle if he walks. If he opts to re-sign, Slater could easily kick inside to guard to start his career. Regardless, he's an outstanding option that will immediately help San Francisco's offensive line.
13. Los Angeles Chargers - Jaylen Waddle, WR, Alabama
Waddle before DeVonta Smith is crazy, right? It depends on the team. Los Angeles can use Waddle as a field-stretching option with elite big-play ability. He's the perfect playmaker to pair with Justin Herbert.
Waddle's speed is coveted in the NFL, and one of the main reasons we saw Henry Ruggs III selected before Jerry Jeudy the last draft. This feels like a perfect pairing between Waddle and Herbert, and he'd add an elite deep threat to what should be an already dangerous offense.
14. Minnesota Vikings - Kwity Paye, Edge, Michigan
Minnesota ranked near the bottom of the NFL in pressure percentage last season. They're going to need to fix their pass rush if they want to compete with the likes of Aaron Rodgers in the future.
Paye only played in 4 games this season, but he posted 6.5 sacks and 12.5 tackles for a loss over 12 games in 2019. He's a big defensive lineman that boasts elite athleticism. If Minnesota can develop him right, he has the potential to become one of the best players in this draft.
15. New England Patriots - DeVonta Smith, WR, Alabama
The Patriots don't select wide receivers in the first round often, although this pick somewhat fell in their lap. Some believe Smith is the best overall receiver in this draft after winning the Heisman this season. New England desperately needs to address this position, and Smith could immediately help whoever is under center for the Patriots.
16. Arizona Cardinals - Jaycee Horn, CB, South Carolina
Similar to the Patriots selection, this one makes all too much sense. Arizona certainly needs help in a number of positions, but it looks as if Patrick Peterson will be leaving in free agency. The Cardinals will need to replace him, and Horn has the potential to become a shadow corner in the NFL. Arizona certainly could look to fortify their offense, but grabbing a high-end cornerback prospect in the middle of this draft should be a bigger concern.
17. Las Vegas Raiders - Christian Barmore, DT, Alabama
Las Vegas performed surprisingly well, but they still have a few voids to fill. They struggled to get pressure upfront and will need to find a way to get to the quarterback more in the upcoming season. In a draft with a number of solid edge rushers, they select a defensive tackle?
Absolutely. Barmore has the ability to pressure the quarterback from up the middle, something Las Vegas could've used last season. As a sophomore, he recorded 8 sacks and 9.5 tackles for a loss over 11 games. We've seen defensive tackles change the game before, and while Barmore doesn't quite possess that much ability, he can immediately make a positive impact for the Raiders.
18. Miami Dolphins - Zaven Collins, LB, Tulsa
It isn't out of the question that the Dolphins add more offensive weapons, such as Najee Harris, giving Tua Tagovailoa the best chance at success. With that being said, they could add a linebacker to help fill out what should be one of the best defenses in the NFL this season.
Collins is a rangy linebacker that can make plays across the field. He'd add another playmaker element to an already elite defense. As if that wasn't enough, Collins also possesses some pass-rushing abilities, adding a bit of versatility to Miami's defense.
19. Washington Football Team - Mac Jones, QB, Alabama
Washington missed on Dwayne Haskins a couple of years ago, leaving them in an odd spot at quarterback. They could move forward with Alex Smith or Taylor Heinicke, but why not take a shot on the clear-cut fifth option in a loaded class?
Jones saw his stock skyrocket throughout the season, as he helped lead DeVonta Smith to the Heisman trophy. The big question is whether Smith was so successful because of Jones, if Jones was so successful because of Smith and company, or if everyone played their respective parts in creating an elite offense. Regardless of opinion, Jones will likely hear his name called on Day 1, and Washington could be looking for a replacement here.
20. Chicago Bears - Kadarius Toney, WR, Florida
It's looking more and more likely that Allen Robinson is leaving Chicago via free agency. If that's the case, the Bears will either draft a wide receiver, sign one, or more forward with Darnell Mooney acting as their top option.
Toney broke out for Florida this season, posting 70 receptions for 984 yards and 10 touchdowns on 11 games while sharing the field with Kyle Pitts. He's an explosive playmaker that would pair well with Mooney against any defense. The major concerns are Toney's drops, although adding his playmaking abilities will likely negate those concerns for most teams.
21. Indianapolis Colts - Christian Darrisaw, OT, Virginia Tech
The Colts traded for Carson Wentz, but now they have to protect him or he could end up like his later years in Philadelphia. Anthony Castonzo officially retired this offseason, leaving a hole at the left tackle position. Regardless of their other positions of need, Indianapolis' main focus this offseason should be filling that hole.
Darrisaw started as a freshman for Virginia Tech and continued to progress through his career. He's a physical player that has the potential to become a starting left tackle in the NFL. The biggest question will be whether or not he can start from day one, although I believe that's a real possibility.
22. Tennessee Titans - Jaelan Phillips, Edge, Miami (FL)
Simply put, Tennessee needs to find a way to get to the quarterback. They ranked second to last in pressure percentage last season, and it was a major issue. Luckily, this draft is loaded with high-upside edge rushers that Tennessee can develop for the future.
In terms of physical ability, many believe that Phillips is the best edge rusher in this class. He's an athletic option that will immediately help Tennessee's pass rush. In his only season at Miami, he recorded 8 sacks and 15.5 tackles for a loss in 10 games. It'd be far from shocking if Phillips turned into Tennessee's best pass rusher within a couple of years.
23. New York Jets - Elijah Moore, WR, Ole Miss
The Jets will be getting one of the best quarterbacks in this class, but they'll need to give him weapons. Denzel Mims flashed as a rookie, while Jamison Crowder continues to provide in the slot. Breshad Perriman is a free agent and New York doesn't feature anyone that is likely to take over the offense outside of Mims.
Moore is flying up draft boards after posting 86 receptions for 1,193 yards and 8 touchdowns as a junior for Ole Miss. He boasts tremendous speed and can help stretch the field. If Mims can turn into a true WR1 in the NFL, Moore can make this one of the more dynamic offenses in the NFL with Crowder continuing his success in the slot.
24. Pittsburgh Steelers - Alijah Vera-Tucker, OL, USC
The Steelers seem to be content with Ben Roethlisberger at quarterback. With that being said, they'll need to take the pressure off of him this season. That may be easier said than done with Maurkice Pouncey retiring and Alejandro Villanueva testing free agency.
Vera-Tucker could add versatility to the Pittsburgh offense, allowing them to shift guys around. He has the potential to play tackle in the NFL, although he may be better at guard. Regardless, Pittsburgh needs to rely less on its aging quarterback, and Vera-Tucker is a player that could immediately help in that regard.
25. Jacksonville Jaguars - Jeremiah Owusu-Koramoah, LB, Notre Dame
After getting their quarterback of the future earlier in the draft, Jacksonville can focus on defense. Urban Meyer is known for his love of players with speed at the college level. Regardless of whether that will translate to the NFL or not, it's a philosophy that he's likely to bring into Jacksonville.
Owusu-Koramoah possesses plenty of speed and athleticism to make him Meyer's next pick. In two seasons at Notre Dame, he posted 142 tackles with 7 sacks and 24.5 tackles for a loss. There's a chance he makes his way up the draft boast in the pre-draft process, but for the time being, he's the perfect option to help lead Jacksonville's defense.
26. Cleveland Browns - Joe Tryon, Edge, Washington
Cleveland will need to either re-sign some of their guys or make a few moves in free agency if they want to continue towards the Super Bowl this season. One of the big pieces they could use is an edge rusher on the other side of Myles Garrett. Taking the pressure off of Garrett is a key to taking their defense to the next level.
Tryon looked outstanding as a sophomore in 2019, recording 8 sacks and 12.5 tackles for a loss in 13 games. He opted out of the 2020 season, which likely hurt his stock. As we get closer to the draft, I'm expecting him to continue to move up draft boards as teams continue to scout his earlier tape. He has the potential to become a solid option across from Garrett in his career.
27. Baltimore Ravens - Ronnie Perkins, Edge, Oklahoma
The Ravens are a complete team but could enter this season with one major hole. Matthew Judon and Yannick Ngakoue, along with others, are free agents. It's unlikely they re-sign each pass rusher, meaning they'll have them fill the positions in other ways, such as the draft.
Perkins is a solid, if unspectacular, prospect. In three seasons at Oklahoma, he posted 16.5 sacks and 32 tackles for a loss over 32 games. He recorded 5.5 sacks and 10.5 tackles for a loss in only six games in 2020, though. Perkins is a high-motor player and is seen as one of the safer pass-rushing options, although without the upside of some of his peers.
28. New Orleans Saints - Greg Newsome II, CB, Northwestern
What the Saints do in free agency will have a massive impact on this pick, as they have a number of players potentially leaving that they would need to instantly fill the void for. With that being said, they could look to grab a cornerback here with Marshon Lattimore taking a step back from his elite early career play.
Newsome has the size and speed to play on the perimeter throughout his career. He's a cornerback that offers the upside to be able to shadow opposing WR1s. He's struggled with durability issues throughout his collegiate career, which may be the only reason he's not going earlier in this draft.
29. Green Bay Packers - Rondale Moore, WR, Purdue
Green Bay has holes in their roster at cornerback, linebacker, and offensive line depth while fans continue to call for a first-round wide receiver. It's clear Green Bay loves Allen Lazard and company behind Davante Adams, but they could use an explosive playmaker in the slot to take their offense to the next level.
Moore posted 114 receptions for 1,258 yards and 12 touchdowns over 13 games as a freshman before struggling to find the field later in the career. He's an explosive receiver that can score from anywhere on the field. He could add another dimension to the Green Bay offense if they opt for this strategy.
30. Buffalo Bills - Azeez Ojulari, Edge, Georgia
Buffalo needs to add a pass rusher if they want to move closer to the Super Bowl. They may do that in free agency via JJ Watt, but that isn't the case at the moment. Instead, they'll do it in the form of Ojulari in this draft.
There have been mixed results on him, as some drafts have him falling out of the first round, while others place him inside in the top-10. He's an explosive edge rusher that has the ability to change games. Ojulari isn't as safe as a prospect as some of the other options in this draft, but Buffalo is a team that can take a chance on his upside.
31. Kansas City Chiefs - Jalen Mayfield, OT, Michigan
The Chiefs don't have many holes in their roster, allowing them to take an outstanding prospect that fell because he needs time to develop. Mayfield comes with tremendous upside, but there were some growing pains during his time at Michigan. Many believe that he'll need a season to learn before starting in the NFL, but Kansas City is a team that can take that chance.
32. Tampa Bay Buccaneers - Nick Bolton, LB, Missouri
The Bucs drafted an elite linebacker in Devin White but may need to replace Lavonte David if he leaves in free agency. Bolton is an athletic linebacker that many believe can immediately start in the NFL. He was a leader of the Missouri offense and would make a strong option to replace David. With Zaven Collins off the board, Bolton would make sense for Tampa Bay's young LB core.