QBs, RBs, WRs




8/24/09



If drafting your fantasy football squad and ranking players from year to year were as simple as skimming over the final results from last season, not much thought would be needed upon making your selections from one round to the next.

While a certain amount of turnover is expected, the further one delves into their rankings, change will and does occur on a yearly basis among the top performers at their respective positions.

This article will focus on players who finished among the Top Ten at quarterback, running back, and wide receiver in 2007, but failed to hold that distinction in 2008. We will then attempt to identify which of these players from '08 may not repeat their top ten performances in the approaching season.

Note: All rankings are based upon FFToday's default league scoring.

Quarterbacks


Who Didn't Make The Cut (6/10): T. Brady, D. Anderson, B. Favre, M. Hasselbeck, B. Roethlisberger, C. Palmer

When looking at the quarterbacks who produced at a high level in 2007, but failed to do so in 2008, the first players that stand out are the signal callers who had injuries derail their season (Brady, Hasselbeck, Palmer).

The next name that jumps out at you is Derek Anderson – a player who meets the credentials of a one-year wonder that is unlikely to ever perform at a meaningful level again.

The other two who failed to duplicate the same level of success were Brett Favre and Ben Roethlisberger. In Roethlisberger's case it was due to his numbers dropping back to normalcy after throwing a career high 32 touchdown passes in 2007.

In regards to Brett Favre, he didn't have a poor fantasy season (ranked 11th in 2008 among QBs), but the move from Green Bay to New York factored into a decrease in his production. As did a bothersome shoulder injury that contributed to his poor performance over the last quarter of the season.

The Most Likely Candidates To Fall From The Top Ten This Year: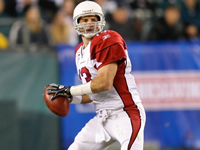 Injury risk makes Warner a candidate for dropping out of the top ten.
Kurt Warner, ARI : Warner is surrounded by arguably the best receiving tandem in the league, so why is he a candidate to not rank among the top ten quarterbacks in 2009? The answer is simple – injuries.
While injuries are always a difficult thing to predict, some players warrant having the label of "injury-prone" slapped upon them. Warner is one of those players.
Concussions and hand issues have forced the two-time NFL MVP to the sidelines for lengthy periods of time in the past. He'll be going into the '09 season dealing with a sore hip that has hindered his all ready lackluster mobility.
The Arizona quarterback still warrants being selected among the top QBs, but it'd be wise to use another pick on a solid back-up just in case.
Jay Cutler, CHI : Cutler is widely regarded as one of the best young quarterbacks in the league, but the change of scenery he has in going from Denver to Chicago will make it extremely difficult for him to match the numbers he put up last season.
No longer will Cutler be on a franchise with a weak defense that likes to move the ball through the air. He now plays for the Bears – a team that's relied on a strong defensive front and rushing attack in order to win games. And unlike the Broncos, Chicago doesn't have any established receivers for Cutler to target in the passing game.
Instead of leaning on Brandon Marshall and Eddie Royal to help move the chains, Cutler now has a receiving duo that consists of Devin Hester and Earl Bennett. It's possible his top targets in the passing game won't be a wide receiver at all, but rather tight end Greg Olsen and running back Matt Forte.
In comparison to quarterbacks that cracked the Top Ten in '07, but failed to do so in '08, Cutler could be considered the Brett Favre of the group.
Matt Cassel, KC : Cassel was the beneficiary of a season ending injury suffered by Patriots quarterback Tom Brady during the team's season opener last year. In 16 games (15 starts) he went on to post 3693 yards passing with 21 touchdowns and 11 interceptions. Those statistics were good enough to rank him 8th among fantasy quarterbacks in '08.
The concerns with Cassel heading into 2009 are twofold however. Is he the next one-year wonder at QB a la Derek Anderson? And how much will his offseason departure from New England to Kansas City impact his level of play?
The Patriots are possibly the best coached and well lead team in the NFL. It would be hard to overlook those factors when taking Cassel's accomplishments from last season into context. The same can be said for the caliber of wide receiver's he was throwing to in the likes of Randy Moss and Wes Welker.
In Kansas City Cassel will be working with a receiving cast that features Dwayne Bowe and little else behind him. He'll also be on a franchise that is going through a rebuilding phase following the loss of not only Tony Gonzalez, but head coach Herm Edwards as well. Cassel may defy the odds he faces in his first year with the Chiefs, but chances are his numbers will take a considerable hit.

Running Backs
Who Didn't Make The Cut (6/10): J. Addai, J. Lewis, M. Barber, W. McGahee, F. Gore, E. James
When overseeing the reasons for why five running backs failed to achieve Top Ten status in back-to-back seasons, we notice injuries (as was the case with QBs) played a factor among a handful of players. For instance, Marion Barber was well on his way to cracking the top ten in 2008 before a dislocated right pinkie toe caused him to perform miserably over the final weeks of the season.
In the case of Joseph Addai, it was a torn hamstring early in the year that hampered him, and an injury to his shoulder that forced him to the sidelines down the stretch. While other factors played a role in Willis McGahee's downturn, it was a preseason knee injury that began his slump in production for 2008. And in the case of Frank Gore, it was a sprained ankle late in the year that forced him to miss three starts and cost him a spot among the Top Ten fantasy backs.
The other two players who failed to deliver in similar fashion from '07 to '08 (Jamal Lewis and Edgerrin James), it's suffice to say years worth of wear and tear, along with the aging process has finally gotten or begun to got the best of them.
The Most Likely Candidates To Fall From The Top Ten This Year:
Thomas Jones, NYJ: After scoring just one rushing touchdown and averaging 3.6 yards per carry in 2007, Thomas Jones' performance last season (1312 rushing yards, 15 total touchdowns) was a surprise to everyone. There are two primary factors, however, that played a role in Jones' turnaround.
The first of these factors was the addition of veteran QB, Brett Favre. Favre's presence gave the Jets the formidable passing attack they had been lacking in recent years. It also made certain defenses couldn't key in on stopping the Jets ground game, which led to more room for Jones to run once through the hole.
The other piece of the puzzle that played a significant role in Jones' surprising season was the additions of Alan Faneca and Damien Woody along the offensive line. When you have better run blocking up front, it stands to reason your running back will have a better yards per carry average and score more often from inside the five.
So why is it that Thomas Jones is unlikely to perform in 2009 at the same level he had just a season ago? Three reasons – the departure of Brett Favre leaves the Jets with two inexperienced players battling to be the Jets starting quarterback (Mark Sanchez and Kellen Clemens). The loss of Laveranues Coles makes the receiving core weaker than it was a year ago. And last, but not least, Thomas Jones is 31-years old heading into the season.
Another factor could be the presence of third-round pick Shonn Greene at running back.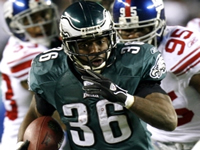 Will the magical age of 30 mean an end in the top ten for Westbrook?
Brian Westbrook, PHI : Like Jones, Brian Westbrook is another running back who will be thirty or older at the start of the season. And while the Eagles franchise running back isn't necessarily an injury-prone player, he's dealt with his fair share of them over the years.
Last year it was an ankle injury that forced Westbrook to the sidelines for two games. He returned sooner than expected, but the damage to his ankle made it clear to anyone who watched him that he wasn't the same dynamic playmaker he was prior to the injury. As a result, the Eagles tailback averaged just 4.0 yards per carry (the second lowest average of his career) and only 7.4 yards per catch (the lowest of his career) for the 2008 season.
His 54 receptions and 404 yards receiving were also his lowest totals in those categories since the 2003 campaign, in which he wasn't factored into the offense as heavily as he's been since then.
This year, Westbrook has missed the first few weeks of practice with his teammates due to surgery on his right ankle to remove bone spurs. While reports on his progress have been encouraging, he is yet to participate in any contact drills and it's doubtful he will play in the preseason.
Furthermore, the Eagles use of a second round on LeSean McCoy wasn't made simply for depth purposes. McCoy has looked good in camp and in the Eagles first preseason game and is expected to lighten Westbrook's load in 2009. Newly acquired fullback Leonard Weaver may also steal some of Westbrook's touches in the form of receptions, short yardage, and goal line carries. Michael Vick is another addition that could eat into some of Westbrook's yardage and touchdown totals.
Steve Slaton, HOU : While Steve Slaton will be well worth an early selection in most scoring formats this year, there are a few reasons to wonder if he'll match the production he provided as a rookie in 2008. Chief among those concerns is the presence of Chris Brown in the Texans backfield.
Brown was added to the Texans roster as a free agent last year, but a back injury forced him to the IR before the '08 campaign even began, causing the one time Tennessee Titan to miss the entire season.
Now healthy however, and with the coaching staff and players alike behind him, Brown is having a strong outing in camp and appears poised to become the Texans short yardage and goal line back. If a scenario such as that plays out, it could result in Slaton's touchdown total of a year ago nearly being cut in half. It may also result in less overall yardage for the second year back.
On the flipside, Brown has been one of the least durable backs in the league since entering the NFL. Any injury to him would again result in Slaton being leaned upon heavily and often out of the Texans backfield.

Wide Receivers
Who Didn't Make The Cut (7/10): B. Edwards, R. Wayne, C. Ochocinco, T. Houshmandzadeh, M. Colston, P. Burress, B. Marshall
Not surprisingly, wide receiver is the position that saw the most turnover among the top ten with seven players failing to duplicate the feat.
Chad Ochocinco and T.J. Houshmanzadeh failed to do so in part due to quarterback Carson Palmer missing most of the season with an injured elbow. In Ochocinco's case, however, preseason ankle surgery and a dislocated shoulder also factored into his downfall.
Marques Colston is another player that missed the cut thanks to an unfortunate situation. He tore a ligament in his left thumb during the first game of the year and missed the next five weeks as a result. He finished his 2008 campaign making only seven starts and having played in eleven games.
Next we come to Plaxico Burress. While his failure to deliver in 2008 could be chalked up to an injury too, the fact it was a self inflicted gunshot wound to the leg while out in a nightclub deems it more so the result of stupidity. Fortunately, he's the only player among any of the top ten at these positions to fall under that category.
In regards to Reggie Wayne and Brandon Marshall, it's not a matter of injury or poor play that forced them to miss the cut. Brandon Marshall just missed ranking among the top ten performers for a second consecutive year by placing 11th among receivers. Reggie Wayne, while failing to match the production we've come to expect from him, still posted 82 receptions for 1145 yards and 6 touchdowns – ranking him 14th among wide outs in 2008.
The Most Likely Candidates To Fall From The Top Ten This Year:
Antonio Bryant, TB: Bryant has always been a talented and intriguing figure among fantasy wide outs, but rarely has he ever reached his true potential. Last season he set career highs for himself in receptions (84), receiving yards (1249), and touchdowns (7).
Whenever Bryant has shown flashes of his ability in the past however, he tends to follow it up with disappointment one way or another – whether it is on the field or off, usually the result of some type of conflict with the coaching staff.
Given the new regime put in place in Tampa Bay, the departure of Jeff Garcia, along with the arrival of Kellen Winslow and Derrick Ward, one has to figure it will be very difficult for Bryant to match his production of a year ago – let alone follow it up with another thousand yard outing.
The inexperienced or unproductive quarterback that will be under center for the Buccaneers means their passing game is likely to take a step backwards from last season. And the additions of Derrick Ward and Kellen Winslow means the ball will be spread around more, resulting in fewer touches for Bryant.
All of these are reasons to expect a drop-off in production from Bryant and discount him as a legitimate top ten prospect in 2009.
Terrell Owens, BUF: While Owens has enjoyed much success in the past whenever he's changed teams during the offseason, he's never landed in a situation quite like the one he finds himself in with Buffalo.
Trent Edwards does not have the credentials of a Tony Romo or Donovan McNabb. Nor do the Bills have the same level of playoff expectations placed upon them that existed in Dallas and Philadelphia during Owens' tenure with the teams. Buffalo's weather conditions late in the year could also prove detrimental to the thirty-five year old's performance.
These reasons alone aren't enough to write Owens off completely. In all likelihood he will rank among the better receiving options in the league. Expecting him to rank among the Top Ten at his position this time around may be asking a bit too much is all.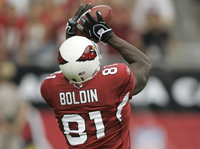 Boldin: Missed at least 4 games three times in his career.
Anquan Boldin, ARI: For as productive as Anquan Boldin has been throughout his NFL tenure, he hasn't always proven to be the most durable player at his position. That's not to say he isn't tough, but he has missed four games or more in a season three times during his six-year career.
With that in mind, along with the reasonable injury concerns in regards to Cardinal quarterback Kurt Warner; it isn't preposterous to suggest Boldin may not crack the top ten receivers in 2009.
Even should Warner remain healthy throughout the season, the Cardinals will likely try to protect him and his sore hip by running the ball more often or pulling him early from games in which they have a commanding lead. Both scenarios could result in a drop in production from Arizona's number two wide out.
Steve Breaston may also warrant more looks in the year ahead after a breakout performance last season.