Scoring for the position is down. I get it, you get it. So, I'll dispense with doom and gloom surrounding the running back position in fantasy football, as the "decline drum" has been beaten loudly over the last couple years. Perhaps things are beginning to level out as the macro numbers of the top 15 rushers in 2014 were fairly equal to 2013, and this year's crop of rookie runners seems to have a few more workhorse options than in years past. As we get set for the kickoff of free agency, here are my top 15 running backs for 2015…

Note: An hour before this piece was to be published Chip Kelly and Rex Ryan decided to drop a bombshell. I originally had LeSean McCoy at No.9 but dropped him down just one spot to No.10. There is still a lot to digest, but currently this move feels like a lateral one for McCoy's fantasy value.


1. Le'Veon Bell, PIT – Bell's fantasy value and ADP will be interesting to track this summer. His youth, usage and talent scream he should be a no-brainer No. 1 pick in fantasy drafts, not to mention his gaudy numbers from last season (2,215 rushing & receiving yards, 11 TDs, 83 receptions). However, a looming two-game suspension (possibly four?) will keep some fantasy owners off the Bell bandwagon. I'll stay on, but will readjust if the suspension is anything more than two games.

2. Jamaal Charles, KC – Nice to know that in a down year you can still finish seventh among fantasy running backs in both standard scoring and PPR leagues. Charles played gimpy most of the season, perhaps more than the team was letting on, which led to more opportunities for Knile Davis. Charles is still an elite talent capable of being fantasy's No. 1 running back when healthy.

3. Eddie Lacy, GB – I'll grab Lacy as my RB1 this year when there's an opportunity, but I'll have a queasy feeling doing so. I typically won't rank a running back with his injury history this high, but Lacy's progression in the passing game and upside is worth the risk, considering the current question marks of the running backs listed below.

4. Marshawn Lynch, SEA – I think the retirement discussion around Lynch is bogus. He'll be back doing his thing for the Seahawks in 2015, and while he's got some mileage on the tires, he's still on the right side of 30 and should have another year left of RB1 production.

5. Adrian Peterson, MIN – I fully expect Peterson to be a Dallas Cowboy at some point in the next couple months, and if he lands in "Big D", he'll immediately have No. 1 running back upside given his talent and the stats DeMarco Murray put up last season behind one of the best offensive lines in the game. He's not getting any younger, but a year off saved some mileage and he'll be a lock for 20-plus touches a game.

6. Matt Forte, CHI – Forte's yards per carry slipped to 3.9 last year, down from his typical 4.5 average the previous two seasons, but he made up for it by posting triple figures in receptions (102) as the Bears used the dump-off in grand fashion during numerous comeback attempts. Are you concerned about durability? Forte has been remarkably healthy, especially for running backs, missing only five games during his seven-year career.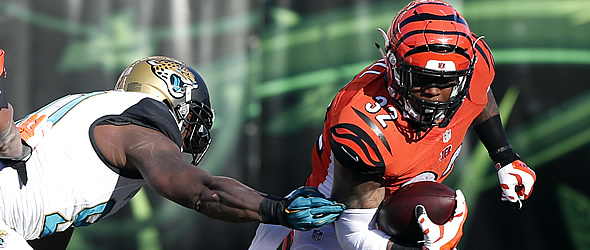 Jeremy Hill averaged 5.1 yards per carry and 8.0 yards per reception in his rookie season.
7. Jeremy Hill, CIN – The Bengals handed the early-down running back duties to Hill in Week 9 and he didn't disappoint, turning in a stellar second half of the season that included five rushing games over the century mark. He's a capable receiver but with Giovani Bernard still in the mix, Hill's upside is capped, making it hard to envision him being a top-five fantasy RB in 2015.
8. DeMarco Murray, DAL – Murray will test the free agent waters and more than likely won't be back in Dallas. His landing spot won't come with the luxury of the league's best offensive line, and history tells us running backs typically regress coming off a monster workload the previous year. Murray had 450 touches in 2014.
9. C.J. Anderson, DEN – Anderson scored as many fantasy points as McCoy last season but didn't really see significant action until Week 10. Being used as a three-down workhorse, Anderson proved he could carry the load late in the season, and he should transition nicely into the Gary Kubiak version of Peyton Manning's offense. Montee Ball and Ronnie Hillman loom as threats to steal opportunities.
10. LeSean McCoy, BUF – McCoy's decline in 2014 was staggering. He went from 280 FPts in 2013 to 177 FPts in 2014, despite the same number of rushing attempts (314) each season. The lack of touchdowns and production as a receiver was the key. I can chalk this up to a fluky season and still like his upside as he apparently will be moving to Buffalo when the trade can be made official on March 10th. We all know how much Rex Ryan likes to run the football and McCoy's goaline opportunities should increase. Keep in mind; McCoy is just 26 years old.

11. Arian Foster, HOU – Foster came into last season with a high injury risk, and even though he missed three games and a good portion of the finale against Jacksonville, he outperformed his RB11 ADP. He averaged 1 TD per game and scored just as many fantasy points as Le'Veon Bell on a per game basis (standard scoring leagues). Foster will likely head into the season as Houston's workhorse, but the injury risk remains. He's an ideal RB2 that you will be hard-pressed to get as an RB2.

12. Latavius Murray, OAK – Speaking of teams with free agent money to spend, the Raiders have a pile of it, but one place they don't spend is on a running back. Murray will should be the starting running back in Week 1 (this is the Raiders we're talking about here), with the only question being who will be his backup.
13. Tre Mason, STL – The Rams kept Mason under wraps during the first quarter of 2014 while he learned the fine art of pass protection, eventually handing over the baton to the rookie mid-season. He should get the bulk of early- down carries in 2015 and has adequate enough receiving skills to not embarrass himself in PPR leagues. Goal-line opportunities and TDs will decide whether he can crack the top 15.
14. Carlos Hyde, SF – Hyde's ranking depends a lot on what happens to free agent Frank Gore. Gore's best fit is likely with the 49ers, but there are numerous teams out there with money to spend. If Gore's able to find a good fit with a playoff- caliber team (IND?), then the door will be kicked open for Hyde.
15. Justin Forsett, BAL – Fantasy football's waiver wire darling and No. 8 running back of 2014 is a prime candidate to fade in 2015, but don't count out the seven-year veteran too quickly, especially if he stays in Baltimore. He will be 30 years old this season but certainly hasn't been a workhorse back, never having more than 118 carries before last season. If he moves to a team like Atlanta, then all bets are off, opening the door for one of the three players listed below to crack the top 15.

Just Missing the Cut: Khiry Robinson (NO), Alfred Morris (WAS), Joique Bell (DET)

Up Next: Quarterbacks...