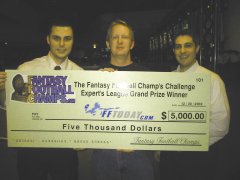 Check (no pun intended) this out! FF Today is happy to be the winner of the 2002 Fantasy Champs Challenge. I competed with the best in the business including representatives from Draft Sharks, The Guru Report, Football Guys, KFFL, Fantasy Insights, The Huddle, Football Injuries, FF Index, Grogan's Sports, Pro Forecast and of course Jon & Ian from FF Champs. This is a very competitive league folks, and I'm looking forward to defending my crown in 2003. Thanks to Jon & Ian for putting this league together and having the guts to put their money on the line.

Below is recap of the league championship game in which I whacked those guys from The Huddle.

In a highly contested battle FF Today beat The Huddle 121-97 to become the 2nd Annual Champs Challenge CHAMPION. Congratulations to Mike Krueger!!! The FF Today team was a scrappy bunch led by Trent Green and Marvin Harrison. Green set the tone by throwing a 99-yard TD pass that was good for 16 points by itself. Harrison had his normal great outing but Tike Barber and Eddie George came up really big. They combined for four TD's to overcome weak games from Ike Bruce and a Joey Galloway.

The Huddle team did not step up. Garcia, Henry, Booker, and Horn were all flat. Had any of them stepped up The Huddle team would have been more competitive. They really should have won the game, when you get 18 points from your kicker in the Championship game your team is in the drivers seat. In fact The Huddle's special teams outscored FF Today 36-14! Unfortunately for The Huddle it didn't work out. Those guys still deserve a warm congrats on a job well done.

All in all this was one of the most competitive and contested leagues we have ever participated in. We are already looking forward to next year.

So am I guys, so am I.