The 5 W's




7/29/04





Who?


If you haven't heard of Tiering before, then we'll get to what it is in a moment. I'm trying to follow the journalism standard here, and "Who?" comes before "What?" As way of an intro, I'm known as the Cheatsheet Compiler and Draft Buddy guy around these parts. The Compiler and Buddy both include options to add dotted red lines distributed seemingly at random throughout the positional (offense and IDP) cheatsheets. Those dotted red lines are tier lines, and here is an example: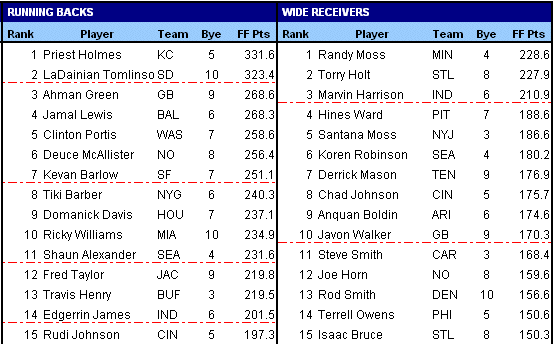 Understanding what tiering is, how it works, and why it is an important piece of your draft strategy will help you have a great draft this summer. As an added bonus, it will leave the other owners in your league scratching their heads how you built a team far superior to theirs. Even if they don't figure it out after the draft, they will soon enough when the games start!

Now we've covered the who — me, you and your league mates — let's move on to what exactly tiering is.

What?
Tiering, sometimes called bucketing or drop-offs, is a concept of grouping players together on a cheatsheet who have similar projected performance (projected fantasy points) for the upcoming season. This is not a new concept but still one that does not get as much notoriety as it should.

Grouping of players converts an otherwise typical cheatsheet in which players are ranked 1, 2, 3, 4, etc. to one that shows where the significant drop-offs in performance are expected at each position. It also highlights that there are X number of players at a position in group 1 (the top tier), Y players in group 2 (next tier), etc.

To create the tiers, the calculations are pretty straight forward. This is all automated in the Cheatsheet Compiler, but to do it, all you need to do is decide on a number at which point you think there is a significant enough drop-off to warrant a new tier, deduct it from the projected fantasy points of the top ranked player at a position to calculate the Tier 1 lower limit, and draw a line under the last player who's projected fantasy points are within the lower limit. Then repeat the same process for the next tier, and the next, working down the rankings for each position.

In the past I've suggested 16 points as the difference for people to use, as this represents 1 fantasy point per game. The example above uses 20 fantasy points. There is not a hard rule on this because different fantasy scoring systems will yield different results. Consider it a combination of art and science to pull off just the right tier groupings.

Pick a number like 20 and push the calcs. This is the science part. Then review the tiers and see if they provide a reasonable distribution of players. Not too small, but not too big either. Can you reasonably make a case that the bottom guy in a tier has the same ball park potential for the season as the top guy in the tier? Is there a noticeable drop in talent from players in one tier to the next? There could be some finessing required if you like, such as maybe I think Steve Smith should be in with that Tier 2 group of WR above. This is the art side of the equation.

Now I'm sure to get the question, why isn't Rudi Johnson in the same tier with Edgerrin James, when there is only 4 fantasy points difference between them? That isn't the way to look at it. We don't focus our attention on the specific player names and fantasy points at this point, but rather care more about the groupings. There are 20 points difference between Tier 4 (James' tier) and Tier 5 (Johnson's tier). If we looked at the difference between each individual player on the list, then we would have hardly any tier lines at all.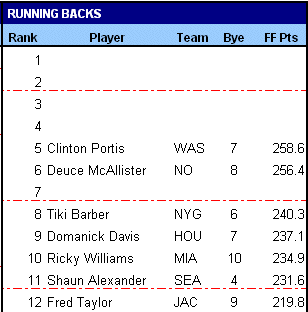 Once players are in their tiers, the goal when drafting – this should be obvious — is to acquire as many players from the highest groups as possible.

We know there are going to be differences between the projections and actual end of season results anyway, not to mention varying weekly results effecting our head-to-head matchups, so does it really matter that Clinton Portis is projected 2 fantasy points higher than Deuce McAllister? What if I think McAllister has more upside than Portis? Should these rankings always cause me to take Portis ahead of McAllister? Of course not. They are essentially the same player for your fantasy squad since they are in the same tier, and ultimately you are going to take the one you feel is better or you are more comfortable with.

However, if I was considering taking Ricky Williams over Clinton Portis, then that is a little more against the grain. Williams is projected at a point where he is a Tier 3 RB, so we'd be passing up a Tier 2 RB when there are only 2 remaining, for Williams ranked significantly lower based on how the tiers fall. Not to mention there are 3 other RB still available who are all considered similar enough to Williams to be grouped in the same tier.

The important thing about tiering is to not only look at it on a position-by-position basis, but rather the groups are going to help us decide which position to draft now, and which to wait on until later. It gives us an easy way to quickly assess supply and demand of players at each position. This is where the best benefit of tiering comes into play.

Remember, think about players in groups. You're drafting in the 3rd spot, 12 team serpentine draft back at your turn in the 2nd round. Who do you draft from those available: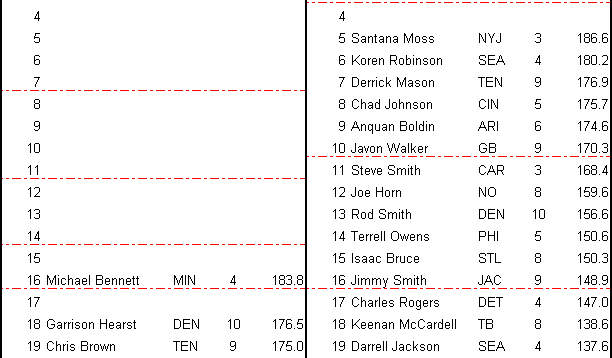 Michael Bennett is the pick. Obviously these projections have Santana Moss ranked very high, but not high enough to separate him from 5 other receivers in his tier. Michael Bennett on the other hand is sitting in his small tier all by himself. If you pass on him here, then you probably won't get another chance at him. After the turn however, with your 3rd round pick, Santana Moss might be gone too. But that is all right, because you'll still have at least a couple of those Tier 2 WR to choose from. Taking Bennett you got a better RB and a Tier 2 WR, as opposed to a lower tier RB (Garrison Hearst, Chris Brown, and there are more to choose from) and a Tier 2 WR.
When you put this into practice, then you're going to apply the concept across all positions and with each pick. The overriding idea to keep in your head will be, draft from higher, shallower (fewer player) tiers, and wait on lower, deeper tiers.
Where?
At the draft of course. Next question.
When?
Ok, here is an important question that needs answering. When do you apply the tiering strategy to your draft? You do it right from the get-go really, but it gets more or less emphasis in your decisions whether you are in the beginning, middle or later stages of the draft. Below I describe the approach which works well for me.
Preparing for a draft, I have an overall ranking cheatsheet and a cheatsheet ranking each position. Both of these are created by the Cheatsheet Compiler, and work in conjunction with some other things in Draft Buddy.
For the early stages of the draft, I am working primarily with the overall list. I always mock out ahead of time how I think a draft will go to try and figure out who will be available at each of my early picks, plus I want to know the relative value of the positions and this is factored into the overall list. Since in a re-draft the team is starting with nothing, all positions need to be addressed so it makes sense to work from an overall list.
That said, don't be a slave to the overall list. Most all the time I will pass on a QB early because there are numerous lower ranked QB whose upside I really like and would be happy taking a chance on a couple of them drafted later rather than relying on a top ranked QB. Even if the overall list says QB, I'll probably look elsewhere, but that is mostly personal preference. I hope this isn't even worth mentioning because you've already been beaten over the head with it, but K and DEF are never a consideration early or even middle of the draft, and are excluded entirely from the overall list.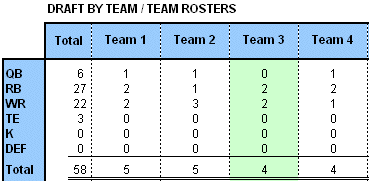 With all picks, monitor the average draft position ("ADP") data, tiering and other team needs around you. If there is a player high on the overall list but with a low relative ADP that can be drafted later, then wait on that player. If the next best players on the overall list are at the same position and in the same tier, quickly assess other team needs for what positions they are likely to draft, using a chart similar to that shown here. If your opponents are not going to pull all the players out of that tier before your next pick, then weigh the risk-reward of waiting on that position and strengthen your team elsewhere.

Monitor tiering as early as your 1st pick when drafting late in the round, just to make sure you aren't passing up an opportunity to take a top tier WR like Randy Moss when there are still a few RB you'd be happy with and one will come back to you.

The usefulness of the overall list typically declines about rounds 4-5 when specific team needs are more important and must be addressed. Now we're in the middle of the draft which is where the difference is made between having a strong draft, and having an average draft. Tiering plays a key part in this as we put more emphasis on it working primarily off the rankings list by position. Continue to follow the ADP and other team needs. Fill out your roster for probably all your starters except K, DEF, maybe IDP and TE, and key backups who were good drafting value.

You're going to get the best bang for your buck using tiering and always watching other team needs drafting 3-4 spots from either end of a serpentine draft (picks 3-4 or 9-10 in a 12 team league). At these spots it is more predictable what positions are going to be targeted on picks going into the turn on either end. Plus watching the team needs you can repeatedly block out the end teams pulling the next best player at a position they need to fill out their roster.

Even later in the draft, still using the ranking list by position, take a few more chances picking sleepers and high upside players even if they are not ranked as high as others. If they flop, then you can probably always replace them via free agency. Drafting them late they didn't cost very much or come with high expectations anyway. Continue to use it where possible, but tiering has less impact here because at the bottom end of the cheatsheets the tiers are much deeper as a lot of players have very similar projected performance.

Flip back to the overall list to see if there is anyone who has really fallen in the draft from where he was ranked, and consider taking them. Get backups for your studs if necessary. And of course, fill out that roster even taking a K, DEF, etc.

That is the draft approach, and you can see tiering is used throughout the entire draft, but especially in the early and middle rounds.

Why?
Tiering helps you pull as much value off the board as you can with each draft pick, which will ultimately result in building the best possible team. It removes the tendency to get locked into drafting certain positions at each pick, and instead helps you take a tactical approach to the draft making the best picks based on what is transpiring around you (other picks that are out of your control).

The decisions are not difficult. There are not any complex formulas you need to complete before proceeding further. The setup is all done before hand, so under typical live draft conditions you should have plenty of time to analyze your options, make your decision, calmly take another drink (optional but recommended) and call out your pick.

And the best thing tiering has going for it, is that there are still not a lot of people who use it, or don't use it properly. Remember when you used to have an advantage over all of your league mates because you visited FF Today and everyone else showed up with a magazine? Now there are no magazines in sight at the draft? Here is your new advantage over those guys.... well, those who don't visit FF Today, that is.