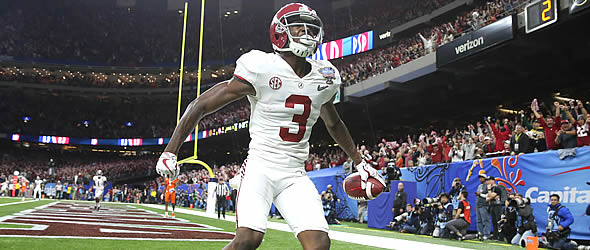 Ridley may the be the best at his position but he doesn't check all the boxes (yet) of a No.1 receiver.




Vitals



College: Alabama
Height/Weight: 6'/189
Hands: 9 1/8"



Important NFL Combine Numbers



40-Yard Dash: 4.43
Vertical Jump: 31"
Broad Jump: 9'2"
20-Yard Shuttle: 4.41
3-Cone: 6.88



Bio/Background

(College Stats)

Second-team All-SEC pick as a true freshman in 2015, setting a school record with 1,045 receiving yards - breaking Amari Cooper's mark - on 89 receptions.


Finished second in school history for receptions (224) and receiving touchdowns (19).


Third in program history in receiving yards (2,781).


His four catches of 60-plus yards in 2017 were tied for the third-highest total in the country.


Caught at least one pass in all 44 games of his career.
High-end NFL Player Comp(s): Emmanuel Sanders
Low-end NFL Player Comp(s): Marqise Lee
Best Scheme Fit: Mostly universal, although he would thrive most in an offense that allows him to consistently work in space. His route-running and separation skills would play well in a West Coast offense, while his speed would be a good fit in a vertical offense.

Note: All times listed in parentheses in strengths/weaknesses section reflect the start time on video - via Draft Breakdown - that displays that skill/trait.
Strengths
Too quick for most defenders if afforded a clean release off the line of scrimmage. (0:47, 0:48, 2:07, 2:45)

Seamlessly transitions out of his break to gain early separation. (2:27, 2:52, 4:51, 5:40, 6:47, 8:12)


When allowed to work in space, the open field often becomes his playground. (0:37, 1:33, 2:45, 4:30, 6:17)


Understands the mental part of route-running, such as how to set up his route (0:48, 1:36, 1:41, 2:27) or uncover during a scramble drill. (3:26, 5:27, 6:17)


Sells the deep ball well and doesn't hesitate coming back (or attacking) the ball on short routes. (0:45, 1:36, 6:47, 7:53)


Adjusts well to poorly thrown pass (1:14, 8:08, 8:12) and is able to contort body if/when necessary on a less-than-perfect downfield throw. (0:54, 4:25, 8:08)


Will occasionally let the ball get into his body but is a natural hands-catcher for the most part. (0:54, 1:04, 1:20, 1:25)


Ran the full route tree in college.
Concerns
Allows himself to get redirected and/or pushed too far to the outside and/or hasn't learned to use hands to disengage from press coverage. (0:01, 2:18, 6:30)


Lacks the strength/physicality to power through tackler when he catches the ball short of the line to gain. (0:18, 2:18, 3:57)


Lacks the size necessary to be considered a prime threat in the red zone and may struggle to add more muscle to frame.


Willing to stalk block and will steer his blocker on occasion but is average at best in terms of his execution. (0:08, 6:12, 7:41)


Disappointing production in five of his six most high-profile games.


A bit older than most the usual top prospect (will turn 24 before end of NFL season).
Bottom Line

Alabama's run-dominated offense and relative lack of solid quarterback play has been well-chronicled, so it's a testament to Ridley's talent he was able to generate the production he did throughout his three-year college career. For example, to provide some perspective on this year's Crimson Tide's offense, Ridley (63 receptions) had almost four times as many receptions as the next closest player (Bo Scarbrough, 17). The sad reality is Ridley didn't really benefit from an accurate signal-caller until the last half of his final college game when freshman Tua Tagovailoa led Alabama to a comeback in the national title game against Georgia.
The best way to sum up the Crimson Tide's latest receiver offering to the NFL is that he is easy to fall in love with because of his strengths (his route-running is superb for a college wideout), but his current shortcomings are concerning for a player tabbed as the best prospect at his position. For example, receivers can be taught to defeat press coverage, but they need to show the willingness to get physical from time to time. There's not a lot of proof he can or wants to do that. Ridley also doesn't possess great size or look like he has the frame to add much more muscle, so he might not be able to improve much in this area either. There's little doubt in my mind Ridley is ready to be a high-end NFL slot receiver right away, especially given the rise of the position over the last 10 years or so. It is also likely he'll quickly become one of the league's best deep threats, as he understands the nuances of setting up routes and has the speed to create separation when he gets a step.
But is he a No. 1? Assuming the definition of a "No. 1" is a receiver with the ability to move the chains, be a premier threat in the red zone and someone who can get open against just about anybody, he's not there … yet. Maybe it's his less than impressive athletic profile, but I find myself wanting more when I watch the tape, which is the feeling I don't like to have when I watch a prospect. Perhaps most telling, he didn't top 36 yards receiving in five of the six College Football Playoff games he played in, which is poor production for any receiver prospect on even the most run-heavy teams. However, there are times he flashes Antonio Brown-like ability (such as in the way he runs a route or transitions into a break), and that fact alone makes him an investment worth making, because a good position coach will be able to build on that. Overall, I think he has a Sanders-like ceiling - a 1A/1B type wideout who can lead a team in receiving but is better served to be a complementary receiver.

---
Doug Orth has written for FF Today since 2006 and been featured in USA Today's Fantasy Football Preview magazine since 2010. He hosted USA Today's hour-long, pre-kickoff fantasy football internet chat every Sunday in 2012-13 and appears as a guest analyst on a number of national sports radio shows, including Sirius XM's "Fantasy Drive". Doug is also a member of the Fantasy Sports Writers Association.