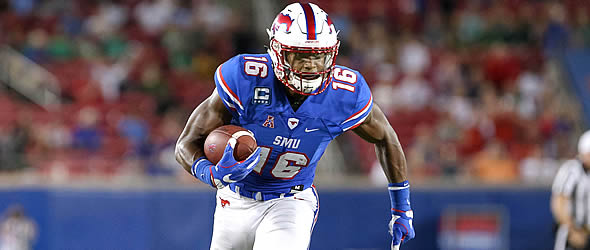 Sutton looks the part thanks to his prototypical size (6-3, 218) but he needs to improve his technique.




Vitals



College: SMU
Height/Weight: 6'3"/218
Hands: 9 3/4"



Important NFL Combine Numbers



40-Yard Dash: 4.54
Vertical Jump: 35.5"
Broad Jump: 10'4"
20-Yard Shuttle: 4.11
3-Cone: 6.57



Bio/Background

(College Stats)

Excelled as a safety in high school and also played tight end before SMU converted him to receiver in 2014.


Suffered a season-ending back injury two games into his true freshman campaign in 2014.


Set the SMU freshman record for receiving yards with 862 with 2015 while tying Emmanuel Sanders' program record for receiving touchdowns by a freshman with nine.


Briefly played on the Mustangs' basketball team after his redshirt freshman season.


Set the school's sophomore record for receiving yards with 1,246, previously held by Aldrick Robinson and a single-game program mark for receiving yards (252) on a career-high 13 receptions against South Florida.


Four touchdown catches against North Texas in 2017 tied him for the most by a player in school history.
High-end NFL Player Comp(s): Alshon Jeffery
Low-end NFL Player Comp(s): Michael Floyd
Best Scheme Fit: Vertical offense. Until route-running and catching technique improves, he probably would serve the most good in red zone packages.

Note: All times listed in parentheses in strengths/weaknesses section reflect the start time on video - via Draft Breakdown - that displays that skill/trait.
Strengths
Prototypical build for a receiver.


Able to catch the ball with his hands outside the framework of his body, particularly on throws behind him. (0:25, 0:38, 1:21, 1:28, 1:49, 3:45, 7:54)


Displays good field presence, footwork and body control along sidelines. (1:21, 1:33, 2:03, 2:33, 2:36, 3:35)


Makes a concerted effort to come back to the ball when necessary to help his quarterback. (1:11, 1:12, 2:40, 5:41, 7:31)


Concerns
Uses poor hand technique to catch the ball, leading to unnecessary drops and/or making things more difficult than they should be. (0:17, 0:23, 1:14, 1:52, 2:50, 4:51, 10:26)


Does not position himself well on back-shoulder/50-50 balls either due to inconsistent tracking or poor effort. (0:57, 2:52, 3:36, 7:21, 9:15)


Lacks suddenness and doesn't create much separation on in-breaking routes in part because he rounds off his cuts. (0:59, 2:13, 2:25, 2:58, 3:22)


Has build-up speed but seems to lack a second gear; gets behind his defender on occasion but usually did so as a result of a blown coverage. (1:22, 1:52, 4:58, 7:49)


Shows a bit of wiggle with the ball in his hands but is not a dynamic run-after-catch threat and goes down easier than expected for a player of his size.


Occasionally resorts to blatantly pushing cornerback away from him at the top of his route. (2:16, 3:01, 3:36)


Drew three flags in his career for personal fouls for playing beyond the whistle.


Limited route tree.
Bottom Line

It is often easy for evaluators to fall in love with a prospect because he passes the eyeball test physically. By all accounts, Sutton has seen his draft stock increase since the college football season ended, presumably because he looks the part. I'm not so sure his rise is justified. Don't misunderstand what I'm saying; there are times where he looks like should be the first receiver off the board in this draft. The ability to get to a vertical plane most defensive backs cannot reach comes in handy in the red zone, and that ability is always going to have a place in football. He works the sideline better than most big receivers and is better at the double-move than most college prospects. He will even throw in the occasional grab like this one that would make anyone question how he is not a top-10 player in the draft.
Unfortunately, player evaluation isn't about watching highlight tape and forgetting about everything else. At least on his 2016 tape (not only was it his better year statistically, I had more access to the video from that season), Sutton's hand placement was consistently poor. On a number of occasions, his tracking skills or effort could have been called into question, as he either overran or didn't attempt to jump on a number of contested-catch situations. (Here and here are two exceptions.) He's not a good enough route-runner or quick enough at this point to create separation at the pro level - he didn't do a great job of it in college - so I have sincere doubts he is going to be the alpha-dog WR1 teams want - certainly not immediately - from their first-round picks at receiver. In case that isn't enough, Sutton was held to one catch for zero yards against TCU and five catches for 46 scoreless yards versus UCF in 2017 - two of maybe three opponents SMU faced last season which may have future NFL cornerbacks on their rosters.
The high-end projection of Jeffery is lofty despite the fact Sutton's size and workout numbers compare favorably. Sutton could get to that point one day, but Jeffery's tape at South Carolina - at least during his sophomore season in 2010 - was easily more impressive. At this point, Sutton looks much more like his low-end comp in Floyd. There's nothing wrong with that, but the crowd that is buying into Sutton as perhaps the best receiver in this draft is doing so through rose-colored glasses. His great was great in college, but it didn't show up near often enough. Perhaps his concerns are merely a product of him being a relative neophyte to the receiver position, but patience is going to be needed by whatever team drafts him because there are more holes in his game than most teams want in a potential top receiver. The upside is there but at this stage of his development, Sutton profiles as a touchdown-dependent second receiver at best.
---
Doug Orth has written for FF Today since 2006 and been featured in USA Today's Fantasy Football Preview magazine since 2010. He hosted USA Today's hour-long, pre-kickoff fantasy football internet chat every Sunday in 2012-13 and appears as a guest analyst on a number of national sports radio shows, including Sirius XM's "Fantasy Drive". Doug is also a member of the Fantasy Sports Writers Association.