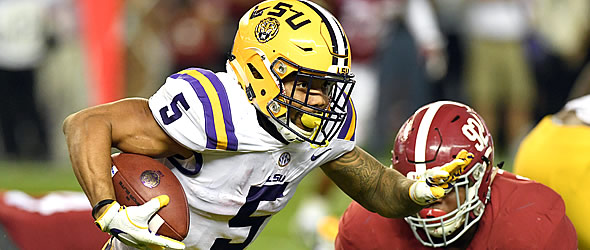 Derrius Guice: A powerful and sometimes violent runner that will create yards after contact.




Vitals



College: LSU
Height/Weight: 5'10"/224
Hands: 9 3/4"



Important NFL Combine Numbers



40-Yard Dash: 4.49
Vertical Jump: 31.5"
Broad Jump: N/A (Pro Day)
20-Yard Shuttle: N/A (Pro Day)
3-Cone: N/A (Pro Day)



Bio/Background

(College Stats)

Only player in SEC history with three career games of 250-plus rushing yards.


Named 2016 Citrus Bowl MVP after running for 138 yards and a touchdown and finishing with three catches for 11 yards and another score.


Holds school records for rushing yards in a game (285; Texas A&M, 2016), longest rushing TD (96 yards; Arkansas, 2016) and rushing yards per carry for a season (7.579, 2016).


His 6.53 career rushing YPC (min. 400 attempts) is also a school record and ranks second in SEC history behind only Bo Jackson (6.62 on 650 carries).


One of five players in school history to rush for at least 3,000 yards in his career and one of five LSU runners with back-to-back seasons of 1,000 rushing yards and 10 rushing TDs.


Dogged by knee injury for the bulk of the 2017 season, yet he still rushed for 1,251 yards and 11 TDs en route to second-team All-SEC honors.
High-end NFL Player Comp(s): Travis Henry (on-field only)
Low-end NFL Player Comp(s): Chris Ivory
Best Scheme Fit: Should be universal, although LSU seemed to favor using him on outside zones and tosses when they wanted to get him on the edge. He has the power, vision and desire to run in between the tackles to thrive in a man-blocking scheme as well.

Note: All times listed in parentheses in strengths/weaknesses section reflect the start time on video - via Draft Breakdown - that displays that skill/trait.
Strengths
Concerns
Needs to drop pad level more often rather than just lowering his helmet when anticipating contact. (0:36, 1:25, 3:19)


Physical running style could lead to shorter career and/or durability issues season after season; takes his fair share of heavy hits. (1:25, 3:19, 3:33)


Has a tendency to carry the ball with his inside arm, making him more susceptible to ball-security issues and less able to use a stiff arm than most backs. (0:46, 1:27, 2:27, 3:50, 5:17)


Ability to contribute as anything more than a dump-off/screen option and/or run pinpoint routes in the passing game is an unknown based on his limited use in that regard in college.


Little evidence he has been asked/trained to square defenders up in pass pro; may require some time before he will be trusted in this area.


What percentage of his decline from 2016 to 2017 can be attributed solely to his knee injury?
Bottom Line

Evaluators will need to ask themselves two questions when it comes to Guice: 1) should I hold his injury-plagued 2017 season against him or use 2016 tape to arrive at my final grade and 2) how much more is he capable of in the passing game (as in can he line up in the slot, run a wheel or angle route, etc.)? If the answers to these questions are 1) 2016 game tape and 2) yes, he has some versatility to his game, then Guice could surprise a lot of folks and give his new team similar bang for the buck that Saquon Barkley will give his new team late in the first round or early in the second. He warrants a second-day draft grade based on his 2017 film, but he only occasionally flashed the quickness and violence that made him such a revelation in 2016. (For what it's worth, a LSU assistant coach is on record as saying Guice wasn't at top speed until the Tigers' Citrus Bowl loss against Notre Dame on New Year's Day.)
Let's assume the assistant coach is right in that we shouldn't even bother wasting our time with Guice's 2017 film. Let's also assume Guice is nothing more than a dump-off/screen option who needs to be replaced on passing downs, even though I don't believe that is the case. At worst, his next team should be getting a two-down pounder who has drawn comparisons to Marshawn Lynch - the player he says he models his game after - and Frank Gore for his no-nonsense, physical inside running style. The main difference at the moment between Lynch and Guice - besides the fact the LSU product is younger and faster - is that Lynch doesn't absorb more punishment than he needs to at this point of his career. Guice will need to do likewise if he wants to remain a productive running back deep into his second NFL contract.
In the end, I opted for the high-end comparison of Henry because he was an inside runner who was among the best I have ever seen in terms of contact balance - keeping his feet/balance after contact. Guice repeatedly flashed the same kind of ability, routinely turning a hard hit into a spin move that allowed him to get into open space and gain a few more yards on a regular basis. In terms of his NFL future, it all boils down to whether or not his next team is getting the 2016 or 2017 version and whether or not he can tone down his physicality a bit. If he is the 2016 version who doesn't have to run angry all the time, he will likely be a multiple-time Pro Bowler and 1,000-yard rusher. If he can't do either one or both, his club may be getting a slightly better version of Ivory or Thomas Rawls.
---
Doug Orth has written for FF Today since 2006 and been featured in USA Today's Fantasy Football Preview magazine since 2010. He hosted USA Today's hour-long, pre-kickoff fantasy football internet chat every Sunday in 2012-13 and appears as a guest analyst on a number of national sports radio shows, including Sirius XM's "Fantasy Drive". Doug is also a member of the Fantasy Sports Writers Association.