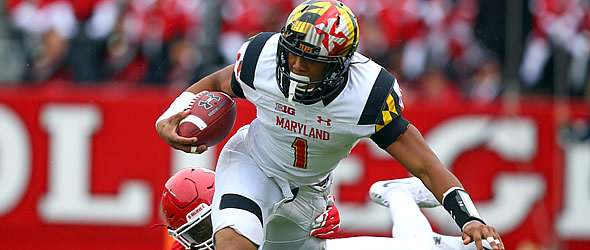 Assuming he embraces NFL coaching, D.J. Moore should eventually be a solid fit in any offense.




Vitals



College: Maryland
Height/Weight: 6'0"/210
Hands: 9 5/8"



Important NFL Combine Numbers



40-Yard Dash: 4.42
Vertical Jump: 39.5"
Broad Jump: 11'
20-Yard Shuttle: 4.07
3-Cone: 6.95



Bio/Background

(College Stats)

Named 2017 Big Ten Receiver of the Year after becoming only the third player in school history to top 1,000 receiving yards (1,033).


Became the first FBS player to record a 1,000-yard receiving season without a quarterback on the team throwing for 1,500 yards since Hakeem Nicks (North Carolina, 2008).


Set the program record for most catches in a single season (80).


One of only three players in FBS in 2017 with at least 80 catches, 1,000 receiving yards and eight receiving touchdowns.
High-end NFL Player Comp(s): Pierre Garcon
Low-end NFL Player Comp(s): Rishard Matthews
Best Scheme Fit: A quick-hitting offense with spread concepts may allow for a quick transition. Assuming he embraces NFL coaching, he should eventually be a solid fit in any offense.

Note: All times listed in parentheses in strengths/weaknesses section reflect the start time on video - via Draft Breakdown - that displays that skill/trait.
Strengths
Powers through contact better than some running backs (2:09) and pick up yards after contact almost at will. (0:41, 1:19, 2:18, 2:56, 3:15)


Unafraid of the middle of the field and willing to put himself in harm's way for the good of the team. (0:07, 1:33, 1:43, 2:38, 3:40)


Got a taste of returning kicks in 2016 and punts in 2017 (15 returns each year).


Highly respected by his college coaches.
Concerns
Despite incredible athleticism, he did not come down with his fair share of 50-50 balls; has to improve tracking/body positioning on such plays. (1:19, 3:17, 3:22, 3:34, 3:49)


Lack of crispness on routes; needs to explode out of breaks more often. (0:01, 0:43, 1:10, 1:16, 3:38)


Does not consistently separate downfield despite explosiveness, especially against the best competition he faced. (0:17, 0:33, 1:26, 2:31, 3:17, 3:22)


Strong enough to defeat press but hasn't learned how to consistently use his hands to do so yet. (1:31, 2:21)


Needs to show more urgency off line of scrimmage to sell the play even when he knows he's not the primary receiver. (0:21, 1:13, 1:38, 1:44, 2:15, 3:05)


Ran a limited route tree.
Bottom Line

A receiver can be an athletic marvel and look ordinary on film if he cannot build chemistry with his quarterback due to circumstance or doesn't understand how to accentuate his own natural gifts. It's important to keep both factors in mind when evaluating Moore, who caught 146 passes from eight quarterbacks in three years at Maryland, including four last season alone. Given that number, it's not hard to cut the Philadelphia native a bit of slack when it comes to such things as his lack of production against teams with NFL-quality corners like Ohio State and Wisconsin or the four-game scoreless streak to conclude his college career. It also makes him more of a true evaluation than someone like Calvin Ridley, because he is not a great route-runner at this point and getting by largely on pure talent. Since there seem to be no questions about Moore's work ethic, it's fair to assume his college coaches may have come up a bit short in teaching him the finer points of being a receiver.
What jumps out almost immediately with Moore is his willingness to get physical, be it after the catch, as a runner or a blocker. (This play was an eye-opener to me and may be the best example of his aforementioned power.) That's a big feather in his hat and something that figures to endear him to his NFL team immediately. With that said, Moore is a tough nut to crack. On one hand, he is a nightmare for defenses because he is a freaky athlete who has no fear running routes over the middle and becomes a running back in the open field with his ability to break tackles. On the other hand, the aforementioned explosiveness seems to disappear on deeper routes and 50-50 balls against respectable competition. After all, 6-0 receivers who boast a 40-inch vertical and run 4.4 should be able to create a fair amount of separation more often than not at the college level.
Thankfully, most of his current "concerns" are shortcomings any NFL receivers coach should be able to fix in short order. However, I'm not sure all of them can get ironed out over the course of one offseason/training camp, so his next team may not see a huge return as a rookie - unless it is willing to use him right away in the slot and/or draw up a "D.J. package." I believe his long-term home will be as an outside receiver - one capable of becoming his team's primary option down the road - assuming he can smooth out his rough spots. (He certainly has the athletic profile, but again, the transition will take time.) In a best-case scenario, Moore will serve as the complement to a veteran on the back nine of his career, with the goal being that the youngster can take the reins from him sometime late in 2019. While the allure of the third-year breakout for a receiver seems to have died down in recent years, it wouldn't be the least bit surprising if it takes Moore about that long to make a huge splash in the league. I am confident, however, he will not be a one-hit wonder if/when it happens.
---
Doug Orth has written for FF Today since 2006 and been featured in USA Today's Fantasy Football Preview magazine since 2010. He hosted USA Today's hour-long, pre-kickoff fantasy football internet chat every Sunday in 2012-13 and appears as a guest analyst on a number of national sports radio shows, including Sirius XM's "Fantasy Drive". Doug is also a member of the Fantasy Sports Writers Association.