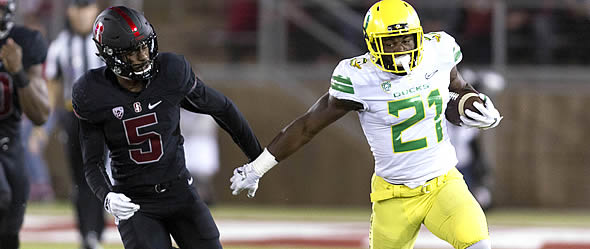 Royce Freeman: The Denver Broncos may have picked up their starting running back in the 3rd round.
3.07 – RB Royce Freeman, Broncos
If Denver is getting the 2015 pre-injury version of Freeman, meet the Week 1 starter at running back for the Broncos. He suffered a knee injury early in 2016 and hasn't really displayed the same level of explosiveness since. If he can ever get back to the way he looked as a sophomore, he will be a steal. Freeman piled up over 1,000 offensive touches (947 carries) at Oregon, so wear-and-tear could be a concern and it may be a good idea for Denver to ease him as a rookie. At the very least, Freeman should be the clear top option at the goal line for what should be a much better offense in 2018. Expect a running-back-by-committee attack to begin the season with Devontae Booker leading the way, but Freeman could take over the job at any point. For that reason, he is well worth a later-round pick (think Rounds 7-10) in redraft and late first-round pick in rookie drafts.
3.12 - QB Mason Rudolph, Steelers
Rudolph throws the best deep ball of any quarterback in this class. For that reason alone, he makes a ton of sense for the Steelers as the potential heir apparent to Ben Roethlisberger. The Oklahoma State product was considered a borderline first-round pick by some, so this pick checks a lot of boxes. Unfortunately, Rudolph's value in fantasy is limited as long as Big Ben is still employed by the Steelers, so he can pretty much be ignored in all formats for the time being.
3.17 – WR Michael Gallup, Cowboys
The Cowboys got lucky on this one without question, getting a player I believe is the last potential lead receiver left on the board in the middle of the third round. Gallup has a bit of Michael Crabtree in his game, but I believe he is a more advanced version of Davante Adams at the same time in their respective careers. While Gallup isn't where Adams was (or is) in terms of high-pointing the ball and will drop a few he should haul in, he has nice burst off the line of scrimmage and shows the ability to get open at all three levels. Better yet, he turns into a running back after the catch. Because of this, he's probably going to be used more in the short-to-intermediate passing game in the NFL. Consider the departure of Dez Bryant and the utter lack of potential lead receiver candidates on the roster, Gallup should be considered a high-end WR3 in redraft. He may not have the highest upside at receiver for dynasty purposes, but he should be considered the favorite to lead his position group in fantasy scoring as a rookie.
3.22 – TE Mark Andrews, Ravens
After drafting Hayden Hurst in the first, Baltimore does a double dip at tight end with this pick. Given how much Baltimore likes using tight ends, there figures to be room for both to produce. Despite the fact they play tight end in theory, Andrews is more of an oversized slot who the Ravens will to mold into the new Dennis Pitta. Unsurprisingly, one of Baker Mayfield's favorite targets is a limited athlete, so he figures to be more of a chain-move than red zone maven or seam-stretcher. Andrews can be ignored in most redraft leagues, and he figures to be worth no more than a third-round rookie draft pick.
3.27 – WR Tre'Quan Smith, Saints
Smith dramatically improved his stock at the NFL Combine by running a 4.49 and exploding for a 130-inch broad jump after leading UCF in receiving in 2017. The 6-2, 203-pounder has very long arms (33 3/8 inches) for a receiver and a good vertical jump (37.5 inches), which makes him yet another weapon in New Orleans' wide receiving corps. Unfortunately, it's hard to imagine him bypassing Michael Thomas, Ted Ginn Jr. or Cameron Meredith on the depth chart anytime soon, making him worth avoiding for redraft fantasy purposes. He is also not worth anything more than a third-round pick in rookie drafts.
3.34 – TE Jordan Akins, Texans
Houston's need for a tight end wasn't a huge one, but given its current depth chart (Ryan Griffin and Stephen Anderson) there isn't particularly awe-inspiring options following the retirement of C.J. Fiedorowicz. Akins moves well for 250 pounds and is an above-average athlete overall, but he's mostly a bigger and older (he's already 26) version of Anderson and not the traditional in-line tight end the Texans would have preferred. Akins' only shot at carving out an offensive niche is beating out the injury-prone Anderson, whose ceiling is usually serving as a part-time detached tight end/slot. As such, Akins is a longshot to be worth a selection in a rookie draft, much less redraft formats.

---
Doug Orth has written for FF Today since 2006 and been featured in USA Today's Fantasy Football Preview magazine since 2010. He hosted USA Today's hour-long, pre-kickoff fantasy football internet chat every Sunday in 2012-13 and appears as a guest analyst on a number of national sports radio shows, including Sirius XM's "Fantasy Drive". Doug is also a member of the Fantasy Sports Writers Association.