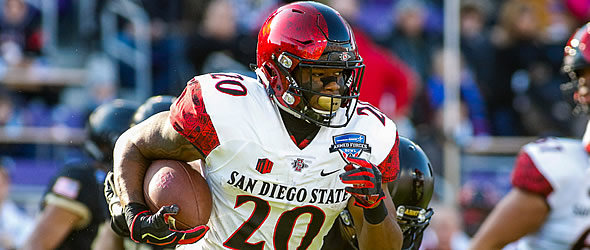 Ideally, Penny begins his pro career as a physical early-down complementary back in a committee.




Vitals



College: San Diego State
Height/Weight: 5'11"/220
Hands: 9 1/4"



Important NFL Combine Numbers



40-Yard Dash: 4.46
Vertical Jump: 32.5
Broad Jump: 10'
20-Yard Shuttle: N/A
3-Cone: N/A



Bio/Background

(College Stats)

Only the third Aztec to earn consensus All-America honors, joining Marshall Faulk (1992, 1993) and Kyle Turley (1997).


Finished fifth in the Heisman Trophy voting after posting the fifth-highest single-season rushing yardage total in FBS history in 2017 (2,248) as well as the fifth-highest single-season all-purpose yardage total (2,974).


One of four FBS running backs to ever record five straight 200-yard rushing games (Marcus Allen, Barry Sanders and Jamario Thomas).


Won Mountain West Special Teams Player of the Year in three consecutive seasons (2015-17); eight career return scores, including seven on kickoffs (tying a NCAA record).


Set an Armed Forces Bowl record with 221 yards rushing and scored a career-high four rushing touchdowns on only 14 carries in his final college game.
High-end NFL Player Comp(s): Thomas Jones
Low-end NFL Player Comp(s): Peyton Barber
Best Scheme Fit: As an early-down back in a zone-blocking scheme initially, at least until he can be trusted as a blocker in the passing game.

Note: All times listed in parentheses in strengths/weaknesses section reflect the start time on video - via Draft Breakdown - that displays that skill/trait.
Strengths
Near-ideal size with limited wear-and-tear. (487 career carries).


Hard-nosed runner who loves to challenge defenders between the tackles. (0:35, 1:26, 2:43, 3:00, 3:06, 4:07)


Possesses the vision and anticipation to see/feel cutback opportunities, presses the hole and doesn't bounce many runs outside needlessly. (0:11, 0:42, 2:35, 3:23, 3:39, 4:07, 9:33)


Used short, measured steps to set his runs up behind the line of scrimmage (1:22, 2:24, 4:07, 5:23) and patient enough to let his blockers do their job. (0:01, 0:38, 2:35, 7:59)


Squeezes through the smallest of creases and drags/punishes tacklers. (2:05, 2:24, 2:43, 4:57, 5:23)


Can catch away from his frame and is serviceable as a check-down option in the passing game. (2:07, 2:42, 2:51, 4:06, 5:15)


Concerns
Occasionally too upright when running through the first level and goes down too easily other times. (0:01, 0:50, 1:32, 1:53, 2:34, 3:40)


Ball security not a huge concern (three fumbles - two lost - on 308 offensive touches in 2017), although he struggled with it during Senior Bowl practices.


Limited involvement in the passing game (42 career receptions).


Split out on occasion but didn't get much of a chance to show off route-running sophistication.


Bottom Line

Penny leads all running backs in this draft class with 3.32 yards per carry when contacted at or behind the line of scrimmage. He broke 82 tackles as a runner and receiver - over 20 more than any of his draft classmates - and led them all in broken tackle rate. His 31 runs of 15-plus yards also ranks first. (All stats per Pro Football Focus.) Now let's put some context on those analytics. He averaged 3.8 YPC, 76.3 rushing yards per game and scored a total of one rushing touchdown against the three defenses he faced who ranked inside the top 50 in run defense. He averaged 8.9 YPC, 201.9 yards per game and ran for 22 TDs versus the other 10 run defenses - all of which ranked 55th or lower, including five who finished 110th or worse. Regarding his impressive numbers when contacted near the line of scrimmage, this is your latest reminder not all "contact" is created equal. That especially seemed to be the case with Penny, who rarely got squared up by tacklers regardless of where he was on the field.
A between-the-tackles grinder who often got to the edge, Penny frustrated me with his inability to pull away from second-level defenders. On most of his big runs, he didn't need to hit the gas because there was no one even within five yards of him - something that is hardly his fault - but evaluators want to see backs who can destroy defensive pursuit angles and that was not often the case with him. Most of Penny's huge runs can be attributed to the fact most of the Aztecs' opponents didn't have the athletes on defense to make up ground on Penny once he got a head start. (To that end, his longest run against the aforementioned top three run defenses was 25 yards … on 61 carries.) Combine his talent with a ton of volume and add above-average offensive line play plus a host of bottom-half Division I run defenses together, and we have a running back who should rush for around 2,000 yards.
Ideally, Penny begins his pro career as a physical early-down complementary back in a committee. If he can play to his timed speed more often and become even an average pass-blocker (he is easily the worst of the backs I have evaluated so far), then he's got a shot at being a three-down back in the NFL. However, it cannot be assumed every back will evolve into a good blocker, so this weaknesses should not be taken too lightly. Fortunately, he appears to be a capable receiver, so perhaps he can earn the trust of his team in all facets of the passing game by his second year. In the meantime, he should provide immediate value on special teams; the same vision and patience that serves him well as a runner should translate to the next level as a returner. As a running back, his playing style - between the tackles - should make him a coach's favorite. While I'm not going to forecast greatness in his future barring a perfect landing spot, he is more than capable of a solid if unspectacular career in the league.
---
Doug Orth has written for FF Today since 2006 and been featured in USA Today's Fantasy Football Preview magazine since 2010. He hosted USA Today's hour-long, pre-kickoff fantasy football internet chat every Sunday in 2012-13 and appears as a guest analyst on a number of national sports radio shows, including Sirius XM's "Fantasy Drive". Doug is also a member of the Fantasy Sports Writers Association.