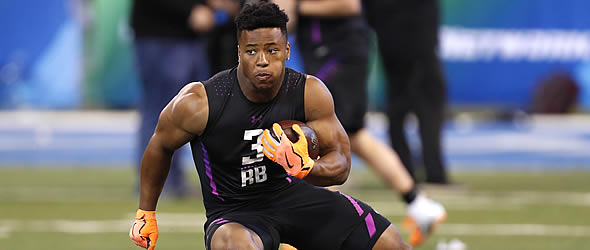 The unquestioned No.1 RB in this year's draft class should be a top 5 RB pick in fantasy drafts.




Vitals



College: Penn State
Height/Weight: 6'/233
Hands: 9 1/2"



Important NFL Combine Numbers



40-Yard Dash: 4.40
Vertical Jump: 41"
Broad Jump: N/A
20-Yard Shuttle: 4.24
3-Cone: N/A



Bio/Background

(College Stats)

Great-uncle is three-weight world champion boxer Iran Barkley.


Set a school record for a freshman in 2015 with 1,076 yards rushing, leading to Freshman All-American and second-team All-Big Ten honors.


Set another program mark in 2016 for the most rushing yards as a sophomore (1,496), leading to All-Big Ten first-team honors.


Two-time Big Ten Offensive Player of the Year in 2016 and 2017.


Was one of only six FBS players to score four or more offensive touchdowns of 65-plus yards in 2017.


First running back in school history to amass over 1,000 career receiving yards.


Program's all-time rushing touchdown (43) and total touchdown (53) record holder; finished his career second in school history in career rushing yards (3,843).


High-end NFL Player Comp(s): LaDainian Tomlinson
Low-end NFL Player Comp(s): Fred Taylor
Best Scheme Fit: Universal.

Note: All times listed in parentheses in strengths/weaknesses section reflect the start time on video - via Draft Breakdown - that displays that skill/trait.
Strengths
Concerns
Will make a poorly blocked run worse by giving up ground and sometimes even turning his back to the line of scrimmage; shows a tendency to probe too long and will need to run north-south on a more regular basis as a pro. (0:28, 4:00, 6:26)


Carries the ball with his inside arm, making him more susceptible to fumbles and less able to use a stiff arm than most backs. (1:47, 3:03, 4:31)


Won't always square up his defender and periodically puts his head down as a blocker. (2:10, 3:19, 7:00)


Sporadic concentration drops; occasionally takes his eyes off the ball when expecting an oncoming defender. (4:10, 4:35)


Appeared to try to take things into his own hands in search of a big play when defenses started selling out to stop as the season wore on.


Ran almost exclusively out of the shotgun in college.

Bottom Line

Barkley's 2017 game against Iowa may be the most impressive piece of film I have seen from a running back prospect. With most draft-eligible backs, I need to review roughly six games to get enough good video for his "strengths." With Barkley, I pretty much had what I needed after one. He is the rare running back prospect who can legitimately turn any play into a big play, and often does so within the framework of the play call and not because he is trying to make a highlight. With most college backs, scouts can struggle to pick out more than one good quality the player is showing off on some of his best runs. Barkley often displays three or four. Perhaps most impressively, one has to consistently remind him/herself that he/she is watching a 230-pound back make moves that would make LeSean McCoy proud.
Critics may be quick to point out Barkley produced a lot of zero-gain or negative runs throughout his college career. While that may be true, very few stats in football stand on their own and/or don't require some degree of context. Barkley averaged nearly six yards per carry throughout his three-year college career in a shotgun-based offense behind an offensive line that may very well end up not having a single player make a NFL roster (or at least stick around very long). Whereas many college backs can often thank their blockers for at least half of the yards they gain on any given play, Barkley routinely turned what should have been third-and-long situations into third-and-short or first downs by making unblocked (or poorly blocked) defenders miss frequently enough to find a hole.
Without getting into the tired and often pointless "Player X is the best prospect at his position since …" discussion, the sky is truly the limit for Barkley. Tomlinson - or for those folks old enough to remember Fred Taylor in his prime (when he wasn't injured) - are fair comparisons for a player who will bring instant credibility to any running game and force defenses to make him the focal point of their game plans. If Barkley somehow fails to become a Pro Bowl-caliber back within the first year or two of his pro career, it will be because his offensive line and/or coaching staff let him down in a big way. In a lot of ways, he is a stronger version of Christian McCaffrey with about 30 more pounds on his frame. Barkley is as much a physical marvel as he is an incredible football player - a combination that makes him a worthy No. 1 overall pick in the NFL Draft.
---
Doug Orth has written for FF Today since 2006 and been featured in USA Today's Fantasy Football Preview magazine since 2010. He hosted USA Today's hour-long, pre-kickoff fantasy football internet chat every Sunday in 2012-13 and appears as a guest analyst on a number of national sports radio shows, including Sirius XM's "Fantasy Drive". Doug is also a member of the Fantasy Sports Writers Association.