As much as the league tries to legislate defense out of the game, owners need to understand matchups will always play a fairly big role in how an offense attacks a defense does on a game-to-game basis. One of my bigger frustrations as a fantasy owner is the utter lack of easily accessible analytics to understand which receiver-cornerback matchups should be targeted and which ones should be avoided without always crunching the tape.

Six years ago, I introduced "The Dirty Dozen" and "The Delicious Dozen" around Thanksgiving time. The idea then - as it is today - was to identify negative and positive receiver matchups, respectively, as a way to prepare owners for the upcoming stretch of fantasy games that usually determine who moves on and who doesn't.

Receiver-cornerback matchups are among the most critical ones in the real game, yet very few fantasy analysts spend any time breaking them down in much detail for what I can only imagine is a general lack of readily available information. Until all owners can enjoy the same kind of access to defensive "production" as the privileged few, there will be thousands of owners who will avoid matchups against the Washington Redskins' Josh Norman or the Minnesota Vikings' Xavier Rhodes due to name recognition. Norman is allowing 68.9 percent of the passes thrown in his direction to be caught this year. Rhodes is at 85.5! The point to be made here is the fantasy industry as a whole isn't nearly as sharp on who is playing well defensively on a week-to-week basis and will tend to rely on name recognition when it comes to avoiding a potential matchup. The truth is defensive players ebb and flow in much the same way offensive players do.

Note: My cutoff for this piece was 300 coverage snaps. At roughly 30 coverage snaps per game, we should be able to eliminate any players who aren't "full-timers." Below each write-up is the remaining schedule and the projected matchups each corner should see in coverage in that week. Please keep in mind that receivers move across the formation a lot, while most defensive coordinators seem to favor keeping their corners on one side of the formation, so this is far from an exact science.

In cases in which a receiver there isn't a discernible difference in how often a receiver plays on one side of the field or the other (which is quite common), the most likely player to see coverage from the cornerback below will be listed first and the receiver expected to see slightly less of him will be listed second.

*** - Indicates the cornerback has been/will be used as a "shadow"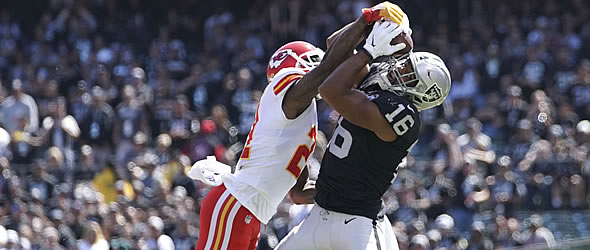 12. Nickell Robey, LAR(Passer Rating Against: 77.7)
* Spends 95 percent of his time in the slot.

The trade for Jalen Ramsey may have seemed a bit over the top in terms of compensation and overall draft capital, but it's hard to blame the Rams for doing what they had to in order to make sure they had at least two quality - if not high-end - cornerbacks. With offenses using so much 11 personnel (one back, one tight end, three receivers) nowadays and Los Angeles DC Wade Phillips a big proponent of man coverage, having at least two cornerbacks he can trust in single coverage is a must. Per Pro Football Focus, Robey-Coleman has graded out in coverage slightly below or above an 80 (100-point scale) in four of the last six games - the No. 1 player on this list has topped 80 only three times this season - so he's getting the job done lately. Making his spot on this list even more impressive is the fact he sees plenty of the opponent's No. 1 receiver as a way to escape Ramsey's coverage on the outside. Despite checking in at 5-8 and 180 pounds, he's holding up pretty well.

Week 12: Willie Snead/Marquise Brown (Baltimore)
Week 13: Larry Fitzgerald/Christian Kirk/Pharoh Cooper (Arizona)
Week 14: Tyler Lockett (Seattle)
Week 15: Randall Cobb (Dallas)
Week 16: Kendrick Bourne/Emmanuel Sanders (San Francisco)

11. Marlon Humphrey, BAL (Passer Rating Against: 77.5)
Humphrey played well against the Dolphins in Week 1 (who didn't?) but had his ups and downs over the next three games. His snaps in the slot increased dramatically in Week 5 and that has been his primary home since, even before the trade for Marcus Peters or the return of Jimmy Smith. However, the presence of Peters and Smith have enabled the Ravens to keep Humphrey inside even more. To that end, Humphrey hasn't logged fewer than 41 slot snaps since in the last four games. Baltimore is facing plenty of three-wide sets in part because they are playing with the lead so often, but he's not limited to just playing inside as he is generally recognized as the team's best corner and plays ahead of Smith when there are only two receivers on the field. The Ravens are not averse to using Humphrey as a shadow - he was utilized in that fashion for five consecutive games from Weeks 3-7 - but again, the play of Peters and Smith has made it less necessary. He can be beat - Tyler Lockett caught all four of his targets for 52 yards and a touchdown in his coverage in Week 7 - but the fact he's given up only 28 catches (and two TDs) on 50 targets this season should be about all fantasy owners need to know about the prospects of their receiver faring well against him.
Week 12: Cooper Kupp (LA Rams)
Week 13: Kendrick Bourne/Emmanuel Sanders (San Francisco)
Week 14: Cole Beasley (Buffalo)
Week 15: Jamison Crowder (NY Jets)
Week 16: Jarvis Landry/Odell Beckham Jr. (Cleveland)
10. Bashaud Breeland, KC (Passer Rating Against: 76.9)
Every year, this two-part series turns up some interesting results. This year is no different, as Breeland's PFF coverage grade is a woeful 41.2. In fact, he's only graded above 60 three times. Meanwhile, he's given up a passer rating of at least 95.8 five times! So how does someone with those credentials make a list like this? Well, a good start is by not giving up a touchdown or more than 52 yards receiving in the other six contests. Another contributing factor: he has allowed only 13 of 31 passes thrown in his direction over that same "good" stretch to be completed. Although he did get used as a quasi-shadow against Tyrell Williams and T.Y. Hilton earlier in the season, Breeland spends the bulk of his time at left cornerback (86 percent prior to Monday's game against the Chargers). Two of his worst games (from a passer rating against standpoint and not from a coverage grade perspective) were in Weeks 10 and 11, which came on the heels of his best day (Week 9) of the season (39.6 passer rating against). Given his inconsistency, Breeland should be considered more of a neutral matchup than most of the other players on this list.
Week 12: bye
Week 13: Zay Jones/Tyrell Williams (Oakland)
Week 14: Phillip Dorsett/Julian Edelman (New England)
Week 15: Tim Patrick (Denver)
Week 16: Taylor Gabriel/Allen Robinson (Chicago)
9. Charvarius Ward, KC (Passer Rating Against: 72.8)
For most of the season, fantasy owners have been told to avoid using outside receivers against the Chiefs. Whether or not anyone wants to believe Kansas City's "success" against outside receivers is a bit of a product of the run defense being so bad - thus limiting the number of opportunities opponents have to beat them in the passing game - is a worthy discussion. Unlike Breeland, however, Ward's coverage grades and passer rating against totals at least match up. The second-year pro has yielded a passer rating against mark higher than 80.2 only three times and graded lower than 60 in coverage only twice. Like most teams, Kansas City doesn't move its corners around much, so Ward has essentially operated opposite Breeland all season long, spending 86 percent of his snaps at right cornerback (again, prior to Monday's game against the Chargers). For what it's worth, he has been roughed up a bit in the last two weeks, giving up three catches on three targets for 81 yards in Week 10 and surrendering a 50-yarder on the only reception he allowed on five targets in Week 11. Still, for fantasy purposes, he is more of a matchup to avoid than Breeland.
Week 12: bye
Week 13: Tyrell Williams/Zay Jones (Oakland)
Week 14: Julian Edelman/Phillip Dorsett (New England)
Week 15: Courtland Sutton (Denver)
Week 16: Allen Robinson/Taylor Gabriel (Chicago)
8. Ross Cockrell, CAR (Passer Rating Against: 63.6)
* Currently nursing a quad injury.
With James Bradberry, Donte Jackson and Cockrell all taking turns coming down with injuries lately, it's been hard to pin Cockrell down to one particular role in this defense. In theory, he is the primary slot corner when everyone is healthy. At the moment, however, he's the one that is sidelined. Unfortunately, ever since HC Ron Rivera suggested Cockrell had "earned the right to continue playing" about a month ago, his level of play has fallen off. In fact, two of his worst three games came in Weeks 9 and 10 (he didn't play in Week 11). The Panthers would prefer using Bradberry and Jackson as the outside corners, so it's fair to assume Cockrell will resume playing the slot on a regular basis once he is able to return to action. While Cockrell is sidelined, Javien Elliott has been the primary slot defender for the Panthers. Elliott gave up a 13-yard catch the only time he was targeted in Week 11 but has held up reasonably well in limited snaps prior to that. Carolina has not been a particularly good fantasy matchup for receivers all season long, but it appears Cockrell is the one to lean toward should owners find themselves in a situation where they must choose.
Week 12: Tre'Quan Smith/Michael Thomas (New Orleans)
Week 13: Trey Quinn (Washington)
Week 14: Russell Gage (Atlanta)
Week 15: Tyler Lockett (Seattle)
Week 16: Parris Campbell/Chester Rogers (Indianapolis)
7. Janoris Jenkins, NYG (Passer Rating Against: 62.2)
* Spends 78 percent of his snaps at right cornerback.
"Jackrabbit" got off to a terrible start this season, highlighted (or perhaps lowlighted is a better word choice) by Mike Evans' huge day against him in Week 3. Ever since that game in which he gave up eight catches on 14 targets for 188 yards and three touchdowns in his coverage, Jenkins has been exceptional. In fact, the 84.0 passer rating against mark he allowed in Week 10 was easily his worst effort since. He has not allowed a touchdown in his coverage since the Evans disaster and only 103 yards over that seven-game span. Even more impressively, he has surrendered a total of 34 receiving yards over the last four weeks! Jenkins hasn't shadowed since Week 3 and spends the bulk of his time at right cornerback, which has unfortunately left rookie DeAndre Baker to get torched on the left side. (Spoiler alert: there's a good chance Baker's name will appear in this column next week.)
Week 12: Taylor Gabriel/Allen Robinson (Chicago)
Week 13: Davante Adams/Allen Lazard (Green Bay)
Week 14: Jordan Matthews (Philadelphia)
Week 15: Allen Hurns (Miami)
Week 16: Terry McLaurin (Washington)
6. Tre'Davious White, BUF (Passer Rating Against: 60.8) ***
* Spends 92 percent of his time on the left side of the defense, although he has operated in more of a shadow role against Terry McLaurin, Odell Beckham Jr. and Devante Parker in the last three weeks.
White seems to finally be getting his due this season, presumably because the Bills are a winning team in 2019. Although he had a bit of a down year by his standards last season, he is what he has always been since entering the league in 2017: someone to avoid in fantasy. Although Parker posted a 5-80-0 line in his coverage last week, White held McLaurin (four targets) and Beckham Jr. (10 targets) to identical 3-27-0 lines the previous two weeks. Somewhat amazingly, the LSU product has allowed only five touchdown catches in his coverage through 2 1/2 years in the league, including none this season. Like just about every cornerback in the league, he will give up some yards from time to time, but owners had better hope their receiver moves around the formation if they want to have any shot of having a decent fantasy day. With that said, Buffalo is just a bad matchup for most fantasy receivers period, as RCB Levi Wallace and slot CB Taron Johnson have also held up well in 2019.
Week 12: Courtland Sutton (Denver)
Week 13: Amari Cooper (Dallas)
Week 14: Marquise Brown (Baltimore)
Week 15: JuJu Smith-Schuster (Pittsburgh)
Week 16: Mohamed Sanu/Julian Edelman (New England)
5. James Bradberry, CAR (Passer Rating Against: 60.2) ***
* A shadow of the stars. He has followed Mike Evans (twice), DeAndre Hopkins and Julio Jones this season but has logged 73 percent of his snaps at left cornerback overall.
Bradberry injured his groin in Week 9 and missed Week 10 before returning in Week 11. Unfortunately, that only partially explains how he has surrendered a passer rating against of over 100 in three straight contests and four of his last five. This seems like a good time to remind readers that cornerbacks are rarely ever a 16-game shutdown corner or 16-game liability, although it is obvious after a while that some find themselves on the verge of being the former much more often than others and vice versa. Bradberry's passer rating against for the season is significantly lower now than where he ended up in his first three seasons, while his coverage grade is roughly the same. The big difference is that he has yet to yield a touchdown catch in his coverage, which is notable when we consider the quality of players he has shadowed already. Much like Tre'Davious White above, Bradberry's coverage does not necessarily mean a receiver will be shut down, but it does likely mean he won't have a particularly big day.
Week 12: Michael Thomas (New Orleans)
Week 13: Terry McLaurin (Washington)
Week 14: Julio Jones (Atlanta)
Week 15: D.K. Metcalf (Seattle)
Week 16: T.Y. Hilton (Indianapolis)
4. Marcus Peters, BAL (Passer Rating Against: 54.9)
* His passer rating is a combination of his first six games of the Rams and his first four with the Ravens. He has spent at least 40 percent of his time on the left and right side of the formation with Baltimore.
Crab cakes appear to suit Peters more than the glitz and glamor of Los Angeles. Since arriving in the Charm City, the former Ram has allowed a passer rating against of 36.6. In six games with Los Angeles prior to the trade, it was 97.4. In his only full season with the Rams in 2018, it was 109.7. What seemed apparent during his time in Kansas City and especially in Los Angeles was that Peters is more of a second cornerback type that probably isn't going to fare very well against a superstar receiver, but he'll function much better when he either knows he has help from a safety or is otherwise allowed to use his instincts without suffering from a fear of getting beat (thus making him more of a corner who should match up against an opponent's complementary receiver). Peters has run back more interceptions for touchdowns with the Ravens (two) than he's allowed in his coverage (zero), which has undoubtedly led to him grading out well in coverage. Another area that's changed: he's allowing 53.6 percent of the throws in his direction to get caught with Baltimore, significantly lower than his 62.5 percent catch rate over his first six games with the Rams.
Week 12: Brandin Cooks/Josh Reynolds (LA Rams)
Week 13: Deebo Samuel (San Francisco)
Week 14: Isaiah McKenzie (Buffalo)
Week 15: Robby Anderson, Demaryius Thomas (NY Jets)
Week 16: Odell Beckham Jr., Rashard Higgins (Cleveland)
3. Casey Hayward, LAC (Passer Rating Against: 52.7) ***
* Hayward hasn't technically shadowed a receiver since Week 7. There may have been extenuating circumstances as to why he didn't travel with Davante Adams or Tyreek Hill. Adams was a game-time decision in Week 9, while Hill got hurt early in Week 11.
Hayward's presence on this list should not come as a surprise. Last season was a down year by his standards (five TDs allowed, no interceptions), but 2019 is shaping up to be the third time in four years with the Chargers in which he has allowed a passer rating in the 50s and his coverage grade will likely end up somewhere in the 80s. He's allowed only one touchdown and quarterbacks are completing just under half of their passes in his coverage this season. He has given up 11 or fewer receiving yards in seven of his 11 games. Most impressively, he's allowed a total of one catch on nine targets for no yards in the last four contests! As is typically the case nowadays, teams with legitimate shadow cornerbacks don't use them as such every week, instead saving them for when the opponent has a true stud receiver. That is legitimately bad news for most of the names below, as only the best route-runners (Adam Thielen among them) should be trusted to do much of anything against the likes of Hayward.
Week 12: bye
Week 13: Courtland Sutton (Denver)
Week 14: D.J. Chark (Jacksonville)
Week 15: Adam Thielen (Minnesota)
Week 16: Tyrell Williams (Oakland)
2. Stephon Gilmore, NE (Passer Rating Against: 43.5) ***
No team plays more man coverage than the Patriots and no defense has utilized one cornerback in shadow coverage more frequently than New England has with Gilmore. It's not hard to understand why either. Although the competition hasn't been the greatest, the former Buffalo Bill is allowing a 45.9 percent catch rate in his coverage. He has yet to surrender a touchdown in 2019 after giving up six last year. Despite following the other team's best receiver on roughly 75-80 percent of his snaps this season, no individual receiver has more than four catches or 51 yards in his coverage. With some of the game's most elite receivers coming up over the next three weeks, it's possible HC Bill Belichick and his defensive brain trust opt to go with a strategy they've utilized in previous years - sticking Gilmore on the opponent's No. 2 receiver and putting the No. 2 corner (likely Jason McCourty in this case) on the stud receiver while giving him safety help. Either way, throwing on New England has been a losing proposition for most of the season. Most owners cannot sit the first three names on the list below, but expectations need to be severely tempered.
Week 12: Amari Cooper (Dallas)
Week 13: DeAndre Hopkins (Houston)
Week 14: Tyreek Hill (Kansas City)
Week 15: A.J. Green/Auden Tate (Cincinnati)
Week 16: John Brown (Buffalo)
1. Richard Sherman, SF (Passer Rating Against: 43.2)
* Spends 98 percent of his snaps at left cornerback.
Sherman's Achilles injury in 2017 was supposed to be the beginning of the end, which was one reason why Seattle released him. He had a decent season in 2018 despite spending most of it on the injury report, although nothing close to the standard he set while headlining the Legion of Boom. Well, the old Sherm is back. While San Francisco's pass rush is certainly helping him out, quarterbacks are hardly even targeting him in 2019. (Only Cleveland threw the ball in his direction more than five times.) Only Chris Godwin in Week 1 has scored a touchdown in his coverage. He has allowed a total of 185 yards on 21 catches. It's not hard to see where this is going. If there is any good news for opponents, it's that Sherman pretty much doesn't move off his left cornerback spot. The problem is RCB Emmanuel Moseley and slot corner K'Waun Williams are also playing well. Despite that, it probably goes without saying they are the players that fantasy owners and quarterbacks are going to want to target if they have to pick a matchup against this defense.
Week 12: Allen Lazard (Green Bay)
Week 13: Miles Boykin (Baltimore)
Week 14: Ted Ginn/Michael Thomas (New Orleans)
Week 15: Calvin Ridley/Julio Jones (Atlanta)
Week 16: Robert Woods (LA Rams)
Other notable corners who missed the list due to lack of coverage snaps or otherwise (passer rating against in parentheses): J.C. Jackson, New England (18.9), Quinton Dunbar, Washington (51.3); Troy Hill, LA Rams (62.0); K'Waun Williams, San Francisco (64.6); Tre Herndon, Jacksonville (65.9); Denzel Ward, Cleveland (68.1); Donte Jackson, Carolina (74.9)
---
Doug Orth has written for FF Today since 2006 and been featured in USA Today's Fantasy Football Preview magazine since 2010. He hosted USA Today's hour-long, pre-kickoff fantasy football internet chat every Sunday in 2012-13 and appears as a guest analyst on a number of national sports radio shows, including Sirius XM's "Fantasy Drive". Doug is also a member of the Fantasy Sports Writers Association.