Predict the top ten picks of the NFL Draft for a chance to win FFToday prizes. Enter our NFL Draft Contest now.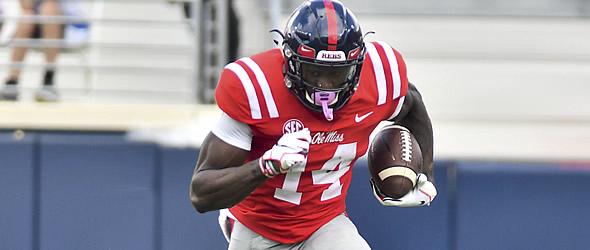 D.K. Metcalf is a wonderful piece of clay waiting to be molded by the NFL's version of Michelangelo.




Vitals



College: Ole Miss
Height/Weight: 6'3"/228
Hands: 9 7/8"



Important NFL Combine Numbers



40-Yard Dash: 4.33
Vertical Jump: 40.5"
Broad Jump: 134"
20-Yard Shuttle: 4.4 (Pro Day)
3-Cone: 7.25 (Pro Day)



College Production

(Stats)


High-end NFL Player Comp(s): Josh Gordon (on-field only)
Low-end NFL Player Comp(s): Greg Little

Best Scheme Fit: Given his limited exposure to any semblance of a route tree in college, he probably needs to begin his NFL career as a deep-ball and red zone specialist. To what degree he is able to master the nuances of route-running will determine whether or not he can reach the All-Pro ceiling he has from a talent perspective.

Strengths
Among peers of similar size/weight, physical dimensions/athletic profile as impressive as Julio Jones and Calvin Johnson, if not more so.


Massive wingspan (arms are nearly 35" long) and hand size - along with vertical jump - give him a ridiculous catch radius.


Shows ability to set up deep route and beat press coverage, while elite speed almost forces defenses to tilt coverage in his direction. (0:09, 0:41, 2:33, 3:17)


Balance and lower-body strength allows him to stay upright even if trailing defender gets a decent swipe at his legs from behind. (0:00, 2:25)


Can catch away from his body and track the ball over his shoulder (0:00, 1:05, 2:17, 3:17, 4:35); more than capable at high-pointing and in contested catch situations. (0:38, 1:41,1:57, 4:35, 5:49)


Exhibits good field awareness for a player with such relatively little experience. (0:38, 2:25, 3:17, 4:35)


Concerns
Durability (limited to two games in 2016 with broken foot, limited to seven games in 2018 with neck injury).


Extremely limited route tree (71 percent of his patterns over the last two seasons were either go routes or hitch routes, per Pro Football Focus).


Surprisingly average after the catch in confined area; a bit stiff and too upright in those situations; needs to lower his center of gravity and be able to accelerate faster. (0:00, 1:30, 1:34, 1:49, 3:42)


More concentration drops working back to the ball than a player with his lack of volume should have. (0:44, 1:09)


Doesn't always sell short route (0:33, 2:15) and should be able to get more separation on comeback routes than he does. (0:51, 1:22, 2:05, 2:14)


Bottom Line

Analysts have spent a lot time talking about Metcalf's lack of production and durability. Regarding the first point, consider this: Ole Miss will probably have three receivers and a tight end drafted in the first five rounds this year, yet their quarterbacks threw for a measly 21 touchdowns. The Rebels were held to a total of 10 points against the best two defenses they played against (Alabama and Mississippi State) and limited to 16 points in two other games. QB Jordan Ta'Amu is considered a decent NFL developmental prospect. In short, it's fair to conclude the scheme was unimaginative and did not match the personnel. To that end, Metcalf lined up almost exclusively on the left side and was pretty much shadowed by Kentucky's Lonnie Johnson Jr. in 2017 (5-83-2) and LSU's Greedy Williams in 2018 (3-37-0) in two of his most high-profile matchups. (Both corners are expected to be drafted in the first two rounds this spring.) So whether or not he was the top receiver in Oxford, defensive coordinators identified him as such. As for his durability, the natural inclination is to believe that no football player built like Mr. Universe should succumb to injuries, although I'm not sure a player breaking his foot on his second career catch - a touchdown, no less - or suffering a season-ending neck injury two years later makes him anything more than unlucky.
Keep in mind Metcalf is also a redshirt sophomore who played a total of 21 college games. Expecting him to be anything remotely close to a developed wideout at this point is ridiculous. Metcalf was clearly not asked (or trusted … always difficult to know which one unless a coach or assistant says so publicly) to run an entire route tree. That doesn't mean he can't. He was asked to line up in virtually the same spot play after play while facing some of the top corners in the best conference in college football and do so while running a limited route tree (please refer to "concerns" above). It should go without saying that is a hard ask. Yet, the one year he stayed healthy (2017), he made the SEC All-Freshman team.
There is enough here to love for evaluators. First and foremost, his combination of size, strength and speed is unlike anything most of us have ever seen in a receiver. He tracks the ball well downfield, has obvious run-after-catch upside, isn't affected by press coverage like many college receivers and has football in his blood (uncle Eric was a wonderful all-purpose NFL back for 10-plus years, father Terrence was a NFL offensive lineman for seven and grandfather Terry played for six). At the very least, he's going to force defensive coordinators to rethink whether or not it's a good idea to give help to the No. 1 receiver opposite Metcalf and/or bring safeties on a blitz. Calvin Johnson and Terrell Owens are examples of comparable receivers who didn't have a full route-running repertoire at 21 years old and made a name for themselves in the NFL. Conversely, Legedu Naanee and Little are two other examples of similar athletes who never made the most of their gifts. Metcalf is an incredibly wonderful piece of clay just waiting to be molded by the NFL's version of Michelangelo. He's not even close to a No. 1 receiver now and may never be. With that said, getting drafted by a team with a strong position coach who can school him on the ins and outs of route-running could allow him to burst on the scene in Year 2. It is there is another prospect this spring with a higher ceiling and lower floor than Metcalf, which should help to explain why some will view him as a player worthy of a top-10 pick and others will value him as a bust candidate.
---
Doug Orth has written for FF Today since 2006 and been featured in USA Today's Fantasy Football Preview magazine since 2010. He hosted USA Today's hour-long, pre-kickoff fantasy football internet chat every Sunday in 2012-13 and appears as a guest analyst on a number of national sports radio shows, including Sirius XM's "Fantasy Drive". Doug is also a member of the Fantasy Sports Writers Association.