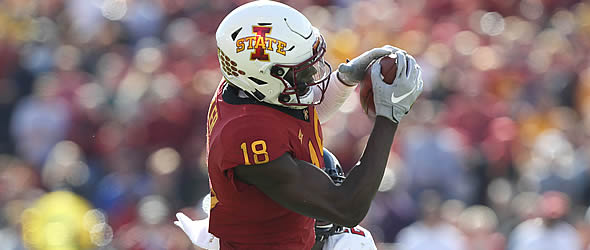 Hakeem Butler is capable of becoming a WR1 because his problems are among the easiest to fix.




Vitals



College: Iowa State
Height/Weight: 6' 5"/227
Hands: 10 3/4"



Important NFL Combine Numbers



40-Yard Dash: 4.48
Vertical Jump: 36"
Broad Jump: 128"
20-Yard Shuttle: 4.16
3-Cone: 7.09



College Production

(Stats)


High-end NFL Player Comp(s): Brandon Marshall
Low-end NFL Player Comp(s): Danario Alexander

Best Scheme Fit: Unique size and speed combination make him a great fit for an offense that will use him heavily on back shoulder throws, go routes and in the red zone. Lack of explosiveness in and out of his cuts make him a poor fit for an offense that relies heavily on West Coast principles (getting the ball out quick on slants and outs, for example).

Strengths
An instant mismatch for virtually any defensive back with his huge frame; legitimate vertical threat who uses long strides and build-up speed to create separation and size to shield defender from the ball at the catch point. (1:34, 1:41, 2:08, 3:29, 4:11, 5:21)


Can absolutely embarrass defensive backs who try to tackle him in the open field. (0:01, 0:18, 0:48, 1:42, 2:08, 2:35, 3:29)


In his comfort zone on the back-shoulder fade, almost as if he knows his defender has no chance to stop him. (1:34, 1:46, 2:18, 3:29)


Massive hand size and 83 7/8" wingspan plays a major role in allowing him to haul in some of the best highlight-reel catches any college receiver could hope for. (0:01, 5:08)


Lined up at all three receiver spots on a regular basis (split end, flanker, slot).


Concerns
Far too many focus drops (0:31, 2:07, 5:52, 6:04); 11 drops on 71 catchable targets per Pro Football Focus.


Needs to show more urgency in and out of his breaks and throughout his route. (1:04, 2:41, 3:49, 7:14)


Mixes the good (2:08) with the bad (2:28) in terms of tracking the ball, sometimes within minutes of each other.


As is the case with most tall receivers, he struggles to sink his hips in order to make sharp cuts/breaks at the top of his stem, making it much easier for defensive backs to recover and/or run the route for him. (2:15, 2:41, 6:13, 7:14)


Inability to turn many short passes into big plays accentuates his lack of quickness and how important getting him downfield is to his ability to break tackles.
Bottom Line

It seems as if every top receiver in this class has at least one concerning trait that makes projecting him a future NFL star almost impossible. In Butler's case, he dropped 15.5 percent of his catchable targets last season and was average at best when asked to work within 10 yards of the line of scrimmage. While drops are often an overrated part of the equation when evaluating receivers at any level, it is simply not acceptable for a receiver with Butler's massive hands and considerable playmaking ability to average a drop once every 6.5 targets. There are also too many times in which he throttles down on a route, which is another unforgivable sin.
As bad as all that sounds, I'm not sure there is a better receiver after the catch - at least when picking up yards after contact - available this spring. Since I started doing these draft profiles in 2013, Butler may be the best receiver prospect I have evaluated in terms of not only breaking one tackle but multiple attempts on the same play. To that end, PFF recorded 16 broken tackles on his 60 catches in 2018, which is an absurd rate for a receiver and even more impressive when one considers he did the bulk of his damage on routes at least 20 yards down the field (there's usually not a ton of defenders that far downfield, minimizing the number of chances that a receiver has to break tackles in the first place). With that said, it is important to bear in mind the Big 12 has evolved into more of a defense-optional league in recent years, so it can be debated how much of Butler's success as a tackle-breaker is his own doing and how much of it is a product of poor tackling.
Butler has as good of a chance as any of the receivers we have covered so far of overcoming his current shortcomings and becoming a WR1 in the NFL because I think his "problems" are among the easiest to fix. Regular post-practice work with the JUGS machine and a good position coach should be able to smooth over the rough edges in his game mentioned above. That doesn't necessarily mean he will be a perennial threat to catch 80 to 100 passes, but his size and speed are could allow him to push for 1,000 yards and/or 10 touchdowns in the right offense. An A.J. Green comp is ambitious but reasonable (in the long term), although I think Green was ready to be a lead receiver the day he was drafted; Butler's not there yet and could take a while to get there. Green has also always been a bit quicker and lighter on his feet than Butler is now. With that said, I'd like to see this rookie begin his NFL career in a role similar to the one the Steelers had planned for Martavis Bryant before he wore out his welcome. Butler is also going to need his offensive coordinator to help him, as in making sure most of his routes don't require him to stop and restart or cut very often. Given his physical dimensions, this is probably an area in which he will not see much improvement as a pro. Nevertheless, if the bulk of what Butler is asked to do is work the middle of the field, the sidelines and down the field, I could see him enjoying an Alshon Jeffery-like career.
---
Doug Orth has written for FF Today since 2006 and been featured in USA Today's Fantasy Football Preview magazine since 2010. He hosted USA Today's hour-long, pre-kickoff fantasy football internet chat every Sunday in 2012-13 and appears as a guest analyst on a number of national sports radio shows, including Sirius XM's "Fantasy Drive". Doug is also a member of the Fantasy Sports Writers Association.