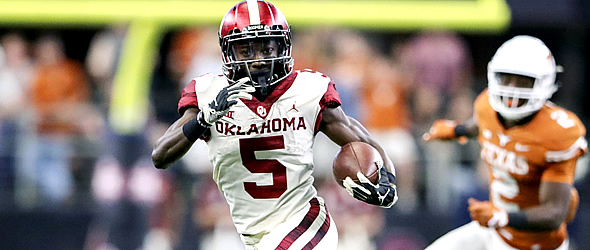 Marquise Brown: His speed will put defenders on their heels for the next 10 years.




Vitals



College: Oklahoma
Height/Weight: 5'9"/166
Hands: 9"



Important NFL Combine Numbers



40-Yard Dash: N/A
Vertical Jump: N/A
Broad Jump: N/A
20-Yard Shuttle: N/A
3-Cone: N/A



College Production

(Stats)


High-end NFL Player Comp(s): T.Y. Hilton
Low-end NFL Player Comp(s): J.J. Nelson

Best Scheme Fit: As the Z (flanker) in a vertical offense in two-receiver packages who gets moved into the slot in three-wide packages.

Strengths

Concerns
Durability; only a few NFL receivers have played at even 175 pounds over the last 10 seasons. Of the group, only Marvin Harrison and DeSean Jackson have enjoyed notable/long NFL careers.


How much will the Lisfranc injury in his last game as a college player (and the subsequent surgery) hold him back as a rookie (if at all)? What are the odds of a reoccurrence? Foot injuries are typically difficult for receivers to overcome.


Route tree somewhat limited to a handful of routes in college, most of which are down the field or short and keep him on the move (go, post corner, corner post, drag, screen, whip).


While refreshing to see a small-framed receiver willing to work over the middle, his inside routes may be limited to drags in the NFL because they are one of the few inside routes that make him a moving target; it is bad news when he gets squared up. (1:51, 4:27).


Although he gives good effort as a run blocker, it's hard to imagine he'll be able to serve as much of an impediment to an NFL defensive back.
Bottom Line

Any discussion about Brown probably should begin with his speed. While he has essentially been on ice after undergoing surgery for the Lisfranc injury he suffered in the Big 12 Championship, it has been documented he ran a 4.33 in an audition one day after getting off work at Six Flags during his junior college days. Considering his time at Oklahoma was the first time in his life he was able to eat right and train, it's probably safe to say he's faster now than he was then - something that shows up on tape game after game. Even in a conference like the Big 12 where defense sometimes seems optional, Brown routinely has at least two steps on his defender on downfield throws.
The biggest problem with small receivers like Brown is that coaches don't want to send a lightweight into the hornets' nest any more than most of them want to go in there. Brown doesn't have an aversion to running in between the hashes like Jackson seems to, but it's difficult for any play-caller to ask someone of his size to take unnecessary hits. The best big-play receivers - something Brown has a chance to become - tend to make too much money to risk their health on plays that might only move the sticks. Furthermore, Brown isn't going to be asked to win too many contested-ball situations in the NFL or post up defenders in the red zone. If it isn't already clear by now, Brown will either need a high-end quarterback who trusts him implicitly (like Hilton has with Andrew Luck) or to rely on the big play (like Jackson) in order to find the end zone.
To what degree Brown is able to either convince his new coaches he doesn't need to be protected and/or develop routes that work the intermediate part of the field will ultimately determine if he can be a Pro Bowl receiver. For example, Hilton can work out of all three receiver spots (flanker, split end or slot), while Jackson is limited mostly to the same routes Brown ran in college. What is not in question is the fact he is a legitimate threat to score anytime the ball is in his hands. His speed will put defenders on their heels for the next 10 years, although John Ross should serve as a cautionary tale for anyone who believes speed is all he needs. (Ross was a more complete receiver - not to mention a more highly regarded prospect - coming out of Washington in 2017, albeit one with a much more extensive injury history.) Brown's work ethic will ultimately determine if he is more Hilton than Jackson, but the safe bet for teams would be to assume the latter and hope for the former, which tells me he should come off the board early on Day 2.

Predict the top ten picks of the NFL Draft for a chance to win FFToday prizes. Enter our NFL Draft Contest now.
---
Doug Orth has written for FF Today since 2006 and been featured in USA Today's Fantasy Football Preview magazine since 2010. He hosted USA Today's hour-long, pre-kickoff fantasy football internet chat every Sunday in 2012-13 and appears as a guest analyst on a number of national sports radio shows, including Sirius XM's "Fantasy Drive". Doug is also a member of the Fantasy Sports Writers Association.