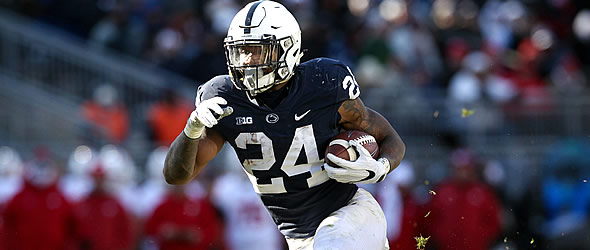 Miles Sanders flashes occasionally on zone runs, but runs into the back of his blockers a bit too often.




Vitals



College: Penn State
Height/Weight: 5' 11"/214
Hands: 9 1/4"



Important NFL Combine Numbers



40-Yard Dash: 4.49
Vertical Jump: 36"
Broad Jump: 124"
20-Yard Shuttle: 4.19
3-Cone: 6.89



College Production

(Stats)


High-end NFL Player Comp(s): Doug Martin
Low-end NFL Player Comp(s): Chris Carson

Best Scheme Fit: Man-blocking scheme that emphasizes running inside the tackles. Sanders flashes occasionally on zone runs, but he ends up running into the back of his blockers a bit too often.

Strengths
Shows the ability to press the hole, the patience to set up a second-level defender and enough quick-twitch to make him miss. (0:10, 0:34, 0:55, 2:44, 2:45, 4:13, 7:11)


Routinely displays impressive contact balance (1:49, 1:57, 4:13, 7:11) and has enough speed to pay if off from time to time. (3:39, 7:11)


Enough athleticism to jump cut when he needs it (0:43, 0:53, 0:54, 4:03, 4:13) and more athleticism than one might expect from a runner who typically runs with more power than finesse. (0:53, 1:03, 1:06, 4:13)


Complements powerful inside running with impressive vision and anticipation, which allows him to set up a second move and get into the secondary on a semi-regular basis. (0:34, 0:46, 0:53, 0:55, 1:49, 4:13)


Only 308 college touches, 244 of which came in 2018.


Concerns
Fumbled 10 times on 308 offensive touches while at Penn State, losing seven of them.


For all the vision and anticipation he shows on plays in which the line utilizes man blocking, it seems to betray him from time to time on zone runs, sometimes resulting in him running into or sticking his hand in the back of his linemen. (1:49, 3:49, 5:23)


Seems as though he is still trying to find the right balance between avoiding unnecessary punishment and delivering the blow (0:05, 1:03), which causes him to run reckless at times. (0:05, 6:30)


Guilty of trying to make something out of nothing (0:46, 3:01) and will get tunnel vision and/or needlessly bounce a run on occasion. (0:26, 2:13)


Through no fault of his own (stuck behind Saquon Barkley in 2016 and 2017), he enters the league after one year of being "the man"; the bigger concern is that he was held under 4.0 YPC five times in 2018, including three of his final five games.


Bottom Line

Barkley was a generational talent by most accounts, so following in his footsteps is a hard ask, even for a player who was the top player at his position in his recruiting class like Sanders. Especially in this year's season opener against Appalachian State, it looked like Sanders felt the weight of living in Barkley's shadow with some of the decisions he made as a runner. Sanders obviously didn't have the same impact on the offense in 2018 as his predecessor, but anyone judging his pro potential based solely on that could miss out on a player who can easily make a case he is the second-best prospect at his position in this draft class. His combine testing numbers would suggest he is a more of a space or finesse back instead of what he really is, which is a powerful inside runner with sneaky athleticism. Per Pro Football Focus, Sanders ranked eighth (out of 55 qualified backs) in yards after contact per touch (3.68) and 20th in forced missed tackles per touch (0.202). He even managed to total 322 yards after getting contacted at or behind the line of scrimmage, ranking seventh among the 96 FBS backs with 60 or more such carries.
It would be easy to place any and all blame for whatever shortcomings Sanders has on the fact he was asked to do so little for two seasons. While it is a valid reason for some of his concerns, it does not explain others. For a player with such good vision and anticipation as an inside runner, he is inconsistent at best with both on outside runs. Ball security may be his biggest problem at the moment, however. Some of the most trustworthy backs in the league average a fumble once every 200-300 touches. Sanders' average was one fumble every 30.8 touches. He also runs with the kind of reckless abandon that will endear him to teammates and coaches but put himself at risk for unnecessary punishment. There's no question he will need to be more selective in picking his battles (i.e. when he needs to run over a defender to get a first down versus when he wants to send a message).
With that said, Sanders is more of a well-rounded player than we are typically accustomed to seeing from one-year starters. He has the skills to be a team's featured back at some point early in his career and does enough things well enough to be considered a three-down back in time. Will that happen as a rookie? I have my doubts. The ability to be consistently productive while running inside the tackles is an art that will probably always be in demand in the NFL - Frank Gore is an obvious example - and Sanders proved he could do that in multiple games this season. He is not merely an inside runner and a better receiver than I anticipated, but I would want to pair him up with a Tarik Cohen/Dion Lewis/James White type if I drafted him just so I could manage his workload (remember the recklessness I mentioned above) and give myself more of an advantage on obvious passing downs. I'd feel more comfortable taking him in the third round, but I could defend a late-second round selection.



Predict the top ten picks of the NFL Draft for a chance to win FFToday prizes. Enter our NFL Draft Contest.


---
Doug Orth has written for FF Today since 2006 and been featured in USA Today's Fantasy Football Preview magazine since 2010. He hosted USA Today's hour-long, pre-kickoff fantasy football internet chat every Sunday in 2012-13 and appears as a guest analyst on a number of national sports radio shows, including Sirius XM's "Fantasy Drive". Doug is also a member of the Fantasy Sports Writers Association.