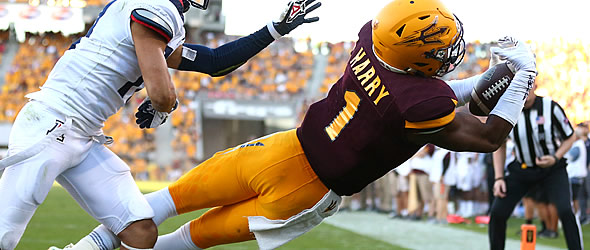 Harry's ceiling is as a solid complementary receiver who does a lot of his damage in the red zone.




Vitals



College: Arizona State
Height/Weight: 6'2"/228
Hands: 9 1/2"



Important NFL Combine Numbers



40-Yard Dash: 4.53
Vertical Jump: 38.5"
Broad Jump: 122"
20-Yard Shuttle: N/A
3-Cone: N/A



College Production

(Stats)


High-end NFL Player Comp(s): Allen Robinson
Low-end NFL Player Comp(s): Jaelen Strong

Best Scheme Fit: Likely in a spread offense that allows him to work out of the slot on a regular basis and uses him on quick-hitters. Harry is not sophisticated enough in his route-running at this point to be a team's primary receiving threat or consistently win - outside of contested balls - against quality pro perimeter corners.

Strengths

Concerns
Fails to create separation consistently (0:57, 1:07, 2:04, 2:30, 5:25, 5:37); too often pushes his defender at the top of the route. (0:09, 0:52, 2:33)


Lacks crispness on cuts and breaks (2:04, 3:04, 4:39, 5:47, 6:59) and sometimes allows his defender to run the route for him. (0:57, 5:09, 5:31)


Hasn't quite embraced the concept of consistently stacking his defender on downfield throws (3:09, 4:25)


Not asked to run many kinds of routes in college; generated a lot of production on tunnel/bubble screens and contested-catch opportunities.


Showed a bit of edge as a blocker from time to time but does not maul defensive backs in the way his strength suggests he should; needs to be more consistent with his effort.
Bottom Line

Harry is a bit of an enigma in that he produced some huge run-after-catch plays and is one of the strongest receivers to enter the draft in recent memory, yet he wasn't able to create a great deal of separation from college defensive backs, often resorting to pushing off his defender at the top of his route or relying on his size advantage on contested balls. There also aren't many examples in which he made a defender look silly, which is not a prerequisite to succeed in the NFL but something high-end receiver prospects should be able to do on occasion against the likes of Texas-San Antonio or Oregon State. This is often a telltale sign that a receiver isn't the greatest route-runner, whether that means he allows himself to get bumped off his path, rounds off his breaks or something completely different.
Once the ball is in his hands, however, it's easy to understand why he is one of the draft's top receiver prospects. And there within lies the conundrum with Harry: is he a 230-pound "space player," a downfield contested-catch wizard who was held back a bit by a limited route tree or some combination of the two? Historically speaking, there is very little precedent for a 6-2 receiver carrying almost 230 pounds being able to thrive in the NFL - Andre Johnson did, but he ran a 4.4. (Was the same strength Harry displayed at the NFL Combine - 27 reps of 225 pounds is tied for the fifth-best mark at the combine for a receiver since 1987 - the reason why he appeared slower and less dominant in 2018 than he seemed in 2017?) Players can add and drop weight fairly easily, so his current build isn't what concerns me the most. It's more that I think someone like Michael Gallup was a better prospect last year than Harry is this year. While I think Gallup came off a round later than he should have last year, he went 81st overall. With that said, the number of ridiculous, only-he-could-make-them catches Harry put on tape has to make evaluators wonder if there isn't a significant amount of untapped potential.
Offensive coordinators have gotten better in recent years accommodating their schemes to player strengths as opposed to jamming a square peg into a round hole, so my less-than-glowing review on Harry isn't an indication that he is destined to be an average pro receiver. Harry strikes me as a player who will need to spend a significant amount of time in the slot in between the 20s and see heavy usage as a jump-ball specialist near the end zone to produce the kind of numbers to justify his likely draft position. I don't see an ability to be an "alpha" receiver in his future unless he is able to improve his quickness, and even then I suspect his ceiling is as a solid complementary receiver who does a lot of his damage in the red zone. Given an elite quarterback who will trust him in contested-ball situations, he may very well have Dez Bryant-like upside though. With that said, first-round receivers should theoretically make their quarterback look better rather than need his quarterback to make him look better. I feel the latter applies to Harry and, as such, there's not enough here to make me believe he warrants a first-round pick.
---
Doug Orth has written for FF Today since 2006 and been featured in USA Today's Fantasy Football Preview magazine since 2010. He hosted USA Today's hour-long, pre-kickoff fantasy football internet chat every Sunday in 2012-13 and appears as a guest analyst on a number of national sports radio shows, including Sirius XM's "Fantasy Drive". Doug is also a member of the Fantasy Sports Writers Association.