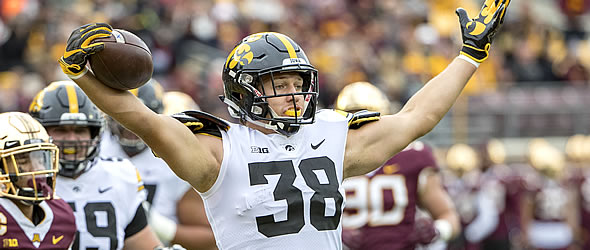 TE T.J. Hockenson should be a multi-time Pro Bowler almost regardless of where he lands.

Predict the top ten picks of the NFL Draft for a chance to win FFToday prizes. Enter our NFL Draft Contest.



Vitals



College: Iowa
Height/Weight: 6'5"/251
Hands: 9 1/2"



Important NFL Combine Numbers



40-Yard Dash: 4.7
Vertical Jump: 37.5"
Broad Jump: 123"
20-Yard Shuttle: 4.18
3-Cone: 7.02



College Production

(Stats)


High-end NFL Player Comp(s): Travis Kelce (although he was used like Jason Witten in college)
Low-end NFL Player Comp(s): Todd Heap

Best Scheme Fit: Universal.

Strengths

Concerns
Looks slight even at 251 pounds; although not uncommon for rookie tight ends, probably needs a full offseason with NFL strength coaches before realizing full potential.


Needs to have better feel of finding soft spot against zone coverage and will, at times, gear down a bit on his route when he knows he's not the primary target. (3:00, 9:47, 9:54)


Bottom Line

Outside of a few isolated incidents in which he appears to get overly excited on the second level and either doesn't square up his defender or gets overextended, Hockenson could teach a graduate level blocking course to college tight ends. Perhaps it shouldn't come as a surprise that a pupil of Iowa HC Kirk Ferentz is a strong blocker, but this year's Mackey Award winner is exceptional with his foot, hip and hand placement nine times out of 10 and combines that with a passion to erase or bury his defender that jumps off the tape. (He put on a clinic against Indiana this season for anyone that cares to click on some of the blocking links above.) Even if we include some of the NFL's tight ends such as Darren Fells and Lee Smith who stay employed almost solely because of their ability to block, Hockenson may enter the league on that level. For a 250-pound kid three years removed from high school to stand out that much in an area where most veteran NFL tight ends are happy to be average is wildly impressive.
Of course, tight ends don't come off the board inside the top 10-15 picks just because they block well. Hockenson has that covered as well, as he dropped only one of 51 catchable targets last season per Pro Football Focus. His athleticism (4.7 speed, 37.5-inch vertical, 10-plus foot broad) makes him a run-after-catch nightmare. He accentuates the natural advantage he has over linebackers or safeties by running sharp routes and stacking defenders on downfield throws. Hockenson can also adjust to poorly thrown balls and elevate high enough to give quarterbacks a chance at a touchdown pass at the back of the end zone that would often be a throw-away for most.
Whereas Mike Gesecki and David Njoku might be the freakiest talents I have seen at tight end in a while. Hockenson may be on O.J. Howard's level in terms of being the most complete I have evaluated. If he's sounding like a blue-chip, can't-miss prospect, it might be because he is. Sure, he's not the most elite athlete, may let a few too many balls get into his body and gets too hyped up at times while trying to execute a block, but the last two of those three things can be improved by any position coach worth his salt in the NFL, and the first "flaw" is more of a nitpick than anything because he is a well above-average athlete. Howard somehow slipped to No. 19 in the 2017 draft, but don't look for a repeat here. Hockenson should be a multi-time Pro Bowler almost regardless of where he lands. And if he is as fortunate as Kelce was to land in an offense with a sharp offensive mind like Andy Reid, he could end up being considered one of the great ones.
---
Doug Orth has written for FF Today since 2006 and been featured in USA Today's Fantasy Football Preview magazine since 2010. He hosted USA Today's hour-long, pre-kickoff fantasy football internet chat every Sunday in 2012-13 and appears as a guest analyst on a number of national sports radio shows, including Sirius XM's "Fantasy Drive". Doug is also a member of the Fantasy Sports Writers Association.