Lightning never strikes the same place twice.
Humans use only 10 percent of their brains.
Bulls become angry at the color red.
The average person swallows eight spiders a year while sleeping.
It's safe to eat food that's been on the floor for five seconds or less.
Myths can be comical for those who know certain assertions are myths. Some can be dangerous for those who don't know any better. Narratives are the same way, particularly in fantasy football - although they don't typically come with the same humor versus danger extremes or consequences.
One of the reasons that fantasy owners fall short of their goals is that they often don't have the time or resources to dispel some of the narratives or myths in the fantasy football world. Furthermore, they too often lean on the advice of "experts" who dish out lazy analysis. Just like trying to improve your golf shot or softball swing, time and effort are required to find the answers to the new fantasy football questions that arise each week. Far too many "experts" stop their research when they find a convenient answer to their problem or, worse yet, don't bother to research at all if they stumble upon a conclusion they like from another analyst.
How do I know the analysis is "lazy"? Because it usually doesn't take more than a couple of minutes to find a better answer - if not the right one(s). This happens at the highest levels of the industry. If you don't agree with that, I would suggest to each of you that roughly one-third of my job as a fantasy analyst is to clean up the messes left behind by and/or dispel lazy analysis. I will never claim to "get 'em all right," but I rarely offer an answer to a question without providing a detailed explanation. Fantasy analysts owe their readers/listeners at least that much.
The risk we run as fantasy owners is when we begin to believe in myths and narratives without questioning their validity, and it results in us taking a loss during the fantasy playoffs when we probably should've known better. My focus this week will be to prove or disprove four common fantasy football narratives or beliefs that I have heard uttered recently.
1. Kareem Hunt is more productive when Nick Chubb is active.
Hunt's production with and without Chubb (per week averages)
Split
Att
RuYd
RuTD
Tgt
Rec
ReYd
ReTD
FPts
Hunt w/ Chubb (eight games)
13
60.6
0.5
2.6
1.9
13.0
0.3
13.7
Hunt w/o Chubb (four games)
16
63.5
0.0
3.5
2.5
17.8
0.5
13.6
Chubb (eight games)
17
99.9
0.9
1.0
0.9
9.4
0.0
16.8

Not only is this assertion false, but it's also not even all that close to being true. Hunt hasn't had much touchdown luck since Chubb returned in Week 10, which has resulted in his fantasy scoring average dropping off. Hunt churned out 275 yards rushing and 42 yards receiving (317 total) in his first four games with Chubb on 58 touches. In his last four with Chubb, Hunt has amassed 210 yards rushing and 62 yards receiving (272) on 63 touches. In four games as the team's featured back, Hunt ran for 254 yards and added 71 receiving (325) on 75 touches.

As convenient as it would be to stop our analysis there, we need to dig deeper. Two of Hunt's four non-Chubb games came against the Steelers (second-stingiest defense versus running backs) and the Colts (13th). Another one came in one of Cleveland's three consecutive "weather games." In case anybody requires an explanation as to why that matters, games with heavy wind or monsoon-like conditions tend to make offenses one-dimensional whether they want to be or not, so a defense that is usually bad against the run has a chance to be at least average that day, especially if the opposing offense can get its rushing attack going - as was the case that day for Las Vegas.

Perhaps the biggest contributor to Hunt's "demise" during Chubb's absence was playing three of those four games without RG Wyatt Teller. Who is that? In his third pro season, Teller has earned the best run-blocking grade of any lineman per Pro Football Focus. Since it would be unfair to Hunt to use his stats running behind Teller to get a sense of what his presence means, we'll use Chubb since he has been able to benefit the most from having him in the lineup. Chubb is averaging 8.2 yards per carry and 8.07 yards after contact when running behind his right guard. (To put that into some perspective, he is averaging 5.7 YPC and 3.7 YAC everywhere else.) It would be much more accurate to say the unfortunate time of Teller's absence hurt Hunt more than Chubb being gone.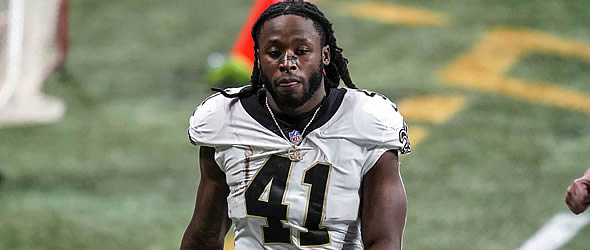 2. Taysom Hill is bad for Alvin Kamara.
Kamara's production with Drew Brees and Taysom Hill (per week averages)
Split

G

Att
RuYd
RuTD
Tgt
Rec
ReYd
ReTD
FPts
Kamara w/ Brees
9
11.6
54.0
0.8
8.9
7.4
72.0
0.4
27.4
Kamara w/Hill
3
13.0
62.3
0.7
2.0
1.0
2.3
0.0
11.5
RB production w/Brees
9
22.8
97.4
1.0
11.0
9.2
86.9
0.4
36.3
RB production w/Hill
3
26.0
127.7
1.3
3.7
2.7
15.0
0.0
24.9
The problem with saying Hill is bad for Kamara is like much of the analysis I was discussing earlier. It's never that simple.
The Saints' rushing production at running back with Hill starting has increased by just over 30 yards per game despite adding just 3.2 more rushing attempts. Kamara has actually been every bit as efficient as a runner (4.8 yards per carry and minimal difference in touchdowns) with Hill as he was with Drew Brees. He is getting 1.4 more carries per game with Hill. The obvious difference for Kamara is what is happening as a receiver. With Brees, he was seeing an average of 8.9 targets - a mark usually reserved for elite wideouts. With Hill, he is getting targeted at about the same rate as Jordan Howard (or Michael Turner, if you want to go back a few years) in his prime.
Let's first consider game script. New Orleans gave up at least 23 points in each of its first seven games. Combine that with the arm strength of what we might expect from a 41-year-old quarterback and there is bound to be plenty of opportunity for running backs to get involved in the screen game and the like. Not only do the quarterback's limitations call for it, but the dynamics of how the game is playing out does too.
Over the last five contests, New Orleans has allowed a total of 44 points (8.8 points per game). When given the choice to put away an opponent or protect a two-score lead, coaches overwhelmingly tend to lean toward the latter - especially with inexperienced starting quarterbacks. The Saints have played to their defense and their opponents' weaknesses during Brees' absence. As much it pains Kamara's fantasy owners, coaches tend not to pass - even if they are easy-to-complete throws like the screens and dump-offs that Kamara thrives on - when they know they can turn to the run and not have to deal with the risk of getting a pass deflected or a bobble from a receiver that could lead to an interception. Kamara's short catches have effectively been replaced by quarterback runs for Hill.
Kamara's fantasy owners also got spoiled with the absence of Michael Thomas. In the six games Thomas missed over the first two months of the season, Kamara was on a 133-target pace. (His career high is 105.) I'm sure that knowledge doesn't help soften the blow for those owners who want the Superman version of Kamara they were getting, but it should be noted that target pace is right in line with Christian McCaffrey's average from the previous two seasons (133). In short, it was always going to be difficult for him to maintain that pace.
Even with a three-game sample to "prove" Hill is bad for Kamara, I don't believe we have nearly enough evidence yet to say that with any conviction. In those three games, New Orleans trailed for just 21 minutes - in the first half - of its Week 11 meeting with the Falcons. That was Hill's first start. The Saints haven't fallen behind since (10-plus quarters). Hill acknowledged the game plan changed in the hours after it was announced that the Broncos would not have any quarterbacks available for their Week 12 meeting with the Saints - one that would require him to be a game manager. (Why pass when you don't have to, especially when a quarterback is making his second career start?)
Week 13 might have been the first time we have seen something resembling the offense HC Sean Payton envisions for his team post-Brees. Hill attempted 37 passes after airing out a total of 39 times in his first two starts combined. Kamara still didn't benefit much, seeing only three targets and matching the total he saw in his first two games with Hill, but I tend to believe that is as much of a product of game script, managing Hill to a small degree and Payton playing to how Atlanta defended his offense more than anything else.
In short, I don't believe that Kamara's return to fantasy dominance relies solely on Brees' return. If we dismiss the Denver game as a one-off (as it appears Payton does), what we have is two games against the Falcons to make conclusions. Kamara's fantasy owners also need to pray that upcoming opponents start finding more success against the Saints' defense and force New Orleans to get out of the comfort zone it has established pounding the rock with Hill. Unfortunately, I doubt that happens this week against the Eagles in what should be another relatively easy victory. I anticipate Brees will push to get back in time for a Week 15 showdown with the Chiefs, rendering the whole point moot.
The last point I'll make for now is this, and it may be the most important one regarding this topic: the Saints are heavily invested in Kamara - he signed a five-year extension worth $75 million in mid-September - and Payton believes Hill (two years, $21 million in April) is Brees' successor. Perhaps I'm giving New Orleans a bit too much credit, but I highly doubt the Saints sink that much cash into both players without having seen some evidence in practices and/or scrimmages that Hill can and will lean on Kamara when the situation calls for it.
3. Jonathan Taylor has taken over the Colts' backfield.
(Cue up the Paul Rudd's "Hey Look at Us" soundbite.) As recently as three weeks ago, it would have been ridiculous to suggest such a statement could be made heading into the fantasy playoffs. However, life comes at you pretty fast in the NFL. After Nyheim Hines balled out in front of a national audience in Week 10, the Colts relied heavily on Taylor in the second half of Week 11 once it was determined Hines wasn't "hot" after about two carries in which he received poor blocking. Indianapolis couldn't establish anything resembling a ground game after Taylor was ruled out for Week 12 due to being a "close contact" to a COVID-19 person, possibly advancing the idea that the Colts need to start featuring him. From purely a box-score perspective, Taylor returned with a bang against the Texans; his 91 rushing yards were the second-most by a Colts back this season (he had 101 in Week 2) and marked the second time in his last two games he reached 90.
So that's it; the Colts learned their lesson and Taylor's 16 touches in Week 13 are a sign they are finally ready to commit to him, right? Week 13 was encouraging, but it seems as though HC Frank Reich and RB coach Tom Rathman still aren't ready to commit to anyone any sooner than they have to. Through three quarters versus the Texans, the touch count was 8-6-5 (Hines-Taylor-Jordan Wilkins). Thankfully, Taylor's fantasy owners were able to take a deep breath early when he was left uncovered for a 39-yard TD catch on one of his five first-half touches. It wasn't until the fourth quarter that Taylor recorded 10 of his 13 carries and 16 touches, resulting in 70 of his 91 rushing yards. (For what it is worth, Hines and Wilkins combined for 22 yards on their 11 carries for the game.)
It's important to remember that we can't view this year's rookies through the same prism as we typically view first-year players every season. No rookie had an "ordinary" offseason in 2020. Yes, Zoom learning is better than just winging it during training camp, but it's almost impossible to get used to the speed of the pro game - not to mention the volume of information and coaching points being dispensed - over a month during the summer. This year, the lingering threat of COVID-19 had to weigh on their minds just as much as getting used to a new life in a new town. That's probably why it was a big moment for Taylor's fantasy owners when he talked about the game "slowing down" for him after the Week 11 win over the Packers.
I sometimes look at sports in the same way as I do the real world. What I mean in this case is that no writer, construction worker, mail clerk or any other person that gets hired for a particular job should be expected to be considerably better than their peers in a similar job within the first year. Those people are the exception, not the rule. This applies to NFL rookies, even at a position like running back that comes with a less sharp learning curve than other positions. Taylor deserves his share of the blame for his lack of success early on. While he wasn't getting a ton of help from his offensive line, he also didn't help himself very often when he had the opportunity. Now that he's enjoying some success, it's likely not because he has arrived either. Progress is rarely a smooth climb uphill, especially when the coaching staff has repeatedly made it clear their word is not their bond to the media. Consider the following quotes:
"Jonathan (Taylor) is ready. He'll step up and do a great job." - Reich

- Reich in the days after Marlon Mack was lost for the season in the opener. (Taylor enjoyed a 49-9 snap advantage over Hines in Week 2 before essentially splitting snaps with Hines for the next four weeks and seeing fewer total snaps than Hines in the first three games after the bye.)
"(Taylor has) done everything that he needs to do. It's just about getting experience. The more he gets, the better he's going to be." - Rathman
"I think (Taylor's) getting better every week, running with more confidence. I feel really good about where he's at and the trajectory he's on." - Reich
- During the Colts' bye week, Rathman and Reich hit us with a double feel-good dose of Taylor. After earning his second-highest snap total of the year in the game before the bye, the rookie saw declining snaps for three straight games - the low point coming with 17 snaps in Week 10 - until he rebounded with 34 snaps in Week 11.
"Jordan (Wilkins) has done nothing but earn more opportunities, and he'll continue to get more opportunities." - OC Nick Sirianni
- Sirianni after Wilkins' 20-carry effort in Week 8 against the Lions. Wilkins played a total of 42 snaps over his next three games combined.
Like it or not, this coaching staff has shown it will let early results drive who plays and how much. I don't think there's any question we've seen a better version of Taylor in recent weeks, and perhaps all of this noise has been Reich and Rathman's way of pushing the rookie to where they want him to go. Taylor's fantasy owners would like to believe he's earned the right to handle 15-18 touches per week. It should play out that way for the next two games at least, although I tend to believe it happen mostly because of soft matchups (Raiders and Texans) and not be because he has been anointed as the man. The question then becomes if Taylor is on a four-game roll by the time Week 16 rolls around, will he have earned enough trust to see a heavy workload if he gets off to a slow start against the Steelers?
4. Ryan Tannehill struggles when Derrick Henry thrives and vice versa.
It stands to reason the quarterback would suffer in an offense that relies so heavily on Henry. Let's check the validity of that statement. Below is a week-by-week breakdown of Tannehill and Henry's fantasy point totals:


Tannehill and Henry's weekly point production (2019-20)
2019
Tannehill
Henry
W7
23.2
17.8
W8
25.4
7.3
W9
25.0
24.9
W10
20.9
33.1
W12
36.4
28.5
W13
17.8
23.6
W14
33.5
23.9
W15
28.2
8.6
W17
21.9
39.1
2020
Tannehill
Henry
W1
23.4
16.1
W2
34.8
8.4
W3
11.7
27.0
W5
36.0
19.3
W6
34.6
40.4
W7
21.3
15.2
W8
21.3
17.2
W9
18.6
6.8
W10
12.8
11.9
W11
23.9
20.2
W12
21.1
38.5
W13
31.6
5.9
Avg
24.9
20.7

After playing 21 regular-season games together, it's safe to say Tannehill and Henry have complemented each other very well. In 10 of those 21 games, Tannehill has scored at least 25 fantasy points (six points per passing TD). In 18 of the 21, he's managed at least 20 fantasy points. As for Henry, he has topped 20 fantasy points 10 times and 15 fantasy points 15 times.

Let's dig a bit deeper. Is it possible for both players to have blowup games in the same week? If so, how often has it happened? Is there a magic number of attempts either one must reach?

Tannehill (25 fantasy points) and Henry (21) have met or surpassed their averages only four times in the same game, including once this season (Week 6). Asking two players with somewhat opposite agendas - given Tennessee's decision to ignore Henry as a receiver most of the time - to erupt in the same game is a tall order, especially since playing with tempo is not part of Tennessee's MO.

Somewhat interestingly, last week's 31.6-point effort was Tannehill's sixth 30-point performance and the first time Tennessee lost one of those games. In four of those six 30-point performances, Tannehill has accounted for four touchdowns. (He attempted no more than 28 passes in any of those outings.) In the other two huge performances, he threw for at least 389 yards. (He had 41 and 45 pass attempts in those contests.) Henry's 15 carries in Week 13 were his fewest in those same six games. Those 15 carries against the Browns were his second-fewest in any contest since Tannehill became the starter. His 16 touches were tied for his lowest mark in that same span.

As for Henry, he has scored at least 27 fantasy points in six of his 21 games with Tannehill. It should come as no surprise those same performances also account for six of the eight times Henry has scored at least two rushing TDs (all wins). His success in those instances has not had a profound effect on Tannehill's bottom line, as the ex-Dolphin has found a way to run or throw for at least two TDs (and score at least 20 fantasy points) in five of those contests.

How often do both men get shut down in the same game? Not often. The two fantasy forces have failed to combine for 40 fantasy points only three times since they started working together - all of which have happened this season. One of those three times was a 39.5-point effort in Week 1, so it's debatable if that even qualifies as a bad game. Regardless, the drop-off in scoring efficiency should isn't overly surprising. RT Jack Conklin (PFF's ninth-ranked run blocker in 2019) bolted for Cleveland in the offseason and LT Taylor Lewan was lost for the season in Week 6. It is nearly impossible for a team to lose its bookends on the offensive line and remain so efficient. Fortunately for the Titans, Tannehill and Henry have persevered. Still, it is at least somewhat notable that Tannehill's completion percentage is nearly six percent lower in 12 outings this year than it was in 12 games in 2019. Similarly, Henry has experienced a slight drop in his yards per carry (5.1 to 4.9).

Both players have a great opportunity to improve those marks and maybe even carry their fantasy owners the rest of the way. Henry faces the four most forgiving defenses against running backs - all of which are allowing an average of at least 28 fantasy points to the running back position - to wrap up the regular season. Tannehill isn't quite as fortunate, although Jacksonville (third) and Detroit (ninth) in Weeks 14 and 15 still stand out as exceptional matchups for him.
---
Doug Orth has written for FF Today since 2006 and been featured in USA Today's Fantasy Football Preview magazine since 2010. He hosted USA Today's hour-long, pre-kickoff fantasy football internet chat every Sunday in 2012-13 and appears as a guest analyst on a number of national sports radio shows, including Sirius XM's "Fantasy Drive". Doug is also a member of the Fantasy Sports Writers Association.