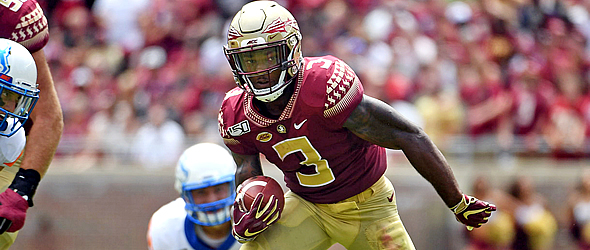 Cam Akers: The similarity to Le'Veon Bell in terms of his running style is almost uncanny.

Predict the top ten picks of the NFL Draft for a chance to win FFToday prizes. Enter our NFL Draft Contest.



Vitals



College: Florida State
Height/Weight: 5' 10"/217
Hands: 9"



Important NFL Combine Numbers



40-Yard Dash: 4.47
Vertical Jump: 35.5"
Broad Jump: 10' 2"
20-Yard Shuttle: 4.42
3-Cone: DNP



College Production

(Stats)


High-end NFL Player Comp(s): Le'Veon Bell
Low-end NFL Player Comp(s): Duke Johnson

Best Scheme Fit: Inside zone.

Strengths

Concerns
Will try to do too much (a function of a lack of trust in his line or too confident in his ability?), which may have led to him carrying the ball away from his body (0:29, 4:32); fumbled 10 times (seven lost) on 655 career offensive touches (586 carries). (2:16, 4:24, 6:26)


Runs a bit high and tends to attract contact inside more than he tends to avoid it. (1:10, 3:30, 3:37, 5:29)


Generated 256 rushing yards (22.4 percent of his overall total in 2019) and half of his rushing touchdowns in two games against defenses ranked 100th or lower (Syracuse and Louisville).


Despite putting good pass pro reps on tape, he is highly inconsistent protecting the quarterback. (1:59, 4:20, 6:03, 6:47, 8:30)


Charted with nine drops on 77 career catchable targets, per Pro Football Focus.
Bottom Line

The similarity to Bell in terms of his running style is almost uncanny. Akers runs a bit high in between the tackles and begins most of his runs with a bit of skip or hop behind the line of scrimmage before plowing through and doing a good job of picking up yards after contact. He never seems to get too much ahead of himself on many of his outside runs, making a spin move or juke to elude a potential tackle in the open field without losing much momentum. Another likeness to Bell is the way he scans the field while making his aforementioned skip or hop, almost as if to buy him a split-second to decide on his next course of action.
However, Akers is very much a work in progress. Whether it was the result of poor blocking (fourth-worst among power conference schools, per PFF) or a lack of trust in his offensive line, the Mississippi native bounced more than his fair share of runs - something that he probably doesn't have the athleticism to do consistently and succeed in the NFL. He shows the occasional desire to come up big in pass pro, but he still commits way too many mental errors in that facet of the game as well. Ball security is also a major concern; he lost three of his five fumbles (on 184 touches) in 2018 before losing all three of his fumbles on 261 touches in 2019. While he doesn't quite let himself go to the extreme that LeSean McCoy does with how he carries the ball, the film supports the fumble numbers.
Akers is certainly capable of becoming a feature back given the combination of his talent, size and elusiveness, but it is going to take some time. It's fair to wonder if the Willie Taggart-led Florida State coaching staff was in over their head because while Akers doesn't have a long list of concerns, it is disappointing he is as lacking as he is in some of the most critical areas for a prospect at his position. Running backs who struggle with ball security and pass protection aren't going to see a lot of playing time until those issues are rectified. Of course, this all assumes his tendency to bounce runs as a function of poor blocking and not a willingness to spontaneously freelance. Akers would be well-served to serve as the 1B option in a committee for however long it takes to make the necessary improvement to his game. If he ends up being a quick study, he could end up being the top running back in this draft class. But what if he's not a quick study? Then his next team has an undisciplined player who may top out as a talented backup. He desperately needs a very good position coach. It's also why he belongs in the tier below the top running back prospects.

---
Doug Orth has written for FF Today since 2006 and been featured in USA Today's Fantasy Football Preview magazine since 2010. He hosted USA Today's hour-long, pre-kickoff fantasy football internet chat every Sunday in 2012-13 and appears as a guest analyst on a number of national sports radio shows, including Sirius XM's "Fantasy Drive". Doug is also a member of the Fantasy Sports Writers Association.