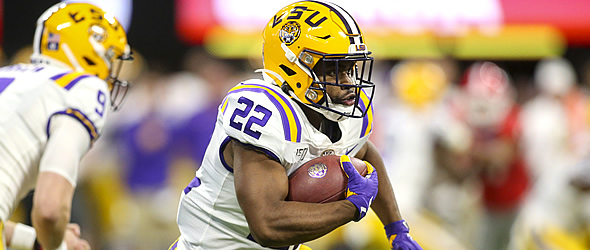 At worst, Clyde Edwards-Helaire should lead a committee and be given at least 15 touches per week.

Predict the top ten picks of the NFL Draft for a chance to win FFToday prizes. Enter our NFL Draft Contest.



Vitals



College: LSU
Height/Weight: 5' 7"/207
Hands: 9 5/8"



Important NFL Combine Numbers



40-Yard Dash: 4.60
Vertical Jump: 39.5"
Broad Jump: 10' 3"
20-Yard Shuttle: DNP
3-Cone: DNP



College Production

(Stats)


High-end NFL Player Comp(s): Ray Rice
Low-end NFL Player Comp(s): A thicker and more powerful Jacquizz Rodgers

Best Scheme Fit: Should fare well in an offense heavy on inside zone or man-blocking runs.

Strengths
Extremely light on his feet for someone of his build (1:54, 2:33, 3:23, 6:20); change of direction often looks seamless. (0:00, 0:00, 0:28, 2:00, 4:47)


Sets up the second-level defender well and often makes the first man attempting to tackle him in space look foolish. (0:00, 1:00, 1:16, 3:41, 5:08, 5:41)


Combines outstanding body control with the ability to stack multiple moves together on the same run. (1:32, 2:35, 3:46)


Crafty inside runner who rarely takes a direct hit; able to slither through and find holes that seem to open just as he is arriving. (0:10, 0:50, 1:23, 3:01, 3:23, 3:47)


Routinely powers through contact and can move the pile. (1:39, 2:53, 3:25, 3:35, 3:47, 6:43, 8:12, 18:31)


Heady receiver who can run a variety of routes and make something out of nothing in the passing game. (0:37, 0:57, 2:00, 2:38, 2:43, 3:41, 4:21)


Fumbled twice (lost one) on 443 career offensive touches (370 carries).
Concerns
Only three running backs of similar stature (5-7 or smaller) and size (less than 210 pounds) in the 21st century have rushed for at least 2,000 yards in their career and only two have compiled more than 4,000 yards from scrimmage.


Able to hit the big play thanks to good burst but otherwise plays to timed speed, which is on the back end of what most evaluators want at the position.


Put good (0:16, 0:28, 7:17) and bad blocking (2:43, 7:08) on tape, but 2019 offense asked him to serve as a receiver or execute run action at the snap so often that it should be assumed he will be at least slightly behind the curve in pass pro.


Only asked to carry the load for one season and battled through a hamstring injury late in 2019.
Bottom Line

Except for his quickness and ability to contribute in the passing game, Edwards-Helaire is pretty much the antithesis of what one would expect from a 5-7, 207-pound running back. Pro Football Focus charted 546 of his 1,414 rushing yards (38.6 percent) this season coming in the A gap (on either side of the center) and 894 (63.2 percent) came in either the A or B gap. Those are remarkable percentages for a 230-pound bruiser, much less a back with almost identical size and stature measurements as Maurice Jones-Drew when he entered the league in 2006. Some smaller runners dance behind the line of scrimmage and try to bounce too many runs outside. Edwards-Helaire is an inside runner, pure and simple, and it seems pretty clear he understands that is where he is the most effective. Two of his best qualities as a runner are the patience he shows behind the line of scrimmage and how light he is on his feet. Perhaps no runner in this draft class can stop and start as quickly as he does, and he's definitely on the higher end of the class when it comes to making defenders look silly in space.
It's unclear if (new Carolina Panthers offensive coordinator) Joe Brady's LSU offense simply just stuck to what Edwards-Helaire could do well in 2019, but it's difficult to find much fault with his tape. There are occasions in which he trusts his elusiveness a bit too much. It'd be nice if he is he could more homers and fewer doubles. He had an annoying habit of running parallel to the line of scrimmage on swing passes (instead of running an arc), making what should be a relatively easy throw for his quarterback a more difficult one. But let's be honest: that is being extremely nitpicky with a prospect, especially one who was a full-time starter for just one season.
As his concerns above suggest, Edwards-Helaire's biggest obstacles to success in the NFL may boil down to if his new team gives him a chance to prove he can be "the guy" and avoids falling into the trap of making him a committee back because of his dimensions. At worst, he should lead a committee and be given at least 15 touches per week until he proves he can't do it. At best, he's a matchup nightmare in the passing game and a pocket full of dynamite in the running game that won't need to come off the field (assuming his aforementioned pass protection "concern" ends up being a non-issue). As a result, Edwards-Helaire stands a great chance of being an immediate contributor and a Week 1 starter in the NFL.

---
Doug Orth has written for FF Today since 2006 and been featured in USA Today's Fantasy Football Preview magazine since 2010. He hosted USA Today's hour-long, pre-kickoff fantasy football internet chat every Sunday in 2012-13 and appears as a guest analyst on a number of national sports radio shows, including Sirius XM's "Fantasy Drive". Doug is also a member of the Fantasy Sports Writers Association.